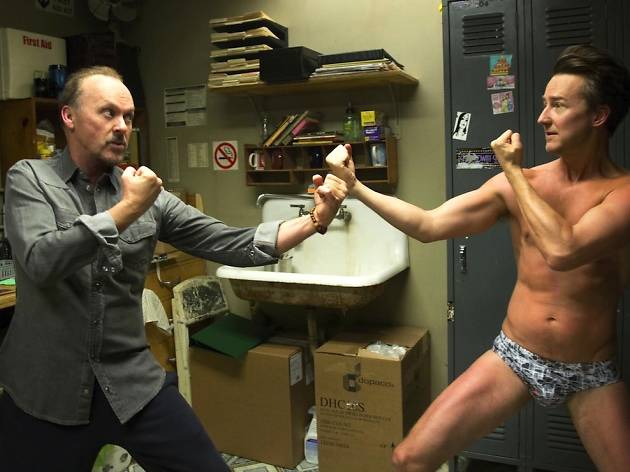 Time Out says
"Most of the successful people in Hollywood are failures as human beings." said Marlon Brando. But what happens when their 15 minutes are up? It's not like failure suddenly transforms former megacelebs into humble human beings who can pick up their own Starbucks. That's Michael Keaton's problem in this savagely funny, strangely sweet, sad and utterly brilliant NYC–set comedy from Mexican writer-director Alejandro González Iñárritu, better known for his gloomy, state-of-the-world dramas Babel and 21 Grams.
Keaton is Riggan Thomson, a free-falling jerk who raked in the cash in the early 1990s as a lame, pre-Avengers superhero in a blockbuster franchise (a clear nod to Keaton's own days as Batman). He hasn't made a Birdman film in years—but Birdman is still part of him, quite literally: There's a booming comic voice in his head ("You're the real deal"), and it gives him superhuman powers. Is Birdman a figment of Riggan's imagination? Whatever it is, Riggan has problems. He's trying to reinvent himself as a Serious Artist, remortgaging the house in Malibu to write, direct and star in an adaptation of a Raymond Carver short story on Broadway. But Birdman won't have it, telling Riggan to make a reality-TV show instead of this "piece of shit."
Birdman is hilarious simply as a film about putting on a show, but it's even better as a metawork. The action is shot by Emmanuel Lubezki in a jittery handheld style that favors long takes. Emma Stone, in ripped tights and bleached hair, is brutally funny as Riggan's messed-up daughter, fresh out of rehab. Edward Norton is a stage actor a couple of decades too old for his bad-boy-of-Broadway routine, who joins the troubled play at the eleventh hour. (There's something slightly Wes Anderson about these people.)
This isn't the super cynical, snarky piss-take of actors it might sound like. González Iñárritu feels for everyone. Norton, hitting on Stone, tells her with disarming sincerity that, if he could have any part of her, it would be her eyes—so he could see New York again as a 20-year-old. It's an extraordinarily touching moment. Best of all, Keaton is a piece of dream casting, and he's fearless, never holding back with the rodentlike, twitchy facial tics. The film's subtitle is The Unexpected Virtue of Ignorance, and the truth is, even when he's trying to be a good dad, Riggan can never get past his own ego. That same ego (Birdman's?) will also protect him from life's slings and arrows.
We know González Iñárritu has a dark side (just look at Amores Perros), and it's not entirely hidden here. Life is disappointing, his film is saying (it opens with a Carver quote, "Did you get what you wanted out of life?"), but it's also beautiful and, at times, unexpected. Dazzling and rambling, intimate and sprawling, Birdman is carried along by an infectious, off-the-cuff jazz score. As soon as it ends, you'll be dying to fly with it again.
Details
Release details
Rated:
R
Release date:
Friday October 17 2014
Duration:
119 mins
Cast and crew
Director:
Alejandro González Iñárritu
Screenwriter:
Alejandro González Iñárritu, Nicolás Giacobone, Alexander Dinelaris, Armando Bo
Cast:
Michael Keaton
Emma Stone
Andrea Riseborough
Edward Norton
Zach Galifianakis

Users say