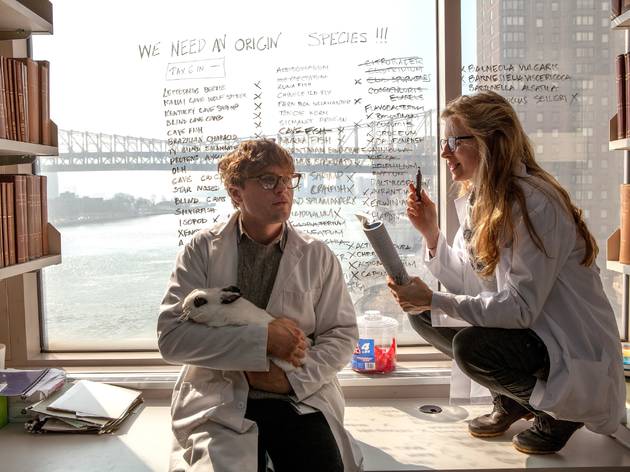 Time Out says
Persuasive sci-fi tech talk, soulful romance and an earnest stab at metaphysics are combined in director Mike Cahill's polished second feature (after 2011's similarly themed Another Earth). Perhaps the film's first major achievement, though, is turning Michael Pitt (Last Days) into a believably brilliant medical student with a thing for eyes. Molecular biologist Ian (Pitt) likes to take digital photos of dilating pupils. When he meets foxy Sofi (Astrid Bergès-Frisbey) at an NYC costume party, her red-flecked irises turn him on, and he can't help but ask for a snap. Their affair begins in earnest, while Ian's workaholic lab assistant, Karen (Brit Marling), does the drudge work.
It's a mark of Cahill's improving command of pace that his first hour feels comparable to David Cronenberg's ominously romantic remake of The Fly (1986), with a killer turning point involving a massive research breakthrough and a tragedy on the same day as Ian and Sofi's wedding. Up to then, the director chases after the rush of discovery—both sexual and scientific—and if a few head-slapping contrivances get him there, don't judge the guy too harshly. It's a movie of life-altering subway encounters with a whiff of New Agey dopiness. To Cahill's credit, he's not the kind of film geek who needs reminding that we like to feel something once in a while (refreshing after the stilted likes of Upstream Color and Coherence).
Leaping ahead seven years, it's Karen who now has the ring and baby bump—and here's where any fair reviewer needs to duck out. I Origins, like Another Earth, poses a big what-if involving the singular nature of the soul, and if you don't go in with at least a smidgen of cosmic open-mindedness, you're going to get a case of the snorts. "It's dangerous to play God," says Sofi in one of Cahill's more regrettable lines; elsewhere, the writer-director has become an ambitious stylist, staging a couple of bullet-time camera swirls with panache, heading to India for a bizarre, oddly emotional climax (scored to Radiohead's "Motion Picture Soundtrack") and pumping up the techno music. If he sticks with the ever-compelling Marling and lets in a little humor (stay for the credits and the movie's wildest idea), this won't just be his early–M. Night Shyamalan phase.
Follow Joshua Rothkopf on Twitter: @joshrothkopf
Details
Release details
Rated:
R
Release date:
Friday July 18 2014
Duration:
113 mins
Cast and crew
Director:
Mike Cahill
Screenwriter:
Mike Cahill
Cast:
Brit Marling
Michael Pitt
Astrid Bergès-Frisbey

Users say