The 50 best Chicago movies
From gangland dramas to comedies by Second City alums, these Chicago-set movies really get the city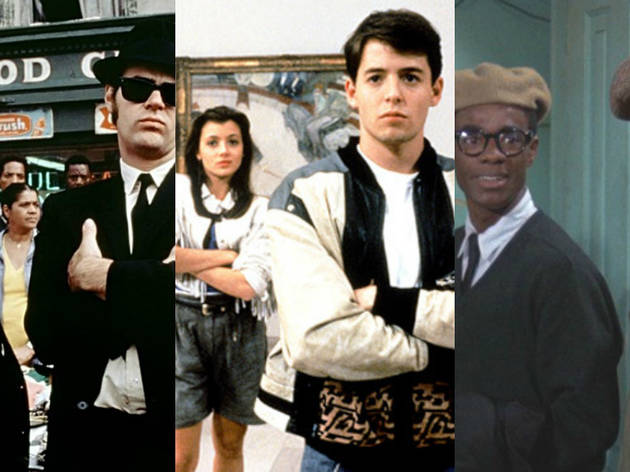 Chicago movies have produced a raft of indelible characters, from the Blues Brothers to multiple Al Capones to the teens of both John Hughes's suburbs and Cooley High. The city has inspired filmmakers since the days of Essanay Studios, and continues to spawn new screen stories today (even if some are filmed in Canada—looking at you, movie literally called Chicago). But which Chicago-set movies are the most essential? Time Out's editors argued among ourselves until we came up with these (highly debatable) rankings, encompassing comedies and dramas, romances, documentaries and a surprising number of teen movies. We know that no list can be definitive, so share your thoughts in the comments—but now, on with the (Chicago) show.
RECOMMENDED: The 50 best gangster movies of all time
The best Chicago movies (50–41)
50
Southside With You (2016)
The newest entry in our list didn't make a huge impact in its 2016 limited release. Still, its South Side location filming and bevy of Chicago actors in the supporting cast entice, and the story—the first date between young Barack Obama (Patrick Sawyers) and Michelle Robinson (Tika Sumpter)—has to count, at this point, as a modern Chicago legend.
If you grew up in the suburbs of Chicago, you probably remember the watered-down, corn-fed personalities that were all too common in the classrooms of your public schools. Bad Teacher features a character that's just the opposite. Cameron Diaz plays a pot-smoking, booze-drinking, pill-taking suburban middle school teacher who takes the job only so she can save up for a boob job. She falsifies exam score, dry humps a spunky substitute (Justin Timberlake) and generally lives up to the movie's title.
Spike Lee's contentious satirical musical pits the women of a South Side neighborhood, modeled after Englewood, against its men. Based on the ancient Greek comedy Lysistrata, the film follows what happens when women collectively stop having sex with men in an effort to curb gang violence and in-fighting that plague the neighborhood. Nick Cannon, Wesley Snipes, Jennifer Hudson, Angela Bassett and Samuel L. Jackson top a star-studded cast with plenty of scenery to chew.
47
Based on Will Kern's play Hellcab, a late-night cult favorite at Famous Door Theatre for a long stretch of the '90s, this low-budget adaptation follows a tetchy cab driver (Paul Dillon) around the city as he picks up a raft of oddball fares on Christmas Eve. Shot at upwards of 40 locations around the city, the movie offers up dozens of juicy cameo roles for Chicago-connected actors, from higher-profile stars like Gillian Anderson, John Cusack, and Julianne Moore to such familiar local faces as, Tracy Letts, Ora Jones, Mary Ann Thebus, Shanesia Davis, Moira Harris and a 22-year-old Michael Shannon, in a role credited as "Crack Head."
46
I Want Someone to Eat Cheese With (2006)
Second City alum Jeff Garlin (Curb Your Enthusiasm) plays a sad-sack Second City performer who sees potential to turn around his life after meeting quirky ice-cream shop worker Sarah Silverman. The sole feature by writer-director Garlin, this passion project was filmed on location in the city and is replete with Chicago pals like Bonnie Hunt, Amy Sedaris, David Pasquesi and Tim Kazurinsky; original Second City ensemble member Mina Kolb plays Garlin's mother.
Writer-director Bonnie Hunt's off-kilter romantic comedy, in which widower David Duchovny falls in love with the woman, played by Minnie Driver, who was the recipient of his late wife's donated heart, similarly shows off Hunt's native Chicago. Old Town's Twin Anchors stands in for the Irish/Italian restaurant where Driver's Grace waits tables.
Set in the now-demolished Cabrini-Green public housing projects on Chicago's Near North Side, Candyman follows a young graduate student investigating an urban legend that describes a killer armed with a hook. The thriller is filled with shocking plot twists and grisly murders but the most interesting aspect of the movie might be its footage of Cabrini-Green. Candyman features scenes shot within the housing projects, though gang members had to be offered roles as extras in the film to ensure the cast and crew's safety. You might want to watch this one with the lights on.
The Cubs were baseball's most lovable losers for the better part of a century, so it makes sense that this 1993 flick would bring the North Siders a savior in the form of a 12-year-old boy. The film opens with little leaguer Henry Rowengartner (Thomas Ian Nicholas) breaking his arm while trying to catch a fly ball. Upon getting his cast off, he discovers that he now throws an incredibly fast pitch. The Cubs uncover his talent during a game at Wrigley Field so, naturally, he leads the team to a World Series championship—child labor laws be damned!
Sweet, innocent Julia Stiles charmed us with her acting and her dance moves—we get to see her do both ballet and hip-hop—when we fell in love alongside her and Sean Patrick Thomas's character in this 2001 chick flick about an interracial relationship and small-town drama. But what we love seeing perhaps even more are shots of our very own CTA rail system, the bright and beautiful Loop and the Chicago Academy of the Arts in West Town.
Michael Mann's take on Chicago's gangster era starred Johnny Depp as John Dillinger, Channing Tatum as Pretty Boy Floyd and Christian Bale as FBI agent Melvin Purvis. But the real star, arguably, is the film's gorgeous cinematography, restoring locations like Union Station and the Biograph Theater to their gritty period glory.
The best Chicago movies (40–31)
The best Chicago movies (30–21)
The best Chicago movies (20–11)
The best Chicago movies (10–1)