Album of the week | Savages - Silence Yourself
No, the feverishly hyped Savages won't change the world. But for half an hour, their polished debut album can make you feel young and impassioned.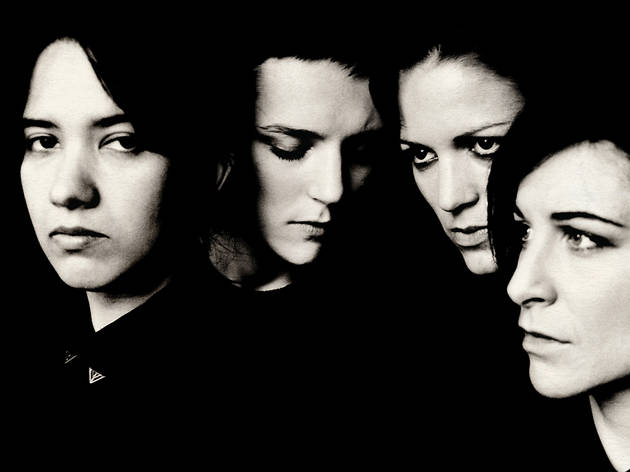 Siouxie and the Banshees released 11 albums. You should listen to ten of them before moving on to the debut album of Savages. Start with Juju and Kaleidoscope, the bouncing barbed stuff with John McGeoch playing guitar, then investigate forward and backward, witnessing the punk birth, The Scream, and the blossoming into a MTV pop act on Peepshow.
---
---
I realize, in 2013, this is a game you can play with any new rock act. Influences are locked to the ankles of rock bands with chains and the keys are thrown away. Interpol will forever be a Joy Division knockoff, Vampire Weekend a Paul Simon facsimile, even when they aren't (or if they never were).
Likewise, because of the vocals of Jehnny Bath, Savages are doomed to be dubbed Baby Banshees. It is unavoidable. Bath sings a hell of a lot like Siouxsie Sioux, in that same booming, wide-eyed warble. Unfortunately, this London quartet lacks Sioux's mystical incense, her romance, melodies and theatricality. Plus, the post-punk-by-numbers guitar playing can't touch the electric textures of McGeoch. What Savages do have is anger, focus and cheekbones. Oh, and the drummer is whip-ass.
Silence Yourself puts a mirror-polished jackboot to your throat. The righteous songwriting might take all its notes from the early Thatcher era, but the songs pack the punch of something crafted by Rob Cavallo, Green Day's producer. (In fact, this pop-post-punk was produced by a guy named Johnny Hostile. Seriously.) With dry, thudding drums and guitar noise trimmed into crisp blocks like hedges, the record sounds closer to the new Paramore than an old Magazine LP.
Hooray for that. Not only do Savages want to take their gender-political screeds to young adults, they want to broadcast them in arenas. The four women are aiming to be big, and they have the mainstream machinery to make it happen. I've been reluctant to bring up that this is an all-female group. That's been the cause of much of the attention Savages have received (features on Pitchfork, in The New Yorker, etc.), as if this were an event, a comet. Two decades ago, in the era of Slant 6, 7 Year Bitch, L7, Babes in Toyland, Red Aunts, etc., this would have been another band, not headline news. How did we regress?
Yes, everything in rock has been done. But it hasn't been done by people in their twenties. Every generation deserves its own thrilling, deeply serious, philosophy-reading, visceral rock & roll band. Siouxsie & The Banshees no longer tour. Savages do. Go stand in their squall to feel adolescent and impassioned. Savages won't change the world, but they can do that.