Daft Punk - Random Access Memories | Album review
The robots of Daft Punk reveal their nostalgic human innards with an album of space disco. But have they become too human?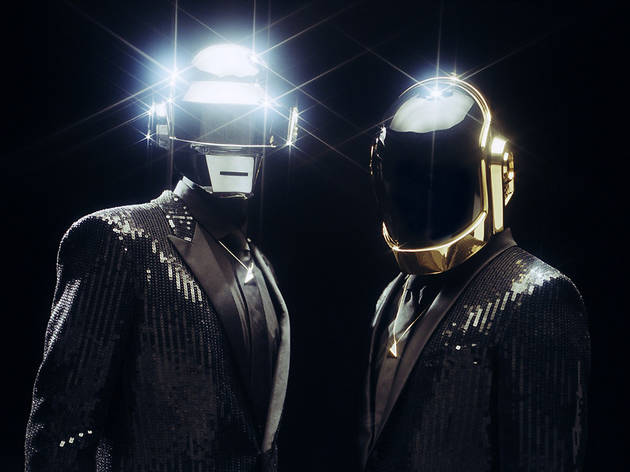 The two most important things to happen to pop culture over the last 50 years are NASA and masks. Not long after John Glenn spun around Earth three times and splashed down in waters north of the Dominican Republic, a brainy, skinny teenager was bitten by a radioactive arachnid. As more men were shot into orbit, as we approached the moon, Hollywood went from schlocky space movies to philosophical fare like Star Trek and 2001. Meanwhile, at Marvel, comic book readers became comic book heroes. Superman was an alien, Bruce Wayne was unfathomably rich, but Peter Parker was just a kid from Queens who by stroke of luck could slip a red stocking over his head and become a demigod. None of this was entirely new, but it was no longer on the fringes of entertainment, and it was all suddenly plausible, perhaps attainable.
David Bowie was the first to see the power of the mask in music. He transformed himself from an average folk singer into Ziggy Stardust. Bowie kept changing his mask, but the astronaut was the new cowboy. Then came Dark Side of the Moon, Kiss, the alien topography of Yes album covers, Kraftwerk. In 1977, Star Wars, punk and Atari landed. Next, Battlestar Galactica, Buck Rogers, Intellivision, The Black Hole, Colecovision, Star Trek again. Nerd culture has been on a steady march since, usurping pop culture to the point now where seemingly every blockbuster revolves around capes, spandex, superpowers or aliens.
Daft Punk's Thomas Bangalter and Guy-Manuel de Homem-Christo are the same age I am, and grew up in the same amniotic pop soup of Star Wars, Tron, Genesis, Pac-Man, Michael Jackson, Blade Runner, Giorgio Morodor, Robocop, new-wave, BASIC programming and disco—even if, in France, the two were exposed more to Les Rockets and Cerrone (two undeniable influences heard all over their music) than Alf. There are moments in the duo's long-awaited fourth album, Random Access Memories, when I think, Only someone of my precise upbringing could possibly find this exhilarating. As on "Touch," which sounds as if Barry Manilow teamed with the Alan Parsons Project to compose theme music to a Muppets adaptation of Silent Running. At any moment Donny Osmond could pop up and start crooning about the Arrakis spice trade through a vocoder. How could anyone who can't describe what the robot V.I.N.CENT looks like, who didn't have an older sister obsessed with '70s soft-rock and disco, find this cool?
The answer is the masks. The most significant new thing to happen to pop music arrived in 2001 (fittingly)—the cartoon pop icon. Daft Punk, who had previously veiled their faces with Halloween masks, first presented their android personas with gold and silver helmets to American audiences, appropriately, on Cartoon Network's Toonami. Without the costumes, Daft Punk would have peaked in popularity at the Basement Jaxx or Chemical Brothers level. Now they have action figures and Disney deals. At the same time, Damon Albarn reached global fame by Wizard-of-Ozzing himself behind the screen of Jamie Hewlett's animated Gorillaz band. By erasing their faces, music geeks freed themselves of preconceptions. A man most known for deeply British Britpop crafted a dub hip-hop album that featured members of the Buena Vista Social Club, Cibo Matto and the Talking Heads. Packaged as a jam session by the actual musicians in the flesh, Gorillaz would have been a cult curiosity; under the conceit that it was made by 2D, Murdoc, Noodle and Russel, the music was reasonable and sold millions. That's pretty bonkers.
Daft Punk and Gorillaz ushered in a new kind of cinematic event record overstuffed with as many reverential references, homages and forgotten stars as a Tarantino film. Random Access Memories—as the title suggests, is a hodgepodge of nostalgia for the era of early computing—and more akin to a Gorillaz record than any prior Daft Punk record. There are loads of guests, from the obvious (Panda Bear, Julian Casablancas, Giorgio Moroder, Paul Williams, Pharrell, Nile Rodgers) to the you-have-to-read-the-liner-notes subtle (Omar Hakim, John "JR" Robinson, Nathan East, Chris Caswell, Paul Jackson Jr.).
The guys between that latter set of parentheses are long-in-the-tooth session pros, slick players who have appeared behind Toto, Lionel Ritchie, Barbra Streisand, Sting, Bobby McFerrin, Chaka Khan, Dave Koz and Jay Leno, just to name some of hundreds. That would explain why during, say, "The Game of Love," you'll be wondering why you're hearing unctuous fretless bass, glistening tasteful cymbal splashes and parental-lovemaking guitars, not booming house beats. It's pretty schmaltzed the fuck out.
"This is a game of love," one of the Frechmen sing, "I just wanted to you stay." If the vocals didn't sound like a cyborg, this would be straight-up Tesh. Funny thing, though. That robotic filter not only excuses the glossy bathos, it exaggerates it and elevates it. Daft Punk have successfully constructed in our minds the image of two robots in a spaceship writing love songs. So it's kind of cool, or at least funny. Entertaining, for certain.
With so many hands, the record is scatterbrained (scatterchipped?). The songs (or a song) can jump from prog to disco to lite jazz to symphonies. Casablancas's tune, "Instant Crush," is the Strokes with more synthesizers and technological gauze. "Doin' It Right" is Animal Collective, blissfully and wisely dumbed down to a simple 808 beat. "Fragments of Time" lights up some Doobies and sails into choppy yacht-rock waters. It's uncertain what exactly Daft Punk themselves are doing throughout all this, aside from holding it all together in some great wash of fantastical vision and selfish dream-fulfilling. And playing some keyboards here and there.
Honestly, the most disappointing thing about the record is the detailed liner notes, and the interviews Bangalter and de Homem-Cristo have been suddenly keen on granting, as if they were real musicians. It deflates the mystique. The smartest thing Daft Punk ever did was not speak, not explain. As chimes and organs twinkle on the gooey "Within," I think, Oh, yeah, these are totally dudes who played on some Ray Parker Jr. and Al Jarreau albums. I want to think that the silver bot and the gold mad whipped it up in a bunker of flashing neon lights. Obviously, I know that is the case, but did they have to make it so damn obvious? Without the masks, the smooth sentimentality of "Beyond" and the trippy, bittersweet bachelor-pad grooves of "Motherboard" are Air, something that could slip into Love 2.
After "Doin' It Right," one of the strongest tracks and most attributed to just Daft Punk, RAM ends with the brain-melting "Contact." NASA provides an actual audio clip of astronauts in orbit describing an unidentified flying object. Dramatic church organs swoop in. The records' ever-present live drums burst into fireworks of fill patterns. Electronics whip into a whirwind. Synthesizers howl in a crescendo. I flashed back to a ride at Disneyland, in Tomorrowland of course, called Mission to Mars. I was brought into a circular theater and sat aimed at the ceiling. A star field appeared above me. The room rumbled to the amplified sound of rockets. The chair shook and screamed. "Contact" feels exactly like that, like launching into space. It's fake and hammy, but for a couple minutes I can close my eyes and imagine I'm burning through the stratosphere. The ride is not there anymore.