Disclosure - Settle | Album review
On its fantastical debut, Settle, Disclosure demonstrates that truly great dance music is simply soul music. But it's more complicated than it sounds.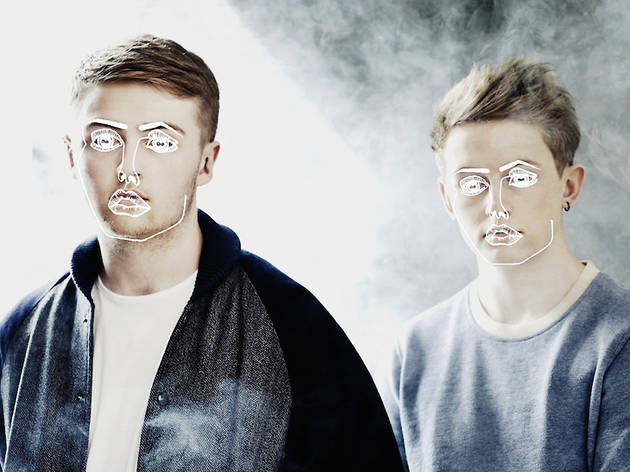 Would you dance as hard to "Mother Popcorn" or "I Feel Love" or "Temptation" or "100% Pure Love" if they were merely instrumentals? No, of course not. Dance music is not Garfield Minus Garfield—there is no deeper meaning or revelation found by erasing the star. Without vocals, dance music can feel like a technical diagram of steps, black footprints against plain white.
This is a concept that Disclosure fully understands and demonstrates on Settle. The debut of the young U.K. electronic duo wisely sports vocals on every track. The songs tend to run for about four minutes, a fraction of the length of the typical club mix, which means that while the brothers Guy and Howard Lawrence are ostensibly a traditional house act, they aspire to pop radio. That is not to say every cut on Settle is an undeniable banger because it features a human voice. As the recurring SNL skit Deep House Dish beat into a laughless pulp, house music is the realm of the anonymous diva, interchangeable belters who hit the expected notes with ersatz feeling. "Voices" alone will not make the latest teenage Adele-clone-come-lately Sasha Keable a household name. But you can't just plug in a major chart star and expect gold. See: the latest Calvin Harris album.
---
---
There are only a few truly sublime tunes on this album, but they elevate everything. "White Noise," featuring AlunaGeorge, lands early. In a deep London accent, Aluna Francis sings above her weight class, "Lately I've been thinking if you wanna get tough, then let's play rough," a Betty Boop cooing with brass knuckles. The Lawrences hammer hard on keyboards. It's hard to pinpoint why exactly this single stands head and shoulders about not just this album but all recent dance singles. Similarly, a clutch of numbers at the close climb to peaks. Eliza Doolittle flits over a heart-quickening two-step on "You & Me." Next, Jamie Woon and Jessie Ware swim in sumptuous androgyny on "January" and "Confess to Me." Ware whispers before wailing; Woon ducks and weaves between the beat. Frankly, Disclosure might have precocious knowledge of the technical workings of a house song, but the two are not doing anything earth-shattering underneath. There's a hard un-tiss-un-tiss with stabs of synthetic piano eighth notes. And yet…. It lies in the way the divas ride the cuts. It's surfing versus floating into shore on a raft.

Disclosure are crafty enough to plug in some sample-based thumpers such as "When A Fire Starts to Burn" and "Grab Her!" and a few of those oohing and aahing anonymouths to sustain the groove and goodwill of those few stellar tracks. The lesson here: Truly great dance music is simply soul music. But it's more complicated than it sounds.