Pretty Lights rules the Rockies.
Colorado producer Pretty Lights is at the forefront of the Colorado beat scene.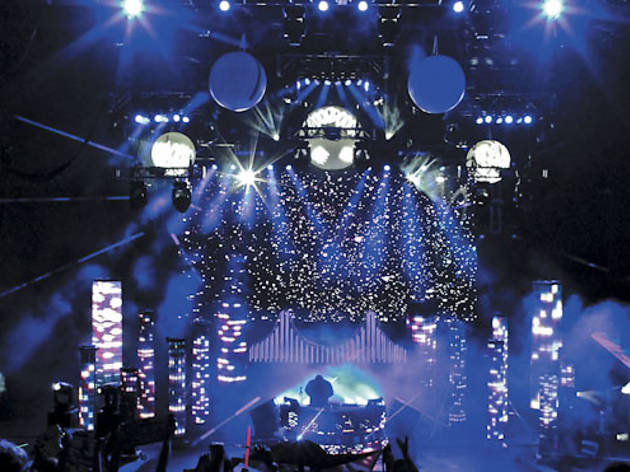 Skiing, mountain climbing, the outdoors: These are things that come to mind when thinking about Colorado. But for an ever-increasing number of EDM scenesters, 30-year-old Denverite Derek Vincent Smith ranks right up there with nature activities. Since late 2007, Smith has been at the center of a statewide dance-music revolution thanks to his output as Pretty Lights, and a sound he likes to call "electro hip-hop soul."
"Everybody who's coming out of Colorado pretty much knows each other, and it's really cool because I think that we have a very distinct sound, especially the PLM [Pretty Lights Music, Smith's label] speed," Smith says on the phone from his apartment in advance of his headlining set at North Coast Music Festival on Sunday 2. "It's like people aren't trying to be just straight-up imitation dubstep or whatever is the electro style now. There's a level of hip-hop flavor in the scene and I think that's really classy."
Smith may have been one of the first, but now he's flanked by an army of peers that includes 2012 Lolla acts Paper Diamond and Big Gigantic, as well as labelmates Michal Menert and Paul Basic. Though in their own way, all are growing up and out of hip-hop roots to incorporate the throb of bass music's low end, electro's soaring synthiness, and the crackle and pop of glitch. Citing instrumental hip-hop innovator DJ Shadow as an early influence, Smith also relies heavily on sampling, which gives Pretty Lights' music the jazzy soul touches that characterize it.
Though less of a musical influence, another key factor in Smith's rise is the jam-band scene. "I started opening up for jam bands and then making the transition from that scene, which in the mid-2000s was the overwhelming popular scene here." As Pretty Lights' name grew, the flower children in those jam-band audiences followed. This migration is what gives the millennial rave scene its hippie quality. It's also who North Coast is catering to. No wonder Smith is doing his second headlining set in the fest's three summers of existence.
Gruff-voiced and extremely chill, Smith is every bit the hippie-hopper his music would suggest. But his laid back demeanor is certainly not hindering his productivity any. His new album—which, like all his work to date, he plans to give away for free via his website—is almost in the bag. Taking his music-making process one step further, he eschewed sampling from other artists in favor of creating his own source material.
"The goal was basically to create a groove or a sample that I would flip out on if I'd found it in a record store," Smith says—meaning he recorded sessions live, found parts he loved, pressed those to vinyl and sampled them for new songs. "I did that for weeks in Brooklyn and in New Orleans with different musicians and created my own crate of one-of-a-kind vinyl," he adds. Among these pressings are original verses from some of his favorite hip-hop acts including the Grouch, Lyrics Born and Talib Kweli.
Fans have to wait till the fall for the finished product, but new material features heavily in his live set, one he's completely overhauled since he played Lolla last year. "We hired seven filmmakers and sent them all over to collect wicked footage, set up a studio full of lights and lasers and filmed all that shit and created all the content custom." Pretty Lights, it seems, is much more than just a name.
Pretty Lights closes out North Coast Music Fest on Sunday 2.