The song of summer 2012
What fist-pumper will we be unable to avoid this season? We've got our money on Train, Nelly Furtado and Karmin. Brace yourself.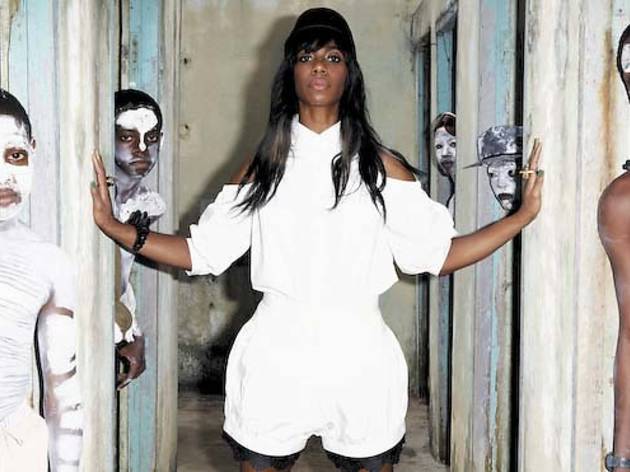 A year ago, we huddled together before the YouTube screen to debate what would be the song of summer. What did the three of us predict? We bet on Foster the People, LMFAO and Pitbull. Unfortunately, we were spot on. "Party Rock Anthem" still haunts America's dreams and showers.
Hey, this isn't rocket science. Every pop song these days is engineered to get fists pumping, strippers jiggling, drunks hollering and feet hopping. They are all summer songs, even in winter. The party rock shows no sign of unshuffling. Here is the new batch.
Nelly Furtado"Big Hoops (Bigger the Better)"
Areif Sless-Kitain Nelly is back and accessorizing like a motherfucker.
Brent DiCrescenzo I would call this Canadian dancehall, but that might insult Snow.
Joshua P. Ferguson In the pop lexicon, Nelly was always someone I could dig more than the rest.
ASK She sounds like Adam Levine.
JPF What are these lyrics about?
BD It's about those contraceptive rings you stick in your vagina. Maybe.
ASK I'm still not sure whether she's talking about dicks or earrings.
BD Odds on a dubstep breakdown?
JPF 97 percent
ASK Oh, snap! She went drum 'n' bass instead!
Karmin"Brokenhearted"
ASK It's the Roxette of 2012.
JPF It's indie Katy Perry.
ASKIndie should never be uttered in the same sentence as Katy Perry.
BD This is Sleigh Bells for 13-year-old girls. When she says "Cheerio!" it makes my skin crawl.
JPF Ditto.
ASK These guys make Michael Bublé look edgy.
BD I feel like I'm waiting to get my hair cut in a strip mall.
B.o.B "So Good"
ASK This is super summery for sure. If your summer has no balls.
JPF Man, the industry really drains any street cred out of these guys.
BD The lyrics are a bad geography lesson.
ASK Sounds like a licensing pitch more than a song. "Hey, put this in your next summer flick!"
BD Or AmEx commercial.
JPF Or Virgin Airlines ad.
Train"Drive By"
ASK You bastard. It's disco-folk-rock.
JPF I could use a glass of that Chardonnay to get through this one.
BD "Looking for a two-ply." Wait, is this song about shit?
ASK He's "looking for a Hefty bag to hold his love."
BD I'll assume it's about murder.
JPF Good thing those bags are reinforced these days.
Best Coast "Why I Cry"
JPF Cool cats.
BD Cool cat, you mean.
ASK This is like the song I brought in last year [Ursa Minor "She Wants You"]. Just sayin'.
BD Or like Liz Phair. Huh. Money cleans up a band and you realize how dull they are.
ASK Agreed, though I thought they were boring before.
JPF They remind me of one of those bands from Scott Pilgrim.
The Hives"Go Right Ahead"
BD ELO in that riff.
ASK Totes.
BD The horns are nice.
ASK Well, this sounds amazing compared to the dreck we've been suffering through.
BD Because it's real instruments.
JPF "Fuck and fight," hell yeah! These guys are convincing with the sound they're mimicking.
BD It's rather redundant, isn't it?
JPF Yeah, even at three minutes.
A 16-year-old's pick
Hoodie Allen"No Interruption"
BD I asked a suburban high-school kid what his class loves right now. It was this. Please note: The producer's name is WNDRBRD.
ASK Eat your heart out, Chet Haze.
JPF This guy goes hard in Wilmette. He's a white Drake. And Drake is pretty white.
ASK So Zac Efron raps now? Wait, did he just say, "KKK?"
JPF He just went there.
BD A white rapper name dropping Will Smith and the KKK. Always a wise move.
ASK Fuck this k-k-kid.
Josh's pick
Porter Robinson"Language"
BD I feel like I just stared fighting orcs in Zelda.
JPF No, man, you just kissed the princess.
ASK This is kinda New Agey. Throw some Enya on this.
JPF That's where EDM is going in an effort to be as uplifting as possible.
BD People try their damnedest to tune out from the world.
JPF Find Molly. Escape with it. Er, her.
ASK Has anyone seen Yanni?
Areif's pick
Flo Rida feat. Sia"Wild Ones"
BD Pop is so awful, I've come to almost like Flo Rida.
ASK Having Sia sing the hook is brilliant. I was surprised when I realized it was her.
JPF Amazing she's gone from Zero 7 to this. That's a LONG way. If a song like this can make Ke$ha, think what it can do for an actual talent.
ASK This has a little bit of all the songs we've heard.
BD Strange she's not in the video. They didn't want some weird lady scribbling marker on her face in the corner of the club. Or maybe she's allergic to hovercrafts.
Brent's pick
Santigold"Disparate Youth"
ASK Nice. This song kills.
JPF The production is dope. Love those live drums.
BD I love the guitar blasts and the Joy Formidable sample.
JPF The way she layers her voice is wicked, too.
ASK She's not trying to be sexy and so much more effective for it.
BD It works to get you pumped up but also works for when you're sun-baked and worn out.
ASK And there's a narrative that's not just about going to the club and getting bottle service.
JPF Santigold wins! Done and done.