Those Darlins - Screws Get Loose | Album review
Those Darlins are the redneck Ramones, singing of mental health, greasy food, boredom and the opposite sex.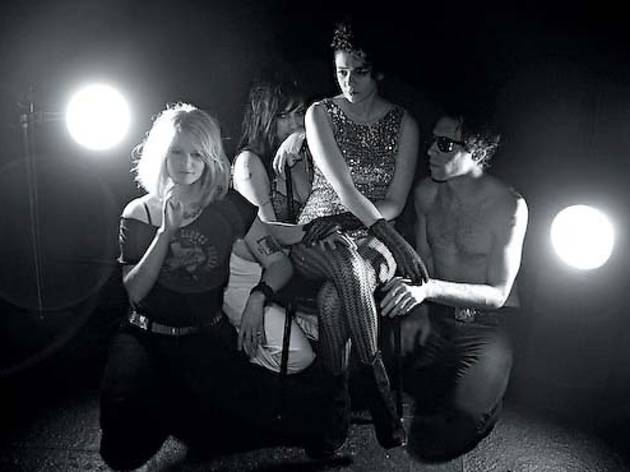 Screw screwing, these girls (and one guy) just want to eat. On their debut, the quartet sang of eating "the whole damn" chicken. On the polished but still bratty follow-up, Screws Get Loose, "Fatty Needs a Fix" proclaims, "Starvin' for something and it ain't your touch / Baby, baby, baby too hungry to UH!"
Basically, Those Darlins are the redneck Ramones. Like their bruddahs from Queens, the proudly trashy Tennesseans reach the glorious heights of lowbrow by singing of greasy food, mental health ("Screws Get Loose"), boredom (they're "b-u-m-d bummed") and the opposite sex ("Boy," just about everything else).
Though regarding that last topic, there's one key difference. A '50s romantic with Phil Spector love songs rattling in his brain, the gangly, glue-sniffing Joey Ramone pined for cheerleaders. Darlins are fending off horny boys with a bat. "I just wanna be your brother / I don't want to be your lover / I just want beat each other up on a playground," Nikki, Jessi, and Kelley Darlin harmonize with a heavy twang on "Be Your Bro." To drive the tomboy point home, the cover shows a pretty lady picking her nose.
The songs may be poppy as heck, but they're also grabbing their groins, snarling, "I got your girl group right here." But, outside of their attitude and influences, Darlins could hardly be described as punk. Screws echews racing along on speed-fueled riffs for a glossy rockabilly swing. Their jangling shuffle explores the middle ground between the Go-Go's and Merle Haggard. Yeah, that territory exists. And the chicken there is delicious.
Those Darlins open for Old 97's at [node:190623 link=the Vic;] Saturday 19.