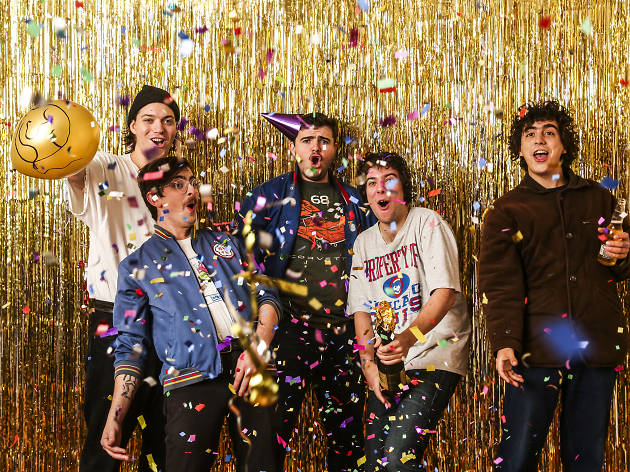 Twin Peaks told us how to celebrate New Year's Eve like a rock star
Local rockers Twin Peaks are party experts, so we asked them to tell us about their ideal, Chicago-style celebration
After spending 2017 touring relentlessly and releasing 12 new singles, ramshackle rock & rollers Twin Peaks deserve to celebrate. What better excuse to pop some champagne and rage through the night than the end of the year?
We caught up with the Twin Peaks dudes before the band's trio of New Year's Eve concerts at Thalia Hall and asked them about their favorite New Year's Eve parties, hangover cures and how to enjoy the arrival of 2018, Chicago-style.
RECOMMENDED: Our complete guide to New Year's Eve in Chicago
What's the wildest New Year's Eve you've ever had?
Connor Brodner: 2010, it was the first time I got drunk. Our buddy's crazy dad made us a giant bowl of rum and eggnog and we drank it all.
Jack Dolan: We tried to get into a party at an old DIY spot called FeelTrip and the cops came immediately. Some of our friends knew some guy with a super fancy loft space in the South Loop, so we said why not. Turns out it was way too fancy for us—I'm pretty sure I knocked over a really expensive statue or head bust. We managed to leave before anyone noticed.
Colin Croom: The first show I ever played with Twin Peaks at Young Camelot, a dank, old carpeted church-turned-DIY spot. I was nervous and drank a bunch of wine before we played. I remember it being incredibly hot and we couldn't hear a thing. And most of whatever I was playing broke at some point during the set.
What's your strangest NYE tradition?
Cadien Lake James: At the end of every year I write and record a curse chorus, a song for all who have insulted or wronged me in any way in the past year. I record it, put it on a flash drive, delete all other evidence and bury it.
Clay Frankel: I join Cadien with the curse chorus, adding my own enemies.
Connor: Mine is to stay out of trouble. I've only succeeded in that one time, and it's because I was the designated driver.
Times Square already has a lock on ball dropping—what would you drop at your NYE celebration?
Connor: Huge bags of cash, because it's like a little holiday bonus for all party attendees.
Cadien: Hand warmers, you're gonna need 'em tonight.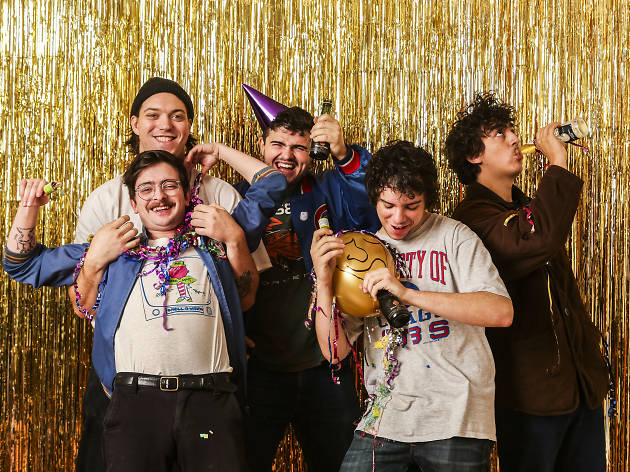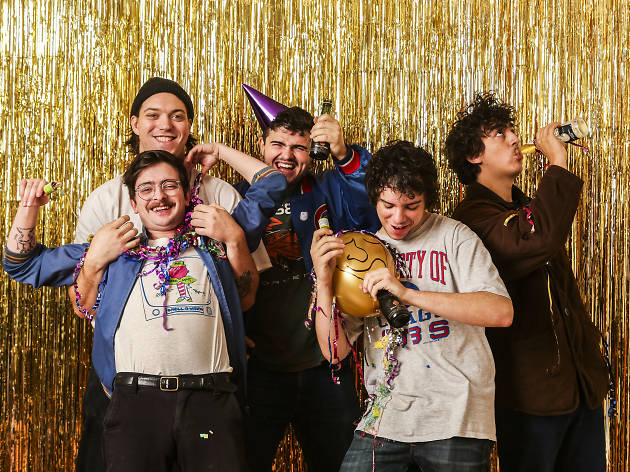 Photograph: Jaclyn Rivas
What local celebrity would you invite to your NYE party?
Colin: Wesley Willis, RIP.
Connor: Anthony Rizzo, so we could have a toss.
Clay: Bo Diddley's ghost.
Jack: Anyone on the Cubs. That means Bill Murray is probably coming too.
What restaurant would cater your shindig?
Colin: Harold's.
Connor: Lou Malnati's and L Patron.
Cadien: Parson's.
Clay: Lucia's.
Jack: Pequod's.
What's your preferred beverage for midnight toasting?
Colin: Malört and Old Style.
Jack: Pass the champ.
Clay: Anything in a glass.
What song do you want to hear when the clock strikes midnight?
Colin: Sean Paul, dealer's choice.
Cadien: "Let It Bleed" by the Rolling Stones.
Connor: "It's a Long Way to the Top" by AC/DC.
Clay: "It's All Over Now" by the Rolling Stones or "That's Life" by Frank Sinatra.
Jack: "Celebration" by Kool and the Gang.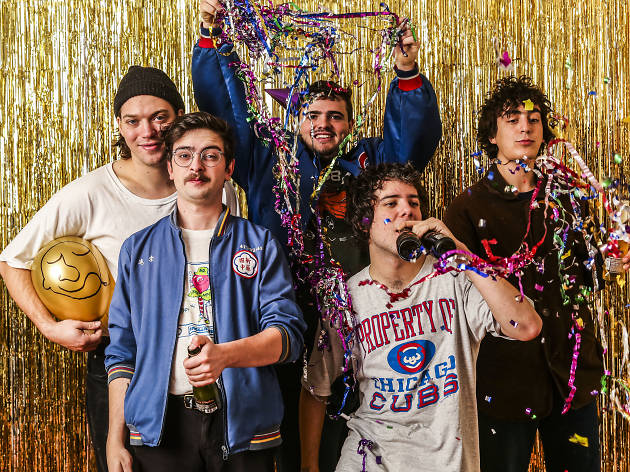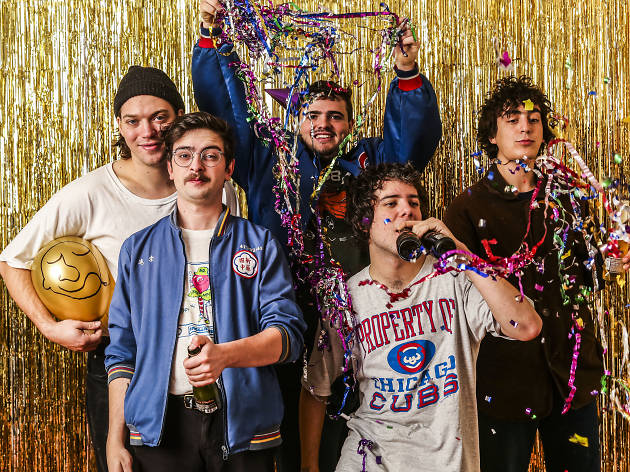 Photograph: Jaclyn Rivas
What's your go-to NYE hangover cure?
Colin: Fetal position and The Simpsons.
Cadien: Sleep in, a big brunch with just one—maybe two!—Bloody Marys and water, water, water, water.
What's worth actually getting out of bed for on New Year's Day?
Colin: Going to the front door to retrieve your large pizza.
Jack: Nothing. Well, maybe a good brunch.
Connor: My dad's French onion soup.
What makes Chicago the best place to celebrate NYE?
Connor: Something about the bitter cold and the booze flowing through your veins makes you feel alive.
Jack: There's always something cool happening. Always.
Clay: There's a special way to slip and bust your ass on the ice here.
Twin Peaks plays Thalia Hall on December 29, 30 and 31 with support from Knox Fortune, Sun Cop, Post Animal, Dehd, Today's Hits and Ne-Hi.