Vampire Weekend | Modern Vampires of the City | Album review
Vampire Weekend has fun while worrying about death on its best album yet.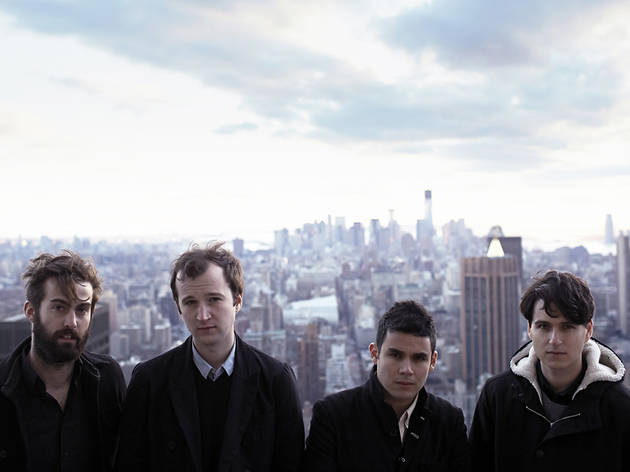 There comes a time in adolescence when you first ponder your own death. You lie in bed panicking yourself into insomnia thinking the most incomprehensible of thoughts—that you will no longer have thoughts. You will cease without reflection. Snuff. For some, this comes early, in the teenage years, like for Goths and those who see loved ones pass. For most, the death cloud creeps in during the twenties, as the invincibility of youth wanes with every dollar dropped into payroll taxes and 401Ks.
---
---
I suspect the grave fixation settled into Ezra Koenig when having to sing "Cape Cod Kwassa Kwassa" for the 208th time. The 29-year-old has snuck a little darkness into Vampire Weekend's chirpy pop before. On "Holiday," he hoped that a trip to the beach would "take away his fear." On Vampire Weekend's third and best album, Modern Vampires of the City, mortality lurks in every line. As if the walking dead title didn't give that away. Koenig sings, "We know the true death, the way of all flesh"; "There's a headstone right in front of you"; "And the blood, blood, blood, blood, blood, blood… I don't wanna live like this, but I don't wanna die"; and finally, "Hudson died on Hudson Bay, but I was born on Sutton Place." Don't worry, the pastel group has not gone all Sisters of Mercy in neri-oshiroi and black; it has not traded the Cape for capes. Though, the jumpy ska bits have been eradicated for a midtempo stop that plays in new ways. Because what do we do after a brush with death? We attune and heighten our senses. Stop and watch a worm inch up leaf. Huff someone's hair. Listen to our lungs. The production quirks of Vampires are a sort of audio nerds way to stopping to smell the roses. Vampire Weekend is obsessed with how things sound. Their music is clean and ear dazzling. Among the expected harpsichord and strings, there's an irreverent perfectionism in how the band blows out the stiff acoustic guitar strums of "Finger Back," in the precisely distorted keyboards that overwhelm "Worship You," in the glitchy drums and clock percussion of "Hudson" and, of course, in the new way Koeniq manipulates his vocals with synthesizers on "Step," the hiccuping rockabilly of "Diane Young" and the chipmunk chamber pop of "Ya Hey." He's fiddles with his voice as one would push a finger into spinning clay on a potters wheel, just to watch it warp, and because, fuck it, why not?
People don't give this group enough credit for its audacity. Koenig has always been enamored with language. He picks words for mouth feel. Here, the lyric sheet contains terms like Alameda, Angkor Wat, falafel shop, Croesus, the Dome of the Rock and crise cardiaque. Girls names and place names. This is what drives his detractors batty, the whiff of an Ivy League education and the perfume from flipping through an issue of Condé Nast Traveler. But those words do have a nice ring to them, and how many times does one need to hear love over and over on an album (I'm looking at you, the National)? Koenig's vocabulary makes the hooks stick. No, the vocabulary is the hook. It's the strongest batch of songs yet from the New Yorkers. In moving away from Paul Simon's obvious world-beat influences, Vampire Weekend has made its first album that can stand up to the best of Paul Simon. Gone are the silly little bursts of hyper, yelping garage rock. Well, there is "Diane Young." Koenig belts, "If Diane Young won't change your mind!" Of course, he's really singing "dying young." All this death and such a good time. Because here's the punchline: "Everyone's dying, but girl, you're not old yet."