Road Trips | Beaver Island
"A whole lot of nothing" awaits on Michigan's rural Beaver Island.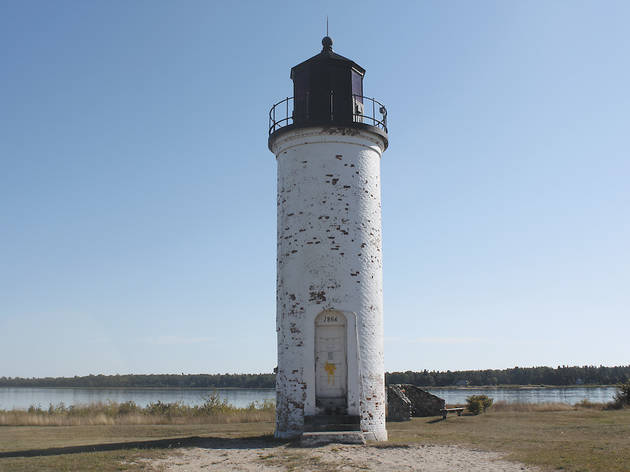 1/8
Photograph: Jason A. Heidemann
Gulf Harbor's historic lighthouse on Beaver Island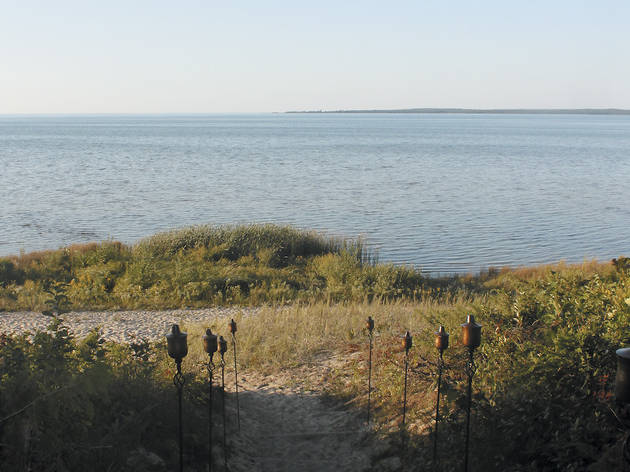 2/8
Photograph: Jason A. Heidemann
The view from Beaver Island Lodge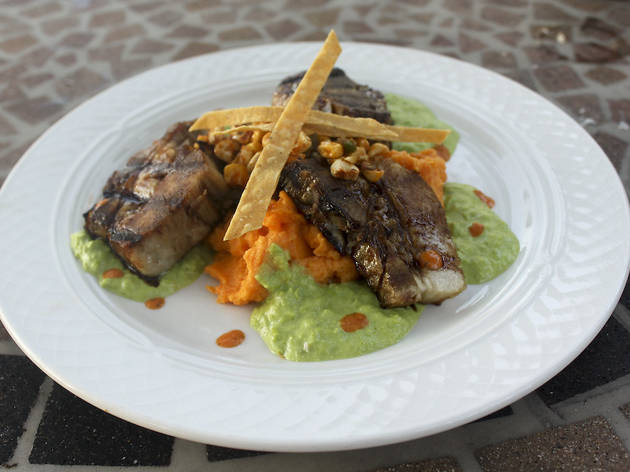 3/8
Photograph: Jason A. Heidemann
Stoney Acre Grill on Beaver Island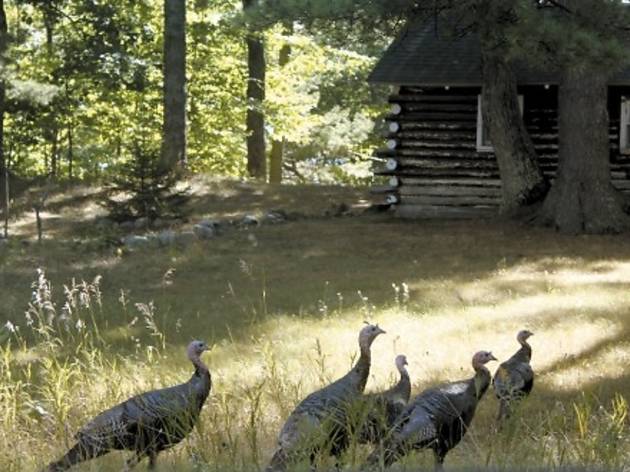 4/8
Photograph: Jason A. Heidemann
Beaver Island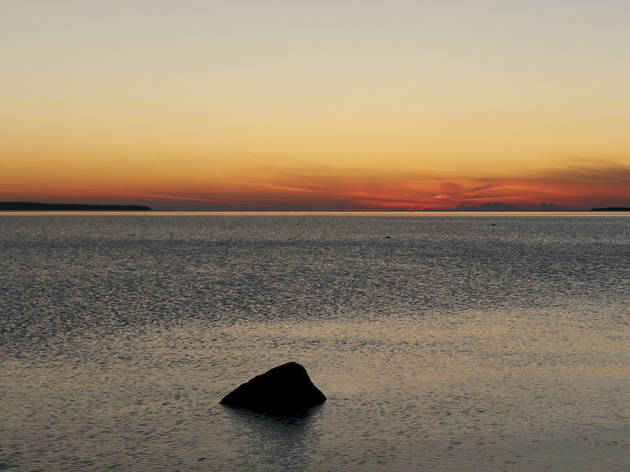 5/8
Photograph: Jason A. Heidemann
Beaver Island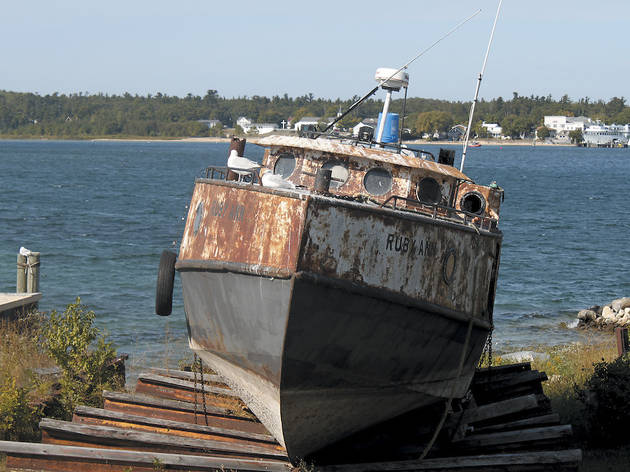 6/8
Photograph: Jason A. Heidemann
Beaver Island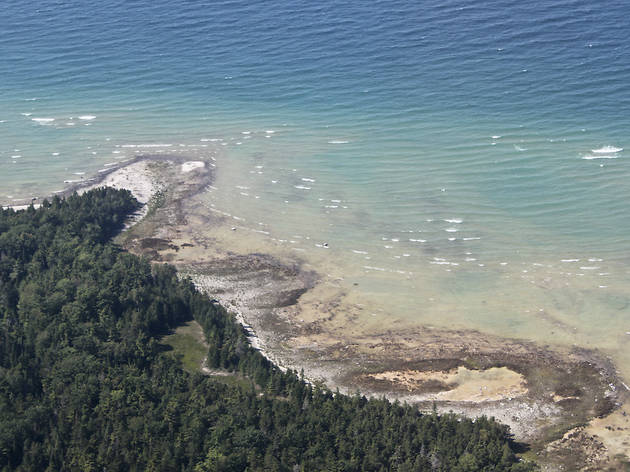 7/8
Photograph: Jason A. Heidemann
Beaver Island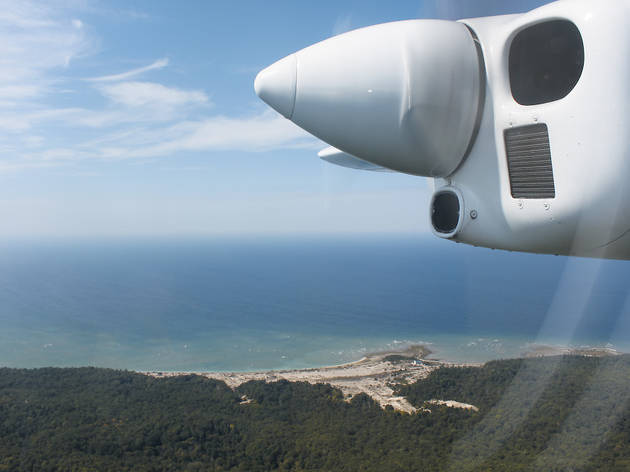 8/8
Photograph: Jason A. Heidemann
Charter plane flight from Beaver Island via Fresh Air Aviation, Inc.
"Ah, you're visiting from the United States!" A friend and I hear versions of this statement on several occasions during our weekend on Beaver Island, a former Mormon kingdom between mainland Michigan and the Upper Peninsula. There is a whiff of truth in these comments. Although the island very much belongs to the Wolverine State, its Irish heritage, lack of chain stores and distance from the mainland give it an island-nation vibe.
Beaver Island is the inhabited crown jewel of the Beaver Island archipelago, a cluster of islands located in the upper reaches of Lake Michigan. Although the place is affectionately referred to as the Emerald Isle, Mormons actually beat the Irish to the punch when they settled the island in 1848 under the leadership of James Strang, who declared himself king, built the King's Highway (still the island's main thoroughfare) and ruled until 1856, when he was shot and killed. Later that year, mobs from Mackinac drove his 2,600 followers off the land. The Irish eventually claimed the island, and their heritage still lingers in the form of the occasional shamrock flag.
We venture to Beaver via car ferry from the pretty port city of Charlevoix, Michigan, a six-hour drive from Chicago. The Beaver Island Boat Company (103 Bridge Park Dr, Charlevoix, 231-547-2311; round-trip $54) offers daily service from mid-May through mid-September and every other day during off-season. On a stunning September morning, we settle in for a 32-mile journey, which takes a hefty 2.5 hours. A faster mode of transport is via Fresh Air Aviation Inc. (06918 Old Norwood Rd, Charlevoix, 231-237-9482; round trip $97), a charter plane that delivers you to and from the island in 15 minutes and offers spectacular aerial views. (Try boating in and flying back as I did; you can leave your car on the ferry and it will be waiting when you land.)
Our boat docks at Paradise Bay on the island's northeast tip, and the first thing we notice is how turquoise the water looks under the late summer sun—it's almost a Bahamian blue. The island is flat and heavily forested, with private residences dotting the coastline. (Noted Chicago theater director Frank Galati and his partner have a home here.) At 55 square miles, the island is approximately the size of San Francisco but has a year-round population of just 700. Aside from a grocery store, museum, a few restaurants, lodging and Livingstone Studio (37900 Michigan Ave), a gallery filled with the work of local artisans, there isn't much. This island is suited to the art of relaxation.
We unpack at the Oak Woods Condominiums & Rentals (38085 Beaver Lodge Dr, 231-448-2099; $110/night), a simple collection of apartment-style accommodations just a stone's throw from both Lake Michigan and a bike path. A variety of motels, cottages and even a converted convent are available for short-term rental, too.
My favorite island attraction, aside from Beaver's intoxicating isolation, is the sunsets. We witness our first while dining alfresco at Beaver Island Lodge (38210 Beaver Lodge Dr, 231-448-2396), a charming property that serves the fanciest meal in town just steps from the sand. Wrapped in our hoodies and warmed by the flicker of torches, we enjoy smoky butternut-squash bisque and crispy braised pork belly while watching the blue sky melt into a palette of orange and pink.
There are half a dozen lakes punctuating the island, and the next morning we set off for Lake Geneserath, the largest. Beaver Island is flush with wildlife: wild turkey everywhere, deer, chipmunks, frogs, turtles and numerous winged creatures. While canoeing around the lake, using oars and a boat we borrowed from our lodge, we're delighted to paddle alongside more than one namesake beaver. Afterward, we circumnavigate the island (unpaved in most parts) via car, stopping at Nicksau's Point to climb the historic lighthouse and later stripping down to our undies for a spontaneous dip in Lake Michigan.
It's at dinner that the energy of the island finally clicks. After taking in another eye-popping sunset at Donegal Bay on the northwest shoreline, we grab a meal at the Stoney Acre Grill (26420 Carlisle Rd, 231-448-2210), a restaurant that at 9pm is already sleepy. We strike up a conversation with our server, Linda, a Chicagoland-based summer season "expat" wearing a T-shirt that reads born to boodle. Boodling, Linda insists, has its roots in Gaelic and colloquially means "a whole lot of nothing." We don't know if that's true and don't dare question her, but in practice it refers to the island custom of loading up one's car with a keg and coolers of sandwiches and beach hopping for a weekend. I don't know if I'll ever "boodle" my way around Beaver, but the whole lot of nothing part will lure me back.