The highlight: Camp Wandawega
A relaxing vacation in Camp Wandawega in Elkhorn, Wisconsin.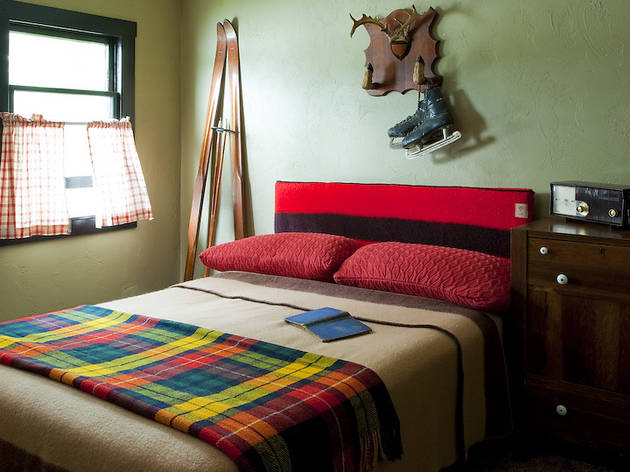 1/22
Photograph: Bob Coscarelli
A lodge themed bedroom in the hotel building of Camp Wandawega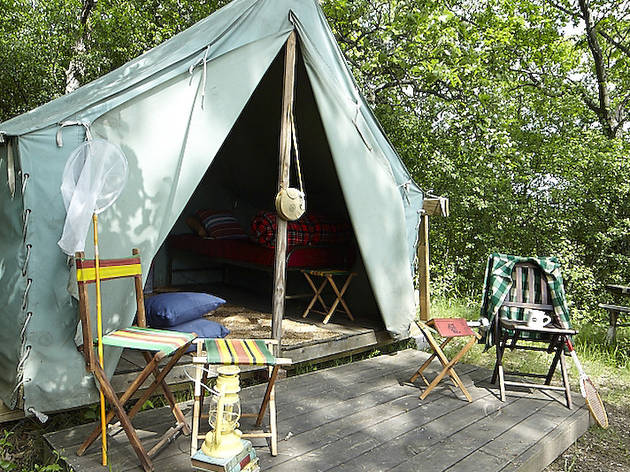 2/22
Photograph: Jacob Hand
Camp Wandawega, one of three of the tent cabins on the hilltop-brought out from retirement from a nearby boyscout camp.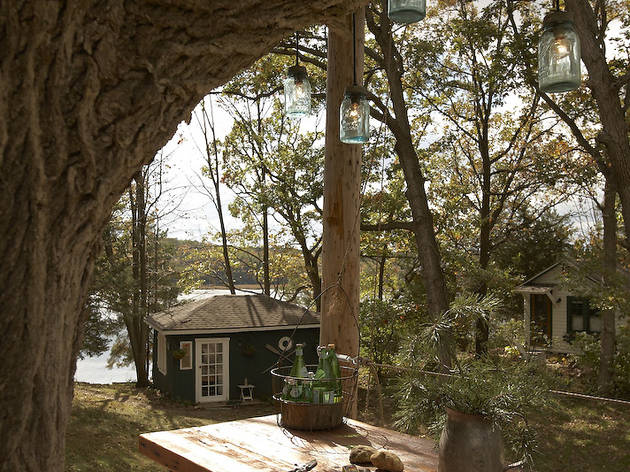 3/22
Photograph: Bob Coscarelli
Treehouse dining-room table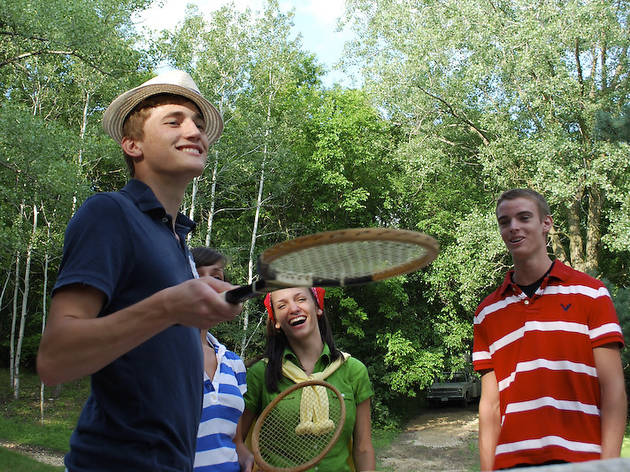 4/22
Playing tennis at Camp Wandawega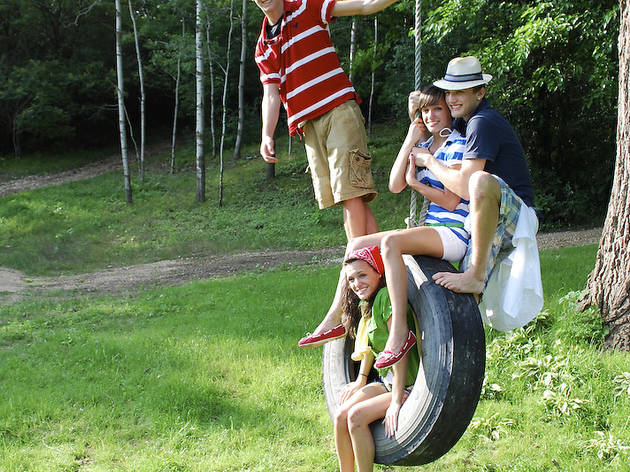 5/22
Having fun on a tire swing at Camp Wandawega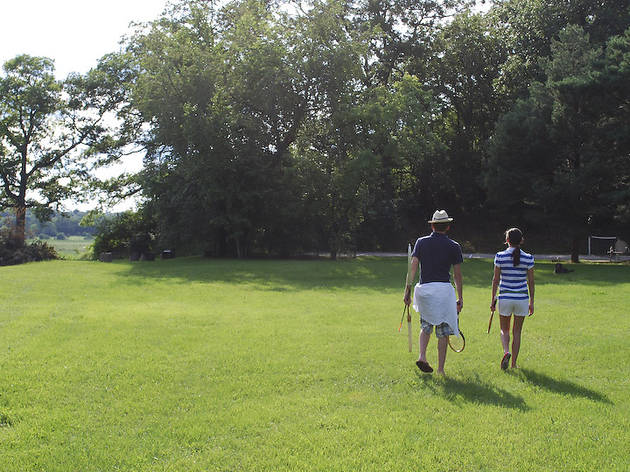 6/22
Ending a long day of activities at Camp Wandawega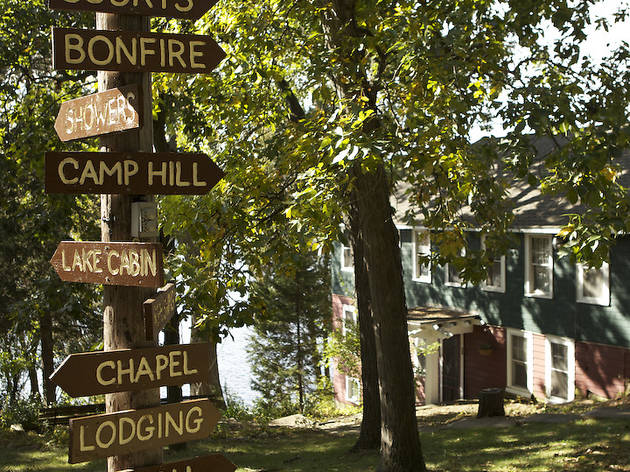 7/22
Find your direction at Camp Wandawega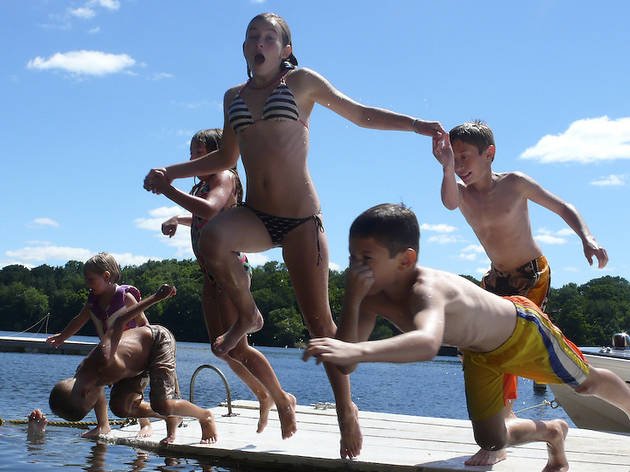 8/22
Take a plunge at Camp Wandawega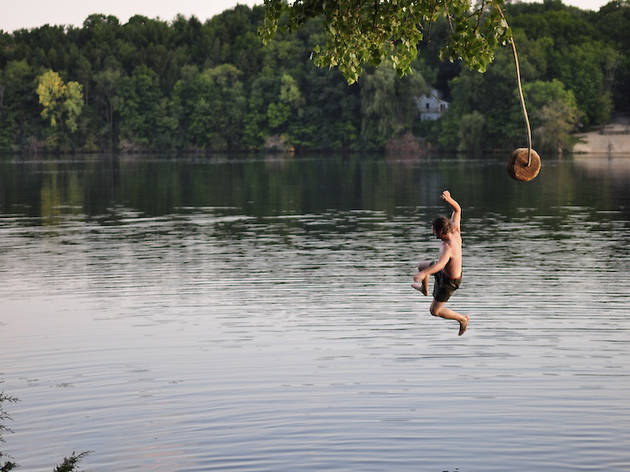 9/22
Going beyond your comfort zone by swinging over the lake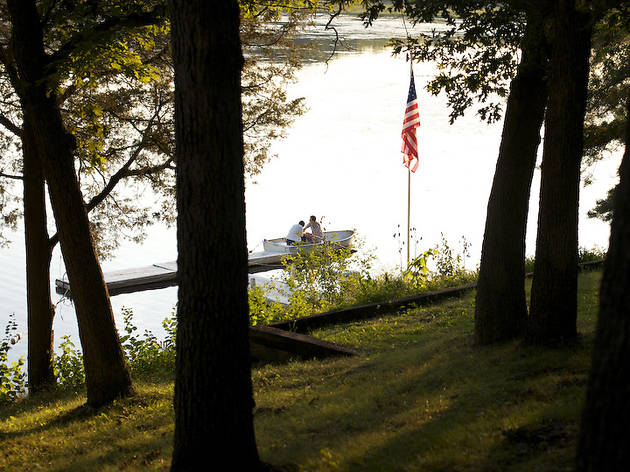 10/22
Peaceful rowboat rides at Camp Wandawega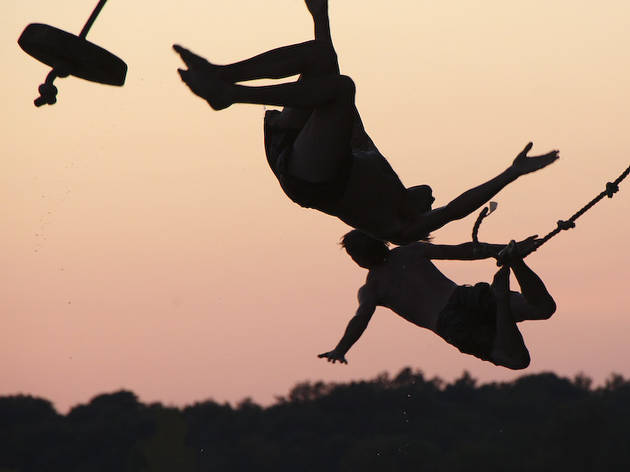 11/22
Flip out! Jump into the lake at Camp Wandawega off one of the swings.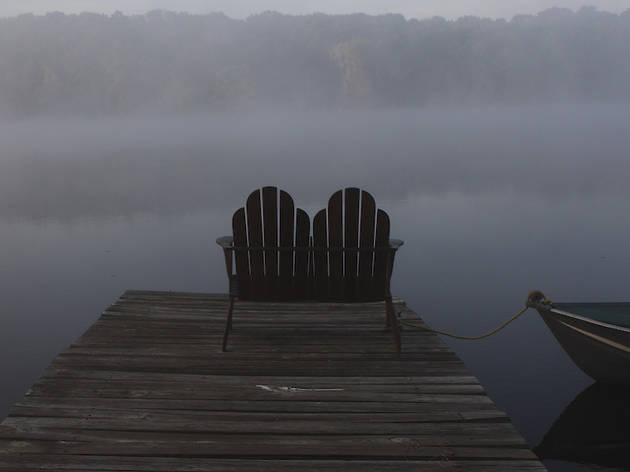 12/22
The lake at Camp Wandawega has the most tranquil scenes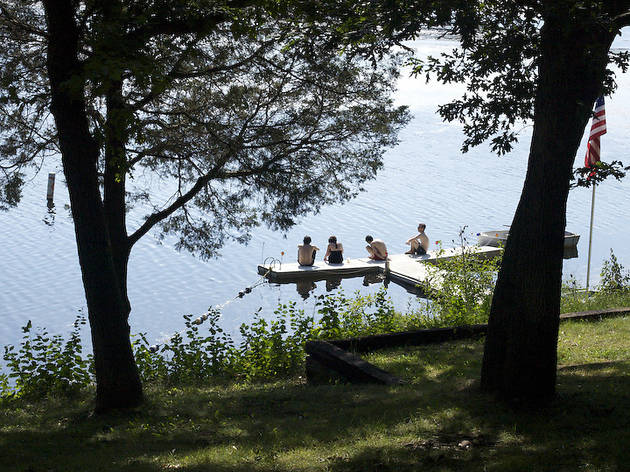 13/22
Take a swimming break on the docks at Camp Wandawega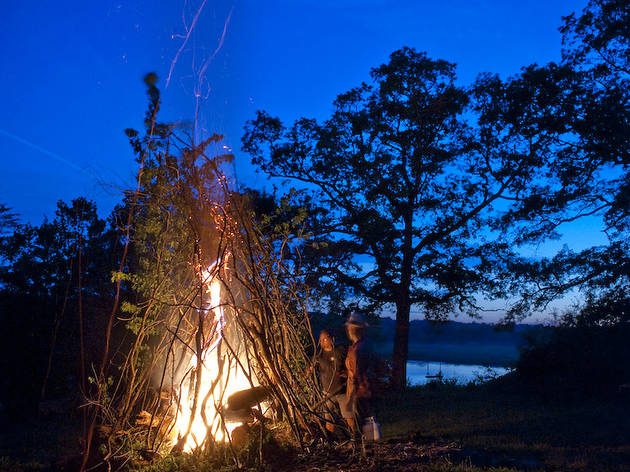 14/22
Photograph: Bob Coscarelli
Bonfire at Camp Wandawega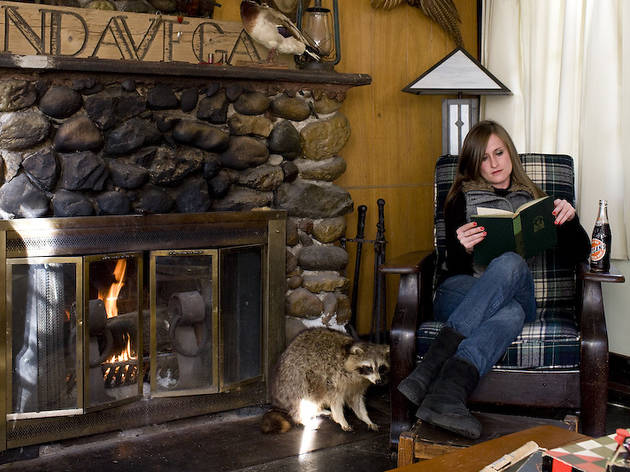 15/22
Photograph: Bjorn Wallander
The lodge at Camp Wandawega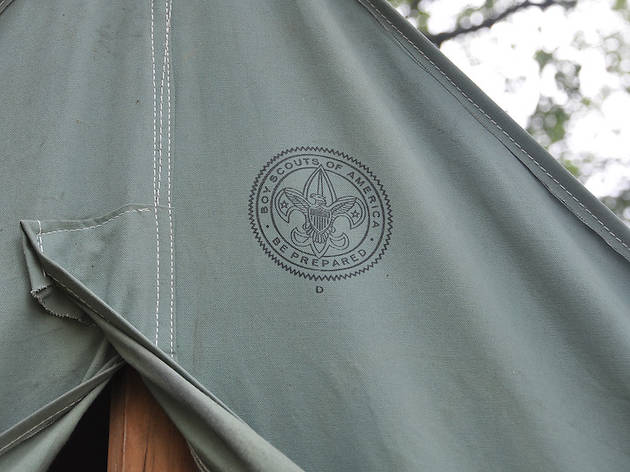 16/22
Photograph: Matt Gore
Detail of one of the vintage Boy Scout tents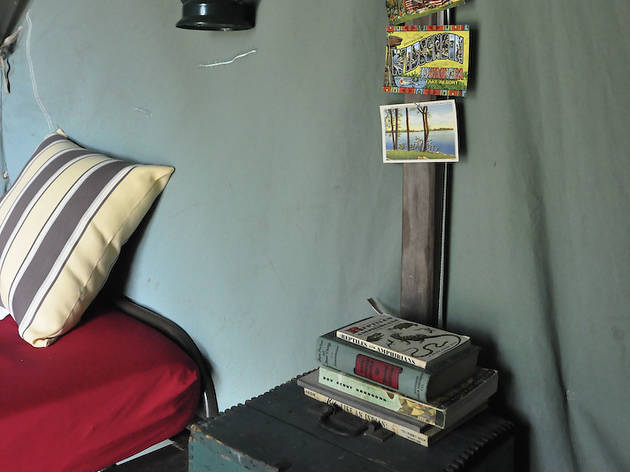 17/22
Photograph: Tereasa Surratt
Detail of tent interior.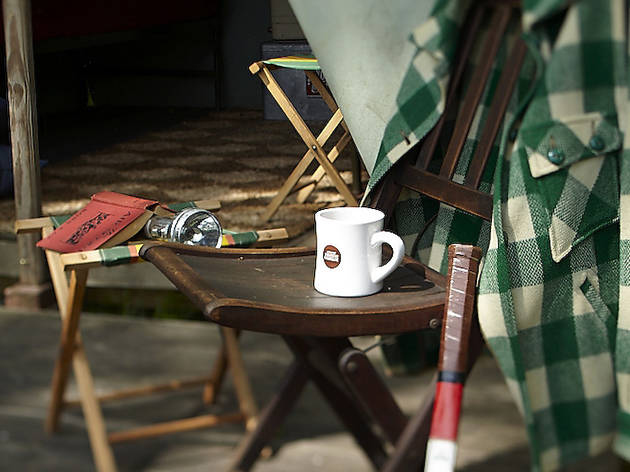 18/22
Photograph: Jacob Hand
Also included in the original BSA tents are a couple of wooden folding chairs and camp stools.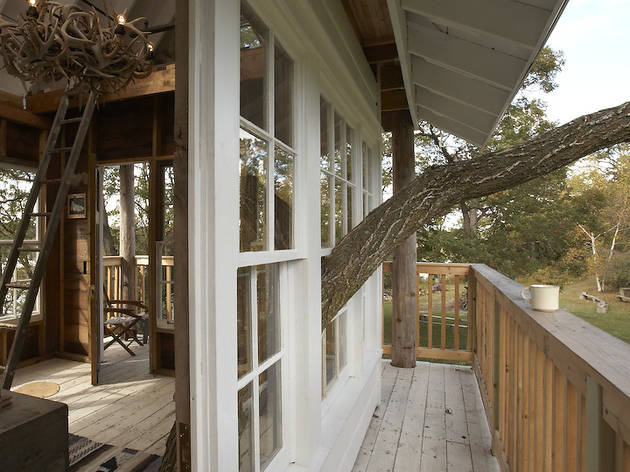 19/22
Photograph: Jacob Hand
TREETOP PERCH. The view from the treehouse is panoramic, overlooking the campgrounds and lake.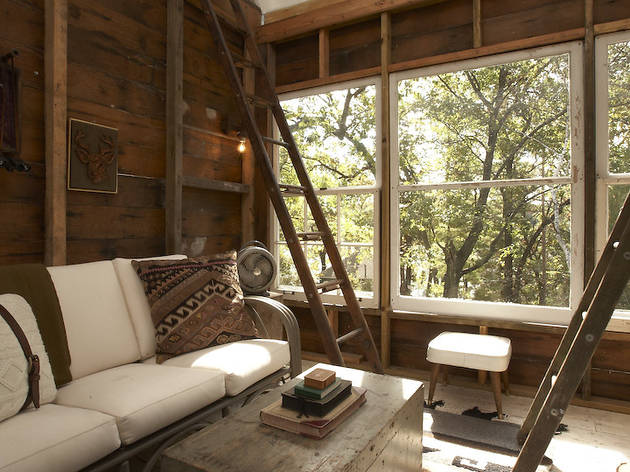 20/22
Photograph: Jacob Hand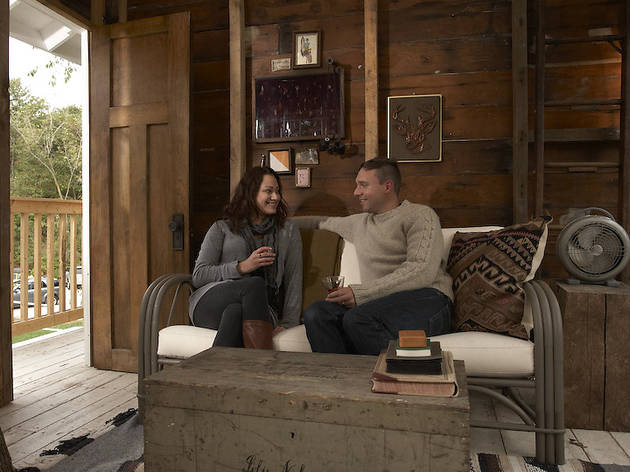 21/22
Photograph: Jacob Hand
The interior of the treehouse is decked out in vintage finds.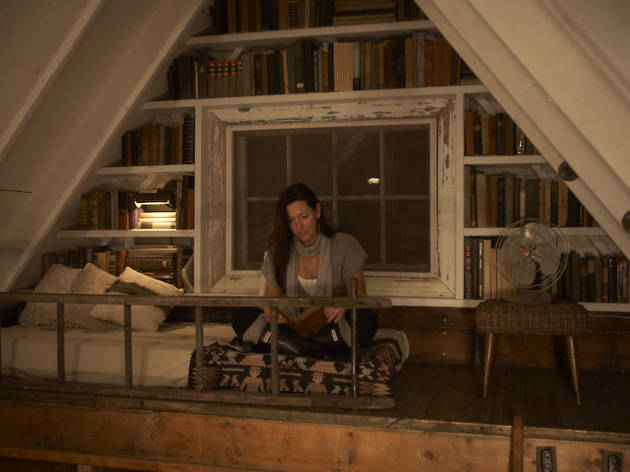 22/22
Photograph: Jacob Hand
A guest perched up in the library loft of the treehouse. The loft is stocked with only antique books in dating 1880's - 1950's
Lawrence Welk is playing on the stereo. I'm nestled under a plaid blanket wearing a thick, isle-print sweater, stretched out on a hulking leather couch. (It's an unusually cold night despite the fact that it's nearly June.) The fire is crackling, and there's a bowl of nuts, a plate of cookies and a bottle of wine on the coffee table. I have one plan in mind this evening: to spend at least a few uninterrupted hours with my book. Save my travel companions, who are also lounging nearby, and the taxidermy raccoon crouched on the mantle, I feel peacefully alone out here.
In a sense, I could be anywhere if my one goal for the weekend is to get far enough from the city that I can calmly sink into a book. But it's not just the location—lakeside in quaint Elkhorn, Wisconsin, surrounded by about 20 acres of woods—that makes Camp Wandawega a great escape. It's the fact that I appear to have landed in someone else's fantasy—specifically that of husband-and-wife co-owners Tereasa Surratt and David Hernandez.
Every corner of Camp Wandawega has been immaculately art-directed to look like a 1950s summer camp with a quirky Americana twist: the aluminum bucket for hoisting beer bottles up to the tree house, the vintage trunks and coolers used for nightstands, the antler chandeliers Surratt made herself, and the World War II beds in the official Boy Scout camp tents perched on top of the hill .
The condensed history is that Camp Wandawega started as a summer resort in the '20s, evolved into a Latvian retreat in the late '50s (where Hernandez would come with his family as a kid), and was purchased by the couple eight years ago. Since then, they've been restoring the handful of cabins and two larger buildings where they need work, but for the most part, everything from the bed frames to the artful linoleum floors to the clunky '50s iceboxes are original. Every room is loosely themed with Surratt's thrift-store and flea-market finds. Previously, the camp was a retreat reserved for friends and occasional weddings; this summer, three cabins (each with its own or access to a kitchenette) and a set of three tents are open to the public.
The blanket I'm tucked under is borrowed from a stack piled atop a chair in the dining room. So is the sweater. And should it rain, I'll grab a pair of wellies lining the staircase. Despite the few bugs that make their way into my cabin and the fact that the toilet barely flushes, I feel taken care of.
I could be participating in myriad activities: hiking the one mile of marked trails, shooting on the archery range, playing volleyball, boating, fishing or catapulting myself into the clear lake from a Tarzan-style rope swing. I could even be roasting marshmallows at the bonfire pits after grilling the dinner ingredients I picked up by bike from Sugar Creek Pantry down the road. But the fact of the matter is I came to do nothing, and that's just what I'll do.
---
PLAN IT | More to do
Where to shop
The Elkhorn Antique Flea Market (411 E Court St, Elkhorn, 414-525-0820) takes place only four times a year (remaining dates are August 14 and September 25). Hundreds of vendors sell everything from barn-wood benches to vintage arrowheads, all cheap by Chicago standards.
Where to shop
Housed in a 120-year-old dairy barn, the Elegant Farmer (1545 Main St, Mukwonago, 262-363-6770) combines a grocery store, deli, bakery and apple orchard. Grab its Gourmet mag–touted "apple pie in a bag" for dessert.
Where to eat
Don't feel like cooking for a night? This part of the country is known for its Friday fish fries. Make a beeline for the nearby Lauderdale Landing (W5625 Westshore Dr, Elkhorn, 262-495-8727) to get one of the best in town.
---
Get there Camp Wandawega (W5453 Lakeview Dr, Elkhorn, WI) is a two-hour, 90-mile drive from Chicago. There's a two-night minimum for rentals, which are available on a limited basis May through October. Choose from a three-bedroom cabin ($300 per night; includes bathroom), a one- or two-bedroom cabin ($200 per night; communal bathroom) or a trio of tents with two beds each (all three tents must be rented as a group for $50 per person per night). The rental fee includes linens and access to the resort's equipment (boats, fishing supplies, vintage bikes, etc.). Reserve through airbnb.com; e-mail campwandawega@gmail.com for more info.
Writer's stay courtesy of Camp Wandawega.