Heads up! We're working hard to be accurate – but these are unusual times, so please always check before heading out.
The 11 best things to do in Cocoa Beach
Sand and surf are Cocoa Beach's best assets. Here's how to get the most out of the city – on and off the water.
An hour east of Orlando, this picture-perfect beach community sits on a barrier island, separated from the mainland by the Indian River Lagoon – an inland waterway that acts as a natural adventure park for boats and marine life. The endless sandy beach is Cocoa's main attraction, whether you're a sun-worshipper or a surfer.
But Cocoa Beach has way more in its locker than surf, sun and sand. As the sun goes down, the area's nightlife kicks into action, earning it a reputation as a bit of a party town. In total contrast, the Kennedy Space Center is just up the road. Time your visit right and you may see a rocket launch streaking high into the sky leaving a trail of smoke and vapour in its wake.
Done something on this list and loved it? Share it with the hashtag #TimeOutDoList and tag @TimeOutEverywhere.
Find out more about how Time Out selects the very best things to do all over the world.
Things to Do in Cocoa Beach
What is it? Cocoa's stunning sandy beach stretches as far as the eye can see in either direction, pounded by the Atlantic surf.
Why go? Whether you want to surf the waves or spend lazy days catching rays, with 233 sunny days per year Cocoa Beach is the place to do it. This surprisingly uncrowded beach is one of Florida's top surfing destinations so bring your wetsuit and boogie board, or hire one from the beach rental shops nearby. Eleven-time world champion surfer Kelly Slater grew up on these waves, so you can pay homage as you ride in his wake.
2. Night Time Bioluminescence Kayak Tours
What is it? Unique kayak tours through calm, warm waters that glow with natural bioluminescence when disturbed after dark.
Why go? Don your headlamp, life vest and water shoes and launch your kayak into the Banana River at sunset. Led by a local guide, Night Time Bioluminescence Kayak Tours take you on an incredible journey along the Banana River Lagoon. You won't find alligators in this saltwater environment, but you will see plenty of unusual 'critters' and marine life such as stingrays, dolphins and manatees. During the summer months, this calm inland waterway glows with surreal bioluminescence.
3. Airboat Rides at Midway
What is it? Exhilarating eco airboat ride through Florida's hidden waterways.
Why go? Fasten your headset and hang on! Airboat Rides at Midway provide exhilarating airboat trips along the St Johns River. Reaching speeds of up to 25mph, these highly manoeuvrable watercraft can spin through 180 degrees and stop dead to check sightings of turtles, frogs, blue herons, ibis, nesting waterbirds and basking alligators. Tours depart from the town of Christmas (!) and include photo ops while you hold a baby gator.
What is it? A complex of exhibits, Imax theaters and interactive experiences recounting the history of US space travel.
Why go? The Kennedy Space Centre on neighbouring Merritt Island is ideal for anyone with an interest in space exploration. Tour the launch site, explore the Apollo, Mercury and Gemini mission zones, touch moon rock, meet a NASA astronaut and get up-close to the retired Space Shuttle Atlantis.
5. Gregory's Upstairs Comedy Club
What is it? Comedy Club offering one of the best nights out in Cocoa Beach.
Why go? Plan to arrive at Gregory's Upstairs Comedy Club around 7.30pm for drinks, and to bag yourself a good seat for the 9pm show. Fill the time dining from the menu of steak and seafood, then sit back and get ready to laugh till you cry. This entertaining Comedy Club attracts a string of nationally acclaimed comedians and well-known faces from 'The Tonight Show', Comedy Central and HBO.
What is it? World-famous surf shop and the ultimate surfer hangout.
Why go? Located on North Atlantic Ave, Ron Jon Surf Shop is a must-see, even if you intend to stay firmly ashore. Open 24/7, this 52,000 square-foot store is the largest surf shop in the world. Not surprisingly, you'll find everything you need for riding the surf from clothing and boards to a good range of novelty souvenirs.
What is it? Waterfront restaurant on South Atlantic Avenue with an imaginative menu starring local produce.
Why go? Many Florida restaurants offer a list of dishes straight from the fat fryer. But with a focus on freshly sourced local ingredients, The Fat Snook is different – in fact, it has a reputation as the best seafood restaurant in Cocoa Beach, giving what's fished from local waters the respect it deserves. Go for the middleneck Cedar Key clams with chorizo and cilantro, and the jumbo scallops with bacon maple marmalade.
8. Florida Horseback Trail Rides
What is it? Gentle rides on well-behaved horses through unspoilt forests and trails.
Why go? Suitable for all ages and levels of experience, a family-owned ranch is the starting point for these peaceful Horseback Trail Rides. This relaxing eco tour winds through a variety of ecosystems within the 2,000-acre forest. Keep your eyes peeled for butterflies, gopher tortoises, armadillo, deer and bobcats beneath the ancient oaks draped with drifts of Spanish moss.
What is it? The name says it all – a delightful eatery in the heart of Cocoa Beach. More bakery/café than restaurant, Simply Delicious is a relaxing place to enjoy a leisurely American-style breakfast or lunch, especially if you have a sweet tooth.
Why go? Top choices have to be the fresh strawberry crêpes and crispy malted waffles. Promise yourself you'll burn off the calories with a bracing walk along the beach.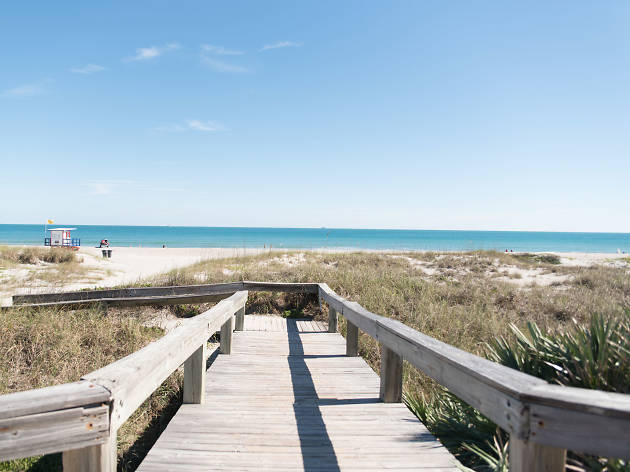 ArrogantWatcher
What is it? Local beach park with boardwalks, birds and tons of shells.
Why go? Lori Wilson Park is a scenic coastal park offering the chance to see the 'real Florida'. The sand dunes and maritime hammocks are a haven for native birds and wildlife. Keep your eyes peeled for disturbed sand indicating nesting sea turtles and, if you're lucky, cute hatchlings making a dash for the sea. It's perfect for shelling, surfing and fishing from the shore.
What is it? Slow & Low Bar-B-Que is your best call when it comes to barbecue meat. Located on Orlando Ave, this restaurant hosts live music and all-day happy hours.
Why go? Giant racks of barbecue ribs slathered in signature sauce fall right off the bone. You'll have to go back to sample the hand-pulled pork which is smoked for 12 long, slow and tenderising hours.