Heads up! We're working hard to be accurate – but these are unusual times, so please always check before heading out.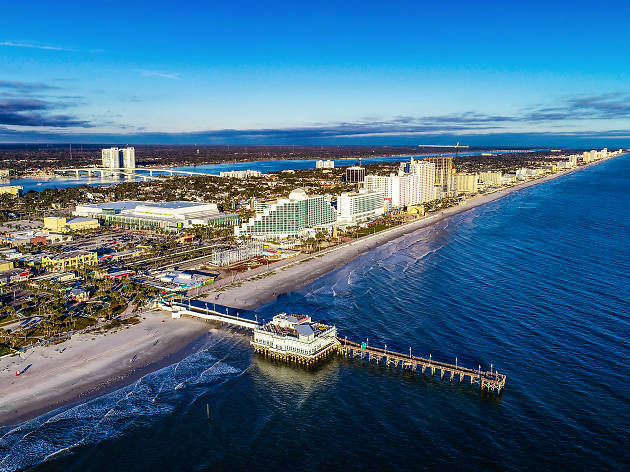 The 13 best beaches near Orlando
The best beaches near Orlando, a city equidistant from the state's coasts, are perfect day trips.
When looking to indulge in some fun away from the top theme parks in the city, consider flocking to the best beaches near Orlando.
Although smack-dab in the middle of the state, the city is more or less equidistant from each one of the state's coasts—making it the ideal starting point for a quick day trip.
Whether opting for the pastel beach towns of the Gulf coast or taking the one-hour-long drive to the Atlantic ocean, you'll arrive at one of these splendid beaches ready for a day of fun and recharging. The best part of it all? At each one of these destinations, you'll find plenty of awesome bars and restaurants to visit after your time on the sand.
RECOMMENDED: Our guide to the best things to do in Orlando
Best beaches near Orlando
Photograph: Courtesy Yelp/Staci L.
"NSB," as the locals call it, is the go-to beach for Orlandoans. In just an hour, expect to drive to your destination and have a Breaker's burger and a beer in hand. While in town, make sure to stroll along historic Canal Street for beach-themed shopping and eats. A treasure trove of delicacies for foodies, you'll want to have an informal lunch of gator bites or fresh oysters at JB's Fishcamp and some ice cream at Frozen Gold.
Photograph: Courtesy Yelp/Megan C.
2. Cape Canaveral National Seashore
This National Park and barrier island is the longest stretch of unspoiled beach on Florida's East coast. If you're seeking respite from the hustle and bustle of everyday life, this beach should be at the top of your list: you'll wiggle your toes in the pristine sand without seeing another beach-goer in site, except for the marine turtles and dolphins swimming in the water, of course.
Photograph: Courtesy Yelp/Vishal K.
The area is likely familiar to you because of the international speedway that calls it home (expect fans of racing to flock here), but did you know that beach racing is actually a thing here, and has been since the 1900s? After all, the most popular public beach in Daytona is drive-on. If you're here during the summer, check out the outdoor concerts after eating and drinking on Beach Street.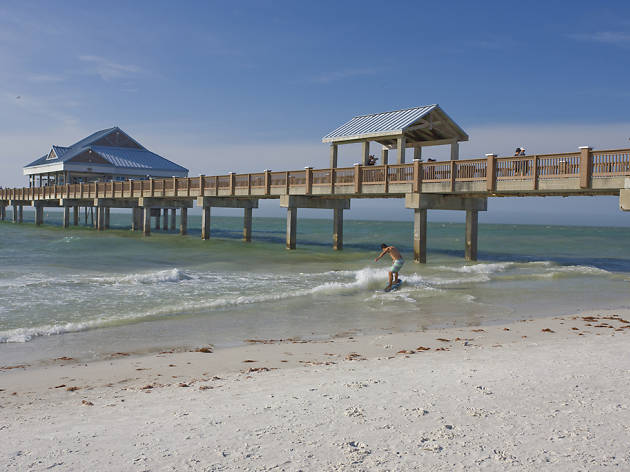 Photograph: Courtesy flickr/cc/Michel Rathwell
Clearwater's tranquil Gulf coast waters are perfect for jet skiing and parasailing, but it is the nearby Beach Walk, a promenade filled with hotels, entertainment destinations and resorts, that make this an outstanding destination. Best of all? The famous Clearwater Aquarium, which bestows the surrounding area with the artsy vibe that makes it so special.
Photograph: Courtesy Yelp/Tiffany L.
Cocoa, also known as the "Space Coast" given its proximity to the Kennedy Space Center Complex, is an easy hour drive from the center of Orlando. Wind and water sports are popular here, in addition to deep-sea fishing charters and eco-tours that take participants through the area's intercoastal waterways. Many famous surfers have hailed from here so you might want to try your hand at the sport as well.
Photograph: Courtesy Yelp/Christy R.
6. Washington Oaks Gardens State Park
There is much to say about Washington Oaks Garden State Park. First of all, unlike most sandy Florida beaches, this one is strewn with rocky boulders of coquina rock, which are super-cool to see. The land was first purchased by a relative of President George Washington's and it has since become a historic park with manicured gardens and citrus groves: 425 acres of preserved natural barrier island habitat along the Atlantic coast.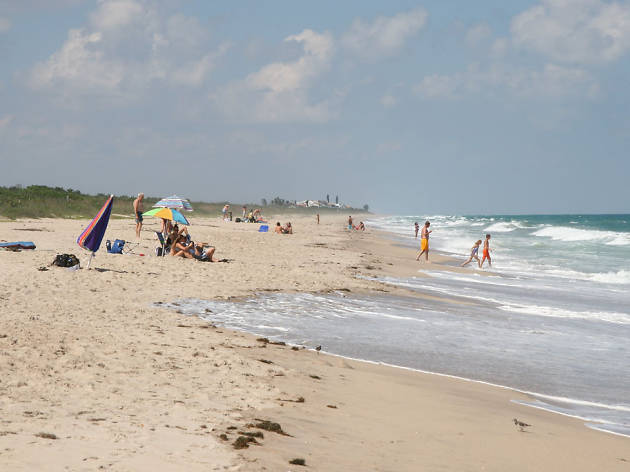 Photograph: Courtesy flickr/cc/Jeff Muceus
7. Sebastian Inlet State Park
Given its gig as the annual host to the Florida Pro Surf competition, it is no surprise that surfers from all over the world flock to Sebastian Inlet State Park to catch some waves. Is the sport not your thing? Worry not: you can hike along the mile-long Hammock trail or pop into the small maritime museums around the area.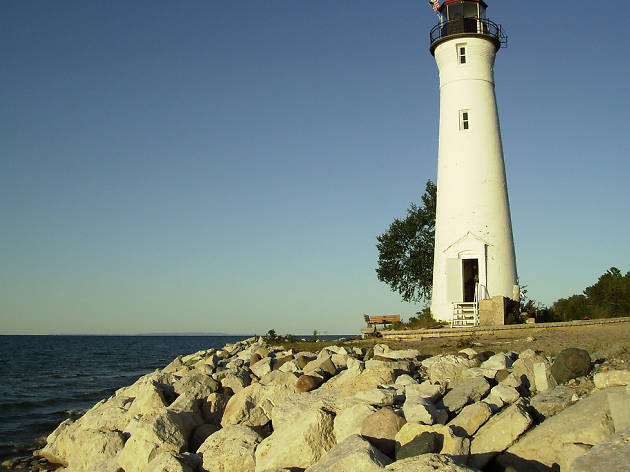 Photograph: Courtesy flickr/cc/Don and Janet Beasley
Named after the famous first European settler of Florida, Ponce De Leon, Ponce Inlet is yet another surf haven. You can also get your workout in by climbing the 203 steps to the top of the lighthouse. Or just relax: this is a quiet, residential beach that will help you de-stress.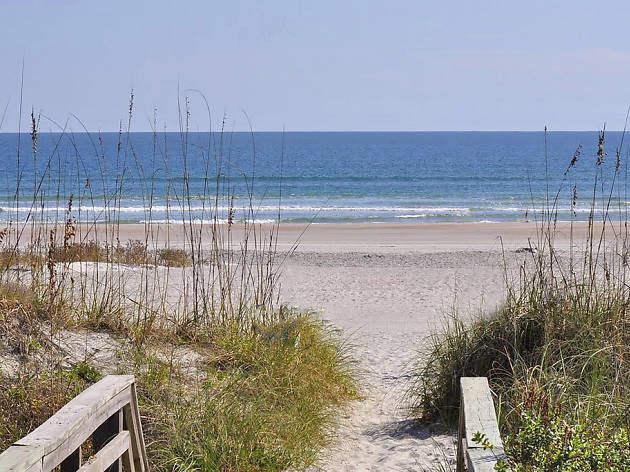 Photograph: Courtesy flickr/cc/Heather Paul
Sure, it's a two-hour drive from Orlando—but it's well worth the trip. The historic European-style beach town is found in the nation's oldest city, St. Augustine, renowned as the home of sites like Castillo de San Marcos, a 305-year-old military fort overlooking the coast. To enjoy never-ending views of empty coastlines, stop by Crescent Beach on St. Augustine's south side. You will be in awe.
Photograph: Courtesy Yelp/Jerome T.
Located on a barrier island in the Gulf of Mexico, St. Pete beach is a pastel-colored Art Deco-style beach town. After you watch the sun set, head to Corey Avenue, the lively center of this small beach community, replete with galleries, shops and restaurants. Don't forget to visit the Salvador Dali museum on your way out of town.
Photograph: Courtesy Yelp/Lori B.
No clothing is allowed at this nudist beach at the southern tip of Canaveral National Seashore. Enter the park from Titusville and follow the nudist bumper stickers to parking lot 13. Find a mostly older, hippie crowd here, living their best life behind the large dunes that block the parking lot from the seashore. Just make sure to leave judgement at the car before heading down to this free-spirited area.
Photograph: Courtesy Yelp/Heidi W.
Where Ponce Inlet and New Smyrna beach meet is the magical place you want to be at low tide. You can only access this beach by boat, as it shows up solely when the waters recede. You'll get serious spring break vibes as boaters set up their beach games, beer coolers and Bluetooth speakers for a rowdy good time. The island eventually disappears, so make use of your time here.
Photograph: Courtesy Yelp/Scuba Steve C.
Just South of St. Pete is this quaint beach town on the Gulf coast. Ideal for those looking to escape the crowds and tourists that usually flock to the more popular beaches, Anna Maria Island boasts sugar-soft sand made of fine quartz crystals. Hop on board of the trolley that will take you around the small island, where you'll get to wander into local shops selling artisanal goods like cheese and olive oil. Bonus points: the turquoise waters and West-facing coast make for epic sunsents.
Craving a different kind of outdoor activity?
Florida is home to a diverse ecosystem—you could be sunbathing at the beach one minute and diving underground in freshwater caves the other minute—and the best parks in Orlando highlight just that.