The 11 best brunch restaurants in Dallas
From traditional menus to ethnically modern takes on classic food, the best brunch in Dallas will revive your taste buds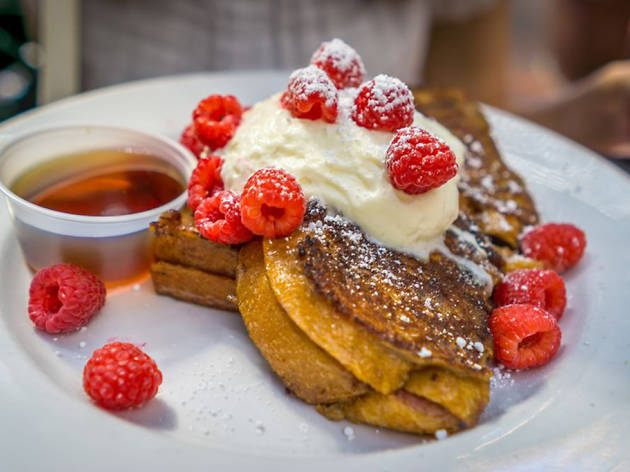 Brunch is not a meal, it's a lifestyle—and Dallas restaurants understand that better than most. As exciting as the city's dedication to a classic weekend midday meal is, the attention paid to brunch makes things a bit harder for eaters: how to pick a single place to dine at? We're here to help. From Thai and Vietnamese takes on the meal to cheap eateries and modern twists on classics, we hereby rank the best spots to eat brunch in Dallas. And, since you'll likely need to walk off all that food after paying your bill, we also highlight our list of best museums and things to do in Dallas—just pick the most active, physical activities to tackle after your delicious brunch.
Best brunch in Dallas
1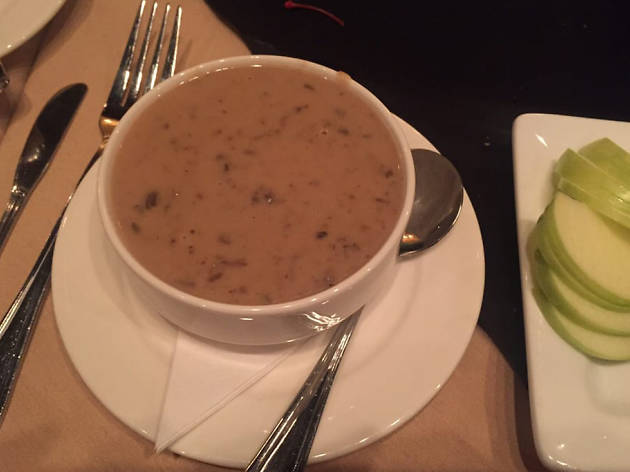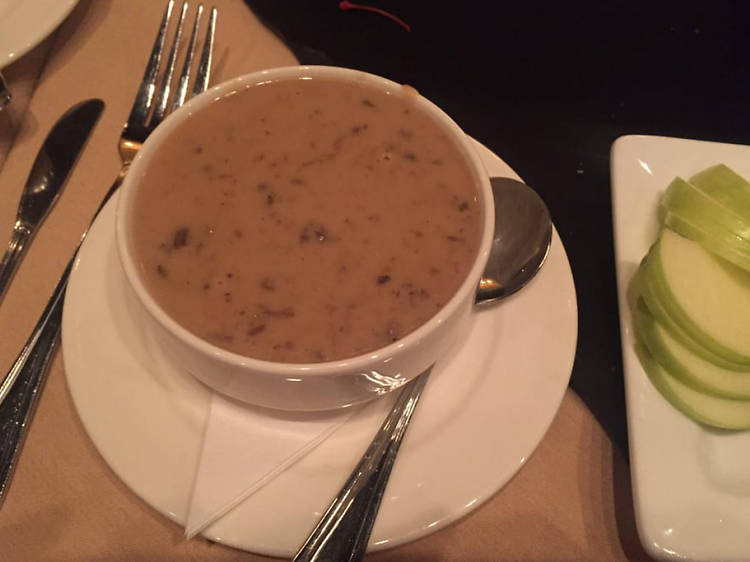 Photograph: Courtesy Yelp/Rhianna L.
What is it: This is an upscale French bistro in Lower Greenville.
Why go: You don't need a reservation at this longstanding French bistro, but you should probably try to get one: the dining room and patio fill up quickly (this has been the case for Sunday brunch for over 40 years). No matter what you're in the mood for, order the mushroom soup, prepared following the same recipe used by the kitchen staff since the eatery first opened back in 1972.
Price: Pricey
2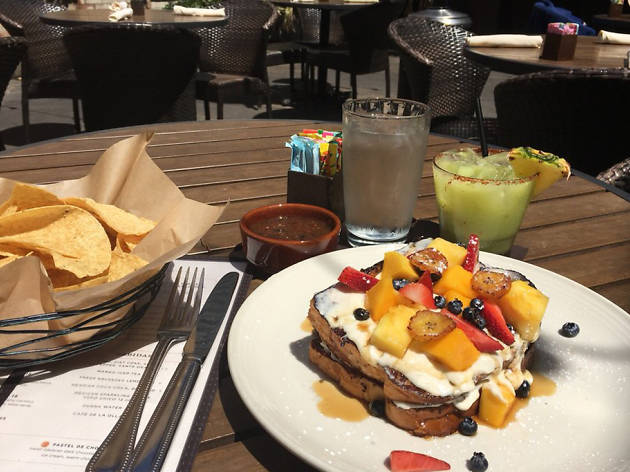 Photograph: Courtesy Yelp/Tahnita C.
What is it: With several locations around DFW (it's a chain, but you'll never be able to tell by the taste of the food served), this is a prime spot for a South-of-the-border brunch.
Why go: If you're craving Mexican brunch food, this should be your go-to. Expect the usual suspects—chilaquiles and huevos borrachos—right beside the must-try Mexican toast: pan dulce, perfectly fried and topped with vanilla cream cheese, strawberries blueberries, caramelized bananas and finished off with a piloncillo cinnamon syrup.
Price: Average
3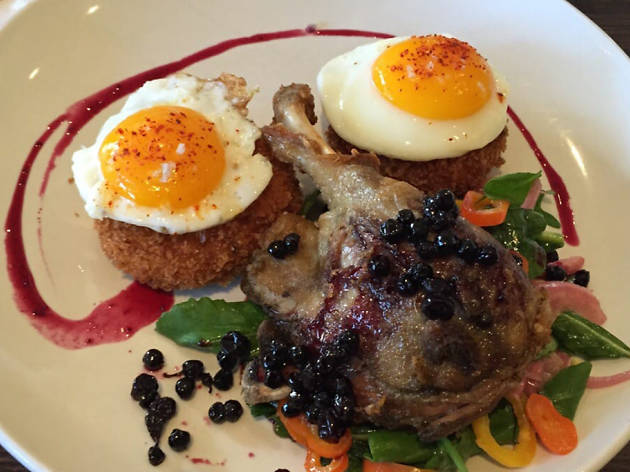 Photograph: Courtesy Yelp/Em S.
What is it: In the Bishop Arts District, this upscale French restaurant serves food that is almost too beautiful to eat.
Why go: To see and be seen. It helps that the rotating quiche menu is always on point and that the French onion soup is one of the best in Dallas. You might want to try the legs and eggs, duck leg confit and sunny-side-ups, alongside a bottle of surprisingly affordable Pinot Grigio.
Price: Pricey
4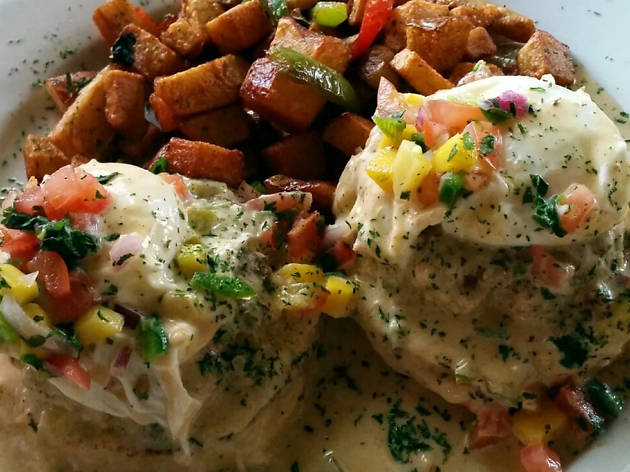 Photograph: Courtesy Yelp/Mindy N.
What is it: A laid-back, fun Cajun seafood restaurant with live music played on a patio.
Why go: All adult beverages on the brunch menu rank in at a glorious $5 and pretty much every entrée is drowning in gravy. Do expect most patrons to be drinking "life preservers," a margarita/hurricane hybrid that will likely make Monday morning that much more painful.
Price: Bargain


5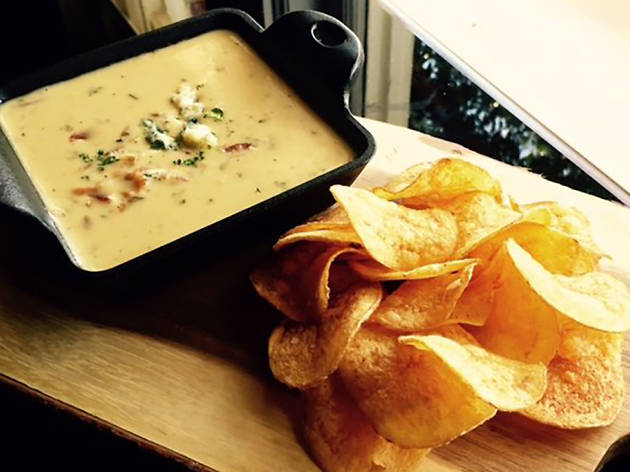 Photograph: Courtesy Yelp/The Landmark Restaurant
What is it: At this upscale American restaurant inside the Melrose Hotel, brunch is not a meal—it's an experience.
Why go: Brunch is only served from 11am to 2pm on Sundays and reservations are in order. Slip into something a little nicer than usual and be prepared to spend some money—we promise it is worth it. Choose from five styles of eggs Benedict or browse through the small plates menu. We recommend the coriander dusted soft shell crab, served with sautéed baby spinach, charred plum tomato, shallots, garlic and a beurre blanc sauce.
Price: Pricey
6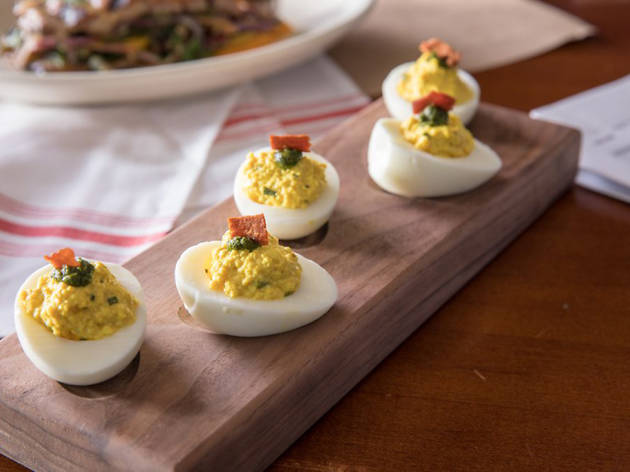 Photograph: Courtesy Yelp/Whiskey Cake
What is it: Kitchy uniforms and a whole lot of bloody Marys take center stage at this farm-to-table American restaurant with two locations in Dallas.
Why go: Soft lighting, friendly staff, huge portions and a bloody Mary bar: all the makings of a perfect hangover, er, brunch. To ease tomorrow's headache, you'll want to munch on food throughout your visit. We suggest an order of fried green tomatoes and the farmhouse eggs Benedict dish, served with a smoked chili hollandaise and shaved ham from local Niman's Farm.
Price: Average
7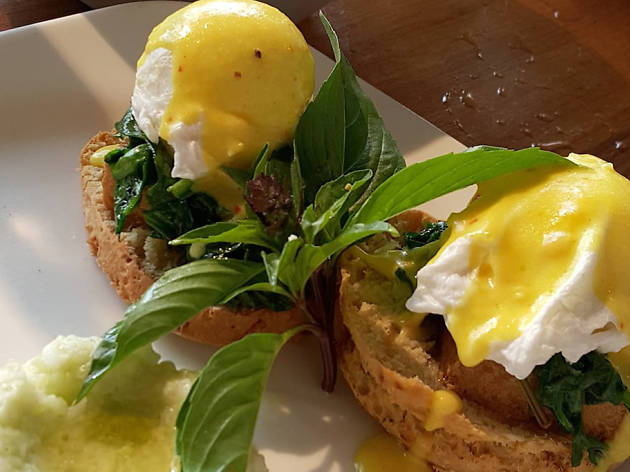 Photograph: Courtesy Yelp/Soannia T.
What is it: Serving brunch food with a twist, Malai Kitchen is a Southeast Asian restaurant that satisfies foodies' palates in two different locations within Dallas.
Why go: If a Thai/Vietnamese eatery sounds like an odd destination for brunch, we ask that you bear with us. All you should do is order the eggs Benedict, where coconut is baked right into the fluffy biscuit and then topped with minced beef, Thai basil, shallots and Thai chilies. How good does that sound? Crank up the heat and wash it all down with a spicy Vietnamese michelada for just $4.
Price: Average
8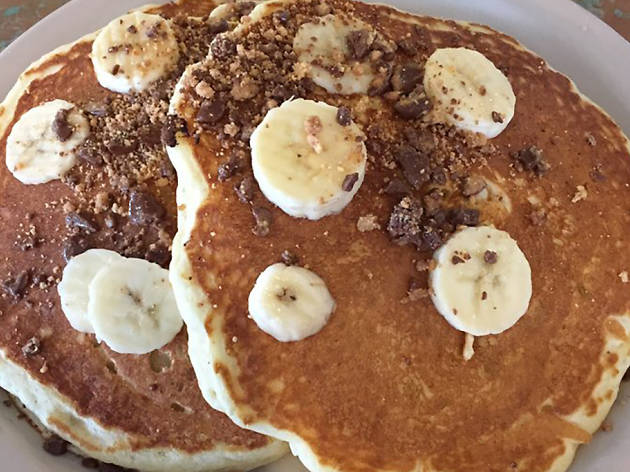 Photograph: Courtesy Yelp/Julia O.
What is it: Open 24 hours a day since 1991, casual coffeehouse and restaurant Cafe Brazil has become a staple of the working (and drinking) class, boasting nine DFW locations.
Why go: Bottomless coffee. That's right: you can order endless coffee from an extensive, rotating menu that includes bourbon pecan, snickerdoo and Kahlua cocoa. Order a hearty Western omelette to go along with your many cups of Joe and lounge on the giant patio, decorated in vibrant blues, greens and yellows for a truly happy experience.
Price: Average
9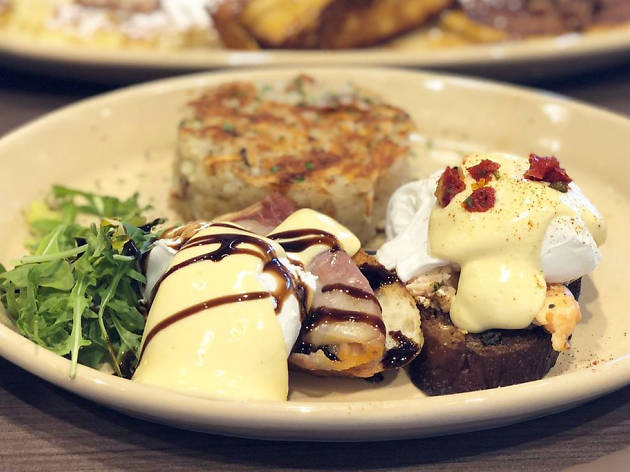 Photograph: Courtesy Yelp/Melissa K.
What is it: This casual breakfast café in Addison, which originally launched in Denver back in 2006, is exactly what brunch dreams are made of. Expect good food in a happy, laidback environment.
Why go: Are you ready for it? You can order a flight of pancakes. Yes, you read that right. Not that you'd really need another reason to visit the café, but the six different kinds of eggs Benedict, all served alongside diner-style (but not so greasy!) hash browns, might really convince you to run to Snooze.
Price: Average
10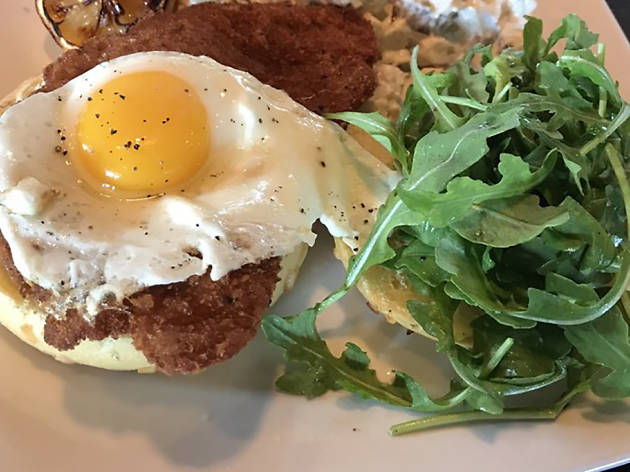 Photograph: Courtesy Yelp/Lisa K.
What is it: IdleRye is a modern American gastropub in Deep Ellum that fuses the very best of Louisiana gastronomy and Polish cuisine.
Why go: The melding of the two cultures really begs to be explored. Do so while indulging in a crispy schnitzel sandwich topped with grain mustard aioli, arugula and a fried egg, served with a tangy potato salad. Stay a bit longer and work up an appetite for pierogies or a fried gulf shrimp with lemon aioli. Offering an extensive menu of surprising twists on standard favorites (spicy tomatillo bloody Mary, anyone?), you're bound to experience culinary magic when dining at IdleRye.
Price: Average
11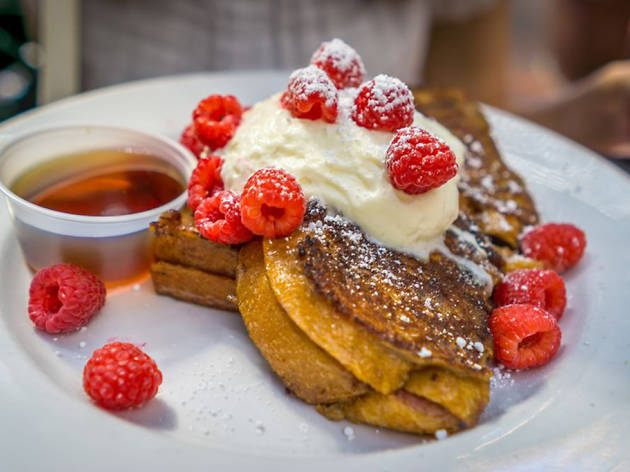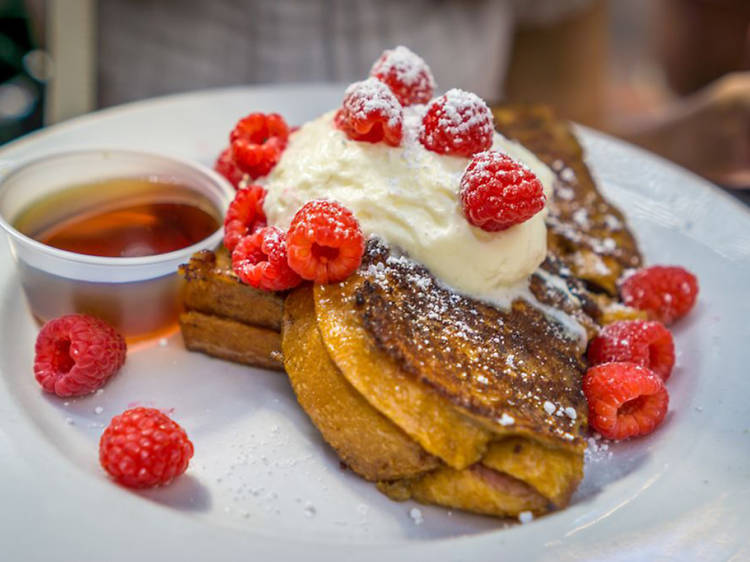 Photograph: Courtesy Yelp/David G.
What is it: Upscale bakery and bistro Bread Winners is where you take your family for brunch when they visit. Sure, it's not the most inventive menu, but you're pretty much guaranteed to be surrounded by a lively crowd also enjoying solid food.
Why go: For typical brunch offerings that include four different flavors of French toast. We're partial to the Normandy—made with thick slices of sourdough, stuffed with cream cheese and raspberry jam—which happens to blend perfectly well with the frozen blood orange mimosas.
Price: Pricey
More of the best of Dallas
Dallas's nightlife is nothing if not legendary.