The 20 best restaurants in Dallas
The best restaurants in Dallas serve way more than the beef the city is known for. This kind of southern comfort fare will make your headspin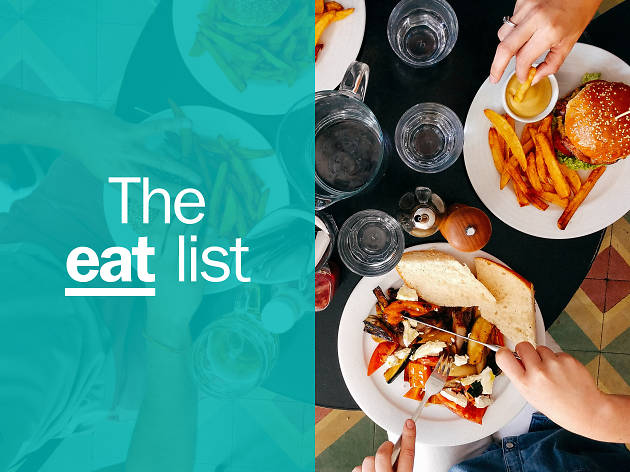 Dallas beef is a thing of legend, but as the best restaurants in Dallas make clear, the city's culinary scene is about so much more than steak. Chefs come here because locals are willing to try just about anything when it comes to food. From eclectic brunch spots perfect for refuelling after a night out to bars that serve top-notch cocktails alongside truly unbelievable food, the soul of the city is a foodie one. Napkins at the ready, folks, it's time to eat your way through the town.
Best restaurants in Dallas
1
Photograph: Courtesy Yelp/Joey S.
What is it: An upscale restaurant on Mockingbird Lane serving killer steaks.
Why go: The classic Texas steakhouse received the modern spin we never knew it needed by James Beard-nominated chef John Tesar. Choose a dish from the old school menu, filled with locally sourced filet mignon, burgers and bone-in ribeyes. The more adventurous can go for the new school menu, which includes a bacon tasting, dry-aged beef that's aged for 240 days in-house and then cooked over an open wood-fired flame.
Price: Blowout
2
Photograph: Courtesy Yelp/Brian Q.
What is it: A popular local eastery in the Bishop Arts district, serving up Italian cooking.
Why go: There are only 14 tables at Lucia, so commandeering one can be tricky buiness. However, if you book enough in advance, you could be tucking into chef David Uygur's innovative Italian menu. While the dishes do change with the seasons, you can expect items like octopus salad, lamb sirloin and tonarelli with Texas tomato and handmade spaghetti.
Price: Pricey
3
Photograph: Courtesy Yelp/Fearing's
What is it: Found inside the Ritz-Carlton hotel, Fearings is a fine dining Southwest restaurant.
Why go: Texans have been praising chef Dan Fearing's creations for decades—long before celebrity chefs were mainstream. Maybe it's because he literally wrote The Texas Food Bible. Maybe it's because his newly revamped restaurant continues to offer the best in upscale Southwest cuisine. Either way, his barbecued crescent Long Island duck with creamed sweet corn, fried okra and southern chow chow is to die for. This is mama's home cooking with a million-dollar upgrade.
Price: Blowout
4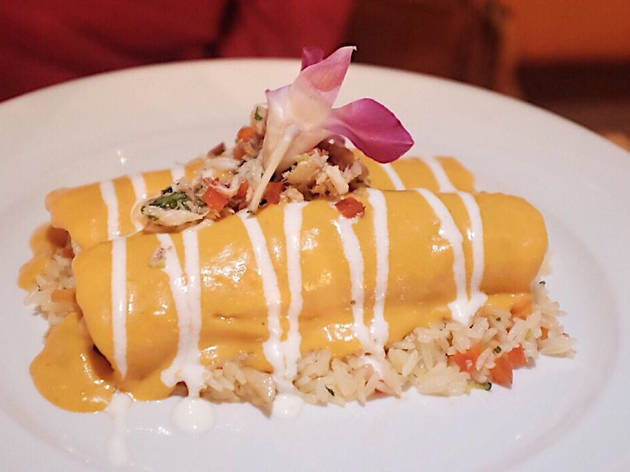 Photograph: Courtesy Yelp/Rob S.
What is it: An upscale coastal Mexican restaurant in Oak Cliff.
Why go: Mesa is a popular destination for visiting celebs like Beyoncé and Conan O'Brien, but that's not the main reason you should visit. Chefs and owners Olga and Raul Reyes are committed to authentic coastal Mexican cuisine, which shows in the lobster enchiladas and the fan-favorite mole sauce. Just a thought: the latter should be served with every dish, we think. The restaurant is all about the food, so expect a no-frills presentation.
Price: Pricey
5
Photograph: Courtesy Yelp/Glenn M.
What is it: An authentic German restaurant in Plano that also boasts an awesome beer garden.
Why go: We get it: the lederhosen and cuckoo clocks might come off as gimmicky but, when it comes to authentic German cuisine, Bavarian Grill doesn't disappoint. Add to the experience the backdrop of nightly live accordion performances and you've got yourself an automatic success. Head over during Stein Hour to fill up your Stein Club card as you work your way through the beer list while gorging on the classics: schnitzel, Spatzle and rinder rouladen (top round beef rolled and stuffed with mustard, onions and spices).
Price: Average
6
Photograph: Courtesy Yelp/Yu-kwong C.
What is it: A Mediterranean restaurant with four locations all around DFW.
Why go: Reasonably priced, consistent service and fresh, delicious Mediterranean food—need we say more? Start with the trio of dips, which comes with warm, homemade pita bread and Ziziki's signature sauce, similar to tzatziki. Follow that up with any one of the lamb dishes (yes, any). Ziziki's lamb is sourced from Australia, expertly marinated and incredibly succulent. With an extensive list of Greek wines, this place is the perfect stop for lunch, date night, business dinner or anything in between.
Price: Average
7
Photograph: Courtesy Yelp/Caitlin C.
What is it: Inside the Adolphus Hotel, The French Room is a modern French restaurant.
Why go: One of the oldest and most storied restaurants in the city, The French Room's 2016 remodel and new chef, Michael Ehlert, have only upgraded an already timeless experience. Opt for a three- or seven-course tasting menu of foie gras, seared sea scallops and wild king salmon. Don't miss the tableside sazerac or cheese cart carrying 12—yes, 12—types of cheesy goodness. It won't be easy on your wallet, but trust us, The French Room is the crème de la crème of fine dining in Dallas.
Price: Blowout
8
Photograph: Courtesy Yelp/Noel D.
What is it: Wood-fired Neapolitan pizza in an Italian restaurant? Yes, please.
Why go: Cane Rosso has long been the reigning champion of authentic Neapolitan pizza, led by certified master pizzaiolo Dino Santonicola (how do we get that title?). The eatery is holding onto the title with consistency and rich, Italian flavor combos. We like to stick to the timeless combination of fresh mozzarella, crisp basil and juicy tomatoes on a crust that somehow perfectly presents itself as both crunchy and soft. Casual seating and homey decor make this the perfect spot for a family or group outing.
Price: Average
9
Photograph: Courtesy Yelp/Elisha P.
What is it: A restaurant in Farmers Branch serving great barbecue.
Why go: Barbecue in Dallas is a fierce competition. Historic joints like Pecan Lodge and Lockhart's have prided themselves on fall-off-the-bone ribs and around-the-block lines for quite some time. Although in business for 30 years, Cattleack has recently been making a name for itself after a brand revitalization. If it's your first time here, order the brisket. Don't even look at the menu. It's marbled, with the perfect blend of spice and smoke that quite literally melts in your mouth. They're only open Thursdays, Fridays and first Saturdays from 10:30am to 2am, or whenever the meat sells out.
Price: Average
10
Photograph: Courtesy Yelp/Ivan O.
What is it: A southern American bistro in Oak Lawn.
Why go: Traditional Southern fare gets an upgrade via chef Nathan Tate's hands. Start off with a stiff and spicy made-to-order mule (we recommend mezcal) and dry-aged beef tartare, made with pickled mushrooms, peanuts, mala and malanga chips. Southern comfort abounds in the entrées as well, like cornmeal-dusted catfish and "The Long Walk to Nashville:" brined, rotisserie chicken that's hot fried and certainly not for the faint of spice.
Price: Pricey
11
Photograph: Courtesy Yelp/Velvet Taco
What is it: This modern taqueria with multiple locations can be found all over uptown Dallas – and for good reason, too.
Why go: Few things satisfy a 2am hunger craving like one of the 20 Velvet Taco offerings, served in paper wrap with a spork—napkins optional. You won't find the typical barbacoa or al pastor options, though. Think global cuisine wrapped in a convenient tortilla shell. Curious toppings include potato salad, shrimp and grits, and seaweed salad. Insider tip: $20 cash at the restaurant back door will get you a rotisserie chicken and all the taco fixings for a group. Trust us, it works.
Price: Bargain
12
Photograph: Courtesy Yelp/Cecilia P.
What is it: A Nashville-style hot chicken fast food restaurant in Lewisville.
Why go: When Nashville native Floyd Reed opened Helen's Hot Chicken in Lewisville, people were skeptical. It wasn't the first attempt to bring the Nashville heat to Dallas. Two years later and you'll likely see a line in the strip mall joint at any hour of the day. The chicken is cooked fresh, so expect a 15-minute wait. You can choose between four spice levels: plain, mild, hot and hella hot. The staff is quick to tell you that hella hot is certainly not for the timid. Consider this your warning.
Price: Bargain
13
Photograph: Courtesy Yelp/Wendy T.
What is it: A family-owned sushi restaurant in downtown Plano.
Why go: Uni's sashimi is soft, creamy and delicious, which is enough reason to visit the restaurant. The Kang family owns and operates the eatery with minimal outside help, and the food reflects the same level of care and precision you'd expect from any family-owned place. Choose from a typical sushi and sashimi menu plus full entrées such as the kalbi dinner: Korean-style beef short ribs grilled over open flames and served with fluffy steamed rice. Pair it all with a small selection of sake or bring your own booze. Either way, you'll feel right at home.
Price: Average
14
Photograph: Courtesy Yelp/Phillip B.
What is it: Found in Oak Lawn, Jimmy's Food Store is an Italian deli and market.
Why go: Walking into Jimmy's Food Store is like walking into a deli in New York's Bronx. House-made sausages, imported italian wines, meats, cheeses and pastas—many of which fill the kitchen shelves of local restaurants including State and Allen and Adelmo's—can be found here. But the real attraction happens during the lunch rush. If you're feeling brave, muscle through the crowds for the Italian stallion sandwich, brimming with mortadella, capicola, sopressata, pepperoni, provolone, porchetta, coppa, mozzarella and prosciutto.
Price: Bargain
15
Photograph: Courtesy Yelp/Alyssa K.
What is it: A delicious eatery serving traditional Lebanese food in Richardson.
Why go: Originally launched as a sweets shop in 2002 by three brothers, Afrah is now a full-service restaurant offering traditional Lebanese eats prepared following their mother's home-cooked recipes. We don't typically go for buffets, but Afrah is quickly changing our mind. For just $12.99 during the week, pack your plate with minced meat pies, falafel, baba ganoush and, true to their bakery roots, some of the best baklava you'll find in the area.
Price: Bargain
16
Photograph: Courtesy Yelp/Roz M.
What is it: An upscale steakhouse in Northwest Dallas.
Why go: Harris and Chris Pappas still run the privately owned company that launched their first restaurant in 1976. They pride themselves on tradition, comfort and simple but timeless flavors. Controlling the quality of nearly every aspect of the restaurant, Pappas even owns and drives the trucks that deliver local meats and imported seafood. We recommend the classics: start with prime rib carpaccio or the chilled seafood tower, made with gulf oysters, live Maine lobster and stone crab legs. Move onto a dry-aged 22-ounce bone-in prime ribeye. Expect a beautifully crunchy charred exterior with a red, juicy interior. This is Texas beef at its finest.
Price: Pricey
17
Photograph: Courtesy Yelp/Logan H.
What is it: Found in Deep Ellum, Armoury D.E. is a Hungarian restaurant and bar.
Why go: Everyone was a little confused when Armoury D.E. opened back in 2015 offering Hungarian food with Mexican beer/shot combos. Now, it's a cherished cornerstone of the weekend crawlers. Whether you're looking for a snack (duck hearts, all the way) or a full dinner (porkolt: juicy beef roast in a Hungarian pepper sauce with spatzle), the menu is brimming with nontraditional options. Oh, did we mention the kitchen is open until 2am?
Price: Average
18
Photograph: Courtesy Yelp/Christina R.
Babe's Chicken Dinner House
What is it: Fuss-free, family friendly dining at various locations around Dallas.
Why go: Big gorup dining is the order of business here at Babe's, so bring the fam, bring your buds, bring everyone you know. This is family-style Southern eating where everyone shares a slap-up meal, picking at each other's orders. Think soft and flaky biscuits (all you can eat), crispy chicken and homemade meringue pie.
Price: Bargain
19
Photograph: Courtesy Yelp/Jodi G.
What is it: Contemporary Tex-Mex dining and drinking Uptown.
Why go: Need comforting? Tuck into E-Bar's offering of comfort food. Enjoy enchiladas, tacos, carne picosa, shrimp salad, nachos, quesadillas and so much more. Then wash it down with a margarita or three. E-Bar is open until 2am most nights, too, so you can easily while away an evening here.
Price: Average
20
Photograph: Courtesy Yelp/Jesse G.
What is it: East Plano's tasty answer to Indian-Tex-Mex fusion.
Why go: Indecisive eater? No worries. No longer must you decide between an all-American diner and a curry, thanks to Jimmy's Burger. If you're struggling to figure out what that would taste like or what that means, just cast your eye over the menu: thousand island burgers, chicken quesadillas and chipotle chicken sandwiches.
Price: Bargain
Discover Time Out Market: the best of the city under one roof
More of the best of Dallas