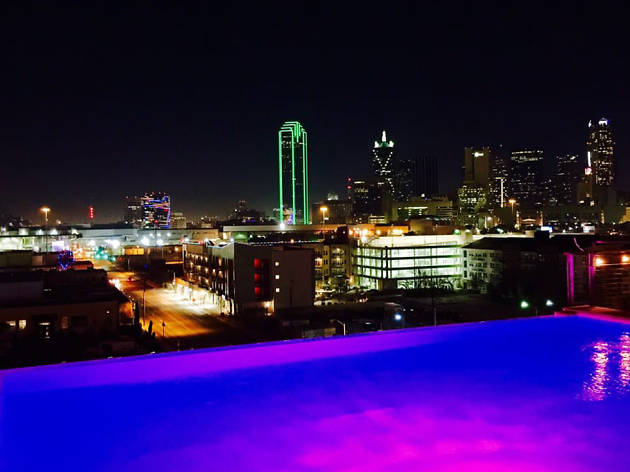 The 10 best nightlife in Dallas
Bar-hop, two-step, and cocktail-sip your way across the city; here are the top options for the best nightlife in Dallas
Dallas's nightlife is nothing if not legendary. Whether you want to go clubbing, swig fancy cocktails on a rooftop, bar hop, two-step or do a little bit of everything, one thing's for sure: You're bound to have a really, really good time. In fact, the Big D doesn't trail far behind nightlife meccas like New York City and Las Vegas, and there are countless breweries, hipster bars, underground clubs, swanky restaurants, upscale lounges and even a honky-tonk or two (hey, this is Texas, after all) scattered around every square inch of the city. Exploring the nightlife scene is one of the top things to do in Dallas.
It wasn't easy, but we've compiled a list of the best wine bars, nightclubs, live music venues, outdoor patios and the dive-iest watering holes in all of Dallas.
Best nightlife in Dallas
Photograph: Courtesy Yelp/Ben E.
What is it? Boasting "simple drinks and strong pours", this snazzy North Oak Cliff bar and restaurant (called Chicken Scratch) also has one of the best patios in all of Dallas.
Why go? There are almost 50 beers served here, but the real star at The Foundry is the perfectly lovely outdoor patio, with its shady pecan tree, lit-up courtyard and stage made from recycled wooden pallets. Grab a bite to eat at next-door Chicken Scratch, which mostly offers hearty comfort food like fried chicken, mac and cheese and chicken fingers.
Photograph: Courtesy Yelp/Len C.
What is it? The oldest continuously operating bar in Dallas.
Why go? Inwood Tavern is a neighborhood institution in these parts. Open for over half a century at this point, The Tavern, as it's known, is unlike anywhere else in the city. For one thing, drinks are served in red plastic solo cups. For another, there are so many regulars that still frequent this place that, even if you've never been to The Tavern in your life, getting a drink here can feel like a nostalgia-drenched trip down memory lane.
Photograph: Courtesy Yelp/House of Blues Dallas
What is it? D-Town's premier live music venue that boasts a full calendar of events and concerts, plus a great outdoor patio and a Southern-style restaurant that serves delicious Jambalaya and Shrimp and Grits, among other menu items.
Why go? Situated in the White Swan Building in Victory Park, the sleek House of Blue is the best place to catch your favorite band while noshing on Southern snacks and main dishes. The venue can hold over 1,500 patrons, and there's even a roped-off VIP area if you're feeling fancy.
Photograph: Courtesy Yelp/Nadia M.
4. The Flying Saucer Draught Emporium
What is it? With over 200 ambers, pales, darks and ciders on tap, this is undoubtedly one of the best places to drink beer in the city,
Why go? The Flying Saucer Draught Emporium has been a hometown favorite since its inception in 1995, and it still remains a kitschy, loved classic among those in the know. You know you're drinking in the right place when the walls are covered with nameplates from people who've sampled all 200+ beers – otherwise known as The Flying Saucer's UFO Club.
Photograph: Courtesy Yelp/Joseph H.
What is it? An intimate, widely beloved honky-tonk that first opened its doors to the public in the 1960's, on Cedar Springs (though it's since moved to Deep Ellum).
Why go? Look closely past the plentiful pitchers of beer, graffiti-blanketed tables and wall-to-wall cowboy boots: You may spot a well-known country band on stage. Adair's Saloon is a fantastic place to knock back cheap beer and greasy burgers, yes, but it's also one of the all-time best places to catch great country acts.
Photograph: Courtesy Yelp/Vanessa G.
What is it? The city's hottest dance club is still going strong after over 20 years of existence.
Why go? Though Lizard Lounge has, shall we say, shed several skins over the years (sorry, we couldn't help ourselves), this popular club is now known as EDM Mecca to the millennial set. If you want to dance like there's no tomorrow and then some, Lizard Lounge is the place to be. Sunday nights are for the holy rollers: The Church, a Neo-Gothic and industrial dance night, is held here every week.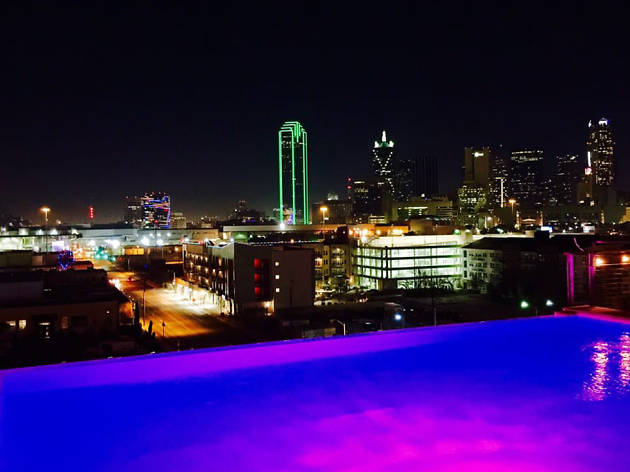 Photograph: Courtesy Yelp/Carmela D.
What is it? A rooftop bar atop the NYLO Dallas South Side, with panoramic views of the glittering downtown skyline.
Why go? For the classiest cocktails and the classiest view in town to match, check out SODA Bar – after all, there aren't many (or any other) Dallas bars with a fire pit, an infinity pool and spectacular rooftop views. Not only is the setting uber-sophisticated, but the craft cocktails are inventive and refreshing. Come early to snag a spot before the late-night crew rolls in.
Photograph: Courtesy Yelp/Joey S.
What is it? One of the teeniest bars in Dallas also offers a fabulous, and very affordable, wine selection.
Why go? Though it may not make much of an impression on you from the outside, walking inside Stoney's Wine Lounge is akin to walking into your best friend's house (if your best friend was an accomplished sommelier with a killer wine collection, that is). This friendly little neighborhood bar is the perfect place to sip glass after glass of velvety reds and crisp whites. Plus, Stoney's always has great live jazz on the weekends.
Photograph: Courtesy Yelp/Sarah E.
9. Dot's Hop House & Cocktail Courtyard
What is it? A chic new bar and open-air courtyard in Deep Ellum, with a giant beer selection, a savory food menu and an interior bar.
Why go? In terms of ambiance, nothing beats Dot's Hop House & Cocktail Courtyard: This buzzy Deep Ellum hangout has stained glass windows, murals and even an outdoor chandelier. Dot's is a solid place to grab a brew, indulge in some classic bar food and hang out under the Dallas night sky.
Photograph: Courtesy Yelp/Mary S.
What is it? A timeworn, LGBTQ+ friendly institution slinging cheap yet stiff drinks that's also equipped with a basketball court and a rooftop deck.
Why go? Located in Oak Lawn, The Grapevine Bar has a seriously unique feel, thanks to its weird décor touches like a pink-railed pool table, multiple decorative skulls and the aforementioned basketball court. Plus, the crowd is always a little offbeat – in the best way possible.
Ready to check out more of the Big D's bar scene?
Whether you're looking for a dog-friendly patio where the beer is cold and the company is laid back or you're in the mood to glam up and be seen in one of the most historic hotel bars in the city, the best bars in Dallas always deliver.