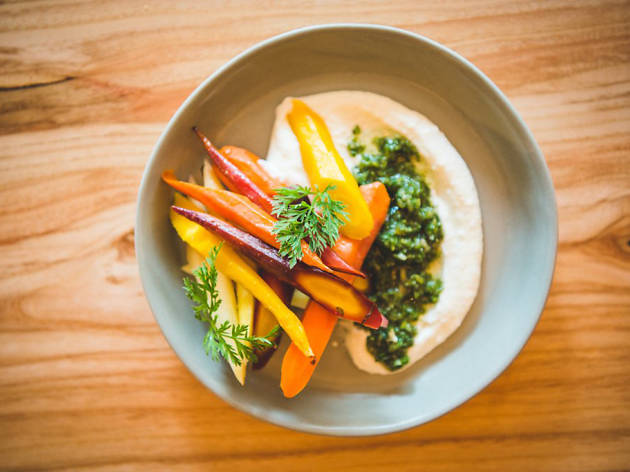 The 10 best brunch restaurants in Denver
Dig into bacon, beignets, Bloodys and green chile eggs at these top restaurants serving the very best brunch in Denver
If you're not brunching in Denver, you're doing the city wrong. In the past few years, the lingering weekend meal has been elevated to an art form in the Mile High City. With the recent residential and dining boom in Lower Highland (LoHi) and the revitalization of the River North (RiNo) warehouse-turned-art district, it's no surprise that the brunch scene and options for things to do on that buzzy side of the city has followed in a big way.
But the cool thing about Denver is that the longtime stalwarts in the quieter city 'hoods continue to thrive, even amid the sea of see-and-be-seen brunch spots across town. What the places on this list have in common is that they know what they do well—and they're committed to their craft, whether it's trendy small plates on a gritty-turned-glam block, a lavish champagne spread in a historic hotel or beignets and Bloody's with mismatched napkins. So decide what you crave, then check out these Denver restaurants to get your brunch game on.
Best brunch in Denver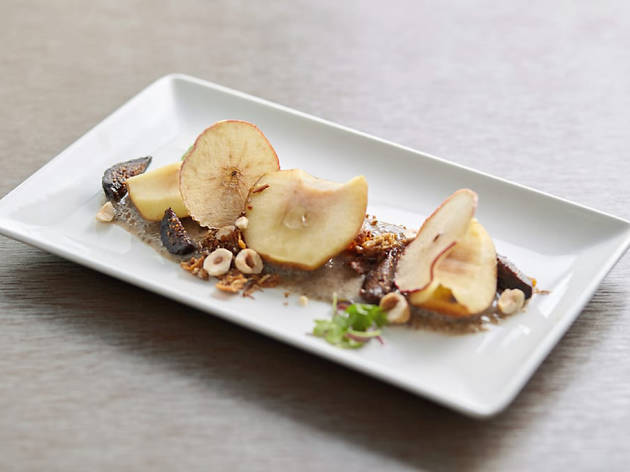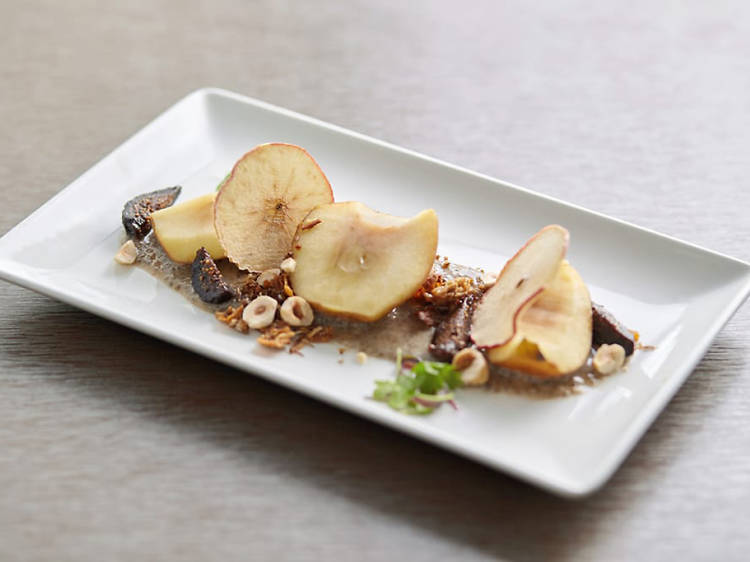 Photograph: Courtesy Yelp/
What is it? With a lively nod to midcentury-mod design, this always-buzzing Lower Highland (LoHi) hotspot occupies a refurbished auto garage and serves health-inspired takes on classics, like scrambled tofu paneer and zucchini bread French toast.
Why go: This place is feel-good fun on a plate. With two gardens on-site, you know the colorful veggies on your plate are fresh, and the bottomless blood-orange mimosas are on-point. Simply put, it's essential food in an essential neighborhood. Tip: Flying into DIA? Visit Root Down's airport outpost in Terminal C for the best travel food ever.
Price range: Expensive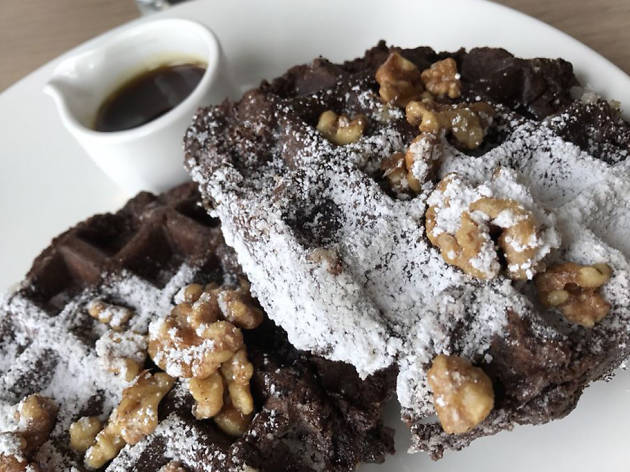 Photograph: Courtesy Yelp/Ann H.
What is it? Showcasing globally-inspired fare in LoHi, this hip-yet-elegant space dishes up cuisine that's at once trendy and sophisticated—a combo that will surprise and delight the most discerning of palates.
Why go: Any place with a dark chocolate waffle accompanied by thick belly bacon is a must-try, in our book. Decadence aside, menu options are interesting, thoughtful, and bold, from olive-oil fried eggs with house yogurt and lemon salt to toasted quinoa porridge with poached egg, mushrooms, brussels sprouts and cocoa nibs. Happy exploring.
Price range: Average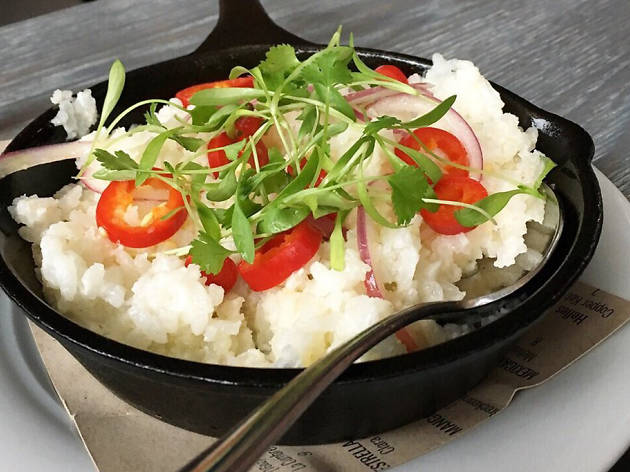 Photograph: Courtesy Yelp/Ully P.
What is it? With a modern, elevated take on Latin American cuisine, this colorful eatery in LoHi does a Sunday brunch laced with the flavors of Brazil, Peru, Venezuela, Mexico and Cuba, to name a few.
Why go: Uh, bottomless rosé-all-day spritz. And, the frozen sherry cobbler. Okay, plus, the spirited dishes—try the pork shank mofongo—that take you beyond the beans-and-cheese motif to an indulgent and exciting way to kick-start your day.
Price range: Expensive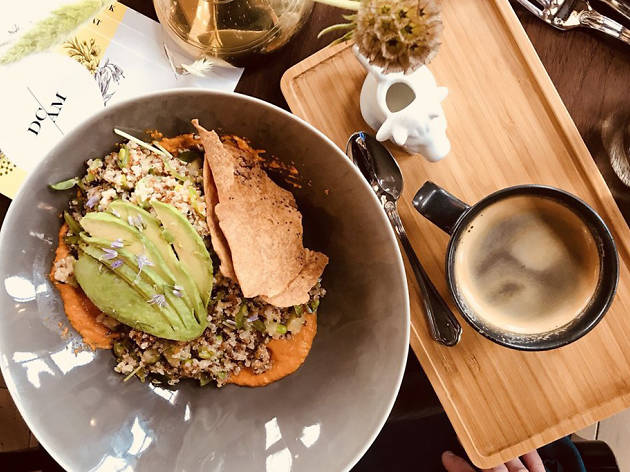 Photograph: Courtesy Yelp/Allison H.
What is it? The second outpost of New York City's famed cocktail institution offers trendy a.m. eats in the uber-hip boutique Ramble Hotel in the River North (RiNo) Arts District.
Why go: While the actual Saturday-Sunday brunch menu is limited—do try the beet melt or splurge on the bison flank—the DC/AM menu (7:30am to 2:30pm daily) boasts intriguing dishes (think: bacon okonomiyaki with zucchini kimchi and trout roe) conducive to a lingering working brunch in the lobby.
Price range: Average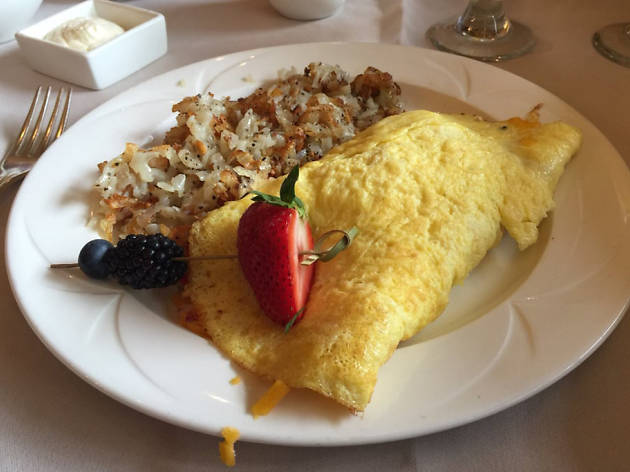 Photograph: Courtesy Yelp/Masha Z.
5. Ellyngton's at the Brown Palace Hotel and Spa
What is it? Arguably the most decadent way to spend a Sunday morning in the city, Champagne Brunch at the historic Brown Palace (definitely make reservations) offers four tiers: Domaine Chandon, Moet et Chandon, Dom Perignon, or just brunch.
Why go: With a buffet that features carved-to-order beef and poultry, seafood, waffles, fresh-baked pastries, made-to-order omelets, and everything in between—did we mention the chocolate fountain, and, uh, the bottomless champs?—brunch here transports you to a bygone era of opulence.
Price range: Blowout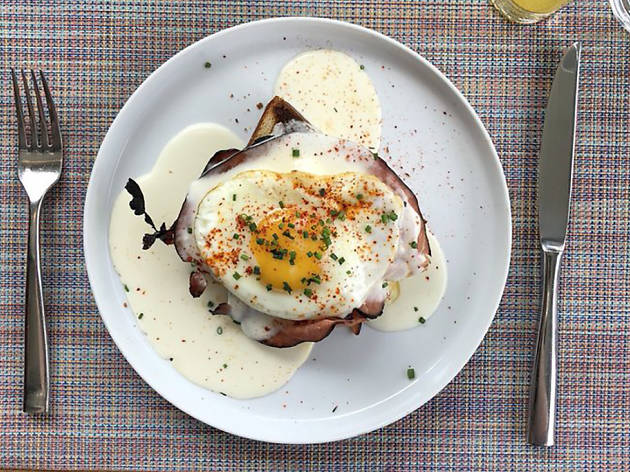 Photograph: Courtesy Yelp/Brian H.
What is it? Any brunch spot with just nine entrees on the menu has to execute them all flawlessly, and this intimate Congress Park nook does just that with its Sunday-only a.m. feast of contemporary American favorites.
Why go: The sunny little eatery is a neighborhood gem that elevates the brunch game in this part of town with lovely, sophisticated plates like the roast chicken with roasted fingerling potatoes and a bread pudding French toast with rhubarb preserves.
Price range: Average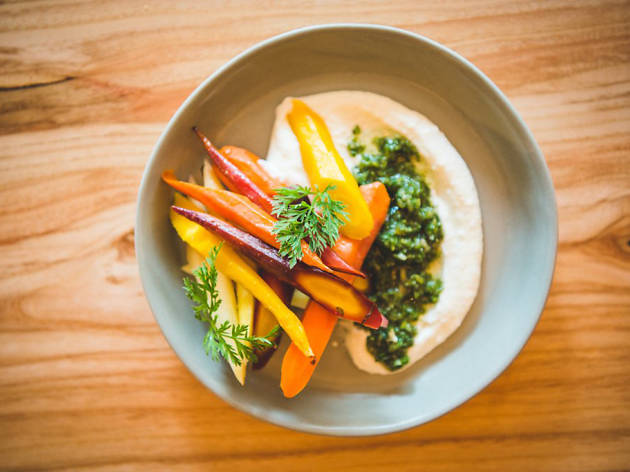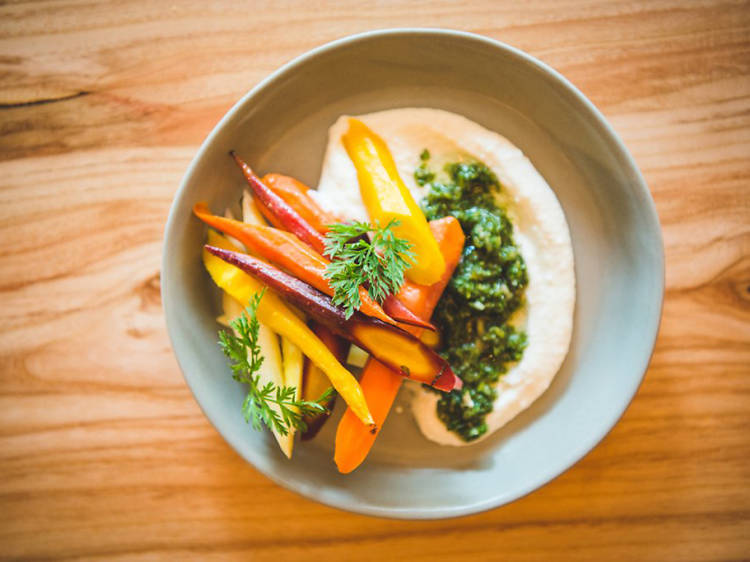 Photograph: Courtesy Yelp/
What is it? This sleek, light-filled American bistro in posh Cherry Creek is a relative newcomer that prides itself on a wood-fired menu sourced from local farmers and purveyors.
Why go: The maple old-fashioned doughnuts. Simply perfection. Treat yourself after digging into bright classics with a southern twist, like Gulf shrimp-and-grits and slow-roasted BBQ pork spoonbread (corn bread). The dishes aren't crazy or overwrought; just crafted and executed beautifully.
Price range: Average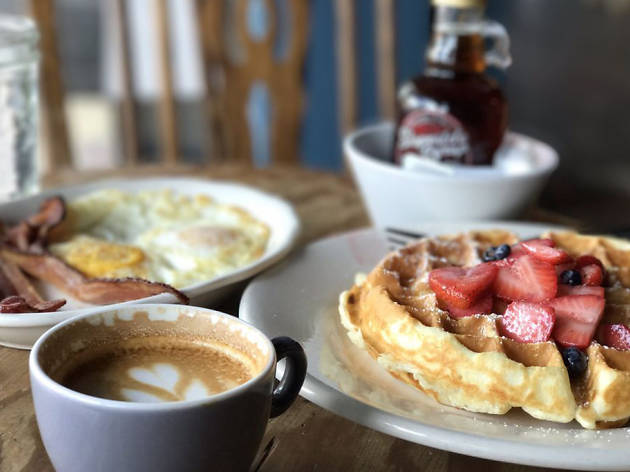 Photograph: Courtesy Yelp/E I.
8. Devil's Food: The Cookery at Myrtle Hill
What is it? A crowd favorite in picturesque East Wash Park, this charmingly buzzy all-day-breakfast spot does classics with a twist that never fail to start your day off right.
Why go: Nothing is so foreign on the menu that you have to ask, but the go-tos have been upgraded with zingy, unusual flavors. Think: cornbread waffle with scratch green chile, or avocado toast with tomato confit and rosemary parmesan bread.
Price range: Average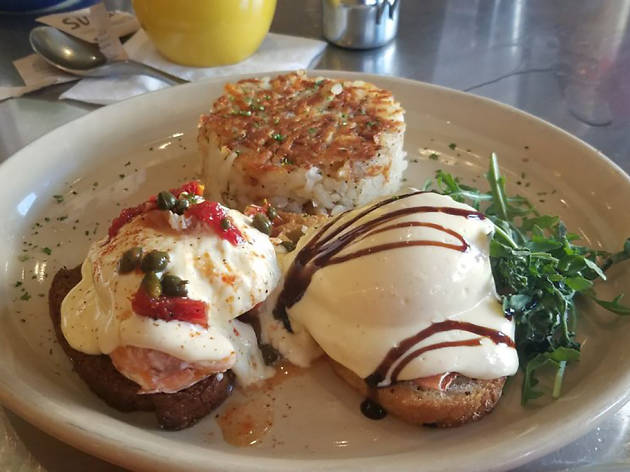 Photograph: Courtesy Yelp/Alicia C.
9. Snooze: An A.M. Eatery
What is it? What started as a Denver institution—we're talking two-hour waits—in Lower Downtown (LoDo), Snooze and its hearty, playful fare have earned such a following that the venue has expanded across the Front Range and to three other states.
Why go: If you're any kind of sugar-in-the-morning bruncher, you'll want to skip straight to the Sweet Utopia section. Order the pancake flight to sample the pineapple upside down, blueberry danish, and sweet potato cakes all at once.
Price range: Bargain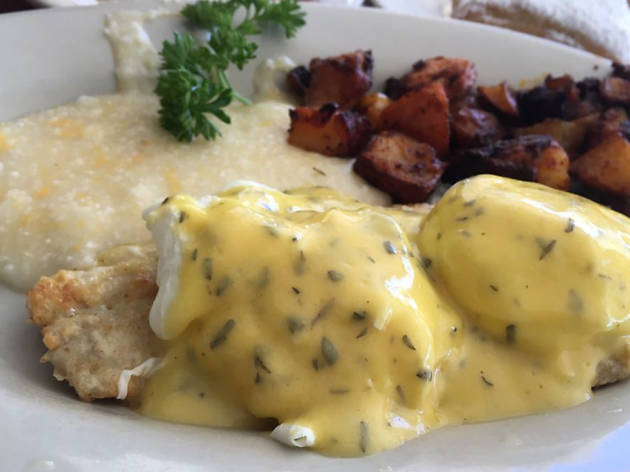 Photograph: Courtesy Yelp/Zen T.
What is it? This eclectic Cajun/Creole joint, a longtime West Wash Park staple with several Front Range offspring, pays homage to N'awlins home-cooking with dishes like pain perdu, eggs Pontchartrain, and Chef Mickey's red beans with ham.
Why go: Beignets all day, every day. Piled high with powdered sugar, this New Orleans staples is a brunch star, especially accompanied by Louisiana-style chicory coffee or a Cajun Mary with all the fixins—both of which you might need while you wait for a table.
Price range: Average
Hungry for more must-try eats in town?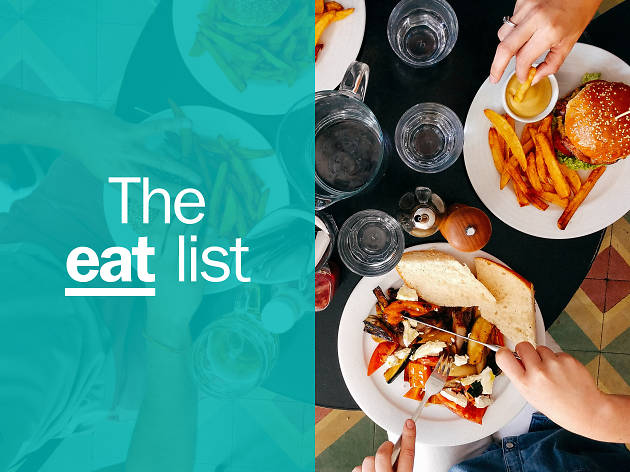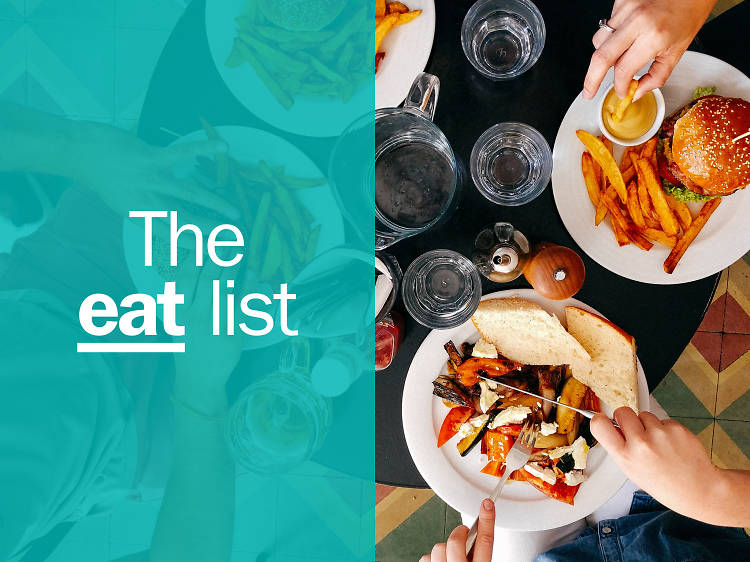 From nationally recognized fine-dining staples to sexy rooftop it-crowd destinations to mega-trendy shipping containers-turned-marketplace-foodie stalls and hip brunch spots, eating out here has never been more delicious. Here's our pick of the best restaurants in Denver.