The best films for kids this Easter
These kid-friendly flicks are guaranteed to take their minds off of chocolate (for a bit)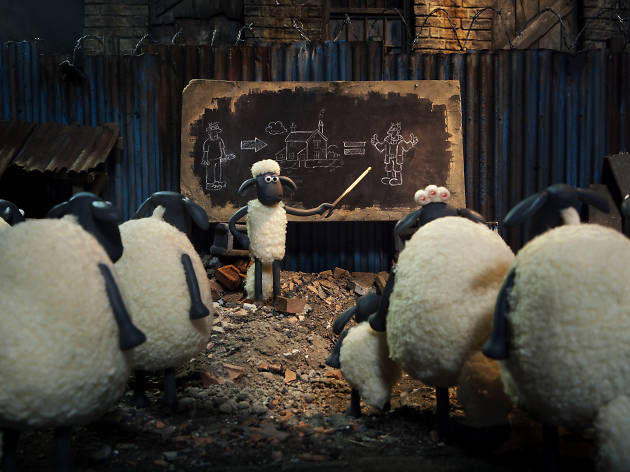 If the rain puts a dampener on plans for an egg hunt this Easter (Fri Apr 3–Mon Apr 6 2015), head to the movies and entertain the children with one of these family-friendly films instead.
Enough with the feminism. Disney has clearly had enough of these uppity princesses getting all empowered and messing with their fairytales. After 'Frozen', and 'Into the Woods', it's back to the basics of being a princess in director Kenneth Branagh's lavish, sappily sweet version of 'Cinderella'. That means microscopic waists, swooning bosoms and a happily-ever-after ending for this Cinderella (Lily James, the naughty cousin from 'Downton'), or just plain Ella – the 'Cinders' bit comes later.
Only Aardman – the British creators of Wallace & Gromit, Morph and other lovable, mouldable characters – could find an irresistible movie in industrial amounts of clay and a story of an amnesiac farmer and his flock at loose in the big city. Much of the beauty of this big-hearted, stop-motion-animated caper (a spin-off of the insanely successful kids TV series) is the entire absence of decipherable language (instead imagine grunts, mumbles, bleats and screams) as Shaun the Sheep tries to engineer a day off from Mossy Bottom Farm and instead causes the often-bewildered farmer to bang his head and wander off into the metropolis (which looks a lot like Bristol, where Aardman has its HQ).
Now here is a summer blockbuster we can get seriously excited about. The first instalment, 'Avengers Assemble', punched miles above your average multiplex crowdpleaser. The trailer is a belter and director Joss Whedon has yet to put a foot wrong. He says the new film is inspired by 'The Empire Strikes Back'. What's more it's also one of a number of 2015 movies to tackle artificial intelligence.
Don't call this tale of the misadventures of a high-pitched sponge and his random pals living in the undersea village of Bikini Bottom 'kids' stuff'. Nickelodeon's animated TV sensation has always been a home for surreal stoner humour, utterly inappropriate sexual innuendos and a constant stream of one-liners. The series's first big-screen foray, 2004's 'The SpongeBob SquarePants Movie', had children and adults helplessly collapsing in a unified mass of giggles. This belated sequel is, in some ways, even better – ever so slightly more unhinged.