The 10 best hotels in Edmonton
Take advantage of this city's offerings and treat yourself to a stay at one of Edmonton's best hotels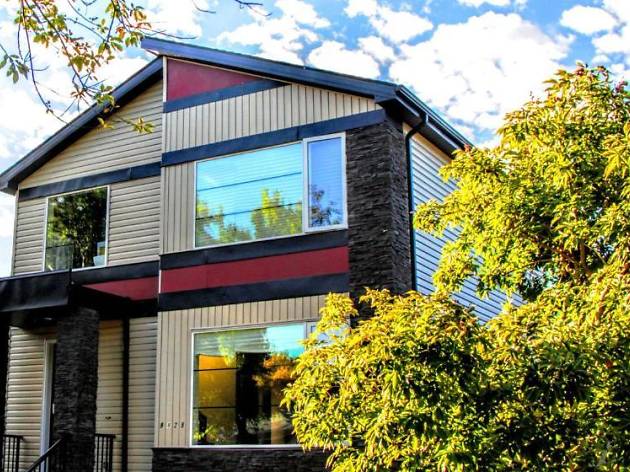 Edmonton is a city that has never stood still. Not since the establishment of Fort Edmonton in 1795, not since the railroad arrived in 1885, and not in the intervening years where the 'Gateway to the North' has expanded to become the second largest city in Canada, with a quickly growing metropolitan population of more than one million. Its position as a hub for the oil and gas industry is part of the reason, but it also has flourishing art and culinary scenes, meaning it's no longer just famous for its vast mall.
Accommodation in the city tends towards chain hotels and upmarket boutique hotels, and there's an abundance of it, meaning prices tend to be very good. And with a growing number of unusual offerings – from beds in converted banks and hotels offering daily wine-tasting to an arctic igloo or a party suite – you should be able to find something beyond the norm… Here are our favourites.
Best hotels in Edmonton
1
Booking.com
Perhaps the loveliest hotel in Downtown Edmonton is this relaxing 40-room residence in a former, you've guessed it, bank. It was built in 1911 and remains one of the older buildings in the city, though its service and efficiency are decidedly 21st century – this is a sleek space with a focus on neutral, quiet opulence. The hotel is split into the Contemporary Wing, with individually designed bedrooms in muted tones, and the Heritage Wing, where rooms are defined by tall ceilings, fireplaces and heritage decor – no prizes for guess where we'd prefer to stay. There's an excellent on-site grill restaurant too.
2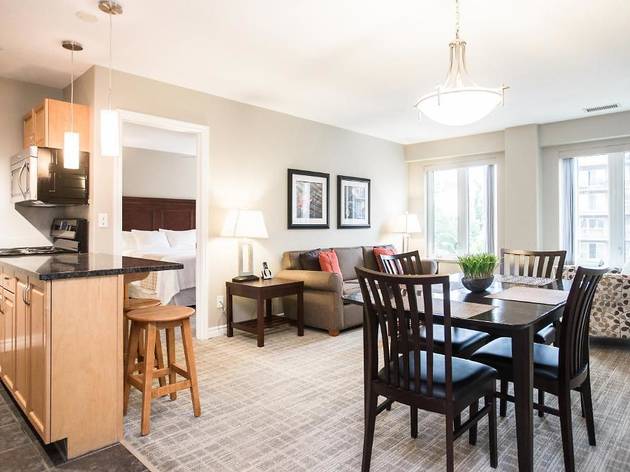 Booking.com
If you're in town with a family or for an extended stay, the Canterra Suites is a great option. It's positioned relatively centrally and is within walking distance of the Arts District, and if you've little ones in tow, the Edmonton Light Rail Transit station, seamlessly linking you to the rest of the city, is just a couple of blocks away. Inside, even the smallest suites have a fridge and freezer, cooker, microwave and washing machine and dryer. The largest is a three-bedroom suite.
3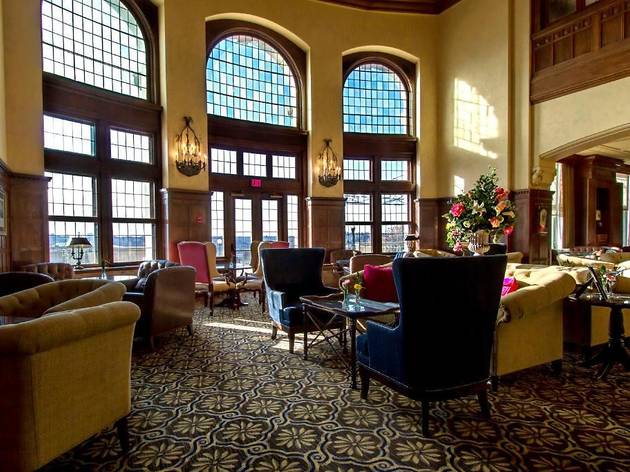 Booking.com
'The Mac' is of the grandest hotels in Edmonton and one of a series built across Canada as the railways arrived. This building was opened in 1915 and sits high in the city overlooking the North Saskatchewan River valley and near to some of Edmonton's best city parks. It is the only AAA Four Diamond hotel in the city and has welcomed luminaries throughout its history including King George VI, Oprah Winfrey and Sir Paul McCartney, who reportedly sang a carol in the lobby. Today, the hotel is a thoroughly modern experience with 198 guestrooms including 13 suites.
4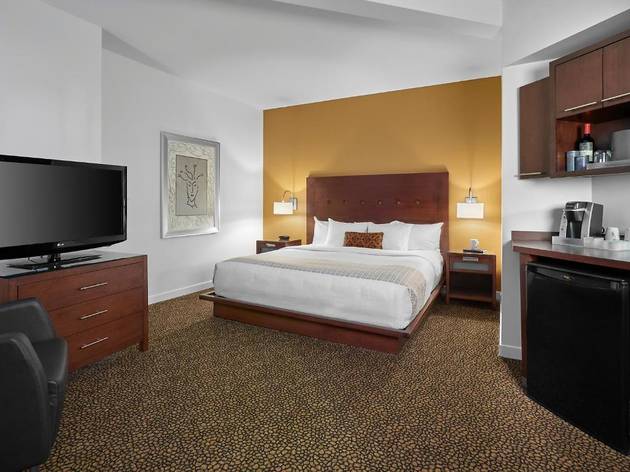 Booking.com
From the same team as the Matrix Hotel is this arty residence on Whyte, the centre of the city's arts, nightlife and dining scene – the area is full of coffee shops, independent stores and craft beer bars. A few blocks away is the North Saskatchewan River that runs through the middle of the city – perfect for morning runs and evening strolls. With its modern, well-priced rooms, the Mettera fits slots neatly into Whyte, with decor in the rooms focusing around dark wood complemented with rich textiles, a cosy theme that follows through the entire hotel. It makes a great option for the area… and even offers bicycles so that you can explore it.
5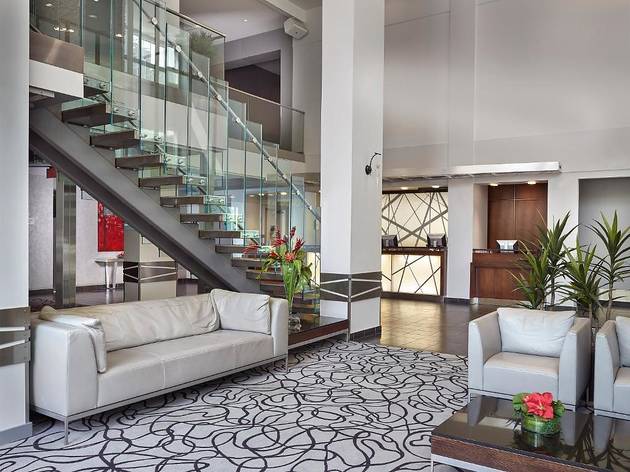 Booking.com
The Matrix Hotel is a generous beast, offering complimentary wine tasting every day, a free town car service and a fleet of bicycles on offer for guests to explore the city. The location, in the heart of the downtown, couldn't be better either: the Arts District is a short walk away, as are all the shops, offices and amenities. The hotel itself is a modern space with well-appointed rooms decked out in a silver/red and dark wood palette. The cocktail bar is a lovely spot to end your day of sightseeing.
6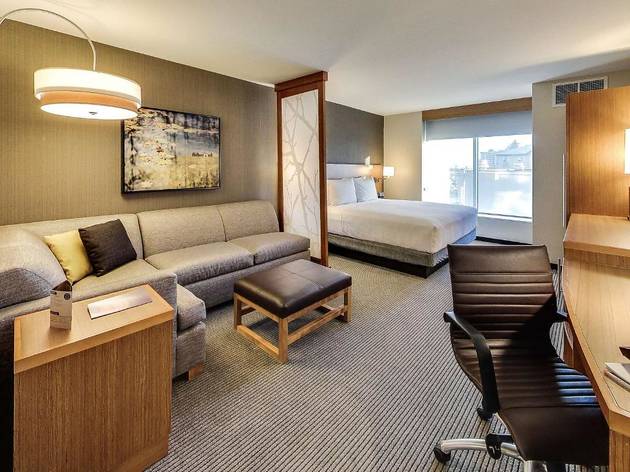 Booking.com
Hyatt Place Edmonton-West
This Hyatt may be big and may be part of a large chain, but that doesn't hold it back from being very good indeed – it's one of the highest rated accommodations in the city. The rooms are large – a standard is at least 29 square metres – but it's the staff that most often get the plaudits in its reviews. Located in the north-west of the city, it's also very handy if you're in town to take in every nook and cranny of the famous West Edmonton Mall, the world's largest until 2004.
7
Booking.com
For something completely different, and a decidedly more personal stay in Edmonton, there's the University Suite. The homely bed and breakfast is comprised of just two rooms, the apartment-style West Suite or the hotel-style East Room, both with separate entrances, and both garnering consistently excellent reviews for its friendly welcome (plus some lovely cakes). Location is in a leafy suburban area close to the University of Alberta, just south of the North Saskatchewan River, but it's just a quick ride to downtown Edmonton.
8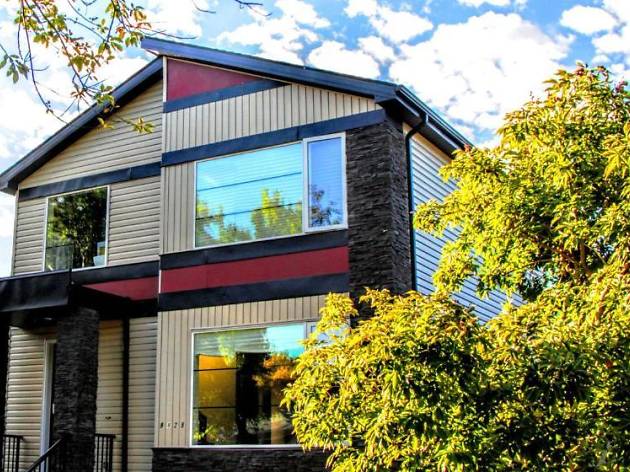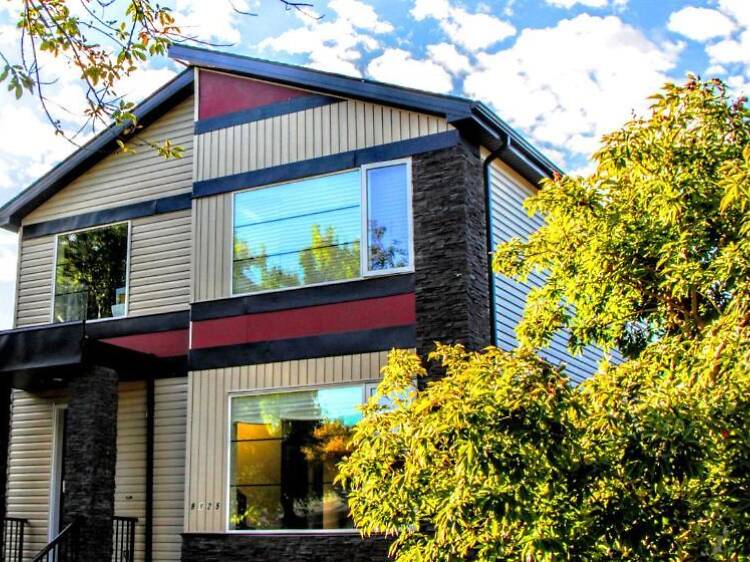 Sometimes when you're travelling what you need is a big dose of homeliness. Say hello then to the Richie, a well-priced B&B that offers a warming hug and a smiling welcome, simple rooms and a breakfast to remember. Guests can choose between 'cosy' rooms or double 'deluxe' one, in a house located in its namesake Ritchie neighbourhood in the suburban south of the city, about four kilometres from the downtown zone. A shared area has a fully stocked kitchenette and each room has a small fridge, but this place is all about the welcome and warm atmosphere.
9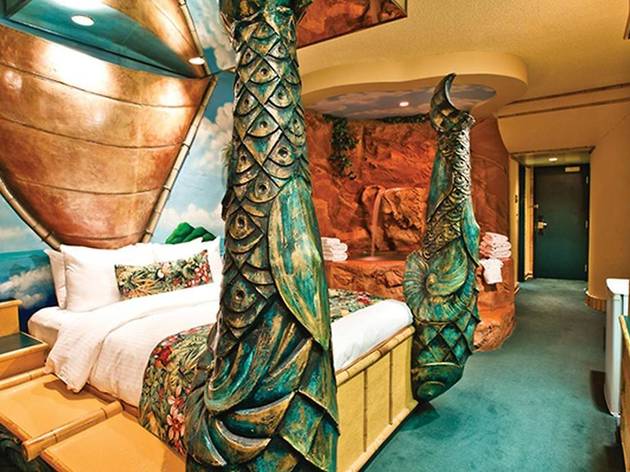 Booking.com
You'll either love the idea of this hotel or hate it – in fact, if the name's put you off already, read no further. But if you're the curious type or are travelling with kids, look no further. Each room is individually themed, so you can stay in an Arctic igloo, a Canadian cabin, a Victoria coach or, our favourite, a space-themed room. There are plenty of others among the 355 rooms, including more standard offerings if the theming is de trop but you like the idea of staying inside West Edmonton Mall (the largest in the world until 2004).
10
Booking.com
For a crashpad on the cheap side, pick out this downtown hotel positioned right by Rogers Place Arena, home of the Edmonton Oilers ice hockey team and mega bands that pass through town. Billing itself as 'more than just a place to crash' – it's aimed firmly at a younger audience, with a wide variety of rooms ranging from hostel-style bunks to 'party suites'. Some come with complimentary earplugs. Yep, it's that kind of place. Below it, the Denizen pub is full of pinball machines and there's a liquor store on site. Like we said, it's that kind of place.