The 15 best restaurants in Edmonton
Known as the capital of beef, Edmonton is much more than that—as proven by our pick of the best local restaurants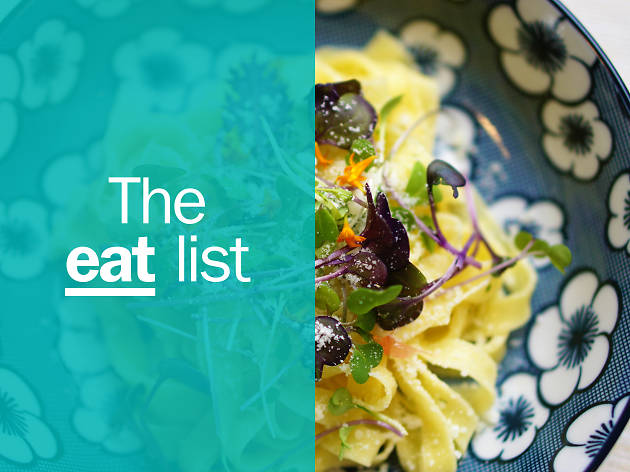 Edmonton is the capital of Canada's largest beef producing province, Alberta. It follows, then, that the local food scene is filled to the brim with BBQ smoked sandwiches and potato-based soul food. But foodies should expect much more than the typical meat-based dishes: Edmonton chefs step it up on a daily basis. The best restaurants in Edmonton are charming European-style cafes offering delectable takes on traditional foods, classic hotel eateries with a bustling scene and, in true Western Canadian flair, wood-clad eateries overlooking the stunning Rocky Mountains. It turns out, ladies and gentlemen, that eating in Edmonton is one of the very best things to do while in town.
Best restaurants in Edmonton
1
Photograph: Courtesy Yelp/Cindy N.
What it is: Just South of the historic High Level Bridge, this casual dining spot is a meetup for birthdays, first dates and after-work drinks.
Why go: Those craving a locally-inspired dish have found their heaven. Try the peach teriyaki wings alongside a Grandma Gwen cocktail, made with gin and cherry liqueur.
Price: Average
2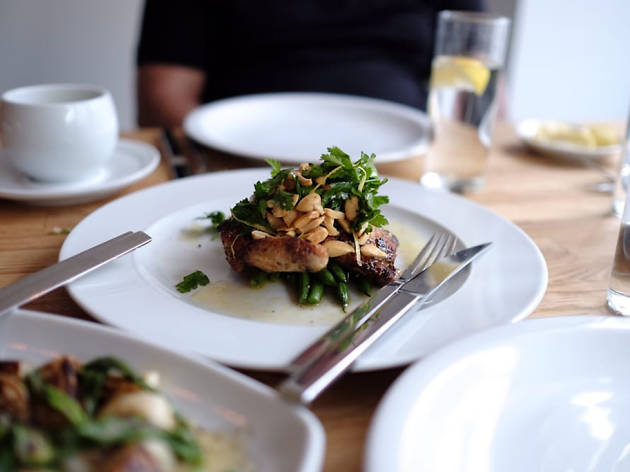 Photograph: Courtesy Yelp/Maeby T.
What it is: The ultimate steak in Edmonton can be found at this Italian restaurant, which is one of the city's fanciest dining hotspots.
Why go: Led by chef Daniel Costa, all ingredients are locally-sourced and all the pastas are made by hand. For a standout experience, try the local Chinook salmon mandorla or share the pasta tasting menu.
Price: Pricey
3
Photograph: Courtesy Yelp/Melanie E.
What it is: With a homey vibe, this cozy restaurant offers traditional Canadian comfort food with touches of French and Italian classics.
Why go: Chef Larry Stewart presents a seasonal menu that includes French-Canadian foie gras and a crispy duck leg confit with cherry marmalade. Those seeking a more traditional flavor should opt for the very hearty (and very delicious) pastas.
Price: Pricey
4
Photograph: Courtesy Yelp/Marianne S.
What it is: This European-inspired cafe is part bakery, part wine bar and all around, above-average coffee house. They offer a wide selection of hot drinks, from the classic espresso to soy and milk-based specialties, in a chill setting overlooking the leafy downtown streets.
Why go: Their cappuccino is a legendary classic. Pair it with the sumptuous Neapolitan pizza and you've got yourself an oh-so-delicious lunch that you won't soon forget.
Price: Bargain
5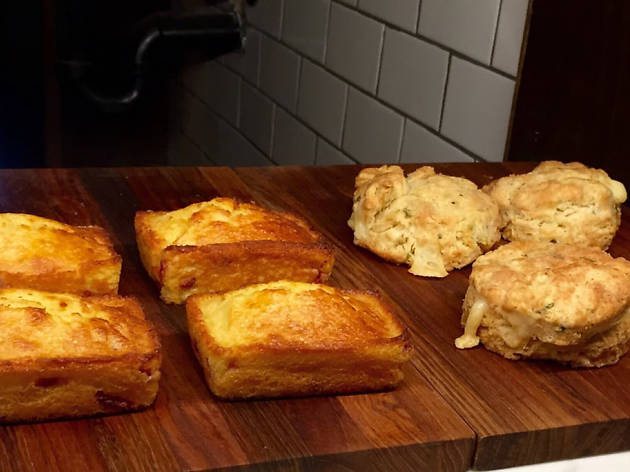 Photograph: Courtesy Yelp/Bonnie A.
What it is: This rustic coffee house has been a city staple for years, offering a quiet getaway in which to pull out your laptop and catch up on emails.
Why go: The chai lattes and the homemade strawberry muffins alone are worth a visit. To indulge, try the malva pudding cake, a South African specialty. It's basically a vanilla custard cake with apricots.
Price: Average
6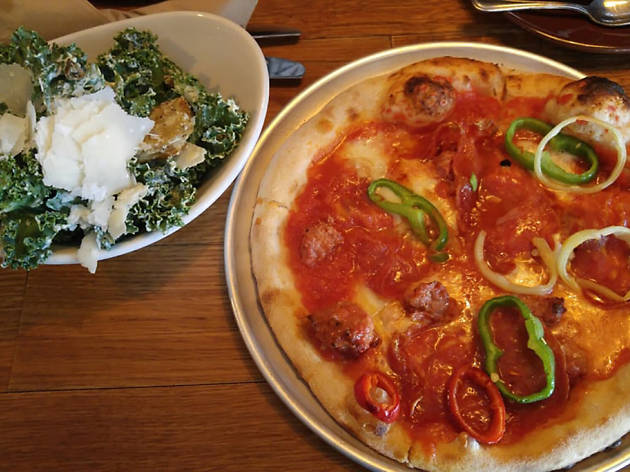 Photograph: Courtesy Yelp/Brian Y.
What it is: Located in one of Edmonton's oldest neighborhoods, this organic restaurant offers Italian classics fused with a local flair.
Why go: All of the Sicilian-inspired pizzas here are cooked in a traditional wood-fired oven, so expect doughy crust made the Italian way. Try the pizza rucola, which is made with organic flour, parmigiano and amorosa tomatoes and pair it with the kale Caesar salad.
Price: Average
7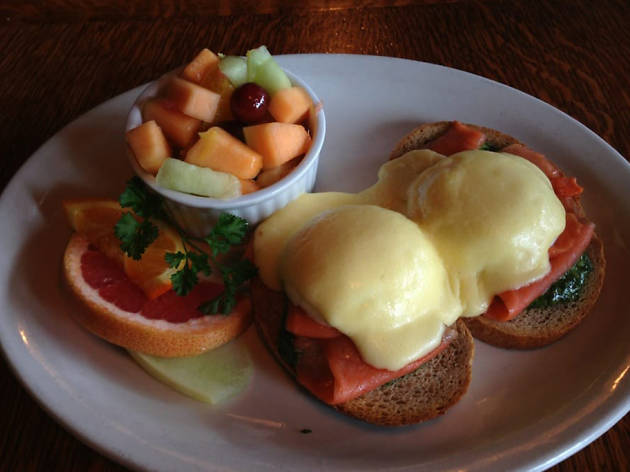 Photograph: Courtesy Yelp/David C.
What it is: This chillled out, homey nook takes the classic diner and updates it with modern touches, turning it into the perfect getaway after a long day of running around the city.
Why go: They serve classic Canadian meals, like the Alberta lamb shank, organic Chinook salmon and Alberta prime ribs. Among the wide list of Canadian beers, try the Beavertail raspberry ale for something sweet or the steam whistle pilsner if craving something a bit harsher.
Price: Bargain
8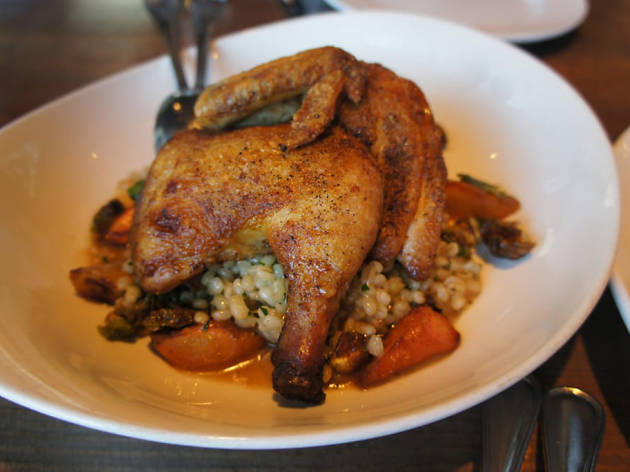 Photograph: Courtesy Yelp/Jonny M.
What it is: One of the best places for a wind-down evening glass of wine, this classic French bistro offers a casual yet contemporary menu inspired by Parisian classics.
Why go: More than anything, this award-winning restaurant is known for their steaks. In the summer, dine on the palatial patio while facing a picturesque set of leafy trees. While inside, cozy up at the sleek bar made from salvaged marble.
Price: Pricey
9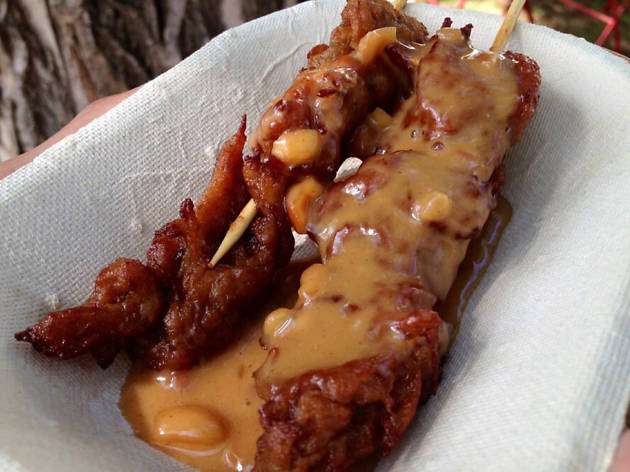 Photograph: Courtesy Yelp/Jon C.
What it is: This vegetarian and vegan restaurant serves Indonesian, Thai, Chinese and Indian-inspired dishes in an unpretentious setting with wooden furniture.
Why go: The founder, who hails from Jakarta, has been running restaurants for 40 years, so expect the perfect menu, infused with a variety of flavors.
Price: Bargain
10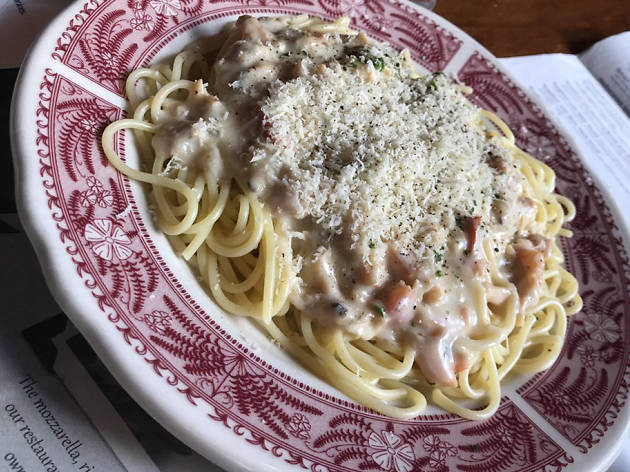 Photograph: Courtesy Yelp/元芳
The Old Spaghetti Factory
What it is: It may be a restaurant chain, but this is the ultimate family-friendly classic eatery. Set in cozy, turn-of-the-century décor, the eatery serves traditional Italian pasta dishes with sauces made from scratch.
Why go: Every meal is served with complimentary sourdough bread—warm. Try the chicken Alfredo or the mama Pulosi's homemade lasagna and get ready for your taste buds to go into shock.
Price: Average
11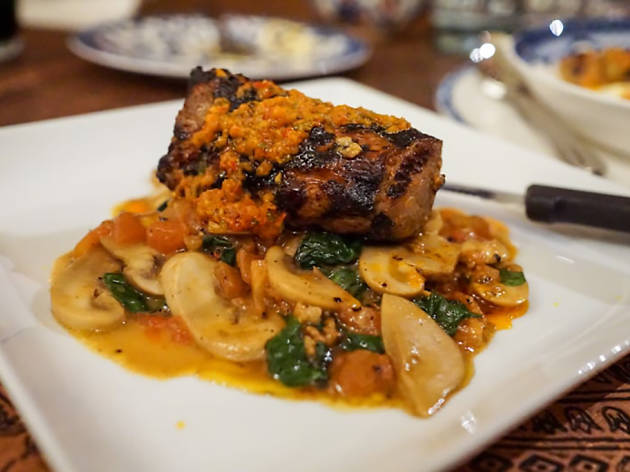 Photograph: Courtesy Yelp/Cindy N.
Sofra Turkish Restaurant & Wine Cellar
What it is: This authentic Turkish restaurant is a slice of Istanbul. With an exotic interior, spicy salads and grilled meat with kebab vegetables, the traditional Turkish dishes that you will eat here will sweep you away.
Why go: To eat really outstanding Turkish food, of course. Try the traditional meze (a series of small appetizers to go with drinks) or the stuffed zucchinis. For lunch, try the hummus and house-made pitas, as well as the Turkish pizzas.
Price: Average
12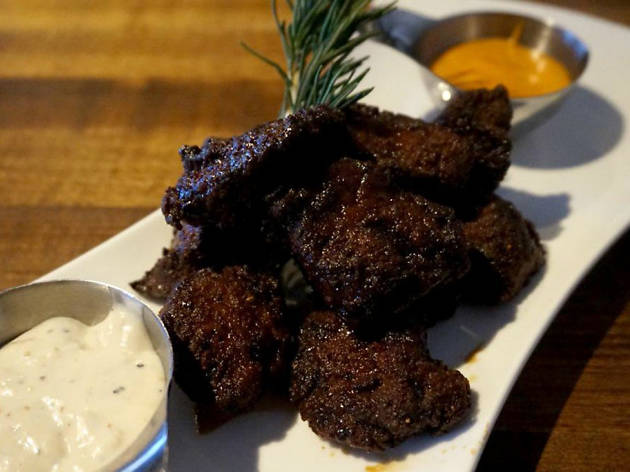 Photograph: Courtesy Yelp/Stephanie T.
What it is: A steakhouse with class that typically draws in the suited-and-booted, but caters well for all sorts.
Why go: Located downtown, beside Sutton Place Hotel, Chop Steakhouse provides something meaty for breakfast, lunch, dinner and after-hours (they're open until 1am Mon-Sat). But they serve veggie dishes too, so don't panic if your whole party aren't out-and-out carnivores.
Price: Pricey
13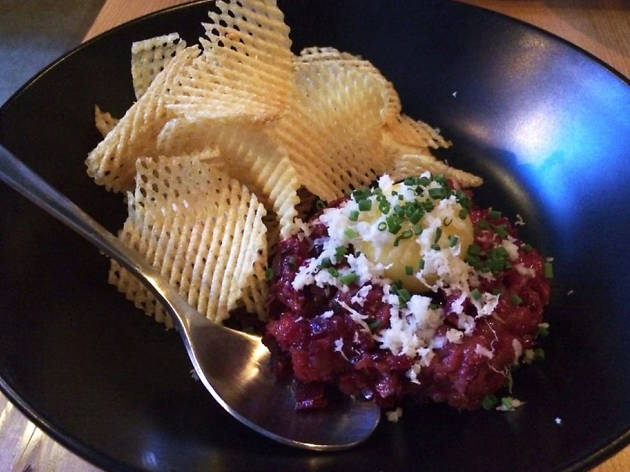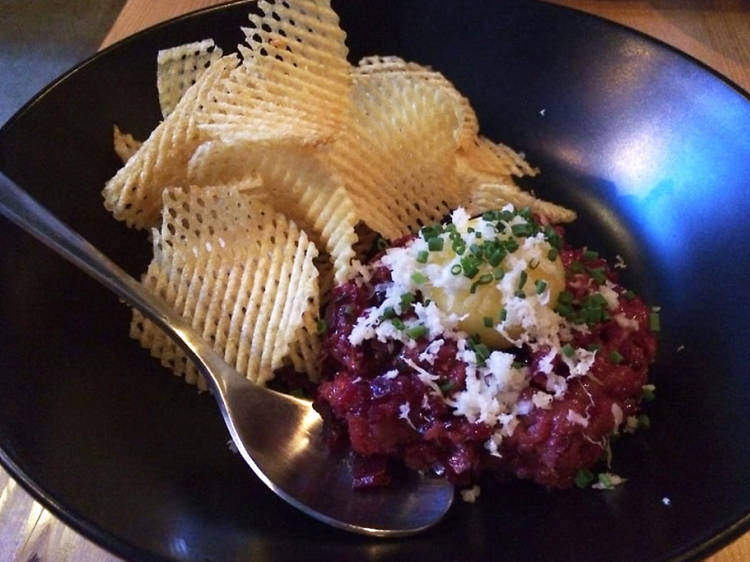 Photograph: Courtesy Yelp/Cindy N.
What it is: Traditional Canadian fare, but not as you know it.
Why go: The vibe in this cozy joint is casual, but trendy, and the menu is seasonal. Unsurprisingly, there's loads of woodwork around and it's all artfully carved. Diners are sure to take as much pleasure in the craftsmanship as they will in the food.
Price: Average
14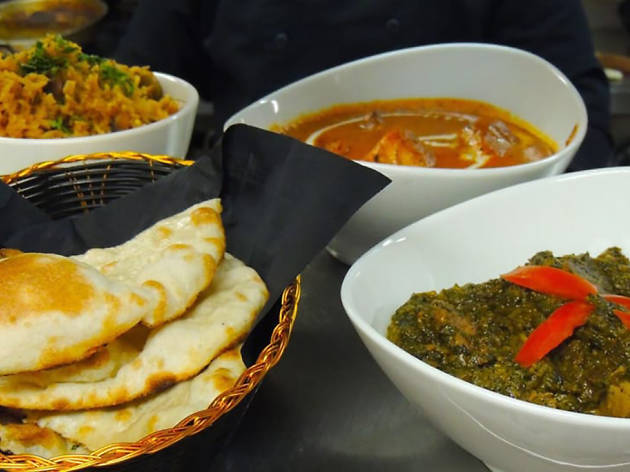 Photograph: Courtesy Yelp/Pankaj S.
What it is: As the city's ultimate fusion restaurant, Select epitomizes Canadian multiculturalism with a variety of dishes from various countries, right in the heart of downtown.
Why go: To try different cuisines in a single upscale dining atmosphere. This is the only place in the city where cheesesticks, palak paneer, prawn bibyani and cheeseburgers are found on the same menu.
Price: Average
15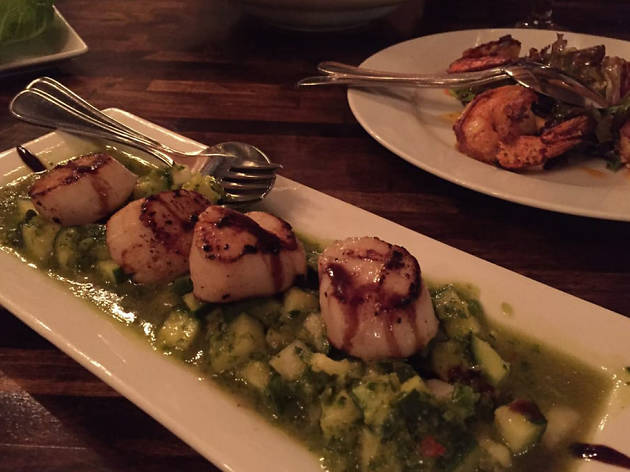 Photograph: Courtesy Yelp/Jeannine N.
What it is: Bodega vibes and tapas in a setting full of character. Sabor is one of the best spots downtown to get Spanish and Portuguese cuisine.
Why go: In true Western European style, the folk behind Sabor direct as much attention into their wine as they do the food. You can grab bottles or 'tasters' (by the glass) from Austria to Argentina, with homegrown tipples too. They also have regular live salsa music.
Price: Bargain
Discover Time Out Market: the best of the city under one roof
Planning a trip to Edmonton?
Edmonton is the capital of Alberta, which is Canada's oil province. But beyond the chilly weather and business class style, find a bustling creative scene, comfortable hotels, funky art museums, delicious restaurants and more to do beyond your typical visit to West Edmonton Mall.