Stretching his six-foot-and-a-lot frame so that his well-worn Converse seem to be close to my chair, despite him sitting on the other side of the room, Alexander Skarsgård is revelling in his new and soon-to-be-highly-acclaimed Viking epic, The Northman. He's tired (fresh from its world premiere at Stockholm's Viking Museum, where his whole family was in attendance and there was mead) and doesn't seem quite as intimidatingly ripped as in the film – although there are skyscrapers less built than his vengeful Viking, Amleth. We chat frequency of gym visits (him: a lot; me: literally never) before shifting the topic of conversation on to what is hand's down the film of the year so far.
People seem to be falling in love with The Northman. What has the experience been like for you?
'I've never been more emotionally invested in a project than this. It's been a long journey. The afterparty in the Viking Museum with people dressed as Vikings running around... It was great. We had a lot of mead. Then it was Hamburg, then Rome, now here. It's been a whirlwind but so much fun. I love Rob [director Robert Eggers], I love Anya [Taylor-Joy], so it's a good group to travel with.'
It must have been a gruelling shoot.
'Everyone, cast and crew, was out there on that mountaintop for seven months in the cold, rain and mud. It was quite an adventure and it really brought us together.'
Hollywood isn't making many films like this. Was that part of the appeal?
'I was excited to work with Rob [Eggers]. It was incredibly impressive to see what he did with a limited budget on two smaller films (The Witch and The Lighthouse) and how real the worlds he created felt. He's a visionary. The Northman is the type of movie that doesn't get made very often. I don't blame Hollywood for not taking those risks – it's really, really tough to reach those big numbers – but it's exciting when people do something different.'
Robert Eggers goes deep with his authenticity. What was the most extreme period detail you encountered?
'He's not that sadistic that he's like: "Wear this bark underwear." But everything that the camera could see had to be 100 percent historically accurate. There were Viking scholars making sure none of the costumes were remotely anachronistic, so you're literally stepping into the shoes of a Viking. We had a longship built exactly like a real one, with the same wood and nails. There's another Viking vessel that's out of focus in the distance. It was important for Rob to have a real small Viking vessel for it.'
Filming this movie was 400 people in a mud pit together. It was quite an adventure
You are seriously built in this movie. Even more than in The Legend of Tarzan.
'In Tarzan, I had to be more nimble – more sinewy and ape-like. My character's name in this means "bear wolf", so I wanted to look more like a bear than I usually do. There was no cardio, because I'm naturally quite lean, so it was just lifting weights and eating food (laughs).
What keeps you sane during gym sessions?
'I was just so excited about making this movie. I've had this idea of making a Viking movie for many years, but the fact that I got to do it with Robert Eggers, with a screenplay written by Sjón, an amazing Icelandic author and poet, and this cast, meant I was so motivated. We went to Belfast [for filming] and I was ready with the diet and the training, then Covid hit. I went to Stockholm without knowing how long it would be. Five, six weeks became two months, three months, four months before they figured out a Covid protocol: it's a big movie, with 300 to 400 people in a mud pit together, and this was before the vaccines. I couldn't stop training, and stayed on the right diet, because I didn't know when the phone call would come. We got back [to Ireland] in July 2020 to start the shoot. We were the first production to start during the pandemic. We were Hollywood's guinea pigs.'
What did you binge on when you were done?
'On Tarzan that was a big thing because I had to be quite lean: so no alcohol, no fast carbs, no sugar – nine months of being deprived. But on The Northman I could treat myself to a Guinness. It was more about eating a lot than being on a super-strict diet.'
The film features a kind of ultra-violent Viking lacrosse. Any injuries filming that?
'I had to fight literally the strongest man on the planet – Hafþór Björnsson, who played the Mountain in Game of Thrones. That was the motherfucker I had to go up against for a full week. He's a gentle giant but I was in a lot of pain that week. It was two hours from anywhere and we had a flash flood one day and the whole set just washed off the mountain.'
Did you get to keep any souvenirs from the set?
'I got one of the swords. Where do I keep it? It's a real Viking sword, so it's in a secret location.'
You seem like a chilled person. What did you draw on to summon your character's inner rage?
'I'm quite mellow in real life, but it was cathartic to [play that aspect of the character], maybe partly because I rarely get upset. It's quite cathartic when you get into that primal rage and just let it all out. It was quite a trip.'
You've managed to avoid being typecast in your career. There's no 'typical' Alexander Skarsgård role.
'I've been fortunate enough to have that opportunity. I have actor friends who get sent specific types of roles and if they turn them down, they don't get anything else. It's way more fun to bounce around. Doing the same type of character gets repetitive.'
On

True Blood

people would come up and say: 'Why would you do that to Sookie, man?'
Does that explain why there aren't a lot of big franchises on your CV?
'I did Tarzan and Godzilla vs Kong. It's not that I consciously avoid franchise movies. If I find a filmmaker that I really want to work with or a character that I'm intrigued by, then I'll jump in.'
And you got really close to being Thor in the Marvelverse. Was it a big disappointment when it didn't happen?
'No, I'd just gotten started. It was after the first season of True Blood and I had't worked much, I was very green. I probably wasn't ready for that.'
You must get recognised a lot. What do people want to talk to you about?
'It depends what role I've played recently. If it's something really dark, people stay away. After Big Little Lies, people stayed away. Most people understand that it's a character, but people get really invested, and for some, that line between the character and the actor playing the character gets blurred. On True Blood it wasn't infrequent to have people come up and be like, "That was a shitty thing to do, man. Why would you do that to Sookie?" I was like, "Hey, I'm sorry!"'
Do you still get people quoting Zoolander at you?
'I still get "orange mocha frappuccino!" occasionally. Being in Zoolander was a fluke – my dad [Stellan Skarsgård] was shooting a movie in Hollywood. I'd just started acting in Sweden and Dad's manager asked if I wanted to go to an audition, and it happened to be for Zoolander. Two weeks later I was in New York shooting those scenes with Ben Stiller.'
Has your dad been a guiding light in your career?
'He's very hands-off when it comes to guiding me or my siblings on our careers, or life in general. He's a chilled motherfucker, super-relaxed. He's like, "Work hard, if you want; or don't work hard." He's basically always in his kitchen when he's not shooting – cooking and drinking wine. Growing up, you'd go into the kitchen if you want to have a chat with Dad. If you ask for help, he's incredibly supportive and would do anything for us, so that makes us confident and secure. When I quit acting at 13, he was like: "If you're uncomfortable with it, then fuck it." I think acting wouldn't have been a good adolescence for me. I would have burnt out hard.'
Did you inherit his love of cooking?
'Yeah, I love to make a winter stew: coq au vin, boeuf bourguignon – hearty, rich meals.'
Any idea what you'd have done if you'd given up acting for good?

'I was interested in architecture, then I joined the marines in Sweden for a year and a half. I was 20 and restless. Then I thought I'd go to England for a bit. I love London, but it's a big international city and I wanted the quintessential English experience and not to be in London with a bunch of my friends from Sweden. So I went to Leeds Metropolitan University (now Leeds Beckett University) – I've no idea how – and lived in a basement in Headingley, didn't study much and got drunk every day. That was pretty much it for six months.'
Can you see yourself settling in London one day?
'Yup. I spent a couple of years in east London – Hackney and Newington Green – and I loved living there. I lived in west London for Tarzan, which was shot in Watford, and The Little Drummer Girl, which was in Ealing, and it was beautiful, but I'm an east London guy. I grew up in Stockholm's equivalent of east London, Södermalm, so I feel at home there.'
What you're saying is that you're a hipster.
(Laughs) 'I'm too old to be a hipster.'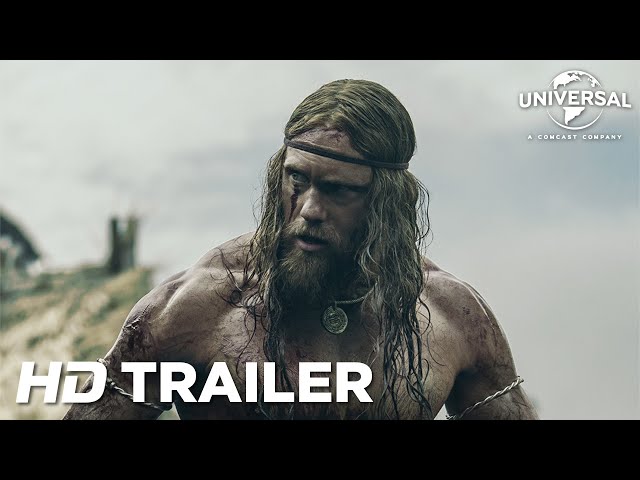 The Northman is in UK cinemas Apr 15, Australia Apr 21 and in the US Apr 22. Read our review here.