When I meet Claire Foy, I'm ushered into a quiet room with two leather armchairs set opposite each other at an angle. I sit down, patiently waiting for the star of Netflix's 'The Crown' to arrive. Ironically, the seriousness of the set-up feels kind of like I'm about to have an audience with the actual Queen.
Of course, we're not in a plush room in Buckingham Palace, we're in a studio in King's Cross. The 34-year-old actress is nothing like Her Maj, either. Dressed in a denim jumpsuit, she sits cross-legged and sips herbal tea. Not to mention that Foy has now abdicated. After two seasons of the hugely popular show, she's swapped a crown and a block-colour twinset for a motorbike helmet and leather jacket. Liz has become Lisbeth (Salander) in 'The Girl in the Spider's Web', the latest 'Girl with the Dragon Tattoo' movie. Foy plays the fierce computer hacker who hunts down men who have hurt women. She even considered shaving her head for the part. 'But then it becomes difficult,' she says, 'because you're in everyday life and everyone's like, "You look quite scary."' It's all about as far away from the Queen's Christmas Message as you could possibly get.
By Foy's own admission, 'The Crown' has had a huge impact on her career – she won her first Emmy for it this year. Still, she isn't looking back – and with another huge film released this autumn, it's easy to see why. She stars alongside Ryan Gosling as Neil Armstrong's wife Janet in 'First Man'. Directed by Damien Chazelle ('La La Land'), it's already generating Oscar nomination buzz. After making her name in shows like the BBC's 'Upstairs Downstairs' revival and its adaptation of 'Wolf Hall', Foy now seems at a turning point – she's gone from Sunday-night TV actress to cult Netflix fave to bona fide Hollywood movie star. Claire Foy might be hanging up the crown, but it feels like her reign is just beginning.
'If you're inheriting a part, you're coming up against everybody's preconceptions'
Lisbeth Salander is pretty badass. Did you get to do any fun stunts in this film?
'I didn't learn to ride the motorbike because there is just no way… But I did all the stunts, really. All the fights, I mean, not launching myself out of windows. I enjoyed it. It's like learning a dance. Whether they are in [the final film] as me doing them or it's the stunt double, we'll see.'
Did you have to cut all your hair off?
'I had to cut my hair off for "First Man", so I just cut it more. I really didn't mind. At the time I said, "Shave it off, I want to have a shaved head." But afterwards, when you're not playing the character, you're like, "Ah, I still look like this."'
Lisbeth has been played by two other actors in previous films. Did that prey on your mind?
'Initially, I thought I wouldn't touch it with a bargepole. I thought Rooney [Mara] was incredible in that film and Noomi [Rapace] was amazing in all three. I watched them as a punter. I was like: Why would anyone invite that upon themselves?'
What changed your mind?
'I relished having to think about something in a completely different way. I've had to do that a lot in the parts that I've played. If you're inheriting a part, or if it's a part that comes with a lot of expectation because it's an adaptation or a famous character, you're coming up against everybody's preconceptions. Everyone else owns that character apart from you. It's about trying to own it for yourself.'
Olivia Colman is stepping into your court shoes in 'The Crown'. How do you feel about that?
'I spoke to her when she was offered it and I was like, "You have to do it!" She's an extraordinary actress. I can't wait to watch her.'
Will you miss playing the Queen?
'No. I loved that part but I don't hold on to characters. It's over for me; it's long gone.'
Did you expect it to be such a hit?
'We knew it was risky. We were like: Is anyone going to care about what the Royal Family has been through? Also if you're in something you automatically think it's terrible – they've cast me, so it's going to be dreadful.'
'My career was completely different by virtue of doing "The Crown"'
Some of 'The Crown' was shot in London – were there any particularly cool locations?
'I was always inside, I never went out! Bloody Matt [Smith] and Vanessa [Kirby] were gadding around on the back of motorbikes and driving up and down The Mall and I was just in Elstree Studios. We did King George's funeral on The Mall – that was pretty amazing because we unveiled the statue of Jared Harris [who plays King George VI, her father] that they'd built, over the actual statue. I was mainly inside being studious or a bit sad.'
Has 'The Crown' opened up opportunities for you?
'My career was completely different by virtue of doing "The Crown" in the first place. I wasn't expecting for that to ever happen. It's so much more exposure. People view you differently even though you're exactly the same.'
I heard that you and Matt Smith went out for lunch in London in costume and nobody noticed. Were you wearing your crown?
'No. Just a beige twinset. No one was bothered. It was in the City. Everyone was just going about their business. In London, people don't give that much of a shit because everyone is getting on with their lives. People aren't expecting to see someone off the telly on the tube. That's the beauty of London.'
Do you think of London as your home?
'At the moment I do. I love it but I don't know whether it will be for ever. I would quite like to live in the countryside. If I could just live in the middle of Hampstead Heath… that's the dream. London is so beautiful. I'd miss it. I'm definitely not ready to move.'
Do you have any favourite restaurants here?
'Oh God, loads. Ducksoup [in Soho] is delicious. I love Koya on Dean Street. Pappagone in Finsbury Park is really good. And all the Turkish places on Green Lanes are amazing.'
Where do you live now?
'North London, Wood Green. There's an amazing community café in Downhills Park, my local park – it was set up by a woman with two kids and there are dogs everywhere. It's what Tottenham and Wood Green do really well – community. I love that café and that park.'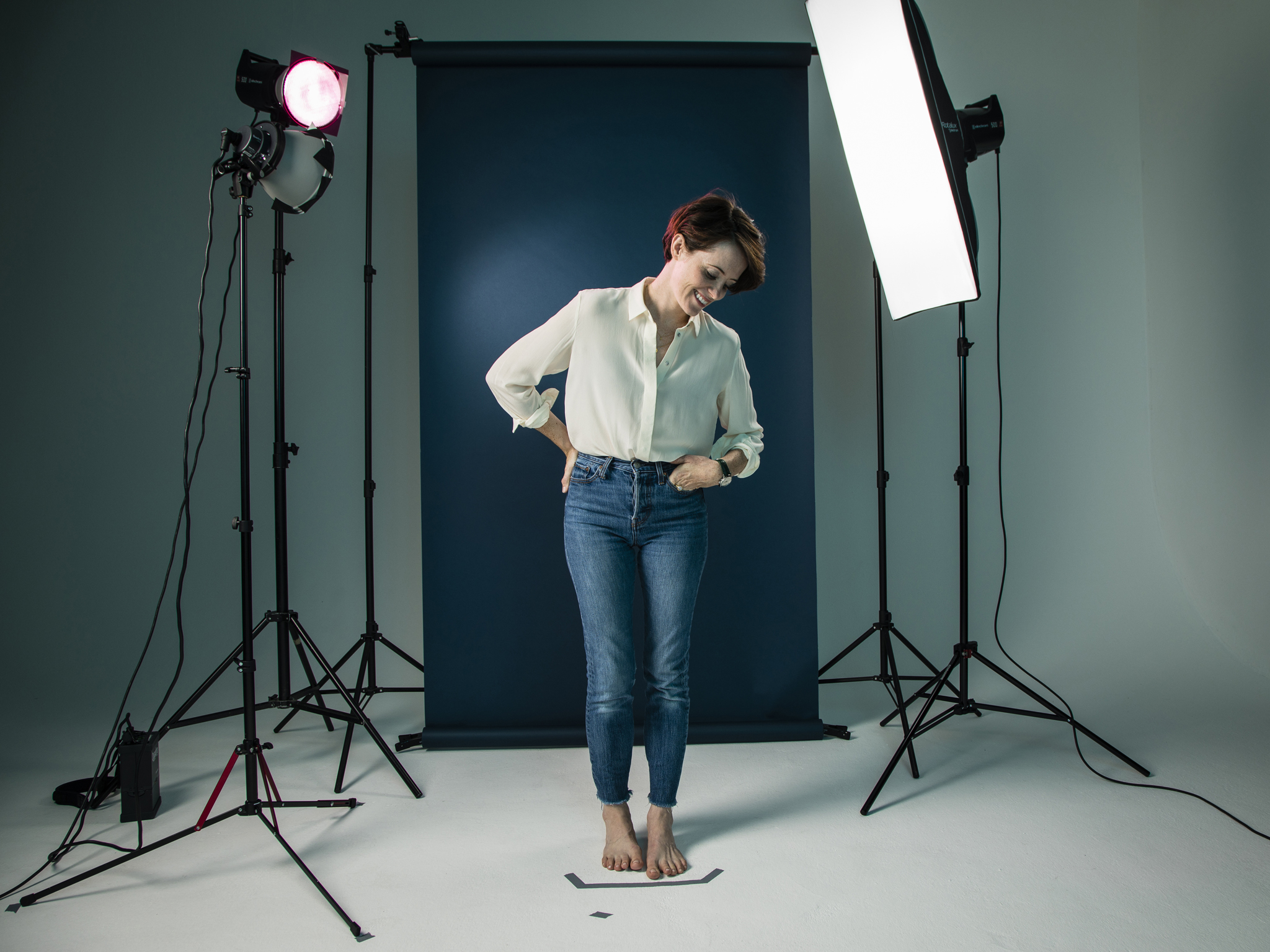 'I was very drunk and told Kirsten Dunst I loved her'
Is it true that you lived in a houseshare in Peckham when you first moved here?
'It was Honor Oak Park. It was before the rooftop bar. The best thing about Peckham at that point was the cinema where you can go for £5.'
Peckhamplex?
'Yeah: amazing. And it's still there. We went there to watch "Sex and the City" and my first film, "Season of the Witch".'
When you won an Emmy for 'The Crown' the first thing you said was, 'This wasn't supposed to happen!' What was going through your mind?
'Just "Oh God!" It wasn't so much that I was convinced that I wasn't going to win, it was more that I thought Sandra Oh would. I'd just finished watching "Killing Eve", so in my head there was only one winner. I was shocked. I just babbled – I was shaking.'
Is it true that you couldn't get into the afterparty?
'Yes. I had two tickets but I was with two friends and [the bouncers] said, "You need three." And I was like, "Oh, come on, obviously I'm not just dressed up to try and get into the party." I'm saying it like I was annoyed but actually it was just so embarrassing.'
Didn't Jonathan from 'Queer Eye' get involved?
'Yeah. He asked why I was stood at the bottom of the stairs and I said, "They won't let me in." And he was like, "That is ludicrous!" He went up to them and said, "What are you doing?" Then I was even more embarrassed. They said I could come in but I made a point of being like, "No, you told me I couldn't come in because I haven't got a ticket so I'm getting a ticket. We'll do this properly!"'
I love that you're holding your Emmy and it takes Jonathan Van Ness to get you in.
"I know. I can't talk my way into a party. I'm not the sort of person who people go, "Oh you belong here, you must come in." People go, "Who are you?"'
Now 'First Man' is being tipped for Oscar nominations. Do you pay attention to that?
'I don't know! I've never had to. It's a new world.'
Have you ever been starstruck?
'I just made a film with Ryan Gosling and Damien Chazelle! So, yes. It's really weird. I need to humanise people. Everybody thinks they're going to get found out and told they don't deserve to do this for a living. It's like when you go to awards shows – I wouldn't be able to make conversation with Meryl Streep. I'd just be like, "Sorry there's no point, because I'd just want to tell you I love you." I tell people I love them a lot. Louis Theroux was the last person – at the Baftas. It's really weird being in a room with lots of people who you think are extraordinary. I don't know how to deal with it.'
Have you met Meryl Streep?
'Course not!'
Is it weird going to awards ceremonies?
'The first one was: the Golden Globes. I'd been to the Baftas but I'd worked with pretty much everyone there. Whereas at the Golden Globes I was like: I don't know anyone and nobody knows me. Then I won and was so surprised. My mum came with me, which was nice because it can feel lonely. The majority of the time they're just a good party and you stare at people like Tom Hanks.'
Have you had any moments where you haven't been able to keep your cool?
'Kirsten Dunst. I was very drunk and told her I loved her. We ended up having this tearful
heart-to-heart on the dancefloor.'
Have you spoken to her since?
'Er, no. But yeah, there is no cool. I'm a ridiculous, embarrassing person.'
Have you got any unexpected hobbies?
'I love gardening – I'm an old person. I'm terrible at it but I'd love to get an allotment. And I like climbing.'
Have you been to the Castle climbing centre on Green Lanes?
'Yeah!'
You don't get noticed there?
'No, but I've only been twice. It would be useful at times, like when you're in the passport queue with loads of bags, carrying a child and sweating. It always happens to Matt Smith. He's an upgrader. People take one look and they're like, "Would you like to go to first class?"'
How did you feel when it came out that Matt Smith was paid more than you for 'The Crown'?
'The first thing I knew about it was that news article. I was like: Oh, that's news to me and now people are asking me what I think about it. That's the weird thing – with #MeToo as well – people suddenly expect you to have an answer. People expect you to be able to put it succinctly and be an authority on it. And I'm like: I don't know, I'm learning as much as anyone else. I found it terrifying because I didn't want to say the wrong thing. It was an eye-opener.'
Who do you look up to in the industry?
'There are lots of women who I think are amazing, like Annette Bening and Emma Thompson. I think you just have to listen, learn and be kind. And not turn into a massive, egomaniac arsehole, because it's very easy for people to think that all this is real. And it's not.'
'The Girl in the Spider's Web' is released on Wed Nov 21.