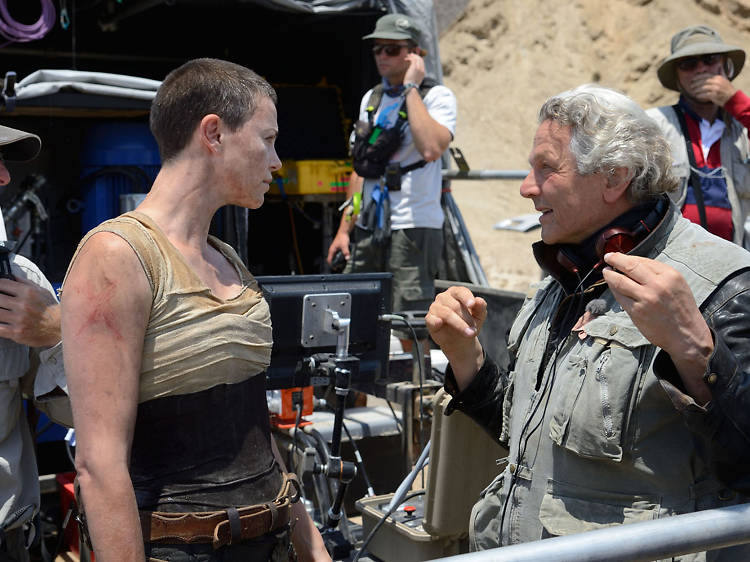 Photograph: Jasin Boland
Did you always have Charlize Theron in mind for Furiosa?
The short answer is yes. Every time I shifted my gaze from Charlize, it kept on swinging back. She's a person of stature, both physically and in her spirit. Also, having been an accomplished ballet dancer, she's very physically disciplined. She wasn't daunted by the nonverbal action part of it. Tom himself is extremely athletic—he's a rugby player. I think you need that quality.

Did it feel weird not making this film in Australia? The series is so associated with the Outback's rough terrain.
It did because, for so long, we were preparing to shoot in Australia. We had close to 200 vehicles built, we had all our stunts rehearsed, we'd built roads which to run them through, with flat, red earth that seemed to go on forever. And then the rains came, in an unprecedented manner. It hadn't rained like that for 15 years. And pretty soon, it was a flower garden—an extraordinary array of beautifully colored flowers just waiting latent under the earth but for a few drops of rain. So we waited 18 months, but it didn't go away, which is great for the earth, not great for the apocalypse! [Laughs] We had to take everything from the east coast of Australia to the west coast of Africa and shoot in Namibia, where it never rains because of the cold climate that comes up from Antarctica and the desert heat.

Did you feel that might have been a sign?
I've got to say, there were so many times I thought the film would never happen. But it was a movie you couldn't kill with a stick somehow. It just insisted on being made, one way or another.

I bet a lot of your fans don't know know you trained as a surgeon. How does your medical experience play into your filmmaking?
I've thought about the question quite a bit. It's obvious I wouldn't be the filmmaker I am if I hadn't practiced as a doctor. I did practice for a few years in between making films because I didn't really think I would have a full-time profession in making movies, even after Mad Max. In Australia at that time, there was no real continuous filmmaking scene, as it were. So the two went hand in hand for a while. A lot of [being a doctor] is observation of the world, which of course we all need to do, particularly if we're telling stories. There's problem-solving, and that's very much to do with the logistics and pragmatics of filmmaking. You're seeing patients at the moment when they're giving birth. Or the moment when they're confronting their mortality. So you're privileged by those points of view, and all that is grist for the mill. In cinema, we are, by large, looking at people in extremis, confronting each other with the big questions of life. So it can't help but inform filmmaking.

The hours must be similar too!
That's amazing you say that. You're the first person in all these years who's picked that up. Less than 48 hours ago, we finished the stereo conversion of Fury Road. It was 11 days straight, close to 20-hour days and some of us had to take a nap. And I said to everyone, "This reminds me so much of being an intern!" [Laughs] In fact, I had a real affection for that time. We all had kind of Stockholm syndrome.

Why do people love these post-apocalyptic movies? Do they give us hope in inverse?
Two answers come to mind. One is that they help us confront our uncertainties. But the second is that they basically follow the hero myth in the classic Joseph Campbell way. You tell the story, you put it out there, and really, it's the audience over time that tells you what your film is. In some way, we tapped into that collective unconsciousness.

Mad Max: Fury Road opens Fri 15.