Kosar Ali and Bukky Bakray are dancing at the foot of an incredibly fancy gothic staircase in the St. Pancras Renaissance Hotel. Fredo & Young T's 'Ay Caramba' is blaring out of a speaker, but it's not the afrobeats mega-hit that's got their attention.
'These are the Spice Girl stairs!' exclaims 16-year-old Ali. She's right: the 'Wannabe' video was filmed on these steps 24 years ago – eight years before she was even born. 'Can we get a photo doing the poses?' she asks. She throws a peace sign in homage to the group. Bakray, 17, and Ali might be strangers to you, but they won't be for long. The brand-new actors, who grew up in Hackney and Stratford respectively, play best friends in 'Rocks': a female-led coming-of-age film that is as heartbreaking as it is joyous, shotin east London and written by the Hackney-born Theresa Ikoko.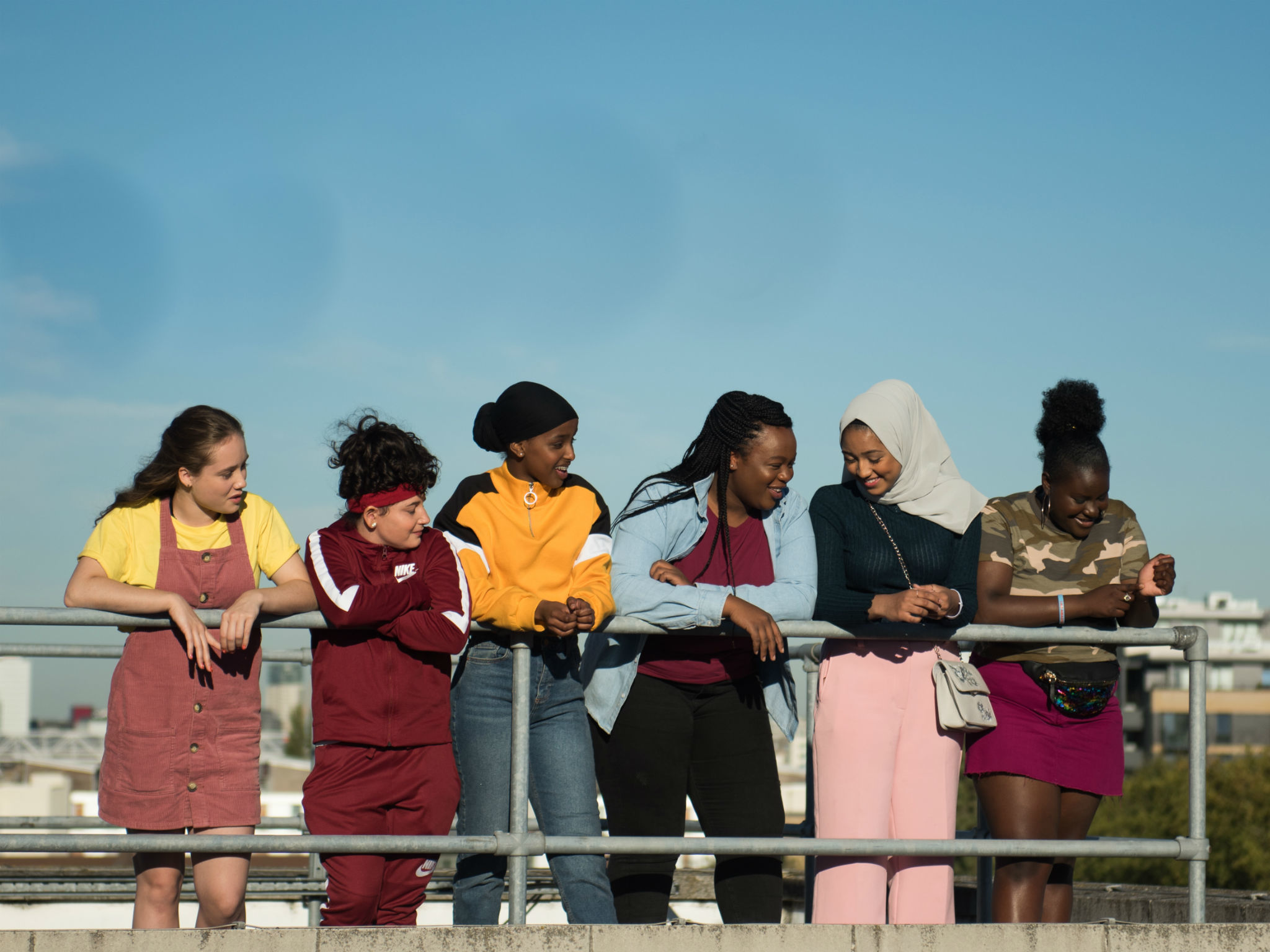 Photograph: courtesy of Rocks
'Rocks' tells the story of a young girl who is left to fend for herself and her younger brother when their mum goes missing, and the female relationships that get her through it all. It explores a side of London that is often overlooked – and the best thing about it is the friendship between Rocks (Bakray) and her best mate Sumaya (Ali).
Deeping life

A half-hour later and Bakray and Ali are devouring cheese toasties and fries in the hotel's restaurant as they talk passionately about making the movie. They – along with most of the cast – were discovered at open workshops held in schools and youth clubs across London. Director Sarah Gavron got all the young actors to contribute to everything, from the script to the set design, which is why 'Rocks' feels so real.
'I wasn't gonna go – I only went because my friends were like "Let's just go, it'll be fun!"' says Ali. She's peeling tomato away from melted cheese ('I like vegetables, I just don't like tomatoes. They're...' she makes a face that is both disgusted and underwhelmed, '...you know?').
Both 13 when they first got involved, the girls tell me they had no idea what to expect of being on a film set. 'It was weird, innit,' laughs Ali, telling me how they'd be picked up together in the mornings. Every day for six weeks, Bakray would make them start the day by listening to the same song, which I'm surprised to discover is Case & Joe's 'Faded Pictures', a classic R&B duet from 1998 that features on the 'Rush Hour' soundtrack. 'She was deeping life,' jibes Ali, imitating her friend solemnly looking out of the window of a taxi, and causing Bakray to collapse in a fit of giggles. 'It's just a nice tune!' she protests.
At moments like this you can see that the touching on-screen friendship between them has spilled over into real life. The pair finish each other's sentences and crack up at private jokes: talking about their favourite subject, food, they look at each other, shout 'cui-siiiiiiiine!' and burst into laughter.
This kind of sisterhood is at the heart of 'Rocks'. It feels like an ode to all-girls schools and the friendships that blossom within their walls. As an alumnus (long since graduated) of a girls' school myself, I can see a lot of my own experience (girls doing each other's hair in the playground, choreographed dancing, loads of screaming) reflected in the film.
Photograph: Sarah Gavron
Bakray, especially, related to the school scenes. She went to a girls school before moving to a mixed sixth-form. 'I didn't think I'd miss it as much as I do,' she says of the switch. 'At all-girls schools there's no one to impress. You have girls that are into make-up, and you have girls that love football. When the opposite gender is there you have that element [of competition], but when it's us girls it's just pure bants.'
Chicken 0, coffee 10
It's not just school life in the film that the girls connect to. In one scene we see Rocks sneaking into a luxury apartment with her new friend Roshé, lounging on an opulent balcony that contrasts starkly with her own council flat around the corner. Bakray and Ali both heave a drawn-out sigh when I ask if they've noticed the effects of gentrification in their own areas, and they mention beloved chicken shops replaced by cute cafés and bougie pizza chains.
'It's not so much that they're "our cuisine",' muses Bakray, 'but [they are] a part of our childhood. For me, it was year 11 dinner: you go library, then you go chicken shop, then you go home. You become friends with the owners; they know your order. Now there are ten coffee shops just on Chatsworth Road – how much caffeine do you need?' As a tired old millennial, I am already two coffees deep, but I take their point.
It would be easy for the girls to be jaded about growing up in a city where it feels like you can drop a tenner just by stepping outside, but they are both positive. 'It's a fun new age,' says Bakray. 'Although there's some negative things about our generation, there's a load of positives. There are so many entrepreneurs and ideas.' Ali agrees. 'I feel like the media are busy shining light on the negatives – like "Oh my God, there's been another stabbing!" – but don't focus on the other side, like 16 year olds who have clothing lines.'
The girls themselves are very much part of this multi-talented generation. Like Rocks, Bakray has dabbled in the make-up game, a fact that only emerges after some prompting from Ali: 'You're too humble, man. Speak up!'
'I did make-up once for one of my friends,' says Bakray. 'She was like "You might as well start a business." So I did.' Ali pulls up her friend's now defunct Instagram account and Bakray shrugs. 'I'm a bit over it now. I stopped for exams.'
Girl Power revisited
Will we be seeing them in anything else this year? For the first time in our conversation, I am met with silence. The girls look knowingly at each other, but reveal nothing. Then Ali pours some sugar into the orange-juice-and-soda- water concoction that's been brought to her in lieu of Fanta and the tension cracks. 'Listen, it's tasting a bit dead – I need some energy!' she protests.
Photograph: Sarah Gavron
It looks like we'll have to wait and see what the future holds for these two. Until then, it seems fair that they spend some time celebrating the unique London movie that they helped create. 'There are so many ethnicities on screen,' says Bakray of 'Rocks'. 'So many multi-layered, young female characters.' Ali backs her up. 'Schoolgirls are [often] portrayed as mean and competing for boys. But here it's women empowering women...'
'...because that's the way it really is!' finishes Bakray.
They may not have been alive for the birth of the Spice Girls, but Bakray and Ali are very much picking up where Girl Power left off. As we part ways (and I get my third coffee of the day), I have a feeling it won't be long before I see them both again. I can't wait.