After his last film, 'Force Majeure', failed to snag an expected Oscar nomination, Ruben Östlund released a YouTube clip of his outstandingly uncool reaction to the news. He clearly doesn't take himself too seriously, and the Swedish filmmaker is a formidable talent: pinsharp and original. He chatted about his latest (and, yes, Oscar-nominated) film, 'The Square'.

Do you see 'The Square' as a satire on art?
'In a way, yes. I visited a lot of contemporary art galleries when I was promoting "Force Majeure" and they seemed like an excellent context for a film. My impression is that contemporary art wants to always be disconcerting, like Duchamp's urinal, but that every time it is more difficult to achieve it.'
How did the film's nod to 'Planet of the Apes' come about?
'I was looking on YouTube for "man imitating a monkey" and found a clip of Terry Notary on a video for "Apes". I contacted him and he said he'd love to appear. So we invented the story of a monkey man who enters a gala dinner and attacks the guests. We rehearsed for four days: calculating the distances and space [in the room].


Terry Notary goes ape in a pivotal scene in 'The Square'

It feels almost violating for the audience. Is that what you were looking for?
'Yes. It was very funny at Cannes watching men in tuxedos applauding an ape-man attacking other men in tuxedos. We wanted Terry to appear on the red carpet with the [ape limb] extensions he carries on his arms, but his luggage was lost and they arrived too late.'
'Force Majeure' tackled masculinity in modern society. How important is that here?
'I wanted the protagonist to strive to fit the role of a modern man, but always feeling pushed against the ropes. For the first time, we are challenging the foundations of patriarchal society and it's left many men confused, no longer understanding what their obligations are.'
The humour in the film is very specific. What's your approach to it?
'I like the situations that can make you laugh but become frightening or strange two seconds later. I like not to tell the audience what to think about each situation, to provoke dilemmas. One moment it seems like a light comedy, the next it becomes a horror movie.'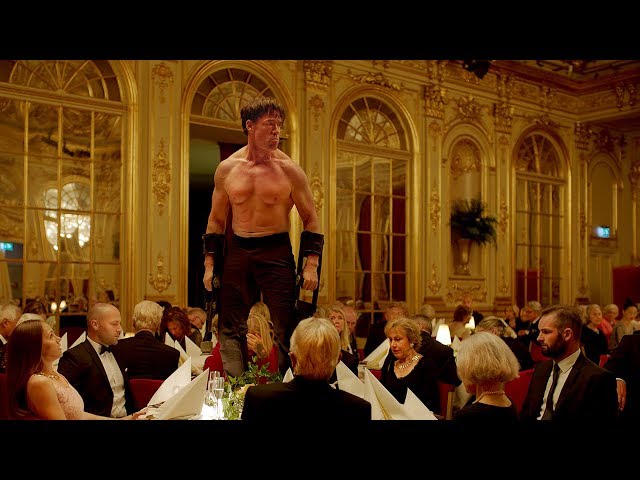 'The Square' is in cinemas on Mar 16