Pedro Almodóvar is talking via video from his office in Madrid, his unmistakable shock of white hair filling the frame of my laptop. To his right, there's a Bafta on a shelf (he's won four), next to the Oscar he won in 2002 for Talk to Her. I ask what's on his desk. 'It's full of things, many things!' He's upbeat and slips between English and Spanish, sometimes in the same sentence. 'There are some scripts here. My next film is here! But I don't know if I will do it. If I do, it will be in English. But I need to know I can make it with the same conditions as usual – with absolute freedom.'

Now 72, the Spanish filmmaker has been doing things his way since he started making punky short films in 1970s Madrid. The new script he's mulling over (which will be his first in English) is A Manual For Cleaning Women, and is likely to star Cate Blanchett. But today we're talking about his new film Parallel Mothers, his seventh to star Penélope Cruz. Like many of Almodóvar's films, from Volver to Julieta, it's about women and motherhood, and it's contemporary – concerned with how we live now, and the extremes of everyday lives.

It tells of two women, a photographer Janis (Cruz) and the younger Ana (Milena Smit), whose lives cross when they give birth in the same hospital on the same day. Its masterly handling of fate and high emotion is as expected from Almodóvar as its vivid design, music and photography. But Parallel Mothers has a less familiar political edge as its story also tackles the legacy of Spain's 'disappeared': the thousands who were murdered and buried in mass graves during the civil war of the 1930s.
You put Spain's 'disappeared' – the murdered of the Civil War – in the spotlight with Parallel Mothers. Had you long felt this was something you wanted to tackle in a film?

I always had the feeling that I wanted to make a movie with a more political point of view than I had in the past. All my movies are political – for example, the sense of freedom in my movies. But this is more explicit. I didn't have any missing people in my own family but it was a subject that I'd always been sensitive to.

I met many people [who lost relatives] when researching the movie. People don't want vengeance. It's not political. It's entirely personal. They want to render homage to their relatives. Mass graves condemn people to non-existence. It's important to return humanity and identity to them. This process is really important.'
All my movies are political, but this one is more explicit
You put Spain's 'disappeared' – the murdered of the Civil War – in the spotlight. Had you long felt this was something you wanted to tackle in a film? You bookend it with a story of a mass grave. But it's the contemporary story of two fateful mothers we spend most time with. Why?
I wanted to speak about the mass graves through the main character, Janis, and her own moral dilemma to find her own historical truth in her life. She isn't free because she is harbouring a secret.
Issues of maternity and paternity are key to the story and we see characters being swabbed in the nose for their DNA. You can't have imagined how Covid would make this process so familiar to us all.
Yes, I couldn't imagine it! There was something so odd, but also visually interesting, about it. Of course, it's become part of our lives. We did PCRs three times a week on the set. Now it's not cocaine which goes up our noses but cotton swabs!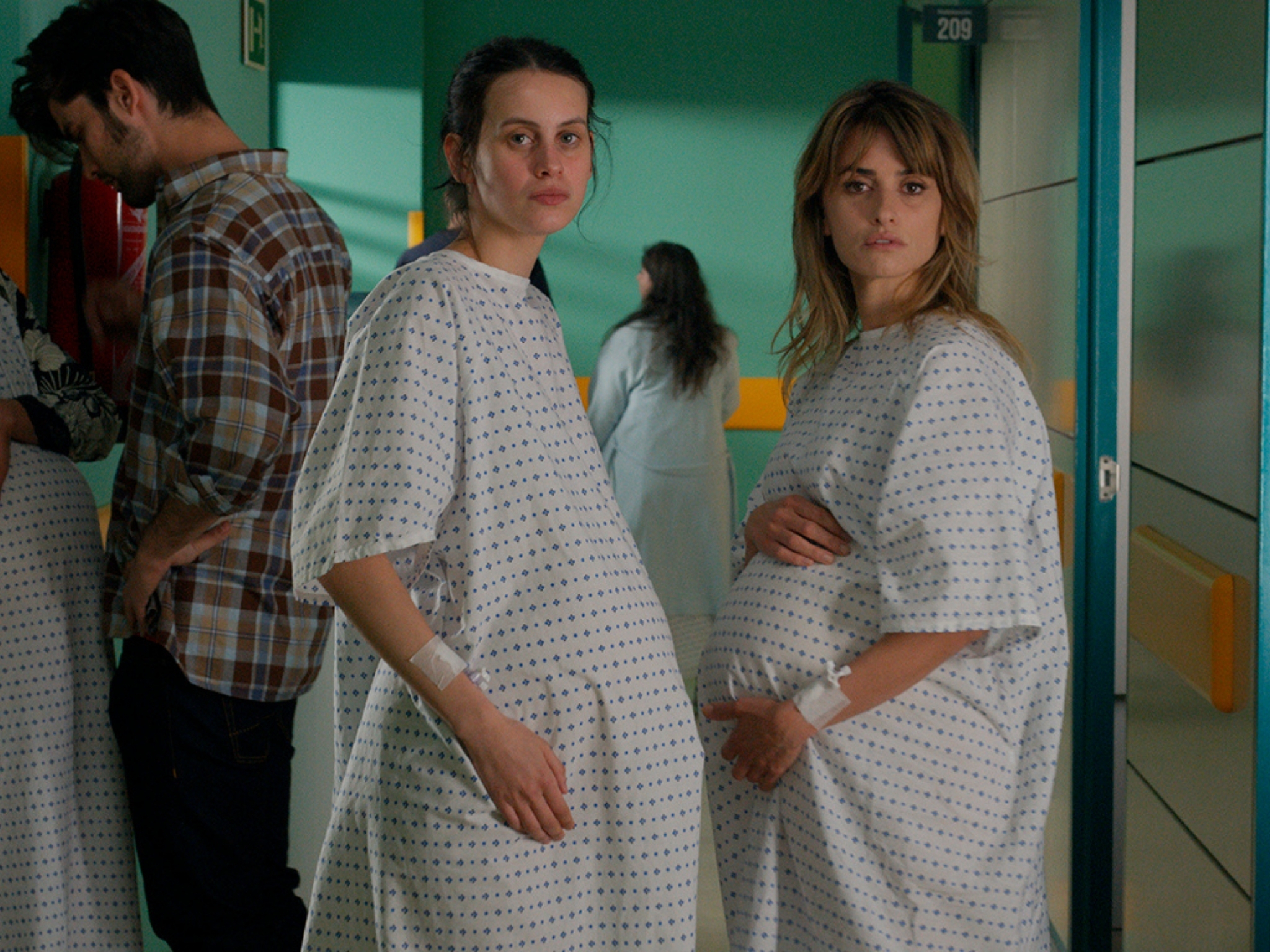 Penélope Cruz's character, Janis, is a generation older than her friend Ana. You seem preoccupied with the idea of what gets lost between generations – what can be so easily and quickly forgotten.
It's important to have a memory of the past. That's the intention with Janis's character: showing the need to have a historical memory. Today in Spain the extreme right wing are rewriting the past. They're telling history as it wasn't. Vox, the extreme right wing party, is saying that it was the Republicans who declared the civil war. That's just incredible! We need education to know what really happened.
Now it's not cocaine which goes up our noses but cotton swabs
Janis's apartment in the film is like an artwork itself – the design, the objects, the colours. How did you go about creating it?
So many of the things you see are mine. It was the same with my last film, Pain and Glory – in that film, Antonio Banderas's apartment was a replica of my house. The furniture was mine. The paintings were mine. When I buy something, besides the fact I like it, I know that it will find a place in one of my movies. I'm not a naturalistic filmmaker like Ken Loach or the Dardenne brothers. I don't do that style. I always represent life, but it's also a kind of artifice. But even with this artifice, I try to reflect the characters.
Did you model the apartment in this film on anyone's real home?
I observed artists of Janis's age who live alone. I identified a painter, a photographer, a jewellery designer and I went to their homes and I copied the structure of one of them. Then I added elements that spoke of Penélope's character, like the books of rural photography of Spain. Then I add an element that belongs to me and my life. I make all those elements co-operate.

Do you feel you've changed as a filmmaker in more recent years?
I see a movement in my films since Julieta in 2016 to a more austere cinema. You see the same in Pain and Glory. It doesn't mean I'm renouncing the vibrant colours and visual baroque that is so much part of my work. But I've been reducing the number of characters and locations, and I've been putting in a primary position the word – dialogue, the psychology of characters. Of course, you can see it's me. I can't get rid of the me. Neither should I get rid of me!

Parallel Mothers is out in US now. Out in Australian cinemas Jan 27 and Jan 28 in the UK. Read Time Out's review here.