'They can be soggy vinegar-soaked sticks of grossness or they can be crispy units of delight'. This is how Tim Minchin describes our national delicacy: fish and chips. You might gasp at the fact this is the man we entrusted with bringing Roald Dahl's classic British children's book 'Matilda' to the West End and now to the big screen, but believe me, the Aussie's one of us.
Minchin was born in the UK – Northampton to be precise – to Australian parents. His inner Britishness comes to the surface repeatedly during our chat about the new 'Matilda' film, whether it's discussing the 'Americanisation' of our TV or the rise of prank culture.
Making magic
Unlike the 1996 movie starring Danny DeVito, which Minchin says he may have watched once, this adaptation takes inspiration from the multi-Tony and Olivier award-winning musical. It's a more straight-forward reading of Dahl's dark-hued but ultimately upbeat tale. The story is set in an instantly recognisable England for a start, and there's less of an emphasis on Matilda's magical powers. 'That's a huge problem with the American film – they want her to be a superhero,' says Minchin. 'But she's not just a magic kid. It's not until she goes to school and Miss Trunchbull becomes this evil woman who keeps changing the rules that the telekinesis comes. The magic happens because of Matilda's absolute fury and desire to defend the people she loves. To short-change that is really annoying.'
After 13 years of 'promoting and loving' the 'Matilda' musical, Minchin's passion hasn't waned a jot. It was back in 2008 that he was first approached to write the songs for the Royal Shakespeare Company's musical adaptation, having attempted to secure the stage rights himself ten years previously. Minchin's involvement in the project gave rise to some of his most popular songs, including 'Quiet', which has become as much a springboard for neurodiversity awareness as a catchy musical anthem. 'I still get letters from the parents of neurodivergent kids about "Quiet" because it's a song about too much sensory input,' he says. It later became more personally significant when his daughter was diagnosed with autism as a teenager. 'It's my favourite song from the musical,' he notes.
A new era
Inclusivity isn't the only theme at play. The musical and now this new film, which stars Emma Thompson as Miss Trunchbull, Lashana Lynch as Miss Honey and gifted newcomer Alisha Weir as Matilda, is promoting the joys of reading to a new generations of kids. Matilda's love of books comes to life as she spends hours at a portable library, with arguably the film's best character, librarian Mrs Phelps (played by Sindhu Vee), reciting fantastical stories about acrobats and wicked stepsisters. In one particularly comic scene Weir names all of the book's she's read that week, including 'Tess of the d'Urbervilles', 'War and Peace', 'Jane Eyre', and 'Moby Dick', completely deadpan.
The problem with the American film is that it wants Matilda to be a superhero
'Matilda says books are a good thing.' Minchin pauses for a second, offering the knowing smile of a seasoned polemicist. 'I still think it's okay for me to say from my position of privilege that it would be better for the world if people read more books and watched less of "The Kardashians".' Let's not forget this is the man who forged his career playing controversial roles, like Judas in 'Jesus Christ Superstar', and 'telling the Pope to go fuck himself'. (2010's 'The Pope Song' was written in response to allegations that Pope Benedict XVI and other high-ranking Catholic officials were protecting child molestors within the church.)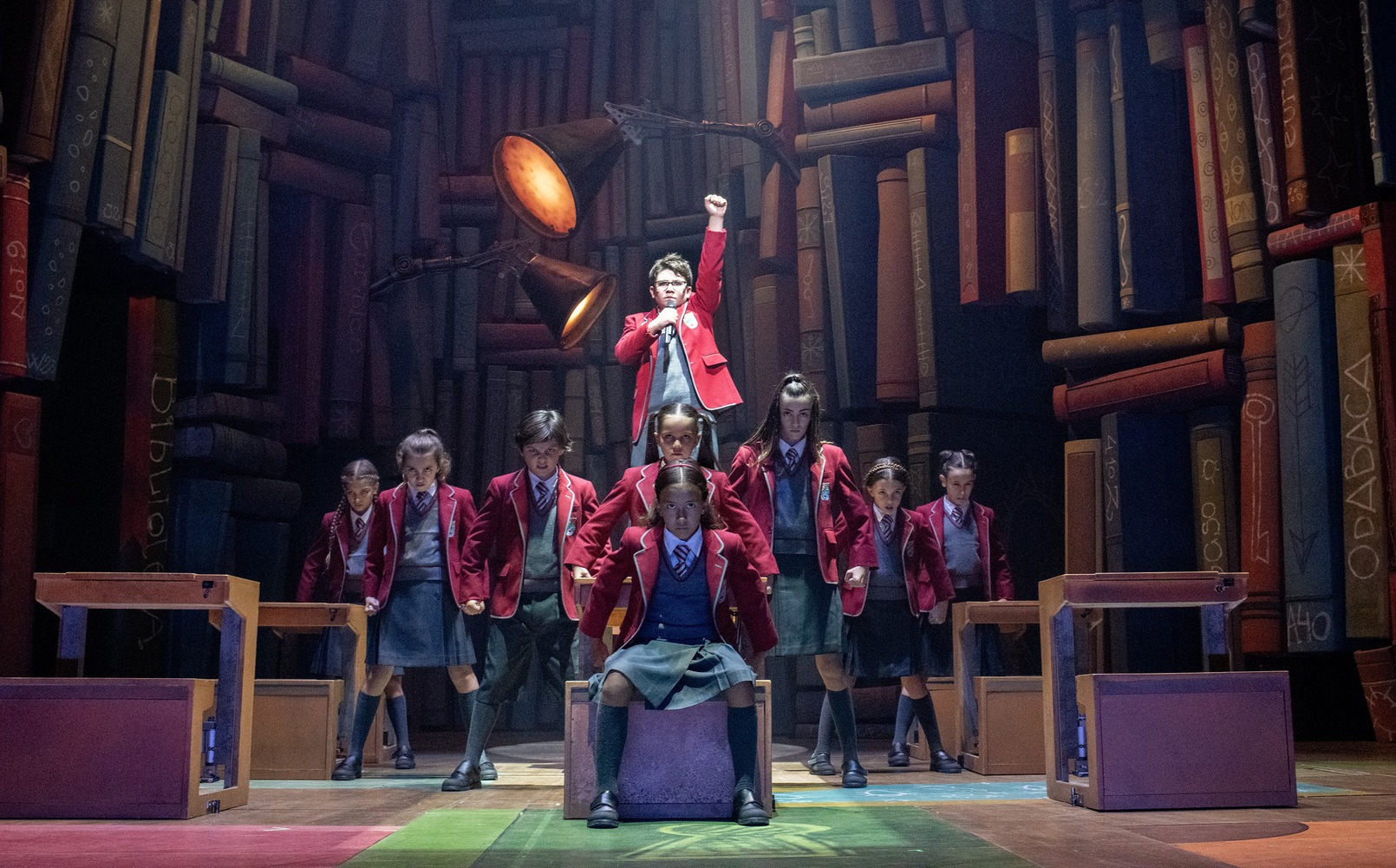 The music of progress
Like Matilda, Minchin is a believer in standing up for what he thinks is right, whether that's unashamedly eating a microwave dinner in front of the TV or calling out 'fratty' behaviour. In the new film, both the goodie and baddie, as well as a sizable chunk of the ensemble cast, have strong female voices. And Minchin says he should be able to write from those perspectives as much as anyone else. ''Matilda' is a story of women in all directions and it's fucking great. I don't think I'm taking any air away from women by doing that. If anything, I hope I'm inspiring more female composers.
Twitter is a confirmation bias machine that rewards outrage
Minchin believes that his approach to interacting with dissenting voices has changed dramatically since he first wrote the 'Matilda' lyrics. 'I was an early adopter of Twitter and I've seen it become a confirmation bias machine that only rewards outrage.' So what exactly has changed for this self-confessed 'old male progressive'? 'I still passionately believe in not respecting institutions that haven't earned respect. But a lot of damage can be done when people think the definition of rising up is just public shaming people they don't agree with. It's fraudulent, virtue-signalling bullshit.'
What about his thoughts on the 'Matilda' story itself? 'It'll never be unnecessary to tell stories of empathic people standing up for one another.' And that's where our interview ends; Minchin gets up from his chair, he's grabbed his coat, fastened his beanie and is almost out the door when he turns and grins, 'It pays my mortgage though, so I've kind of got to say that.'

In UK cinemas Nov 25. Read our review here and our interview with Stephen Graham, aka Mr Wormwood, here.