Matilda the Musical review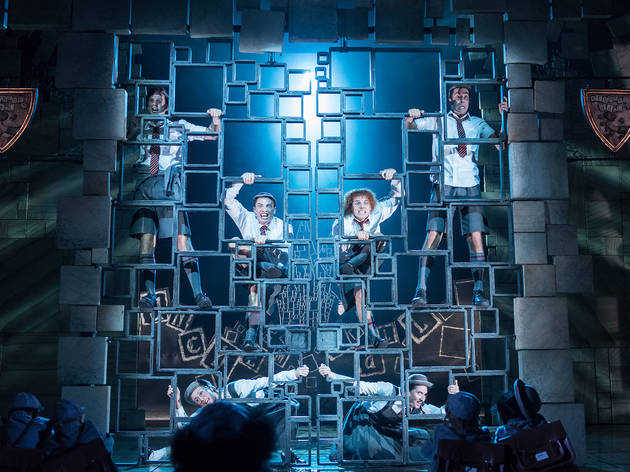 1/7
© Manuel Harlan
'Matilda'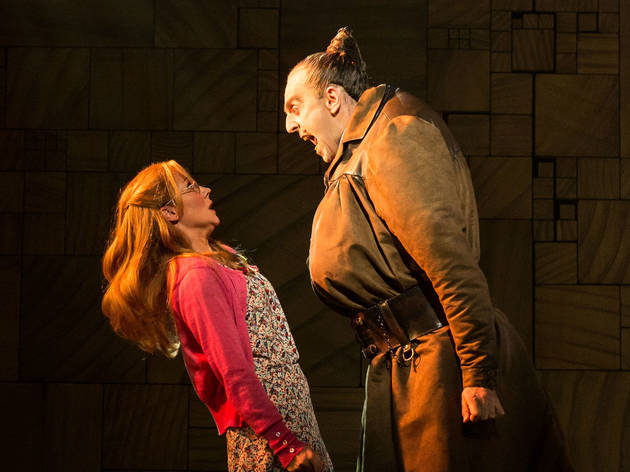 2/7
© Manuel Harlan
Miria Parvin (Miss Honey) and Craige Els (Miss Trunchball) in 'Matilda'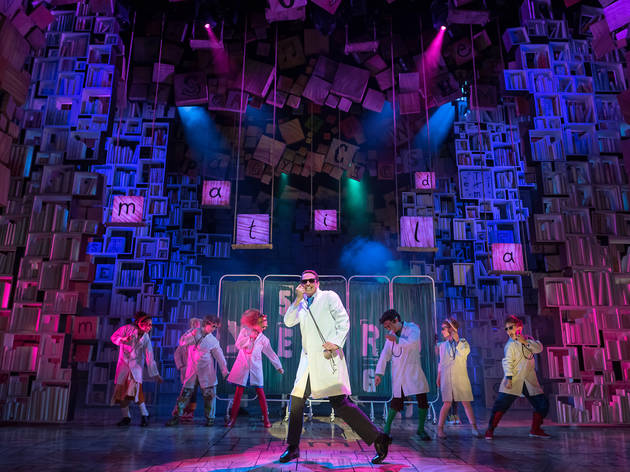 3/7
© Manuel Harlan
'Matilda'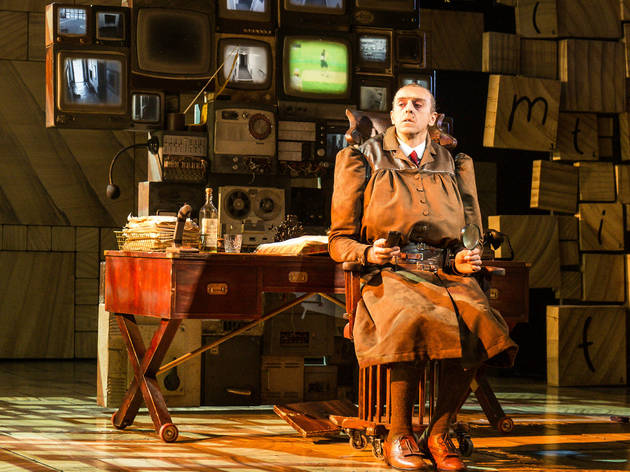 4/7
© Manuel Harlan
Craige Els (Miss Trunchball) in 'Matilda'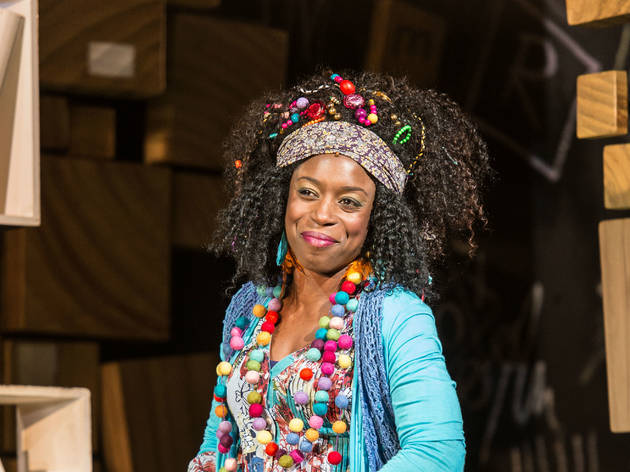 5/7
© Manuel Harlan
Sharlene Whyte (Mrs Phelps) in 'Matilda'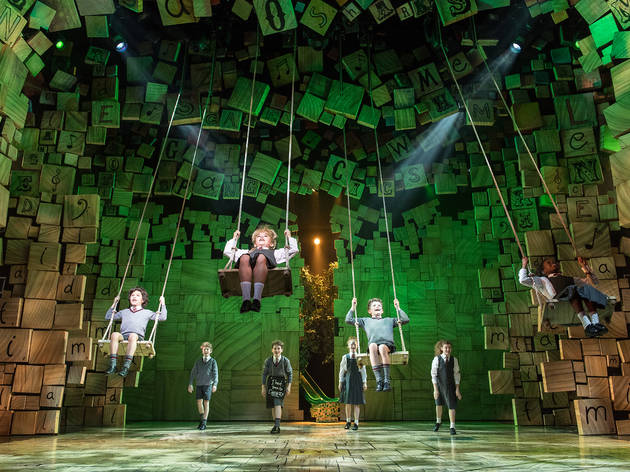 6/7
© Manuel Harlan
'Matilda'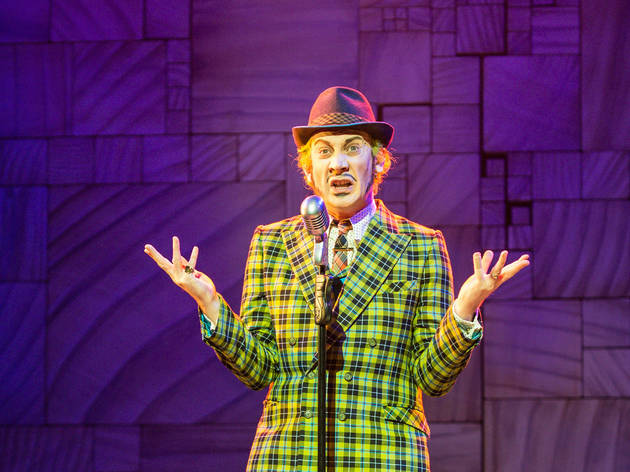 7/7
© Manuel Harlan
Michael Begley (Mr Wormwood) in 'Matilda'
Tim Minchin's wickedly good story of a schoolgirl genius is still irresistible
'My mummy says I'm a miracle,' lisps a pampered mini-me at a purgatorial kiddies' birthday party at the outset of this delicious, treacly-dark family show. The obnoxious ma and pa of its titular, gifted, pint-sized heroine are not, of course, quite so doting. But 'Matilda' must be making its creators, playwright Dennis Kelly and comedian-songsmith Tim Minchin, a very pair of proud parents.
Opening to rave reviews in Stratford-upon Avon before transferring to the West End in 2011 and snatching up Olivier Awards with all the alacrity of a sticky-fingered child in a sweetshop, Matthew Warchus's RSC production remains a treat. With hindsight, Kelly and Minchin's musical, born of the 1988 novel by that master of the splendidly grotesque Roald Dahl, is a little too long and, dramatically, a tad wayward. But like the curly-haired little girl in the famous nursery rhyme, when it is good, it is very, very good. And it's even better when it's horrid.
The past few months have seen some cast changes, including, alas, the departure of Bertie Carvel's tremendous Miss Trunchbull, headmistress of the dread Crunchem Hall School, former Olympic hammer-thrower and a gorgon of monumental nastiness, complete with scarily Thatcher-esque tics of purse-lipped gentility and faux concern.
David Leonard doesn't quite match the squirm-inducing, hair-raising detail of Carvel in the role, but his more butch, granite-faced version is fantastically horrible nonetheless. And if Paul Kaye as Matilda's loathsome father Mr Wormwood was so greasily repellant that just watching him made you feel you needed a scalding shower, Steve Furst has more of a wide-boyish, casual cruelty; Annette McLaughlin as his Latin-dancing wife is a leggy wonder of ripe raspiness, spite and vanity. And Haley Flaherty is winning as the kindly Miss Honey, neatly side-stepping priggishness and conveying the tremulous courage of the much-kicked underdog, with a singing voice of sweetness and power.
As for the children, they are irresistible, stomping and skipping through Peter Darling's angular choreography, thrilling young audiences and push-pulling grown-ups from tears to gasps to laughter with such relentless energy that it leaves you breathless, exhilarated and marvelling at the many ways in which Minchin, Kelly and Dahl demonstrate that growing up is a lifelong endeavour. For kids, yes, but also for the children that we all remain at heart, this is wise, wicked, glorious fun.
This review is from 2012. The cast of 'Matilda' now includes David Shannon as Miss Trunchball, Tom Edden as Mr Wormwood, Marianne Benedict as Mrs Wormwood, and Gina Beck as Miss Honey. The role of Matilda is shared by Lily-Mae Evans, Emma Moore, Kitty Peterkin and Savannah Read.
How to get cheap tickets: £5 day seats for 'Matilda' are available for young people aged 16-25 only. Arrive at the Cambridge Theatre box office well before it opens at 10am for your best chance of buying a ticket. One seat per person. In person only.
Average User Rating
4.4 / 5
Rating Breakdown
5 star:

79

4 star:

27

3 star:

11

2 star:

6

1 star:

2
Very slow first half ... Poor sceens of endless library , feel asleep . Matilda boring no expression . Second half picked up a bit as teacher could act, a few more diff sceen changes and some story finally!! However end was rushed not sure why, as they could of lost half of the repetitive sceens in the first half. It would of been nice to see the teachers house at lest!!
For anyone that grew up reading the Roald Dahl book and watching the film adaptation, Matilda on the West End certainly doesn't disappoint! The set design brought Matilda's world to life, especially the number with the swings which had the cast swinging right the way out into the audience.
The younger cast members are so incredibly talented and looked like they were having the tone of their lives on stage. The most memorable performances came from Miss Trunchball (classic villain getting the biggest applause at the end) and Bruce Bogtrotter who almost stole the show from Matilda herself.
This show left me with a warm fuzzy feeling :)
There is no wrong choice here. It's the right one! Great adaptation of one of Roald Dahl's classics.
I've seen it twice now - when it first opened - and 5 years later this musical still took my breath away a few times. Impeccable production, beautiful stage design, formidable songs and amazing cast!
Children will have a great time and adults can enjoy this production 100%.
An adaptation that does full anarchic justice to Roald Dahl's original story. Tim Minchin's songs buzz with energy - with the odd gag that only adults will appreciate - while the young cast do a fabulous job alongside the grown-ups. I particularly liked Tom Edden as the check-suited wheeler-dealer Mr Wormwood. If you don't find yourself grinning from ear to ear at the end of this, then you're probably not a human being.
It's cheesy and a bit cringe at times but Matilda certainly delivers on the feel-good factor front. The acting was faultless; Miss Trunchball stood out particularly. Matilda herself I felt lacked a little emotionally, she was quite shouty and not at all similar to the girl portrayed in the book. The way the setting adapted to each scene was done to perfection and the trickery of the magic used is executed really well. Despite enjoying the show I can't help but think that I may have liked it more when it first came to the west end.

Roald Dahl's classic tale of Matilda did not disappoint on stage. Incredibly talented young kids, amazing set design and flawless choreography. It was fun, heartwarming and impressive. Sure at times it was hard to understand exactly every word the children were singing but I just reminded myself how young they all were and that the show would be nothing without them. Miss Trunchbulll was a serious highlight of this show for me. A very enjoyable evening at the theatre with family or friends.
This has to be one of the most insightful, refreshing productions on the West End at the moment..written by an Australian no less. This is the Pixar/Disney of musicals at the moment. There is a layer of complexity and maturity that will have adults nodding (and crying) in agreement and children laughing at the antics and crossdressing. The children are often oblivious to how poignant this production is in recalling the joy of childhood and our view of adulthood from this time in our lives. Melodically you'll come out singing most of the themes, and love the staging. Take the kids, but don't let them see you love it more than them!
Loved it, loved it, loved it!
I watched it with my wife before we had kids, I've now watched it with my 5 year old, and I've watched it with my friends.
Everyone I recommend says it's the best show they've watched in years - I have to agree myself!
I've seen this three times now with different casts and kids of various ages. It's a stone cold British classic. It's so much more subtle and beautifully put together than pretty much anything else on the West End. I took my five-year-old when it first opened and he still talks about it. I honestly think it'll be something that stays with him, even when he grows up.

Mrs Trunchball is up there with our favourite scariest women on the West-End. This production is worth seeing for the chill factor alone!
The Set is immaculate, the actors or all fantastic and the play is great fun.
Snap up exclusive discounts in London
Time Out's handpicked deals — hurry, they won't be around for long...