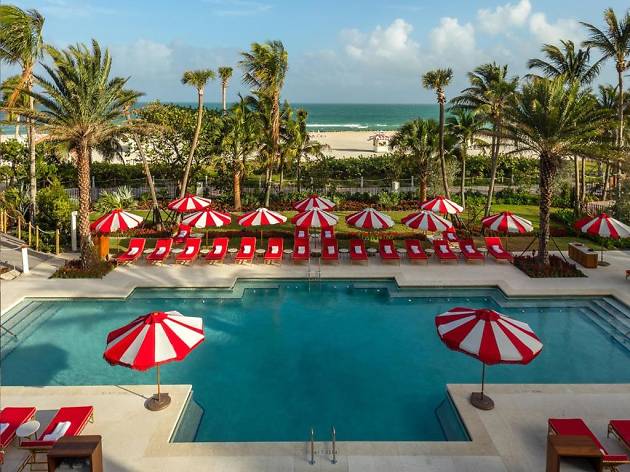 The 10 best hotels in Florida
The top hotels in Florida range from bang-for-your-buck practicality to sprawling beachfront luxury
Regardless of what the tourists tell you, Florida is about more than just its beaches and swamps. A sprawling state divided into starkly different metros – from party-all-night Miami and Mickey Mouse-clad Orlando, to its quiet Gulf side and rural Jacksonville – Florida is a mecca of art, food, diversity, sports, views, history and yes, beaches. And just like its sundry neighborhoods, so, too, is the Sunshine State packed with hotels that reflect everything it has to offer. Here are our favorite hotels in east coast America's most southern peninsula.
Best Hotels in Florida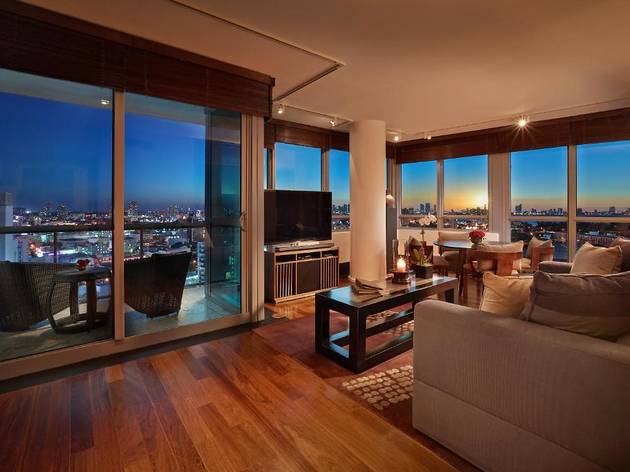 Booking.com
1. The Setai, Miami Beach
Luxury knows no bounds at The Setai, Miami Beach, which feels more like a haute Asian country club than a Collins Avenue hotel. There's a $30,000/night penthouse with a rooftop pool and grand piano, a four-star Indian-fusion restaurant, a spa, 500-rose bouquets changed out nightly, a pearl-topped bar, a Zen pond with a Buddha statue, and three infinity pools set at 75, 85 and 95 degrees. The touches of Asia are real, too: lobby shops are arranged like a Shanghai mall, entrance tiles are taken from dilapidated Asian temples and every room looks like a shrine to Indonesia.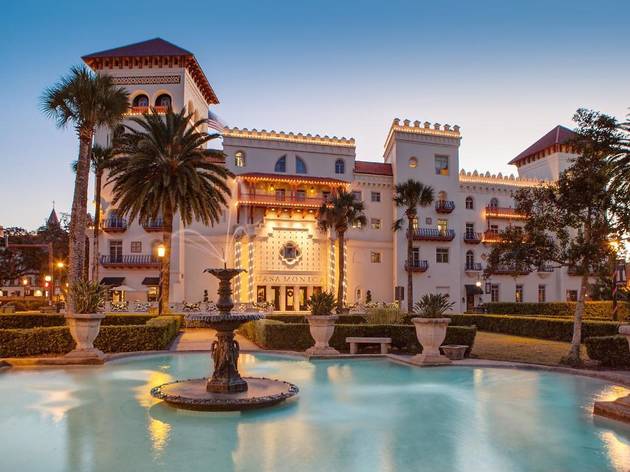 Booking.com
2. Casa Monica Resort & Spa
This 1888 property was originally owned by railroad mogul Henry Flagler, who's responsible for developing most of Florida, though what he left behind feels a lot less like the Sunshine state and a lot more like southern Spain – here are Moorish columns, arches and chandeliers (all hand-stenciled or handcrafted), there ornate iron tables, wrought iron balconies, turrets, gold throne chairs, and even fountains of blue Spanish tiles. The European trend continues in the rooms, which feature heavy furnishings, quilted velvet headboards and shimmery curtains which, when pulled back, look out on the oldest European settlement still in operation in the US, St Augustine itself.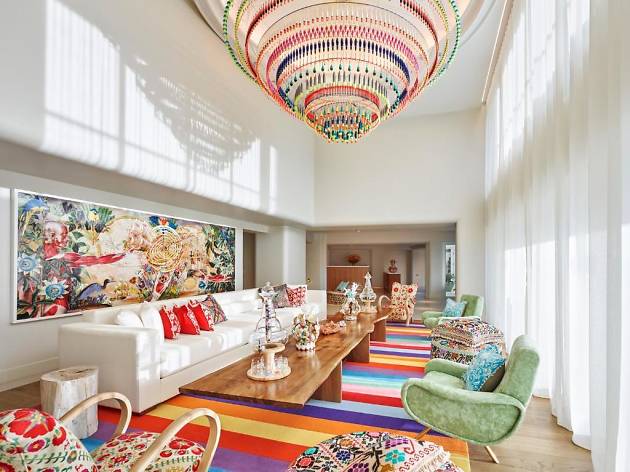 Booking.com
We're calling it: the Faena Miami Beach is Florida's #1 for interior design, a surreal, Oz-like world of teals, reds, animal prints, floor-to-ceiling ocean views, and lobby murals and gold pillars so tall that the entrance is called 'the Cathedral.' Sure, rooms are special, with eye-popping Catherine Martin carpets, Ann Sacks tiles and sleek tables modeled on those in Alan Faena's own house(s), but there's so much more; the beachfront $6m Damien Hirst statue of a gold wooly mammoth, the 1950s Parisian cabaret theater, the Museum of Ice Cream, award-winning restaurants by Francis Mallmann and Paul Qui, the Tierra Healing Spa… Oh my, as Dorothy might say.
Booking.com
Yes it's a Walt Disney World Disney Springs 'area hotel', but the whimsically funky B Resort & Spa offers a pleasing stay for anyone. Rooms are stylish and well-appointed, and it's in the perfect location – 10 minutes of sidewalks and a pedestrian bridge take you right into Disney Springs. The real draw though is the restaurant, American Kitchen Bar & Grill, where executive chef Venoy Rogers III and sous chef Jacob Rios whip up dishes like miso-charred octopus with pickled turnips that you'll crave for days.
Booking.com
5. The Perry Hotel Key West at Stock Island Marina
In a party town, the Perry stands out as a tranquil escape. Located in the 42-acre Stock Island Marina Village, the 100-room property has it all, from a marina-facing pool deck, seafood restaurants and dog parks, to a distillery, an organic community garden, shops and a local artist studio. The chefs are so talented that you think you're eating in NYC, and the chic design (think rooms with floor-to-ceiling windows and mod furniture) is a welcome change in Key West's hodge-podge hotel scene. Mega-hotel amenities aside, the magic of the Keys prevails; you won't even realize you're in Florida's rowdiest city.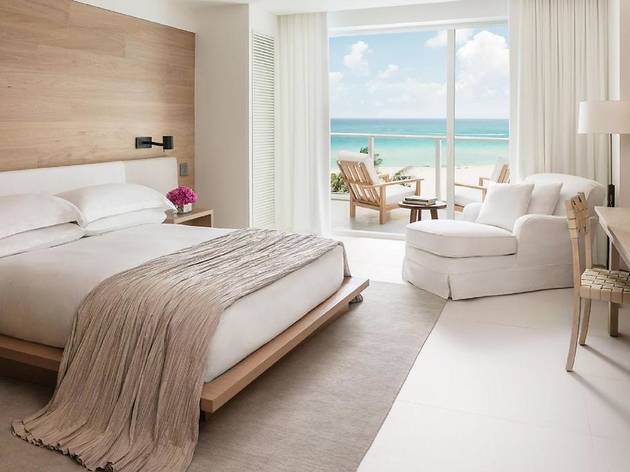 Booking.com
6. The Miami Beach EDITION
You don't just stay at The Miami Beach EDITION, you eat and play there, too. This mid-Beach condo-hotel is another Miami Beach Ian Schrager masterpiece, this time with two Jean-Georges Vongerichten restaurants, 70,000 square feet of beach, two swimming pools, and an underground nightclub called Basement, with an electric bowling alley and ice-skating rink. Citrus and herbal scents are pumped throughout the property, which is decked in white marble, natural woods and green palms, juxtaposing see-and-be-seen Miami with the respite you actually want your vacation to be.
Booking.com
If you've never woken up, looked out the window and seen nothing but the sea… then you need to vacation better. As in, stay at Opal Sands. The suites in this Clearwater Beach hotel have an entire glass wall – from the living room to the bedroom – that mesh with the curvature of the building to create a view that makes you feel like you're sleeping under the sea. Turquoise and driftwood accents bring a touch of the Gulf in, while artistic influences around the resort (the work of commissioned Clearwater Beach artist Christopher Still) prove this isn't just another beach hotel.
Booking.com
In ritzy Naples, a well-kept budget hotel just 10 minutes from chi-chi 5th Avenue is a godsend. A throwback to Old Naples, when it was a fishing town and not a Hilton Head look-alike, this casual marina hotel is friendly and comfortable, and seriously good value – where the average Naples stay circles $300+/night in low season, you can snag a room for just over $100 all year long. And don't let the plastic chairs and cafeteria setting throw you –on-site eaterie The Coffee Shoppe serves the best pancakes in town.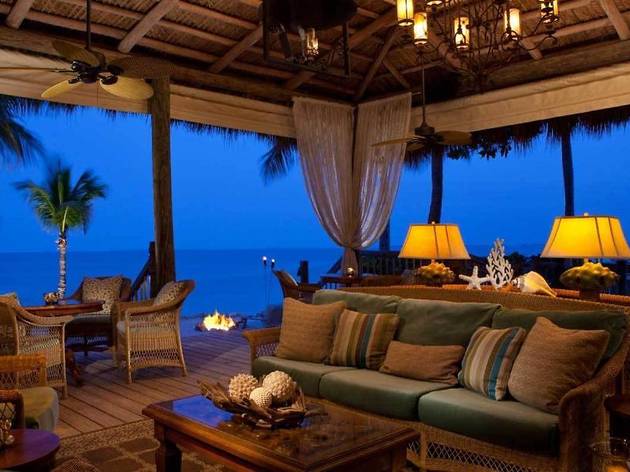 Booking.com
9. Little Palm Island Resort & Spa
Ever thought of having your own island? Stay at Little Palm Island and see what it's like. Barely two hours south of Miami, this property is a whole private island. It's only accessible by boat or seaplane, and has 30 romantic suites (all thatched-roof bungalows named for each guest), a pool, a spa and a torchlit restaurant in the sand. For total seclusion, there's little-to-no wi-fi and no phone service, telephones, TVs or clocks; but there are lots of friendly Key deer, fire pits, hammocks, island views and massage tables right in the ocean. Another thing there's none of? Children.
Booking.com
Sleep in trendy Downtown St. Petersburg but pretend you're actually in coastal Spain at this 1920s Mission-style hotel on the National Register of Historic Places. There's a rooftop bar, The Canopy, where guests can drink wine around fire pits, and an award-winning restaurant, Birch & Vine, with an 1,800-bottle wine wall. Up in the rooms, expect all the luxury of the Roaring 20s: from four-poster beds and Italian tapestries to clawfoot tubs in sprawling, European-inspired bathrooms. Then look at the Gulf of Mexico, right outside your window, and remember that, lucky for you, you're still in beautiful St Pete.