Heads up! We're working hard to be accurate – but these are unusual times, so please always check before heading out.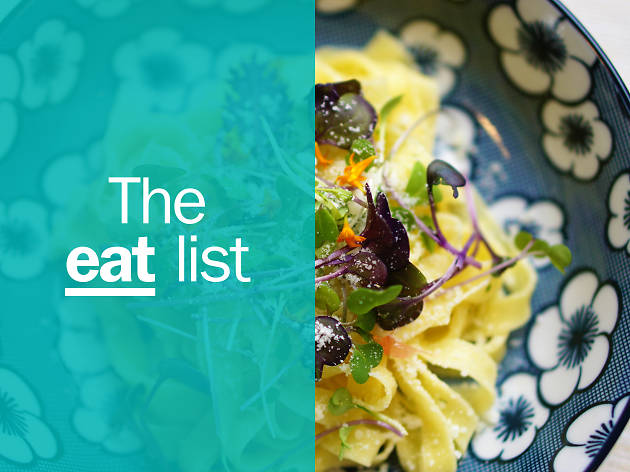 The 16 best restaurants in Florida
From Key West to Miami Beach and beyond, seaside dives to five-star sit-downs, here are the best restaurants in Florida
Long days in the Florida sun deserve a good meal, and here in the Sunshine State there are plenty of things to do that will work up an appetite, and plenty of tasty restaurants to curb your cravings. Running the gamut from hole-in-the-wall seafood dens and renowned hotel restaurants in big cities to high-brow Spanish fare and celebrity chef spots in the state's small towns, Florida's dining scene is as eclectic and diverse as its residents. Reserve a sought-after seat at one of these stunners below, and you'll get a firsthand taste of what makes our state so special—besides its 663 miles of beaches, of course.
Best restaurants in Florida
Photograph: Courtesy Yelp/Christina G.
Where: Tampa
This legendary steakhouse has been a landmark in Tampa since it opened in 1956. Sparing no expense, it has seven cuts of steak in 51 sizes and eight temperatures, 7,000 wines, 20 kinds of caviar, 16 domestic and imported cheeses, two different kinds of foie gras, two version of steak tartare (one with truffles) and an entire dessert room brimming with 50 different sweets.
Photograph: Courtesy Yelp/Mark B.
Where: Winter Park
Thanks to chefs-owners James and Julie Petrakis, the charming Winter Park has a neighborhood gastropub. Sharing a space with its sister brewery, Cask & Larder, this New American haunt keeps diners coming back with plates like pimento cheese and ham jam on pretzel bread, Key West shrimp and Anson Mills grits with green tomato chutney, and warm cinnamon-sugar tossed "pig tail" fritters with a chocolate espresso sauce. Get a taste of the James Beard-nominated menu at reduced prices during Swine Hour, or try its Southern-inspired fare at the weekly Sunday Brunch or the "Pig Roast" on the first Saturday of every month.
Photograph: Courtesy Yelp/Gretel V.
Where: Miami Beach
It doesn't get more classic than The Forge, a 1920s blacksmith shop-turned-steakhouse and wine cellar in Miami Beach that was once the go-to spot for Frank Sinatra, Judy Garland and the rest of the gang. Its wine bar, Alice in Wonderland-like decor, sconces from Napoleon Bonaparte's own bedroom, and chef Julia Doyne's steak with Maine lobster gratin are enough to mesmerize you, but it's the 300,000-bottle wine cellar that'll blow your mind. (It even earned the restaurant a James Beard nod for "Outstanding Wine Program.")
Photograph: Courtesy Yelp/Laura T.
4. Captain Charlie's Reef Grill
Where: Juno Beach
Hidden in a Juno Beach strip mall, this unassuming seafood den serves some of the freshest catch in the Sunshine State. But that's not all it's known for. If you're willing to wait for a table, you'll be rewarded: the costs are low, the wine list is long, the servings are huge and the menu has seafood you might not expect of a place this casual, from grouper, pompano and wahoo to hog snapper, black squid-ink linguini and a Rock Shrimp in gorgonzola cream.
Photograph: Courtesy Yelp/Jordanna E.
Where: Wynwood
James Beard-nominated Brad Kilgore, who comes from Jean-Georges Vongerichten's J & G Grill and Chicago's famed Alinea, has enough street cred to get you in the door; but his jaw-droppingly inventive plates and friendly demeanor will keep you coming back. This modern, unassuming Wynwood spot serves interesting plates that only a guy like Kilgore could have known would be a success—like his soft poached eggs, hidden beneath a veil of gruyere cheese and sitting on a bed of bean mousseline, with layers of fish mousse, truffle pearls, olives, chives, nearly-whipped potatoes and sea scallops in between.
Photograph: Courtesy Yelp/Bill F.
6. 1921 by Norman Van Aken
Where: Mount Dora
When Norman Van Aken, the so-called godfather of New World cuisine, announced a new restaurant in remote Mount Dora, his fans were a little confused. But it turns out Florida foodies will drive for a good meal. Set in a historic home dating back to 1921, diners flock here for an artsy twist on local Floridian food: like plantain flatbread with aged cheddar and pork-jowl bacon, roasted Florida octopus with pickled artichokes, citrus pancakes with orange-scented whipped cream, and a tres leche bread pudding with coconut, pineapple gel and meringue.
Photograph: Courtesy Yelp/Koisan G.
7. Michael's Genuine Food & Drink
Where: Miami
It takes a special restaurant to completely reinvigorate an entire Miami neighborhood, and only a nationally-acclaimed chef and restaurateur like Michael Schwartz could make it look easy. In an industrial chic setting with concrete floors, exposed ducts, an open kitchen and flickering candles, get inventive American fare made with only the best local ingredients; the wood-fired pizzas (there's one with roasted pork and jalapeño) are a big hit, as are "snacks" like kimchee peanuts and crispy pig ears with chile and lime.
Photograph: Courtesy Yelp/Ben T.
8. Michael's Tasting Room
Where: St. Augustine
At this Spanish-Mediterranean gem, a seasonal menu and perfect presentation are always top of mind. Go for dinner or weekend brunch, and let chef-owner Michael Lugo wow you with a truffle goat cheese terrine layered with sun-dried tomatoes, olives and pesto; adobo-braised short ribs; duck leg confit; and even a flourless chocolate truffle torte with an oat-almond crust, dark chocolate mirror glaze and flakes of sea salt. Snag a table in the charming courtyard—if you can get one—and order off its award-winning menu of more than 70 Spanish wines, wine flights or house-made sangria, and you might even think you're dining in Spain.
Photograph: Courtesy Yelp/Ron E.
Where: St. Augustine
Walk down St. George's Street in St. Augustine on any Saturday or Sunday, and look for the line of 50-plus people spilling onto the street—you've stumbled upon Pizza Time. Ranked "2nd best pizza in the United States" by TripAdvisor (and if you forget, there's a big sign that reminds you), this cash-only spot serves more than 19 New York-style pies, like lasagna, bianco, Hawaiian, meat lover's and more. You probably won't have room, but if you need something sweet after, go past the cashier, make a right and you'll find the restaurant's co-tenant: Gelato Time.
Photograph: Courtesy Yelp/Harlem R.
Where: Winter Park
This Italian spot stays on trend with its exposed brick, wood panels, twinkling lights and romantic tables spilling out onto Winter Park's chi-chi Park Avenue. Swank but inviting, its charm is as palpable as its knack for good food. Must-try plates include the crispy arugula and fennel sausage pizza with a runny farm egg, an heirloom eggplant panini, and "laughing bird" shrimp ravioli with red scampi sugo, broccolini and breadcrumbs.
Photograph: Courtesy Yelp/Suki W.
Where: Miami
Top Chef winner Jeremy Ford took his fame to a new level when he opened Stubborn Seed in Miami's high-brow SoFi neighborhood. This cozy New American restaurant marks Ford's first solo venture, and to see how talented he really is, order the $125 eight-course tasting menu and let him surprise you with what comes out. Like any dish on the menu, the umami short rib with miso mustard butter and Pastry Chef Dallas Wynne's snickerdoodle cookies are unforgettable, and the presentation is on par with the Top Chef-worthy flavor.
Photograph: Courtesy Yelp/Marcella A.
Where: Palm Beach
When James Beard Award-nominated chef Clay Conley opened this eclectic eatery in 2014, he finally gave Palm Beach diners a hip place to eat. Known for his inventive small plates with big flavor, go here for American fare like spicy pork sliders with avocado crema, hot dog paninis with sauerkraut and chili, truffled steak tartare and squash blossom relleno with Mexican chorizo.
Photograph: Courtesy Yelp/Wes T.
Where: Key West
Next time you go to Key West, look for a charmingly-vintage, blue-hued house almost completely hidden by palm trees. Undeniably the best spot in Key West for breakfast, go here for made-from-scratch blueberry or banana pancakes, "Blue Heaven" benedicts with lobster or BLT fixings, or the restaurant's famous Key Lime Pie with piles of meringue, which you can order all day long. Grab a table in the courtyard, and don't mind the free-roaming cats and roosters, the rooster graveyard or the leopard-spotted mannequin; they're all as legendary as the food.
Photograph: Courtesy Yelp/Thomas R.
Where: Ybor City
First opened in Ybor City in 1905, Columbia is Florida's oldest restaurant—and there's a reason its five locations are still packed night after night. Covered in thousands of hand-painted terracotta tiles, all of which tell the story of Columbia and depict important dates in Spanish history, Columbia has become known for its majestic feel and long menu of Cuban-Spanish cuisine. Go for dinner and order one of its top dishes; the 1905 salad made tableside, black bean soup with chorizo sausage and potatoes, homemade sangria and historic flan come out of the kitchen in droves.
Photograph: Courtesy Yelp/Amy F.
Where: St. Petersburg
This hole-in-the-wall spot, a wine bar that feels more like a coffee shop, is owned by husband and wife team Kelly Rodriguez-Laureano and Alex Rodriguez, the latter of whom has worked at top names like Castile at St. Pete Beach's Hotel Zamora and The Bazaar by José Andrés at SLS South Beach. Try a charcuterie board with a few of Alex's housemade "jars." The honey lavender-whipped ricotta with kale pesto and balsamic pearls and the "PB&J," a whipped foie gras mousse with peanut butter and berry jam, will have you scraping the bowl.
Photograph: Courtesy Yelp/Stephanie T.
Where: Pensacola
When Pensacola-born Alex McPhail first started cooking professionally, he fled his hometown for New Orleans to make a name for himself at top spots like Commander's and August. But when it came time to open his own restaurant, he went back to his roots. Sitting in unassuming Pensacola, Restaurant Iron serves fine Southern food with a NOLA flair. Here, McPhail grows his own vegetables onsite and whips up comfort food like bacon-garlic Atlantic mussels and shrimp with house bacon jam and braised duck leg with gravy fries and five-pepper jelly.