Heads up! We're working hard to be accurate – but these are unusual times, so please always check before heading out.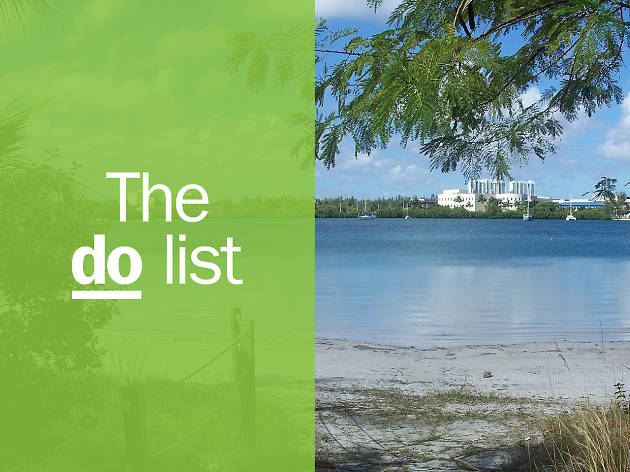 The 20 best things to do in Florida
Navigate your way through ghost tours, Disney theme parks and swampland adventures—all the best things to do in Florida
Don't believe the Snowbirds! There's so much more to do in Florida than just going to the beach (although we're pretty proud of the fact that we can do that all year round). From 1,300 miles of coast, swamplands, lakes, and fishing (not to mention the east coast home of Mickey Mouse), to world-renowned art museums, 1,000+ golf courses, the first European settlement in the U.S. and even NASA's most popular launch pad, Florida's endless roster of cities means there's a special place for everyone. Our seafood is unparalleled (just take a look at these restaurants) and our people have a reputation for being, well… unique. Check out our list of the best things to do in Florida and you'll see what we mean.
Best things to do in Florida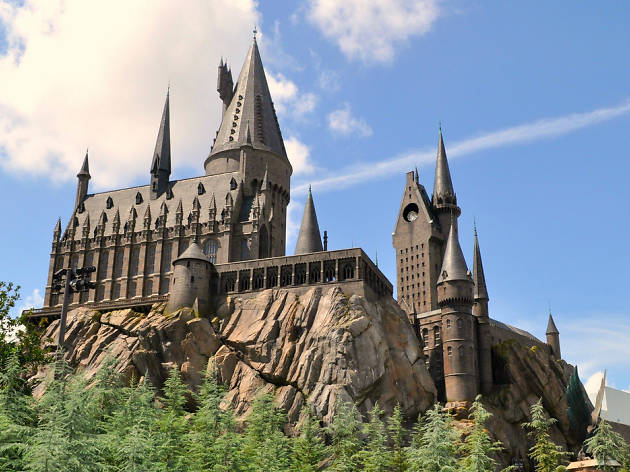 Photograph: Courtesy CC/Flickr/Michelle Friswell
Where: Orlando
Wingardium Leviosa! If you're a J.K. Rowling fan, her come-to-life Orlando theme park, The Wizarding World of Harry Potter, won't disappoint. The park is actually two mini parks, the O.G. in Islands of Adventure and another in Universal Studios, both connected by (wait for it) the Hogwarts Express. The original has Harry Potter hangouts like Hogsmeade, the Three Broomsticks and Honeydukes, while the latter takes you through "London" to find Diagon Alley.
Where: Ochopee
Florida doesn't get more local than a visit to Lucky Cole's, the shop of a photographer known for his collection of 200+ photos of women, some dressed and some not. Check out this Everglades spot on any Sunday and there's no telling where the day will lead, but it will definitely involve beer, other Everglades locals, hot dogs, Lucky telling crazy stories—and after one too many beers, maybe even a photoshoot.
Where: Orlando
The most magical place on earth isn't just for the little ones—go to Epcot, and you'll find a part of Walt Disney World for older Mickey-lovers, too. Epcot's World Showcase takes diners and imbibers through 12 different "countries" (the Italy replica makes you feel like you're right in the middle of Rome), each with their own eats and drinks. Get fluffy pretzels in Germany and crisp fish and chips in England, and drink around the world with beer, wine, cocktails and more. Cheers!
Photograph: Courtesy Fancy Camps
4. Glamping in the Florida Panhandle
Where: South Walton
Yes, we know it's hot, but we still like the outdoors. If you want to camp, head to Grayton Beach State Park, in South Walton, and go "glamping!" Here, unspoiled beaches and rolling sand dunes are covered in sea oats, and there are 59 campground sites where you can set up camp… literally. Call Fancy Camps, a Tallahassee-based glamping company, and they'll set it all up for you, complete with a 16-foot-high tent, cowhide rugs, lamps, floral garlands, queen-sized beds, strung lights, fire pits and more.
5. Ghost Tours of St. Augustine
Where: St. Augustine
As the oldest town in Florida, and the first European settlement in America, it makes sense that St. Augustine would hold the Sunshine State's spookiest secrets. Take the "Ghostly Experience" tour with Ghost Tours of St. Augustine, and let believers guide you through St. Augustine's brick streets by lantern light, into age-old storefronts, old churches and cemeteries, to find whatever (or whoever) still lurks in the shadows.
Where: Lake Wales
Airboat rides are somewhat of an icon for the real Florida, where you can take a swamp tour through the Everglades and get up-close-and-personal with snakes, birds, frogs, fish and the state's most famous inhabitant: alligators. The rural experience is as oddly fun as it is historically informative, and if you're really daring, you can do one at night with Captain John, a sixth-generation Floridian, who runs Captain John's Extreme Night Tours.
Where: Jacksonville
Jacksonville has developed a solid beer scene in recent years, and the Jax Ale Trail gives you a fun way to discover it. Grab a "passport" at any of its eight participating breweries, and visit four or more to get stamps in your passport and win fun prizes. Go on your own or hop on the Jax Brew Bus; the latter is a 4.5-hour tour of the best local craft breweries and includes beer, the history of beer, more beer, laughs and… beer.
Photograph: Courtesy Yelp/Judy L.
8. Key West Key Lime Pie Company
Where: Key West
Not eating Key lime pie in Key West is about as ridiculous as going to Key West and not looking at the water. There's a whole roster of places where you can get a good slice of the creamy, tart dessert, but the one at Key West Key Lime Pie Company uses handmade graham cracker crust and real Key lime juice. If you see a line, don't be afraid to wait—these pies won awards for a reason.
Where: Williston
Just outside the small town of Williston, in Central Florida, the Sunshine State has its own cave-ridden sinkhole. Don't be thrown by the name—early settlers named Devil's Den after the steam rising from its warm waters because it seemed hot as, well, Hell. Ask the divers who climb down its 60-foot staircase to explore its turquoise waters, however, and they'll say the opposite: it's heavenly.
Where: Merritt Island
Since it was built in 1968, Kennedy Space Center has been NASA's primary spaceflight launch center. Today, the Kennedy Space Center Visitor Complex sells tickets to live rocket launches, complete with transportation to and from the launch pads, live commentary from space experts, and seats just a couple miles from the spacecraft, so you'll feel the rocket power, too.
Where: Davenport
Take flight at Florida's own 500-acre hang-gliding school, Wallaby Ranch, just an hour from Disney World. It's the first and largest aero tow hang-gliding flight park in the world, and run by founder Malcolm Jones, who has flown over 30,000 incident-free flights. After you fly, hangout for a while; there are tent and RV camping facilities, community breakfast and lunch, a huge swimming pool and rock-climbing wall, walking trails, free-roaming deer and for the kids, a playground with a Dr. Seuss-themed tree house.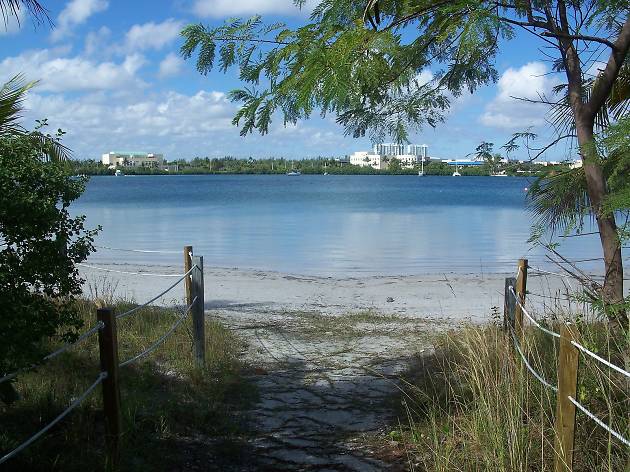 Photograph: Courtesy CC/Wikimedia Commons/Ebyabe
12. Oleta River State Park
Where: Miami Beach
Sitting along a part of Biscayne Bay in North Miami Beach, Oleta River State Park is Florida's largest urban park. There's tons to do and see here—like kayaking, canoeing through mangroves, snorkeling and hiking nature trails—but it's most popular attribute is the system of bike trails. The park has 10+ miles of off-road trails that even expert riders find challenging, and four miles of easy trails so beginners can have fun, too.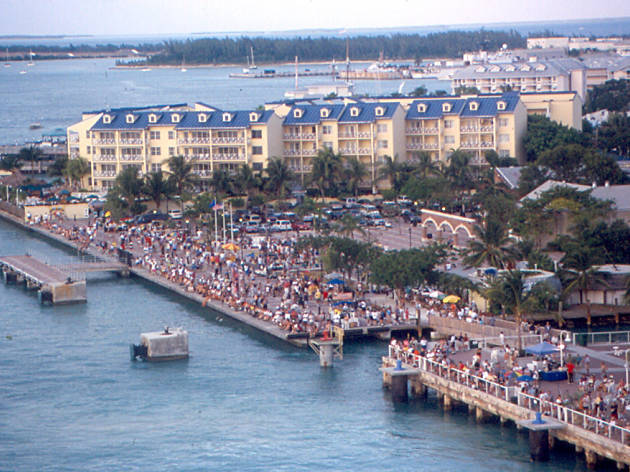 Photograph: Courtesy CC/Flickr/Roger W
Where: Key West
In Key West, sunsets call for a party, and that party happens every night at Mallory Square. Taking place since the 1960s, this party boasts jugglers, kooky psychics, troubadours, bands, artists, dancers and street performers walking tightropes or swallowing swords. If you're hungry, head to the vendors selling Key West essentials: rum-filled coconuts, conch fritters and Key lime pie. While all that is going on, the star of the show is, of course, the sky. The clouds turn a vibrant pink and violet that the Keys are known for.
Photograph: Courtesy Yelp/Mark M.
Where: Dania Beach
Open for more than 60 years, Jaxsons Ice Cream Parlor is a Pompano Beach icon. The sundaes (like the Kitchen Sink with four kinds of ice cream, bananas, chocolate syrup, fruit toppings, marshmallows, whipped cream, sprinkles, lit sparklers and old-fashioned fire siren sounds) are unbelievable, but the real locals know the main reason to go is the one-pound Artillery hotdog. This giant, NY-style, all-beef hotdog is served in a toasted bun and topped with green and sweet red relishes, chopped onions and coleslaw.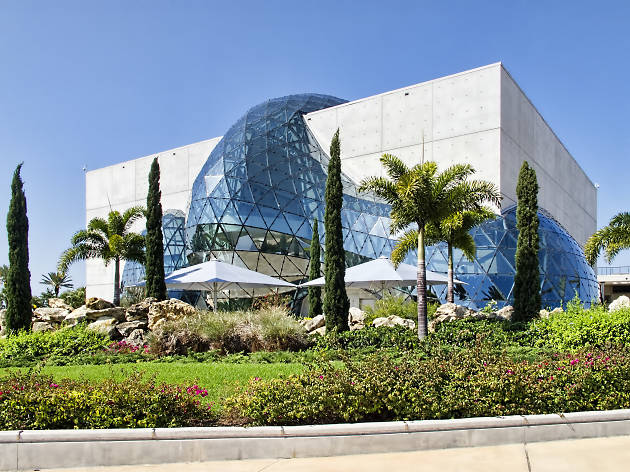 Photograph: Courtesy CC/Flickr/Dan Lundberg
Where: St. Petersburg
Of all places, Florida—namely, St. Pete—is home to the second-largest collection of surrealist Salvador Dalí's art. The Dalí museum is as much a work of art as its exhibits. Home to 2000+ pieces, this Gulf-front museum houses collections of melting clocks, spindle-legged horses, waxed mustaches, past collaborations with Andy Warhol, and masterworks like "The Hallucinogenic Toreador" in a space with bubble-shaped skylights, 900 weirdly-geometric windows and a swirling staircase floating through it all.
Photograph: Courtesy Yelp/Reilly E.
Where: Key Largo
Sitting on Card Sound Road, about a half hour north of Key Largo, Alabama Jacks is a no-frills restaurant-bar that floats on two barges. From the looks of it (and all the Harleys out front), you'd think it's just a biker hangout, but the throngs of Miamians, industry people and high-brow travelers from Ocean Reef bellying up to the bar will tell you otherwise. Don't expect bells and whistles, here. You'll listen to country cover bands, sit on white plastic chairs, do birdwatching, mingle with Floridians you only read about, and eat conch fritters—they're famous.
Where: Chiefland
This state park is one of the few places where you can mingle with manatees. The water always stays at 72º F, making it perfect to swim in, if you don't see an alligator, that is. Go for a dip during the summer, but when more and more manatees migrate to the warm waters in the winter, only kayaking is allowed. These creatures aren't shy, though; even from your kayak, they'll beg for you to pet them.
Where: Miami
Up until 2009, Wynwood was an abandoned textile and manufacturing area in the heart of Miami. Today, it's a blank canvas for world-renowned graffiti artists, award-winning restaurants, trendy shops, startups and more. What started it all was Wynwood Walls, a group of empty warehouses with over 80,000 square-feet of outdoor wall space that now hosts a rotating roster of graffiti art by 50+ artists from 16 countries. Free tours are offered daily, and when you're done, you can grab a beer at Wynwood Kitchen & Bar, which sits inside the Walls.
Photograph: Courtesy Yelp/Lissette C.
19. Morikami Museum and Japanese Gardens
Where: Boca Raton
An ode to the Japanese pineapple farmers who once lived on its 200 acres, The Morikami Museum and Japanese Gardens in Boca Raton makes you feel like you're in Japan. It's home to authentic Japanese art and artifacts, a 16-acre garden, koi ponds, Bonsai forests, lantern festivals and the onsite Seishin-an Tea House, which hosts traditional Japanese ceremonies, tea ceremony classes and workshops in the Omote-Senke style throughout the year.
Where: Orlando
It's not all about Free Willy. For the past decade, SeaWorld has had a separate water park, Aquatica, too. Practically an essential in the Florida heat, this water park has two wave pools, two lazy rivers, 15+ waterslides and even separate kid areas. Pro tip: Buy your tickets online in advance and they're $5 cheaper.
More of the best in Florida
Long days in the Florida sun deserve a good meal, and here in the Sunshine State there are plenty of tasty restaurants to curb your cravings.