Heads up! We're working hard to be accurate – but these are unusual times, so please always check before heading out.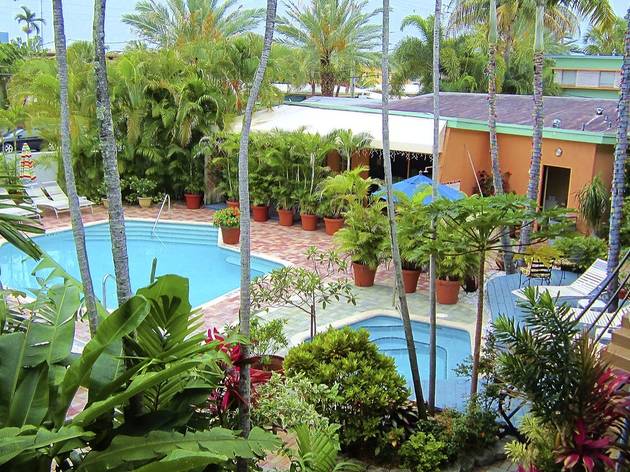 LGBT Fort Lauderdale
The best places to stay, mingle and party in Fort Lauderdale, the attitude-free LGBT boomtown just north of Miami
The gay scene in Miami Beach may be more famous, but Fort Lauderdale's rising queer profile is nothing to scoff at. Not only does it have its own gay beach and a number of gay-friendly places to stay within its extensive selection of hotels, but the Fort Lauderdale LGBT nightlife scene plays second fiddle to no one. While the South Beach crowd is still waiting behind velvet ropes, Fort Lauderdale is ready for action, its clubs offering attitude-free cruising (sans VIP rooms). And while it may not sound like a sexy observation, parking is a whole lot easier in Fort Lauderdale, too.
RECOMMENDED: Full guide to the best things to do in Fort Lauderdale
Bars, lounges and clubs
Whatever kind of action you're after, you'll find it here, about a 45-minute drive from Miami. Fort Lauderdale caters to all kinds of gay visitors—circuit boys, leather queens, drag queens and older souls. Some of the city's hottest spots include Georgie's Alibi (2266 Wilton Dr, 954-565-2526), where men and women watch sports or relax on the patio; and Rosie's Bar and Grill (2449 Wilton Dr, 954-567-1320), a laid-back, indoor/outdoor bar and club.

The leather crowd can find a mate in uniform at Ramrod (1508 NE 4th Ave, 954-763-8219); while bear hunters stalk their prey at Cubby Hole (823 N Federal Hwy, 954-728-9001); and country and western fans belly up to the bar, acting all butch and Brokeback Mountain, at Scandals Saloon (3073 NE 6th Ave, 954-567-2432).

Dudes (3270 NE 33rd St, 954-568-7777) features strippers, as well as a loungey gay piano bar. Younger dancers congregate at Johnny's (1116 W Broward Blvd, 954-522-5931) to dance for an older crowd. If you want to skip the strippers and get some action yourself, Club (110 NW 5th Ave, 954-525-3344) is one of south Florida's most popular gay bath houses.
Hotels and guest houses
Fort Lauderdale is also south Florida's gay guesthouse capital. The formula goes something like this: clothing-optional pool and websites that promise naked Adonises (the reality is often more prosaic).

Elysium (552 N Birch Rd, 954-564-9601, $109-$189 double) is the area's largest gay resort, but the most luxurious is arguably the Royal Palms (771 Breakers Ave, 954-564-6444, $139-$229 double) with lush gardens, tasteful rooms and a spa. The Flamingo Resort (2727 Terramar St, 954-561-4658, $150-$370 double), a boutique-style hotel, possesses a certain euro flair, with statue-filled gardens, fountains and four-poster beds; the Cabanas (2209 NE 26th St, 954-564-7764, $109-$395 double) is similarly tasteful, distinguished by its canalside location.

Coconut Cove (3012 Granada St, 954-523-3226, $99-$289 double), meanwhile, is the closest resort to the gay beach and features gingerbread architecture and a 28-man jacuzzi. Schubert Resort (855 NE 20th Ave, 954-763-7434, $99-$169 double) serves up its raw flesh in a funky 1953 MiMo-style building; Windamar Beach Resort (543 Breakers Ave, 954-561-0039, $95-$169 double) bills itself as "clothing tolerated" rather than "optional", while Alcazar (555 N Birch Rd, 954-567-2525, $110-$185 double) has not one but two "clothing-optional" pools.
Discover more of Fort Lauderdale
Here, we list the best places to sink your toes in the sands of Broward County. Ladies and gentlemen, enjoy the best beaches in Fort Lauderdale.