The 20 best things to do in Fort Lauderdale
Get to know the coastal city through it's historic and cultural attractions, indie shops and hole-in-the-wall eateries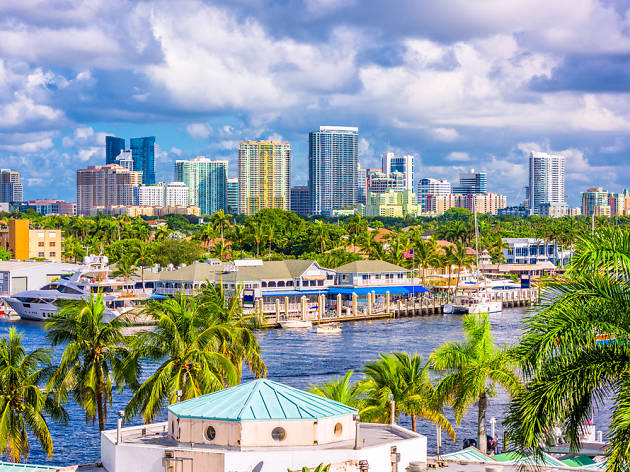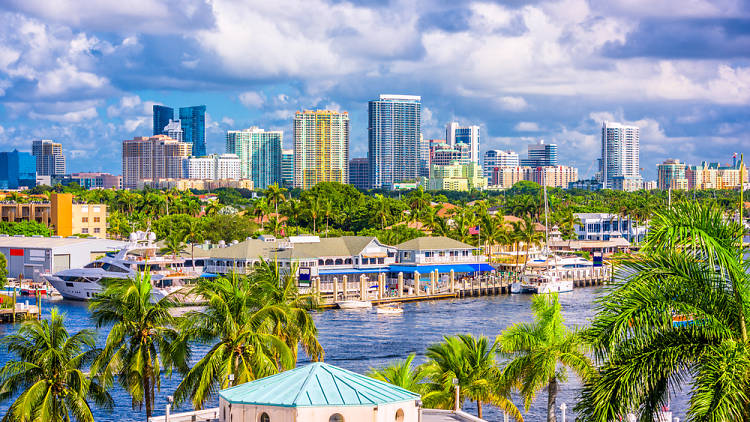 Fort Lauderdale is Broward County's secret weapon when it comes to duking it out against Miami; it's like Miami's younger, cheaper and slightly less gentrified cousin. The city's Las Olas area has acted as a model for other city's downtown districts for years, including Hollywood and Boca Raton. And newer areas like FATVillage are quickly gaining traction for Art Walks and block parties. Whether at a great coffee or eclectic restaurant, while sipping locally brewed beer, splashing waterside, exploring niche museums or relaxing at one of the area's best hotels, this city holds its own. If you find yourself in "Laudy", here are the quintessential things to do. This list is curated, as always, but isn't ranked—we just couldn't choose favorites.
Best things to do in Fort Lauderdale
1
Go record hunting at Radio-Active
From a retro Bowie album to a Pizza Underground cassette signed by Macaulay Culkin, Radio-Active Records is the shop where you're bound to find a great gift for that friend who has everything—or something for yourself, no judgement. The local spot often holds new release listening parties over food and brews, as well as book signings, and has a mix of new and used music for every budget. The shop has a great local artists section, too.
2
Photograph: Courtesy Yelp/@Lili.M
Sip, stroll and shop at The Yard
Tucked away behind some unassuming vacant buildings is a hidden little world on Northeast 13th Avenue. The Yard is a colorful patio and garden space where visitors can grab a coffee, savor a French crepe, thrift through antique stores and get a new outfit. The co-op space houses The Alchemist—where you can get a wicked cold brew featuring brown sugar and condensed milk—as well as Voo La Voo Café and La Frutera Garden Bar for food and drinks. Lola's Market is open on the weekends slinging local products like handmade soaps and fresh flowers. And Tuesday through Sunday, visitors can walk through Marisa Folz's refurbished chrome Airstream and shop a curated collection of trendy clothes and accessories at The Wander Shop.
3
Try the local beer
Fort Lauderdale has become a mecca for local breweries over the last few years. In fact, there are four within about 12 miles of each other. The oldest of the pack, LauderAle, is a nano-brewery with small batches of local favorites like Black Mamba—a chocolatey stout—or La Niña, a mango habanero ale. Khoffner is your go-to for huge flights of German specialties. Tarpon River is the newest, offering a full food menu in addition to its tap list. As for the weird stuff, Invasive Species will be your happy place. Known for experimental brews and zero flagships, the FATVillage brewery is quickly gaining recognition for its Ninja Juice, a rice beer fermented with sake yeast and its Warehouse Saison, a light and dry peppery brew with notes of banana and bubblegum.
4
Learn about rum making at South Florida Distillers
What happens when two trombone players who like to drink decide to start a business in a warehouse together? Magic, apparently. South Florida Distillers is the brainchild of Avi Aisenberg and Joe Durkin; together, the two longtime friends make a rum that's become a staple throughout South Florida: FWAYGO. The duo's product comes in three varieties—original, single barrel and grilled pineapple. Everything's made in that 5,000-square-foot warehouse and you can see how, while tasting it all, of course, by booking a tour.
5
Photograph: Courtesy Yelp/Gen. S
Betty's Soul Food Restaurant
Eat soul food like a politician at Betty's
A mainstay on Sistrunk Boulevard—a street that runs through Fort Lauderdale's historically black neighborhood—Betty Taylor has been slinging her signature soul food at Betty's Soul Food Restaurant for more than 40 years. The FAMU alumnus has the place decked out with Obama memorabilia and an unmistakable smell of fried chicken being made-to-order. It's one of the only places in the city where you can get Red Kool-Aid from a fountain alongside your mac and cheese, cornbread and collard greens. Tim Kaine and Hillary Clinton both made separate trips to Betty's in 2016, courting for black voter support while campaigning. But if you go, take a picture with a different politician—the cardboard Obama cutout.
6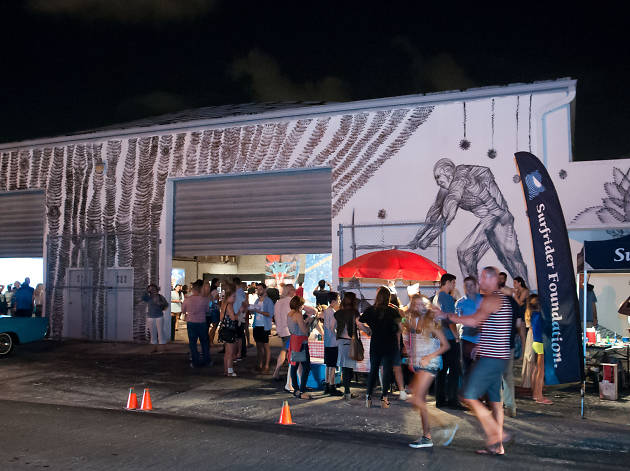 Photograph: Courtesy CC/Flickr/Knight Foundation/Mitchell Zachs
Join an Art Walk at FATVillage
What was once an empty warehouse district is now a packed street of cars on any given day. That's because of a thriving mix of local artists renting studio and gallery space, plus good coffee shops and street fairs making up what's now known as FATVillage. Walk down a dark hallway within C&I Studios and you'll enter BREW Urban Cafe—the city's most popular secret. Kick back at this craft coffee spot and watch the trains roll by before getting a deli sandwich next door at Henry's Sandwich Station and taking in all the outdoor murals. Art Walks are the last Saturday of every month.
7
Play a round of Super Mario World at Laser Wolf
Between the craft beer, retro arcade games and local art plastered in every crevice, Laser Wolf is a great place to bring a group of friends for late night hangs—they're open until 2am. It's also where you can plant yourself in front of a portable TV hooked up to an old Nintendo console and dive into a favorite game. This is one of those places that has an obscure film playing in the background and old school hip hop on the speakers. The beer selection is extensive with local and national products on tap.
8
Photograph: Courtesy Green Bar & Kitchen
Try the Impossible Burger at Green Bar & Kitchen
This isn't Green Bar & Kitchen's first burger, but it's definitely the only one that's gone on tour. The fast casual restaurant and juice bar has a fully stocked vegan menu of favorites like mac and cheese and chicken salad sandwiches, but the item stealing the show has been the Impossible Burger, featuring a patty from plant-based meat company, Impossible Foods, on a bun with lettuce, tomato, onion and pickles. It's downright juicy and delicious. Try it straight up the first time, but by your second trip, ask for it "Boricua style" with fried plantains and avocado.
9
Drool over sneakers at The Archives
This men's-geared boutique is a dangerous place to bring your wallet. But it's also undeniably cool and welcoming (on the right day, you might get offered a beer while you shop) that you'll forget to look at those price tags—you've been warned. The Archives curates a collection of mostly men's (but some women's) clothing and accessories, geared toward the sneakerhead crowd. Scoop some exclusive "Laudy" merch while you're there and then stare at the rare retro sneakers that cost more than a month's rent. Maybe shed a single tear.
10
Stonewall Museum & Archives
Show some pride at Stonewall Museum
Sitting within one of the most gay-friendly cities in the country is the Stonewall National Museum & Archives—a nonprofit gallery dedicated to promoting understanding within the LGBTQ community. The intimate museum has all sorts of items on display, including the pair of sneakers Ellen DeGeneres wore on her coming-out cover shoot for TIME and a rainbow flag honoring the Orlando Pulse Nightclub shooting victims. Stonewall houses the largest LGBTQ library in the country and hosts a mix of permanent and rotating exhibits. Admission is free, but a $5 donation is suggested.


11
Get a scoop of "He's Not Worth It" at Wilton Creamery
In the heart of Wilton Manors is a sassy specialty ice cream boutique preparing small batches of flavors from bourbon-infused sweet cream to a vegan strawberry ice cream with jasmine tea-soaked berries—plus options for vegans and dogs. But the flavor that steals the show every time is "He's Not Worth It:" a mix of vanilla toffee, Oreo, house-made caramel and more, which creates somewhat of a Snickers flavor. The four-year-old shop has a long list of rotating flavors and an even longer list of toppings, including moscato wine-soaked pineapples and jalapeno sauce. Pro tip: Get your scoops nachos style, served with cinnamon chips and tons of toppings.
12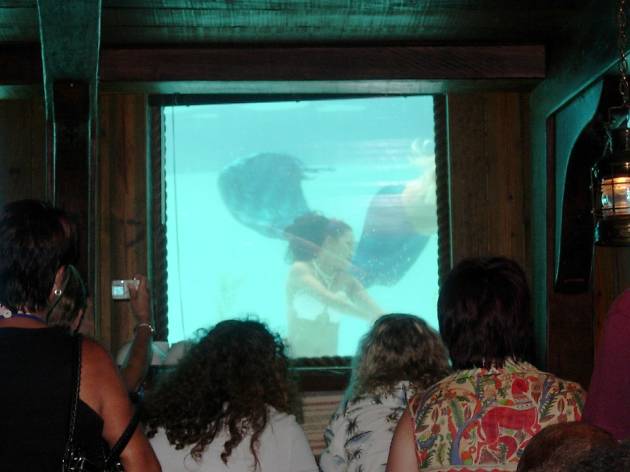 Photograph: Courtesy CC/Flickr/Experiment 33
Be seduced by burlesque mermaids at Wreck Bar
During the day, at this longstanding bar within the B Ocean Resort, mermaids swim through tanks while kids wave in awe and parents order seafood platters. But come nighttime, the sirens get naughty—some even shedding their tails for lingerie. At 9:30pm on Fridays and Saturdays, the Wreck Bar hosts its 21-and-over MeduSirena Aqua Burlesque performances. There, a team of about four performers, in their sparkly underwater best, gracefully float through the water to old-school music, blowing kisses and shooting air bubbles through the port windows. It's old-Hollywood 1940s glam at its sea-worthiest and brings an entirely new meaning to "fishnets."
13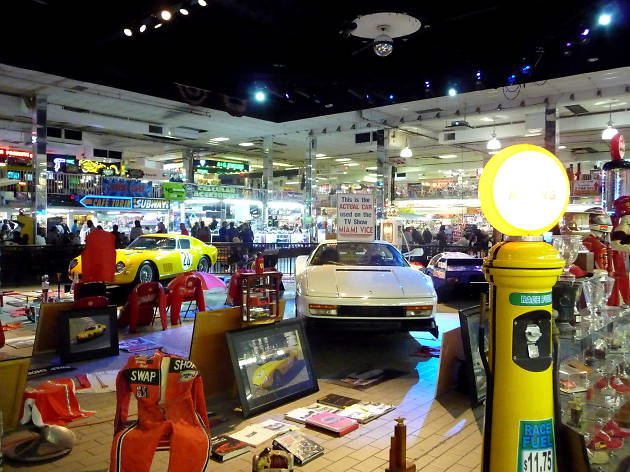 Photograph: Courtesy CC/Flickr/Herb Neufeld
Catch a drive-in movie at the Swap Shop
A novelty most of us never got to experience when it was at its height, weekly drive-ins are in again at the Fort Lauderdale Swap Shop—a flea market on steroids with over 2,000 vendors—which hosts weekly drive-in versions of current blockbusters for under $10 per person. Bring your own snacks or buy the standards on site (nachos, hot dogs, burgers). You can even flip your hazards and a stocked-up golf cart will head your way with concessions. Arrive early for a primo spot and catch a sunset before the movie starts; just don't forget to turn your headlights off.
14
Secret Woods Nature Center
Walk a trail at the Secret Woods Nature Center
No two trips to Broward County's first nature center are ever the same, even if you retrace every step—and that's half the fun. The Secret Woods Nature Center is a 57-acre park with two trails; one through the mulch (where you will almost always spot crabs) and one along an elevated boardwalk over the water. Both are less than a mile long and worth doing on a nice day. Some of the critters you can spot at the park include alligators, owls, turtles, snakes, raccoons and spiders, and there's also a butterfly garden. Admission and parking are both free, so make a day out of it, but come prepared with sunscreen, water and maybe some eco-friendly bug spray.
15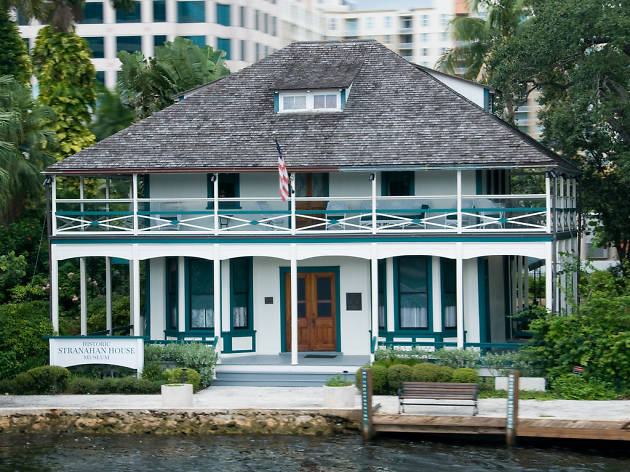 Photograph: Courtesy CC/Flickr/Timothy Wildey
Get a history lesson on Fort Lauderdale's oldest home
Walking through the Historic Stranahan House, built in 1901 by Frank Stranahan for him and his wife Ivy to live in, is like stepping back in time. The home is deemed the oldest surviving structure in Broward County and the guided tour offers plenty of insight from over the years. This is a stop for the history buffs out there; guided tours are the only option—offered Monday through Sunday at 1, 2 and 3pm—and boy, are they thorough.
16
Buy $4 books at Big Apple
From Hemingway to Hunter S. Thompson—and some Hitchcock in between for good measure—Big Apple Books is your favorite Salvation Army book section on steroids. The used book, DVD, vinyl and CD store promises to keep you on your toes with a constantly rotating inventory that will usually set you back $4 per item, tops. Once a month, they do a $2 book sale for when you really feel like going crazy. Don't expect to find many first editions or signed copies here—but for the bookworm who wants an easily accessible copy of a New York Times Best Seller or obscure sci-fi novel, this is the spot for you.
17
Get a Cuban sandwich at 925 Nuevo's Cubano's
For the most authentic Cuban meal you'll find in the entire city, 925 Nuevo's Cubano's is an outdoor-only Cuban secret garden, stocked with quirky art, Cuban flags and coladas and croquetas as far as the eyes can see. This colorful shack has been around since the late '70s and is a great place to grab a filling, affordable lunch on a nice day. The spot's most popular item is, unsurprisingly, the Cuban sandwich—it has 344 mentions on Yelp alone. But all the classics are offered, including midnight sandwiches, sweet plantains, steak sandwiches and ropa vieja (it sells out fast).
18
Pet cats and go thrifting
Thrifting is all about the area in which you do it. Which means when you do it in Fort Lauderdale, it's bound to be fabulous, furry and likely bedazzled. Oddballs Nifty Thrift is packed to the brim with tchotchkes that rotate constantly, plus an outdoor plant and garden section. Out of the Closet offers free STD testing onsite plus a bowl of complimentary condoms instead of candy when you walk out; you'll find everything here from men's size 12.5 heels to an American flag speedo. But the star of the show is Boomerangs Thrift Store—which has a cat cafe in the back room. Walk to the back of the shop and you'll hit a sign that says Good Luck Cat Cafe and a hand sanitizer dispenser. From there, you walk into a room with the three C's: couches, coffee and cats. For no cover, you can cuddle with some furry friends and maybe even take one home—they're all up for adoption.
19
Photograph: Courtesy Yelp/Caryn B.
Brunch at Foxy Brown
From sake Bloody Marys with strips of crispy bacon and boozy milkshakes to sinful white chocolate bread pudding French toast, Foxy Brown offers a huge menu, with items like chicken and waffles served with a jalapeno jam, and even better, a not-so-long line: it's typically 20-30 minutes before you get a table, with coffee and mimosas while you wait. And about those mimosas, sure you can get a standard with OJ, but they also offer peach, grapefruit, watermelon and pomegranate juice varieties if you're feeling adventurous. Opt for an outdoor table if you can, and you might get to pet a pup, as the patio is dog-friendly.
20
Photograph: Courtesy Yelp/Reixa C.
Hit happy hour at The Wilder
A new addition to the downtown district, The Wilder is a dark, sexy, cathedral-like bar with even sexier looking cocktails. This hipster lounge serves up Insta-porn drinks like the Brown Derby, a mix of bourbon, grapefruit, lemon and honey, topped with a wheel of dehydrated lemon for garnish, or the West Indian Handshake—a mix of pineapple rum, mango and banana-almond flavors. Cocktails are usually priced at $14, but on weeknights from 4-7pm drinks are all $3 off. There's free parking in the back and it'll lead you to an open-air patio with tons of seating.
More of the best in Fort Lauderadale
Fort Lauderdale has recently become home to some of the most eclectic (and for the most part, wallet-friendly) options in the area.