Heads up! We're working hard to be accurate – but these are unusual times, so please always check before heading out.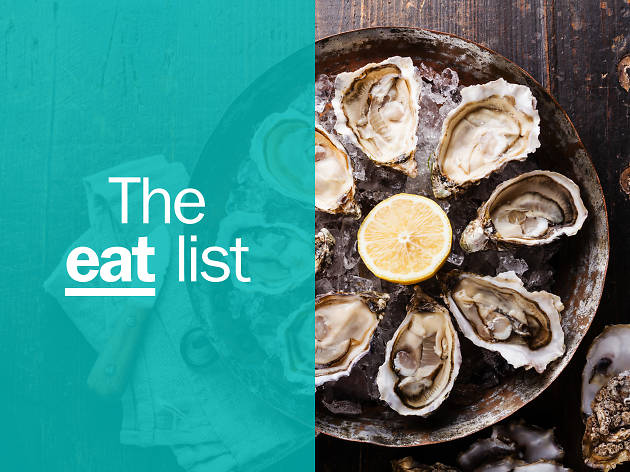 The 20 best restaurants in Fort Lauderdale
Featuring farm-to-table, sustainable menus, the best restaurants in Fort Lauderdale offer delectable—but healthy—foods.
Home to some of the most beautiful beaches in America, it is no surprise that the best restaurants in Fort Lauderdale shape their menus to cater to locals' and visitors' bikini needs. It's not just about what diners are tasting, but also about how the food makes them feel. Many Floridian eateries are therefore responding with farm-to-table, organic and sustainable practices. And we're here for it.
Of course, that doesn't mean that the traditional Latin American restaurants that South Florida is known for, those cooking up recipes that have been passed down through generations, are going anywhere. It is just not uncommon to see a vegan, non-GMO, totally organic joint nestled against a greasy Cuban sandwich joint, and maybe a fancy hotel?
So, while tackling the best things to do in town, fuel up at these local joints, striking a culinary balance between diet and delight. Bon appetit!
Best restaurants in Fort Lauderdale
If you were to traipes down Las Olas Boulevard looking for a place to eat, you'll likely immediately notice Louie Bossi given the permanent crowd outside its doors. Of course, we wouldn't suggest wandering in on a weekend without a reservation (when the wait can be as long as two hours). If your party is bigger than six, request to be sat in the gazebo on the back terrace near the bocce ball court. Inside are red velvet booths; old-timey, Italian photos on the walls; and an open kitchen for watching chefs prepare authentic pasta, bread, gelato and pastries.
Home to the ideal patio for people watching and catching a breeze from the river, ETARU is a Japanese bar and grill with a sweet happy hour. Those kicking back outside from 5-9pm can order $4 glasses of Whispering Angel rosé, which pairs nicely with bar snacks like Brussel sprouts (dipped in a wasabi mayo) and the shishito pepper tempura (paired with a yuzu mayo), available for $5 each until 7pm. But that's just the opening act. Those staying for dinner will find an à la carte menu featuring sashimi, sushi rolls and robata grilled fish, steak, chicken and lamb. Groups should always end with the dessert platter, a basketball-sized bowl of shareables, including guava mousse, grilled papaya, passion fruit sorbet and more.
A group of three coworkers can eat here on a Tuesday for under $20 total; yes, we know this from experience. Order from a selection of authentic Mexican tacos—made with shrimp, carnitas, barbacoa and more—that are only $2 each on Tuesdays. Or, squeeze your way up to the bar between 5-7pm, and from midnight to closing, for $5 margaritas, $2 select tacos and other happy hour and late-night deals. Calavera murals span the walls of this eatery but, perhaps, the most eye-catching item inside isn't part of the decor. Heads turn when waitstaff carry out the smoked brisket nachos, piled high with cheese, pinto beans, jalapenos, scallion and pico de gallo.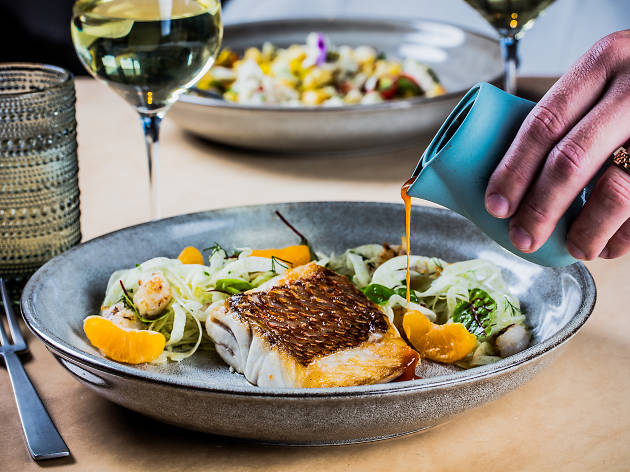 Photograph: Courtesy Dune
Former Miami Dolphin quarterback Dan Marino is just one of the high-profile people who bought a luxurious unit inside the Auberge Beach Residences on north Fort Lauderdale beach. Condo owners don't have to travel far for a good meal. Downstairs at Dune, a restaurant concept by Auberge Resort Collection based in Napa Valley, a refined selection of wines is available. Inventive dishes—like the octopus a la plancha of sofrito, patatas bravas and green onions—complement the collection of bottes; as does the decor, which pairs a color scheme of whites, blues and beiges with potted succulents and trees.
Photograph: Andrew Hektor
Market research two years ago must have shown that Fort Lauderdale was in need of upscale Mexican restaurants because we got about four in the span of a few months. No one's complaining, though, about one of the new standouts: El Vez. The James Beard award-winning restaurateur Stephen Starr has two other locations in Philadelphia and New York, but this one is set inside the W Fort Lauderdale hotel at the beach. On the first floor, opposite mainstay Steak954, another Starr outpost, El Vez offers authentic dishes that often come out still sizzling.
This Brazilian steakhouse is a meat lover's dream. Near the drawbridge on Las Olas Boulevard, Chima is illuminated with twinkle lights and dressed with white table cloths. Waiters parade around feet-long flanks of beef and skewers of bacon-wrapped chicken that are ready to be sliced and grabbed with tongs. Intermissions from unlimited protein include trips to the salad bar for a selection of fruits, pasta salads, raw meats, cheeses, soups, rice and more. Everything can be washed down with a Caipirinha, Brazil's traditional cocktail made with cachaca, sugar and lime.
7. Phat Boy Sushi & Kitchen
You'd never come across this place on your own, which makes it all the more appealing. Set along a busy South Federal Highway on the outskirts of the Rio Vista neighborhood, there isn't enough space to accommodate more than 10 tables at a time, which makes the experience that much better. Start with the grilled shishito peppers and follow it up with a bowl of ramen, or a sushi roll made with fresh fish by chef-owner John Maser.
This Jewish deli in a warehouse on Northeast Third Avenue is pretty hard to find, which is good news for people who don't want to wait in line for a table. But, inevitably, a wait often occurs on weekends for brunch, which includes dishes like challah French toast with fruit and sugar on top, and the Nova lox sandwich with cream cheese, salmon, onion and tomato stacked inside a bagel. Other local favorites—Brown Dog Eatery and Foxy Brown—are from the same restaurant group.
Photograph: Foxy Brown
Let's talk about Foxy Brown, a gastropub that's known for putting twists on classics and not skimping on portions. Order the veggie burger and know you're not getting a light meal. This heaping patty comes topped with provolone, fried tomato and spinach for a hearty lunch. Popular on weekends for its brunch, Foxy Brown offers menu items the likes of banana foster pancakes and banana bread grilled cheese. Pair meals with signature drinks like the mango mimosa or flavored cereal milk that comes with doughnut holes.
Photograph: Java & Jam/Craig Denis Creative
Taking the place of a club that was once at the west end of Las Olas Boulevard, Java & Jam gives the space new meaning with grab-and-go, freshly-baked pastries and Wells coffee. For those who aren't in a rush, a full menu with sit-down breakfast and lunch options can be enjoyed out on the patio. Standouts include the peach toast on a ciabatta bread, piled high with peach slices, honey whipped goat cheese, tomato, basil and granola; and the taco eggs made with two sunny-side-up eggs, bacon, avocado and salsa verde stuffed into white corn tortillas.
Photograph: Poke House
Surf posters and Hawaiian music set the scene at this fast-casual eatery inside the Victoria Park Shoppes. Construct your own bowl with rice, protein and fixings, or leave it to the experts and order the pipeline nachos with kale, pico de gallo, cream cheese, avocado and chipotle mayo piled onto wonton chips; and the punta hermosa Peru, made with hamachi fish on top of a green rice with red onions, scallions, cancha and sweet potato, coated in a spicy aji amarillo. A selection of wines, beers and sake are on hand to cool taste buds.
12. Valentino Cucina Italiana
Dishes at Valentino Cucina Italiana arrive looking like art, and that's because chef-owner Giovanni Rocchio treats them as such. Rocchio opened the Italian restaurant more than a decade ago, although he's recently revamped the menu to offer more economic prices as white-glove, fine-dining seems to fade out of the culinary scene. Still, dishes like the ricotta cavatelli of veal, porcini mushrooms and bone marrow aren't cheap—this one priced at $36. But experiencing Rocchio's craft is definitely worth the splurge.
Photograph: Burlock Coast
Scooping up celebrity chef Paula DaSilva after she was the runner-up on season five of Hell's Kitchen was just one smart move made by the The Ritz-Carlton Fort Lauderdale's Burlock Coast. The expansive, ocean-facing dining room offers modern, coastal dishes and outstanding desserts, like the Nutella chocolate flourless cake, Florida key lime pie and croissant mini donuts. Delights don't have to end at dinner—the Marketplace to the south end of the restaurant offers daily specials like $5 juices on Mondays and hump day pastries and coffee for $5 on Wednesdays.
Another notable chef heads this oceanfront restaurant inside Fort Lauderdale's Harbor Beach Marriott, and how she got there is a funny story. Executive chef Adrienne Grenier is a South Florida native and started her career at 3030 Ocean, working under chefs Dean Max and aforementioned Paula DaSilva. She left for some time to work in restaurants on the West Coast and, in 2011, she won an episode of Food Network's Chopped. She soon returned to 3030 Ocean, serving American cuisine made with organic produce and locally sourced ingredients from the land and sea.
15. New York Grilled Cheese
Located in Wilton Manors, New York Grilled Cheese has a reputation for being a late-night eatery serving America's classic comfort food. What's better after a bar hop than a grilled cheese sandwich that has actual mac and cheese in-between the bread slices? Sandwiches, named after streets and districts in New York City, aren't crafted in a frying pan—instead, they're made with a waffle press, and should be paired with a cup of tomato soup for dunking.
Photograph: Courtesy Yelp/Greshka P.
The eatery's fresh take on Cuban food offers fun twists on classics, like the Cuban Philly, a ropa vieja sandwich topped with red and green peppers and cheese. Another example, this one from the brunch menu, is a sinful, decadent tres leches waffle stack, which comes topped with guava whipped cream and powdered sugar. It's the kind of food Cuban grandmas would make 30 years from now, and it's served with bottomless mimosas at brunch, a rotating selection of local craft beers and, of course, authentic Cuban coffee.
Photograph: Eduardo Schneider
This minimalist fast-casual spot serves cold pressed juices, beer and kombucha on tap, as well as wine, and preaches about sustainability, using compostable straws and to-go boxes. Oh, and it's completely vegan. Whether you're full-on plant-based already or a carnivore trying to ease your way into meatless Monday, Green Bar makes veggie dining attainable with options like creamy macaroni and cheese with crispy mushroom bacon, or the Impossible Burger—a meatless patty that bleeds just like real meat—served with all the typical fixings minus any of the guilt.
Photograph: Courtesy Yelp/Soy S.
Don't expect air conditioning, but do brace yourself for some high-octane Cuban coffee at this hole-in-the-wall (sans the walls) eatery. 925 Nuevo's Cubano's is a walk-up, open-air institution known for its over-the-top Cuban memorabilia and drool-inducing sandwiches. You can't go wrong with a classic, like the Cuban, but the signature 925—layered with pork, steak and ham—or the vaca frita platter—shredded steak served with sides and a drink—are also staples. Try the homemade hot sauce, order the ropa vieja before it sells out for the day and wash it all down with un cafecito.
Photograph: Courtesy Yelp/Doug S.
You can't do South Florida properly without at least one good seafood experience. Since 1987, Kelly's Landing has been serving fresh, local seafood to tourists and residents alike. It's the kind of place that's packed on a Tuesday at 5:30pm with friends fighting over a plate of fried Ipswich clams. Unlike other, fancier seafood spots in South Florida, what the place lacks in waterfront views, it makes up for in quality meals at fair prices.
Photograph: Courtesy Yelp/Samantha D.
20. Laspada's Original Hoagies
"The best damn hoagies in town" has been this sub shop's slogan for more than 40 years, and there are plenty of diehards who will fight anyone who says otherwise. Laspada's, which now has six locations, is best known for its "monster," which is made with slices of ham, turkey, roast beef and cheese. The portions are hefty and the hoagies are always overflowing with your toppings of choice. Lines get long around lunchtime, so call ahead if you can.
More of the best in Fort Lauderadale
Photograph: Courtesy CC/Flickr/Kolossos
Fort Lauderdale is like Miami's younger, cheaper and slightly less gentrified cousin. Whether with good coffee and eclectic food, locally brewed beer, waterside activities or niche museums, this city holds its own.