Heads up! We're working hard to be accurate – but these are unusual times, so please always check before heading out.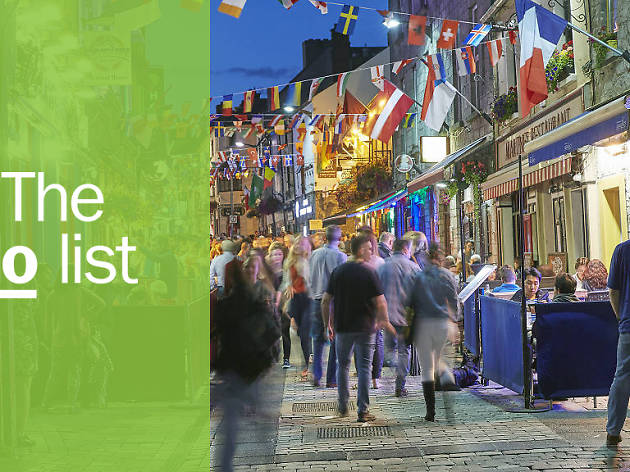 The 13 best things to do in Galway
From charmingly crammed bookshops to traditional Irish pubs, these are the best things to do in Galway
This is a city on the west coast of Ireland, at the very edge of Europe before it gives way to the wild Atlantic, which makes the variety of things to do in Galway a non-surprise. The town's famously bohemian vibe has always been as far as wandering artists and musicians could go so, very often, the folks just stayed.
In the city centre, craft shops sit alongside old-fashioned pubs where nightly sessions of traditional music and dance send echoes through the cobbled streets. History pulsates everywhere, from the remnants of the city walls by the Latin Quarter (now a lively strip of restaurants and bars) to a convent-turned-boutique-hotel and the traditional fishing boats at rest in Claddagh, home of the famous Claddagh ring design. As you drink coffee or a pint at an outdoor table and watch the world go by, the fresh salt wind will reminds you that Galway is at heart an ocean town and that the sea has informed the local way of life for generations.
Done something on this list and loved it? Share it with the hashtag #TimeOutDoList and tag @TimeOutEverywhere.
Find out more about how Time Out selects the very best things to do all over the world.
Best things to do in Galway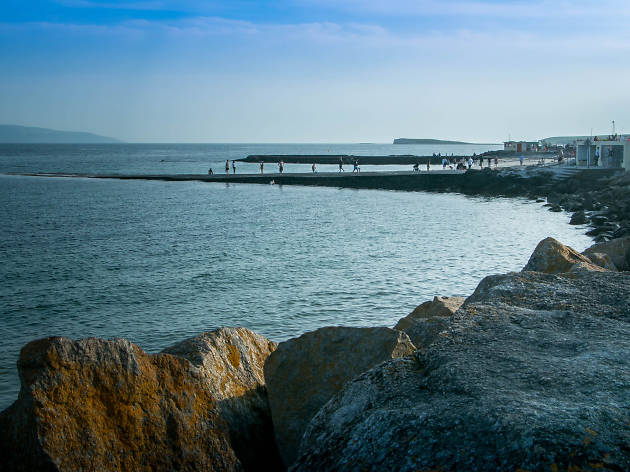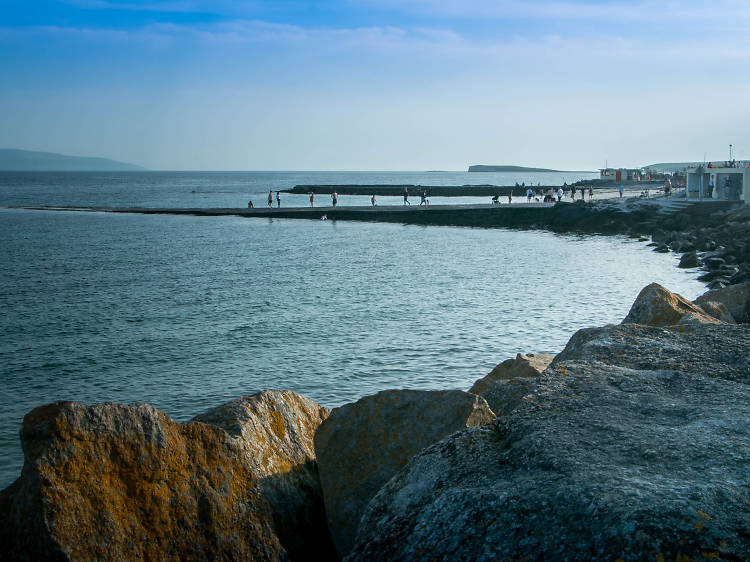 Valerie Beegan/Flickr
What is it? Galway city's seaside promenade.
Why go? To fully experience the way the Atlantic has defined the city of Galway, take a walk along the promenade of Salthill. To your right are the slightly bleak, slightly tacky buildings that are typical of seaside towns, and to your left is the wild expanse of Galway Bay. If you can brave the cold water, go for a swim off one of the golden beaches, or even better, leap off the diving board that marks the end of the prom. (It's tradition to kick the wall here once you've completed the walk.) Afterwards, make your way to O'Connor's Famous Pub and, with pint in hand, bask in the warmth from a glowing fire among dark shelves filled with old bottles and tools. Ed Sheeran shot scenes for his 'Galway Girl' music video here!
Crane Bar, Galway
What is it? A pub whose traditional music sessions will transport you to another age.
Why go? In Galway you're never going to be found wanting for craic – there are plenty of pubs on its main streets crammed with people playing Irish music. But cross the river to Galway's West End and you will come to a small square bordered by a pub with lit-up windows and music echoing from its lower and upper floors. This is the Crane Bar, renowned for its nightly traditional sessions. Inside you'll find a ceiling criss-crossed with dark beams and a wooden floor hammered by generations of ceilidh dancers. While you're here, head next door to Bell Book and Candle, a shop packed to the rafters with used books and records.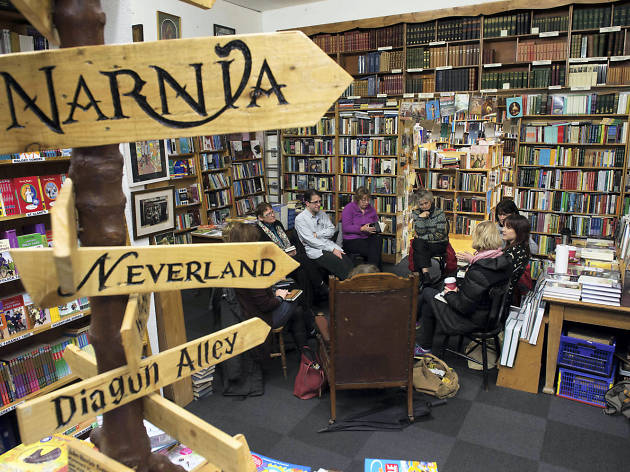 Andrew Downes
3. Charlie Byrne's Bookshop
What is it? A Galway institution – probably the most beloved bookshop in Ireland.
Why go? You might be taking in the quiet charm of Galway's Middle Street when you come across Charlie Byrne's. It's unassuming from the outside but inside you'll find a warren spread over 3,000 feet. Wander from room to room stacked from floor to ceiling with new and used books, then sit cross-legged on the floor to turn the pages of whatever has caught your eye – you will lose hours. There are sections for archaeology, art, Irish interest, sci-fi, poetry, plays and one of the best children's books collections in the country. Charlie Byrne's often stays open after hours to host book launches, readings, and celebrations of everything from International Women's Day to Japanese poetry.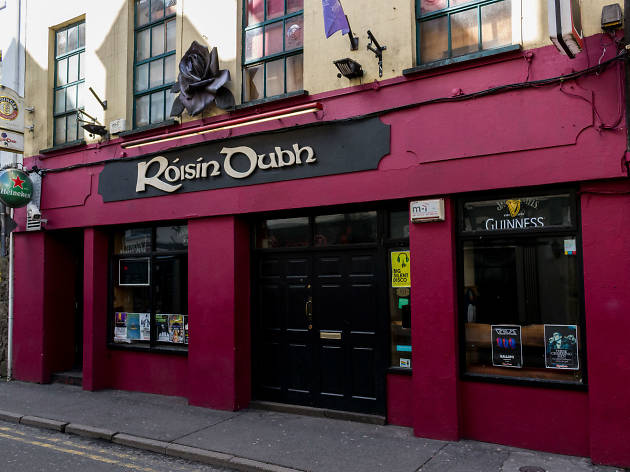 Roisin Dubh
What is it? A legendary three-storey music venue.
Why go? Behind Róisín Dubh's iconic red frontage, with its eponymous black sculpted rose, sit three floors of Irish music heritage. The venue has hosted emerging bands and legends like Christy Moore for more than 20 years, as well as regular comedy gigs and a silent disco every Tuesday night. Have a dance, a pint, or slip away for an intimate chat in one of the venue's many nooks and crannies – but often the best craic is to be found on the rooftop smoking terrace!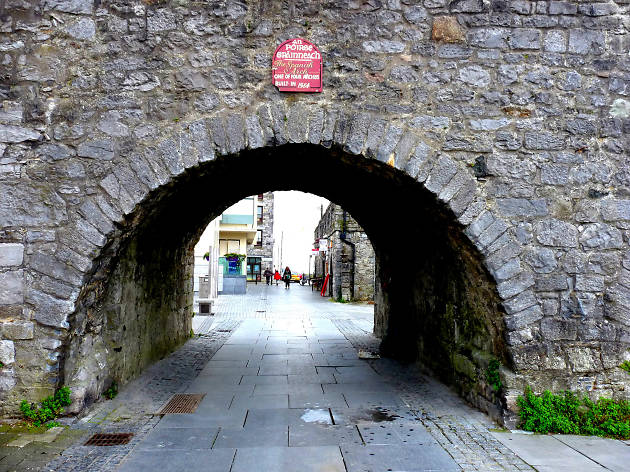 Irish Jaunt/Flickr
What is it? The two arches that remain of the city wall, originally constructed in 1584.
Why go? Galway is a city perched on the edge of the world and the historical significance of this is nowhere more evident than at the Spanish Arch. Standing where the River Corrib churns wildly into the Atlantic Ocean, there is no better place to get a sense of the port town that Galway once was. Where once the arches were part of a protective city wall, they are now the location for the Galwegians' rite of passage known as 'sparching': essentially, drinking cans by the Arch when the sun shines, which doesn't happen often in this western town. If that's not your game, check out Ard Bia at Nimmo's, a restaurant that occupies the former eighteenth-century Custom House by the Arch. Its brunches and lunches of seasonal local produce inspired by international flavours are not to be missed.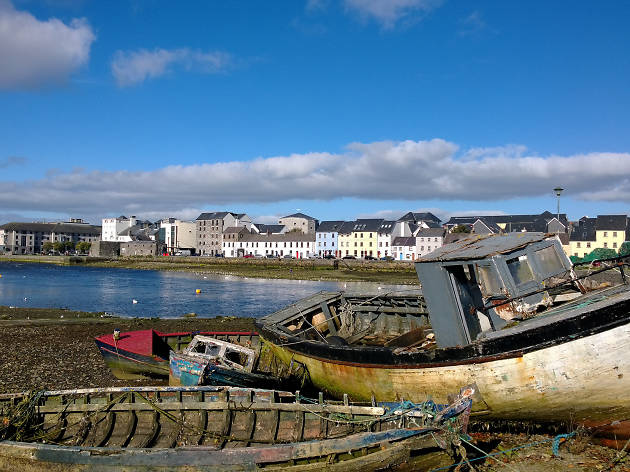 Anne McGinley/Flickr
What is it? A long limestone pier that protects the city from the sea.
Why go? Nimmo's Pier is surprisingly absent from lists of the best things to do in Galway, yet it is a stunning walk on which you can take in what was once the old fishing village of Claddagh. As you walk through winds whipping off the Atlantic, the city lies low below grey skies to your left; to the right is the green area of South Park, otherwise known as the Swamp, where locals play Gaelic football and rugby. As you near the end of the pier, currachs (traditional fishing boats) are pulled up to shore, and beyond the drift of dozens of swans you'll have the perfect view of the Long Walk, a promenade of candy-coloured houses that is one of Galway's most-Instagrammed scenes.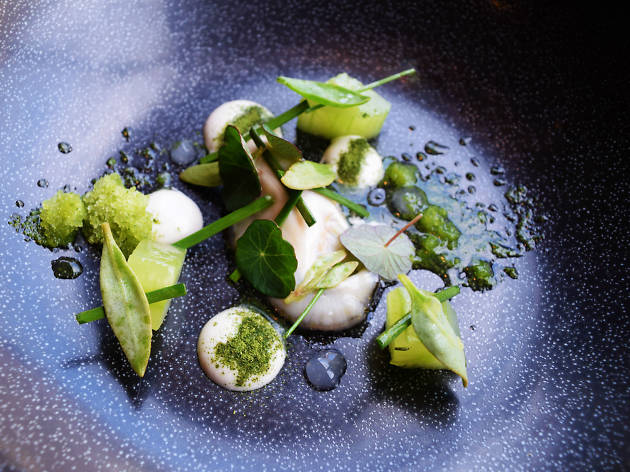 Aniar Boutique Cookery School
7. Aniar Boutique Cookery School
What is it? A cookery school run by the owner and chef of Aniar, a fine-dining restaurant serving food inspired by the west of Ireland.
Why go? Galway's Michelin-starred restaurant, Aniar, is renowned for its menu inspired by the climate and landscape of Ireland's bleak western coast. You could eat there or you could go one step further and take a cookery class with its chef and owner JP McMahon. Day workshops include classes on dinner parties, Christmas meals and gastropub specialities, as well as sessions on bread, steak, Italian food, contemporary Irish food (in which you'll learn to make butter and pickle vegetables) and vegetarian food incorporating wild ingredients such as seaweed.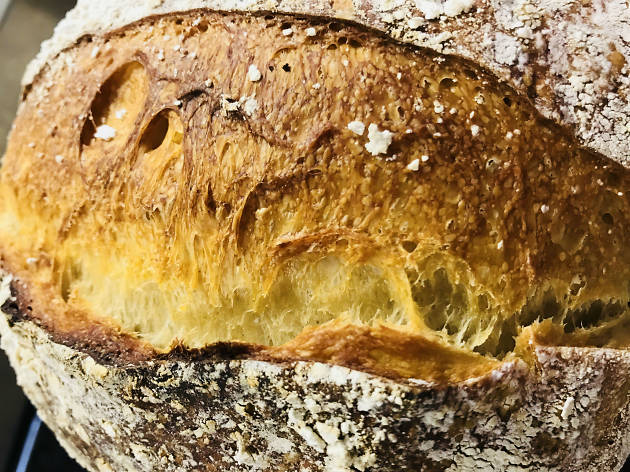 Griffins Bakery Tea Rooms
8. Griffin's Bakery Tea Rooms
What is it? A dinky tea room and shopper's haven.
Why go? Behind the green shopfront and the glass counter of its artisan bakery, you'll find the cosiest of Galway's tea rooms where shoppers come to rest their feet and warm themselves by the fire. There's more seating upstairs, and the place is decorated with the black-and-white photographs of the Griffin family, who have run this establishment since 1876. It's the ideal venue for an intimate chat or some time alone, and after you've had a pot of tea, sandwiches, and some wee buns, make sure to purchase a loaf of the bakery's specialty bread on your way out.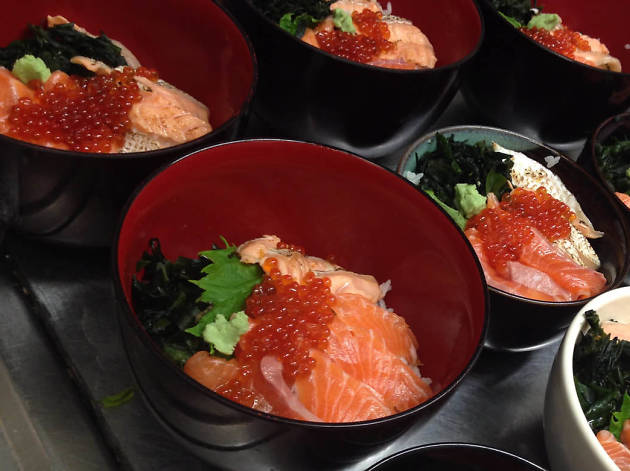 Wa Café
What is it? A tiny sushi bar by Galway's docks.
Why go? There are only fifteen seats in this little café, but its simple tables, wood panelling and large window lend it air and space and a peaceful aspect in which to enjoy dishes that are locally sourced and cooked in the traditional Japanese style. Take refuge from the Galway winds with some ramen, or an Irish-inspired bowl of Connemara miso soup. Then there's the sushi, of course, which Japanese-born chef Yoshimi Hayakawa began selling in the Galway market in 2002 before opening Wa Café. Afterwards take a stroll along Galway's docklands to have a look at the yachts – if you're lucky you might catch one of the Irish Naval Service ships that sometimes stop here.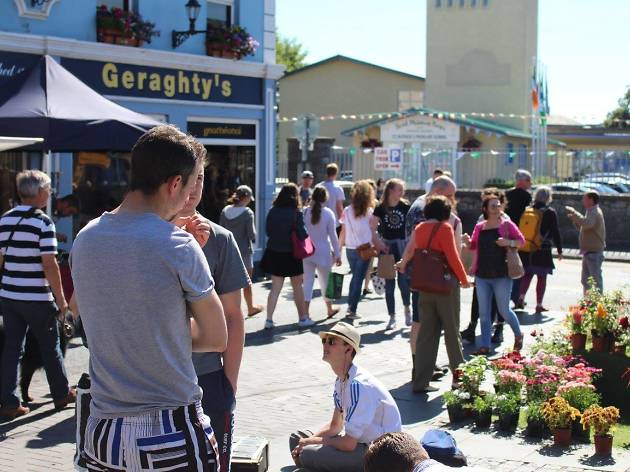 Galway Market
10. Galway Saturday Market
What is it? A street market that runs in Galway city centre every Saturday.
Why go? This market in the narrow lane beside St Nicholas' Church has been held every Saturday for centuries. As well as stalls selling fruit, vegetables, bread, olives, and flowers, there's also takeaway food such as crepes, doughnuts, curries, sushi, and some of the best smoked salmon bagels on the island. You'll also find stalls run by artists who have carried on the west of Ireland's tradition of handicrafts, selling jewellery, items carved from wood and stone, soaps, and paintings.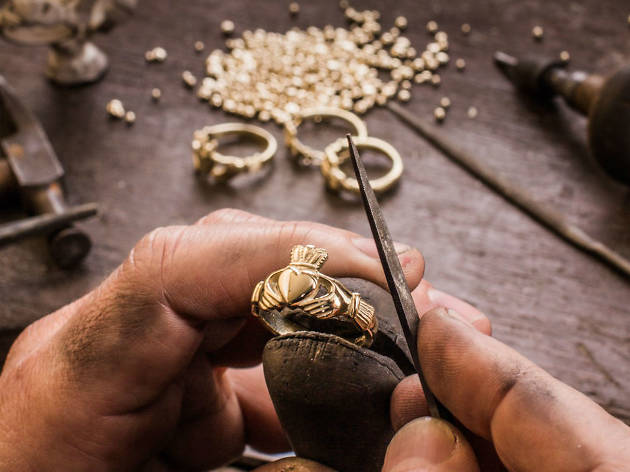 Claddagh Legend
What is it? A tiny museum-cum-gift shop dedicated to the history of the Claddagh Ring.
Why go? The Claddagh ring design is a heart clasped with two hands below a crown: the heart symbolises love, the hands friendship, and the crown loyalty. The ring itself signifies the wearer's relationship status: if the heart points towards the hand they are married, and if it points outwards they're single. The rings originated in the fishing village of Claddagh, which is now part of Galway city. In the tiny museum at the back of Thomas Dillon's Claddagh Ring store – established in 1750 and supposedly the first maker of the Claddagh Ring – you can see the earliest examples of the rings, dating from around 1700. Also on display are the world's smallest Claddagh Ring and old photographs depicting the Claddagh area.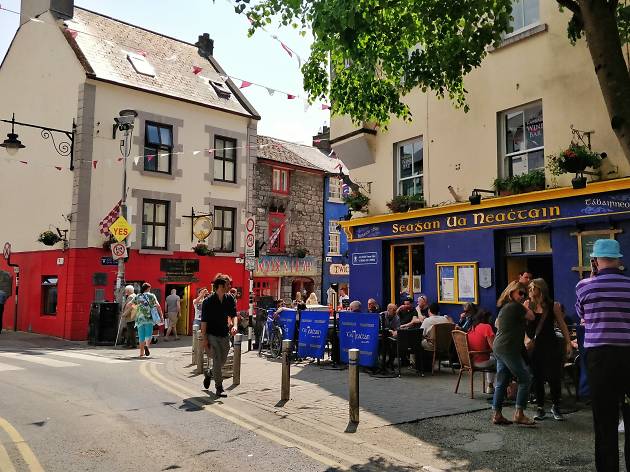 Tigh Neachtain
What is it? Galway city's most iconic pub.
Why go? Galway is a city of pubs, but Tigh Neachtain's is probably the most beloved of them all. Instantly recognisable by its blue-and-yellow exterior (and by the dozens of people enjoying pints outside on a summer evening), inside it's a wooden warren of rooms that are usually occupied by patrons warming themselves by a fire, a group of musicians playing a traditional session, or students crammed into a carved snug. As for the decor, the pub is a treasure trove of books, old whiskey bottles, framed posters, and some beautiful maps of the west coast of Ireland.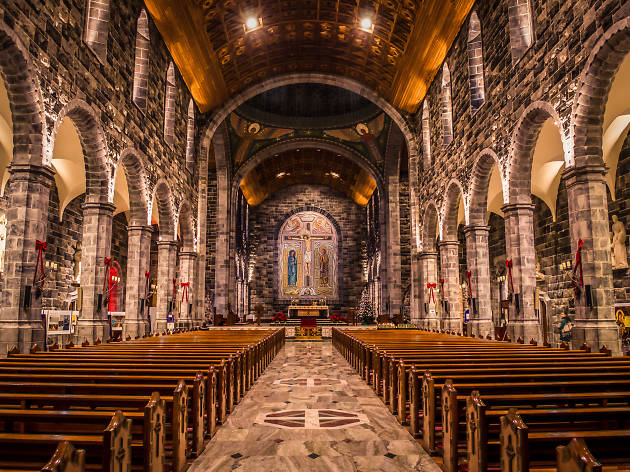 Franics McCormick/Flickr
13. Galway Cathedral and Salmon Weir Bridge
What is it? Europe's youngest stone cathedral overlooking the River Corrib and its iconic bridge.
Why go? Completed in 1965 and made entirely from Galway limestone, this was the last great stone cathedral to be built in Europe – most modern cathedrals are concrete. Its architecture mixes Renaissance and Gothic styles and the octagonal dome lends the Galway skyline an Oxford vibe. Inside you'll find an echoing vaulted space, with the dimness penetrated by light filtering from the rose windows on to a floor made of Connemara marble. Afterwards, take a walk across Salmon Weir Bridge which links the cathedral with the opposite side of the river – during salmon spawning season between April and July, you can watch the silver fish dancing their way upstream.
Looking for a place to stay in Galway?
Some of Galway's hotels boast Orient Express train carriages or ancient abbey remains, others rooftop hot tubs or top-class restaurants, and every single one has a bar worth staying in for and a location that makes exploring Galway easy.