The 21 best things to do in Ireland
Head to ancient sites on tiny Aran Islands or go bohemian in Galway when tackling the best things to do in Ireland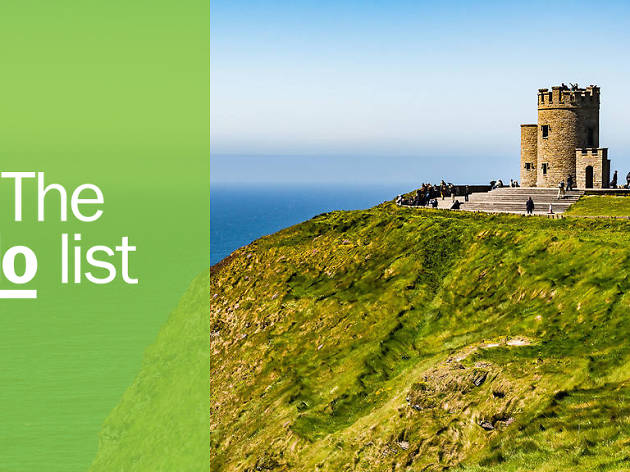 When a country is as famous as this one for being, above all, friendly, it's no surprise tourists flock to it, hoping to enjoy the best things to do in Ireland.
Opt to spend a weekend on a stag do in Dublin, blearily enjoying one of Europe's best cities, sample a slice of Bohemian life in Galway, head out to ancient sites on the tiny Aran Islands or even plan a few relaxing days at one of the best hotels in the country. Our guide brings together some of the most iconic spots, giving you a flavour of the many thing to do in this remarkable and stunning country.
Done something on this list and loved it? Share it with the hashtag #TimeOutDoList and tag @TimeOutEverywhere.
Find out more about how Time Out selects the very best things to do all over the world.
Best things to do in Ireland
1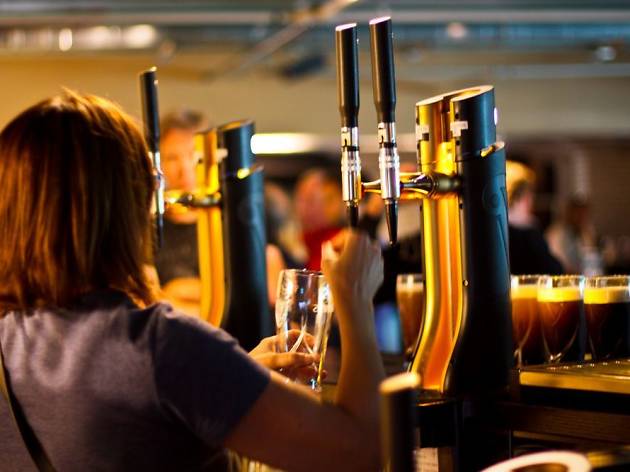 Photograph: Courtesy Yelp/A.E.
Treat yourself to a pint at the Guinness Storehouse
What is it? Dublin's most famous and popular tourist spot where you can learn the story of Guinness, and then remind yourself how good it tastes.
Why go? Most brewery tours (good as they are) involve a short tour followed by a tasting sesh. The Guinness Storehouse, however, is seven floors of interactive experiences, finishing with a pint in the Gravity Bar.
2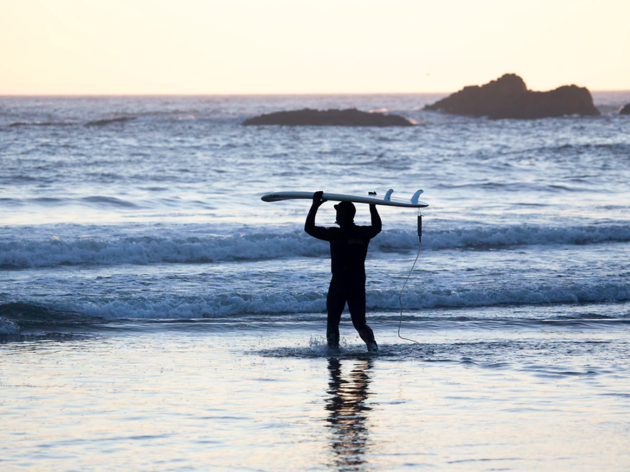 Photograph: Unsplash
Catch some waves at Bundoran
What is it? The 'Surfing Captial of Ireland' where you can take your first rookie steps with a surf board, or show off some well-honed skills.
Why go? Book a room at the Bundoran surf lodge and your place at surf school, then start enjoying the water. Bundoran Surf Co. offer surf packages catering to all tastes. We like the sound of their surf-and-yoga breaks - double relaxation.
3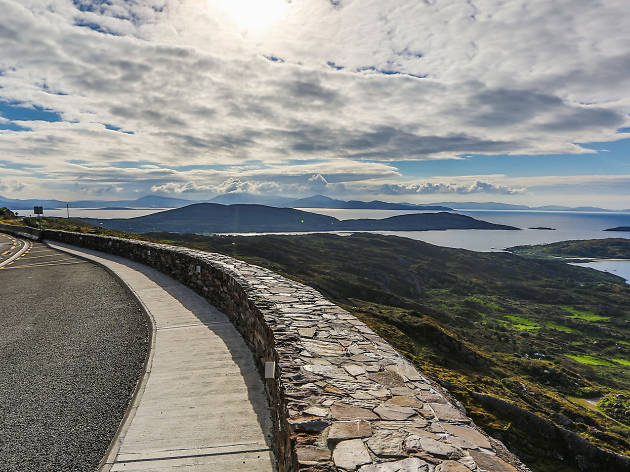 Photograph: Courtesy CC/Flickr/Tony Webster
Travel full circle at the Ring of Kerry
What is it? Famous circular route around the Iveragh Peninsula in the southwest of Ireland.
Why go? So you want to 'see Ireland' but don't really know where to start. Well, the Ring of Kerry wouldn't be a bad place. It's basically a well-trod route linking together nine different towns. Starting in Cork, a day's guided tour will take you around sites including the 18-meter-high Torc Waterfall.
4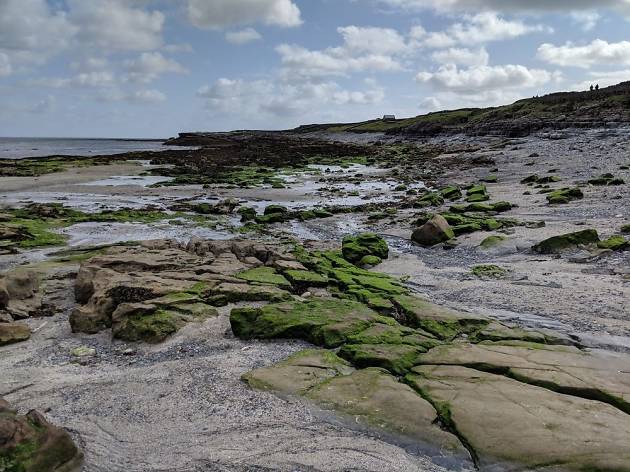 Photograph: Courtesy Yelp/Jacqueline T.
Go glamping on the Aran Islands
What is it? The fancier version of camping on the largest of the Aran Islands, Inis Mor.
Why go? The Aran Islands are a set of three small islands just off Galway Bay. They're famous for a series of ancient monuments and beautiful scenery. If you're keen to explore them more than briefly, book a spot in the glamping site near Inis Mor's main town, Kilronan, and sleep soundly to the not-very-distant roar of the ocean waves.
5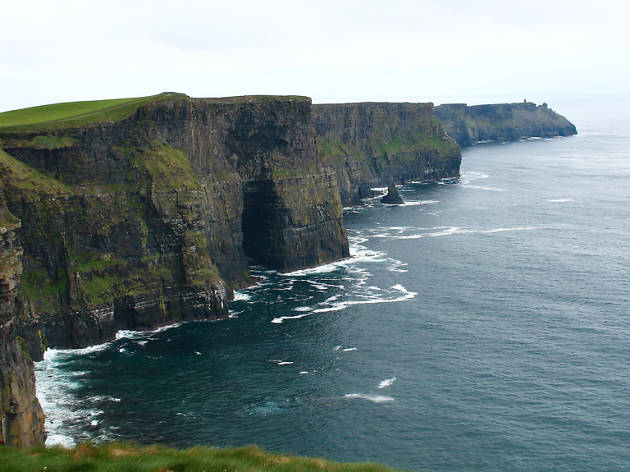 hotograph: Courtesy CC/Flickr/John Menard
Wave to Canada from the Cliffs of Moher
What is it? A stretch of cliffs in County Clare offering uninterrupted views across the Atlantic.
Why go? One of the most gorgeous spots in an over-all gorgeous country. The Cliffs of Moher aren't a favourite tourist spot for nothing – they really are stunning. But don't let their fame put you off from going. No matter how many people visit, when you cast your eyes out across the Atlantic you'll feel like the only person for miles and miles - apart from those living on the otherside of the ocean!
6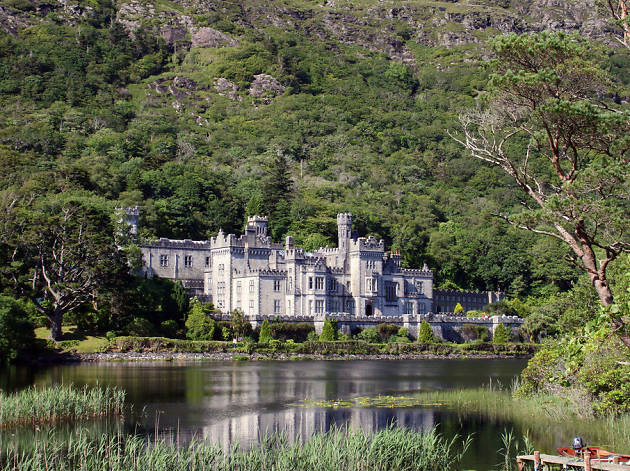 Photograph: Courtesy CC/Flickr/Bert Kaufmann
Take afternoon tea at Kylemore Abbey
What is it? Scones, cakes, pies and more in the café of a Benedictine Monastery in Connemara, County Galway.
Why go? Visting Kylemore Abbey, a monastery founded in 1920 by Belgium nuns and set in the grounds of Kylemore Castle, is pleasant enough in itself, but whilst you're there make sure to sample the delicious produce served in the abbey's café. Then, take a stroll around the Victorian walled garden.
7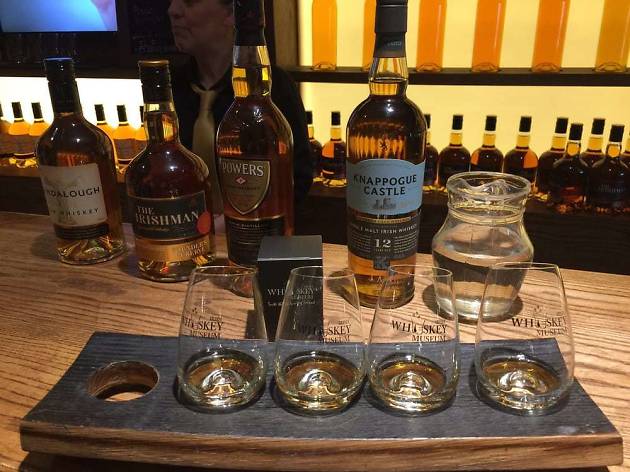 Photograph: Courtesy Yelp/Neil N.
Wash away your troubles at the Irish Whiskey Museum
What is it? Interactive tour through the history of Ireland's favourite spirit in Dublin.
Why go? Like the Guinness Storeroom, the Irish Whiskey Museum is a thoroughly modern tourist attraction. The popularity of the venue links closely to the popularity of the drink, which has boomed in recent years. Taste not just one, but a whole selection of different tipples.
8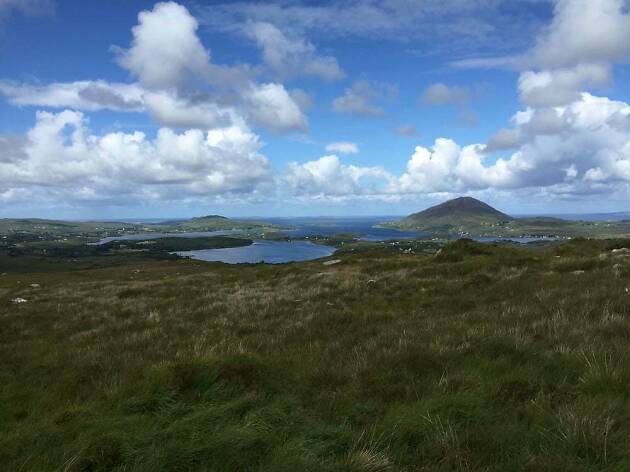 Photograph: Courtesy Yelp/Daniel L.
Find the ponies in Connemara National Park
What is it? One of Ireland's six national parks, located in County Galway and a paradise for bird-spotters and outdoor pursuits fans alike.
Why go? Connemara National Park boasts an amazingly wide variety of landscape: mountains, bogs, heaths and woodlands vie for attention here, as does the wildlife. The area gives its name to the lithe Connemara ponies, but you can also spot red deer and millions of different birds.
9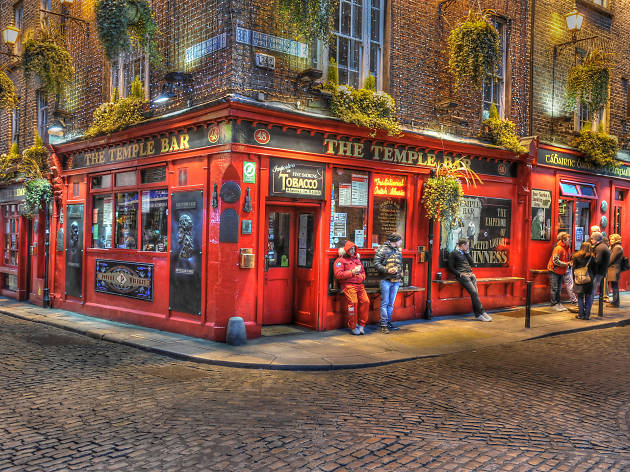 Photograph: Courtesy CC/Flickr/zpics
Try to choose between over 450 whiskeys in the Temple Bar Pub
What is it? A very well loved and lively pub know for its sexy oysters and HUGE collection of whiskey, bourbon and scotch.
Why go? If you've come to Dublin for a good time, chances are you'll at some point end up in the Temple Bar area of the city. The pub that shares the area's name boasts a collection of over 450 different types of the world's favourite brown liquor. Just err… don't try them all.
10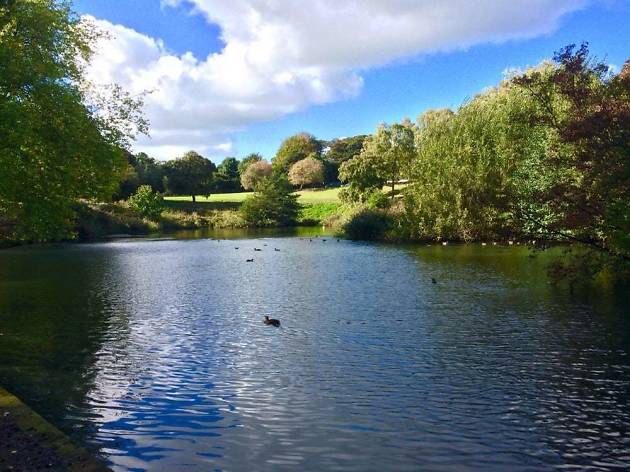 Photograph: Courtesy Yelp/Alessandro V.
Have a picnic in Phoenix Park and make some deer friends
What is it? The biggest public park in any capital city in Europe, home to both the President of Ireland and some beautiful deer.
Why go? Why wouldn't you? It's a huge, walled park with sports fields, expansive open, green space and it recently won an award at the Inaugural International Large Urban Parks Awards. Pack up a picnic and go spot the herd of fallow deer.
11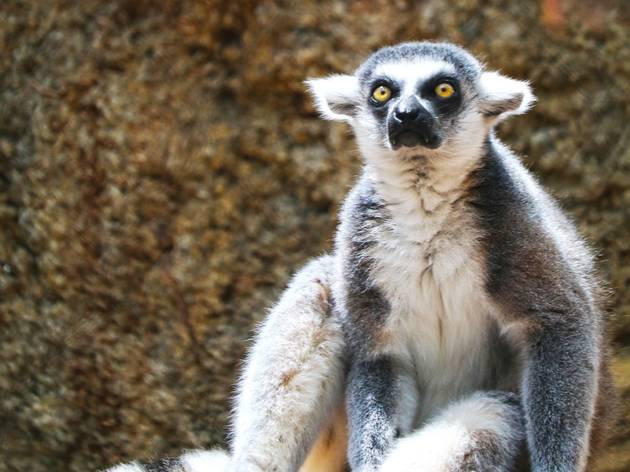 Photograph: Unsplash
Say hello to the lemurs in Dublin Zoo
What is it? Phoenix Park zoo containing animals from all corners of the world, and one of the oldest zoos around.
Why go? Like many modern zoos, Dublin's centrally-located zoo is now dedicated to conservation and saving endangered species. This means visitors can get fill their heads with facts, whilst also enjoying walking around the massive grounds within Phoenix Park.
12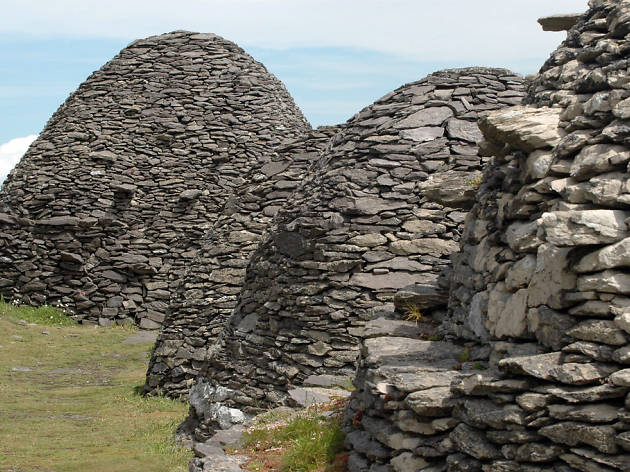 Photograph: Courtesy CC/Flickr/Maureen
Climb the 600 steps up to Skellig Michael monastery
What is it? An ancient monastery located on Skellig Michael, a small island off the south west coast of Ireland.
Why go? You're unlikely to come across something quite like this ever again. The now abandoned monastery on Skellig Michael includes dome-shaped cells, a church, an oratory, a graveyard and a whole lot of steps. Hot baths for aching calf muscles are very much allowed afterwards.
13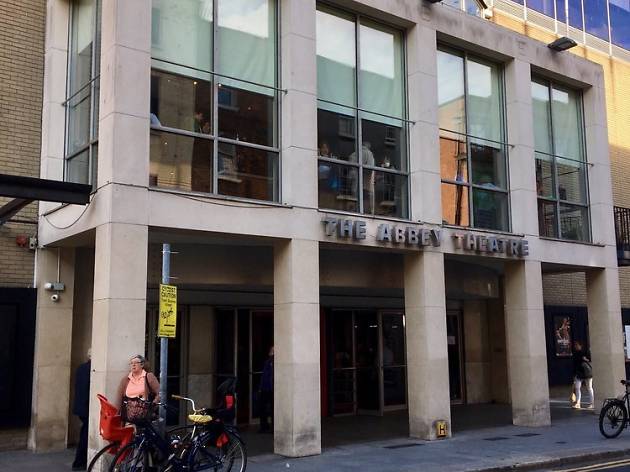 Photograph: Courtesy Yelp/Dennis G.
Spend an evening at Dublin's iconic Abbey Theatre
What is it? The National Theatre of Ireland and the historical venue that launched the careers of many of Ireland's most famous playwrights.
Why go? Irish theatre is having a moment in the sunshine, with its venues consistently programming a brilliant range of directors, playwrights, companies and performers. The Abbey is Dublin's most famous theatre, but make sure you also check out The Gate and many of the city's smaller performance spaces – you never know what you might see in a room above a pub.
14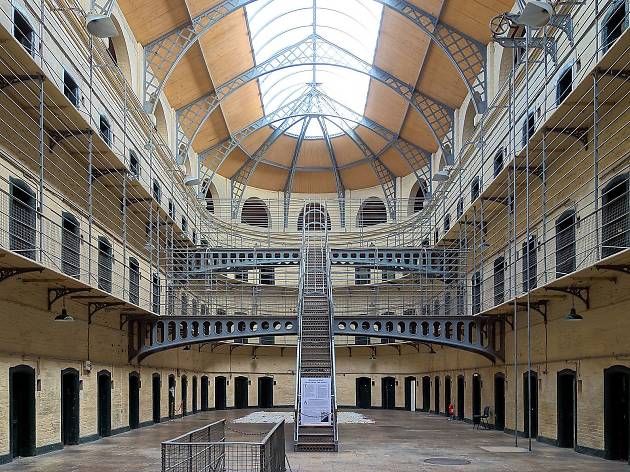 Photograph: Courtesy CC/Wikimedia Commons/Velvet
Become acquainted with Irish history at Kilmainham Gaol Museum
What is it? Former prison in Dublin now turned into a museum where visitors are told the story of a nation.
Why go? Dublin provides endless opportunities for letting your hair down, but it's also a city seeped in history – some of it very recent. The Kilmainham Gaol is a striking reminder of the turbulent route to independence and the people who fought for it.
15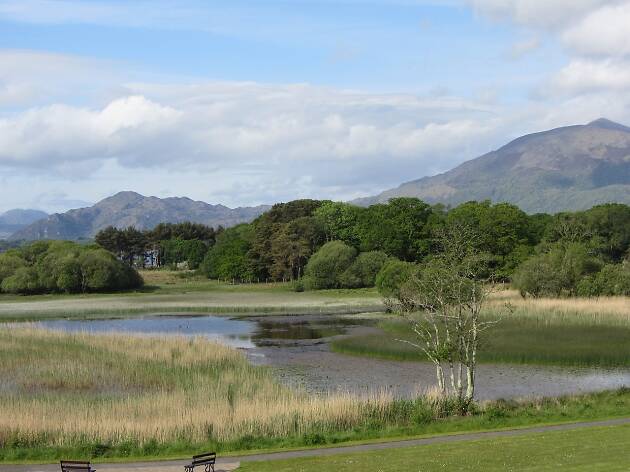 Photograph: Shutterstock
Watch the morning sun ripple the lake water in Killarney National Park
What is it? The first national park to be created in Ireland and the location of the country's highest mountain range.
Why go? If you're in search of epically stunning landscapes, Ireland isn't exactly short of them. The thing that makes the Killarney National Park special is the sheer range of different features in it – including large lakes that reflect the dramatic sky.
16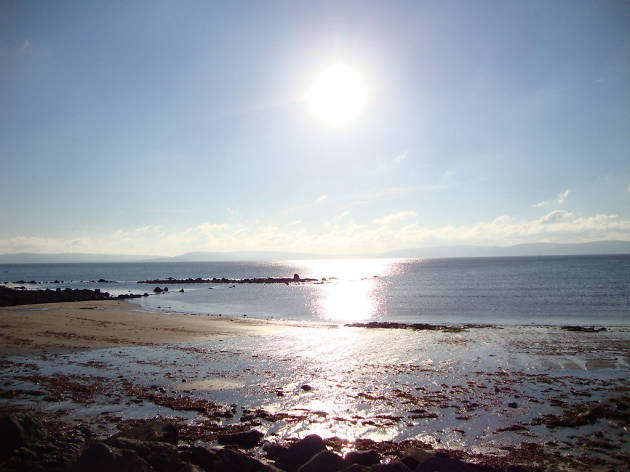 Photograph: Courtesy CC/Flickr/Evangelos Kalampokis
Watch the boats criss-cross Galway Bay - or get on one
What is it? A lovely bay along the west coast of Ireland for fishing, sailing, swimming or just watching the world go by.
Why go? Some would argue that Galway is a little over represented in this list, and they might have a point, but there are so many reasons why it's an attractive area to visit. Not least is the strip of coast known as Galway Bay. Whether you view the bay from standing on shore, swimming in the sea or cruising in a boat, it'll make for some great memories.
17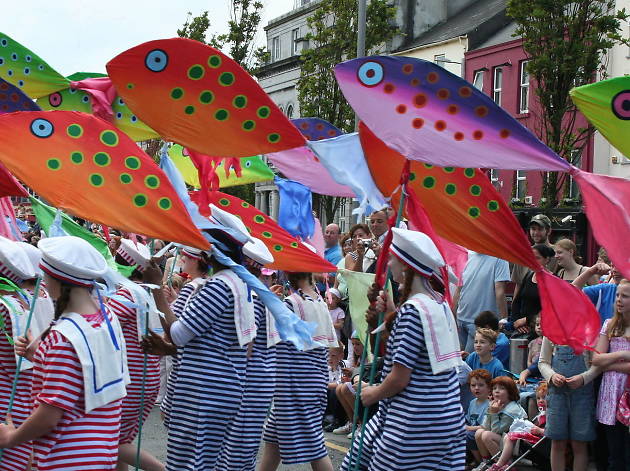 Photograph: Courtesy CC/Wikimedia Commons/Peter Clarke
Get your annual arts fix at Galway International Arts Festival
What is it? Ireland's biggest arts festival bringing together theatre, visual art, dance, literature, performance and more.
Why go? In 2018, Galway International Arts Festival will have been going 41 years. Like its yearly counterpart in Edinburgh, there's so much going on here, the problem is going be deciding what you can possibly bear to miss. The only solution, really, is to come back next year...
18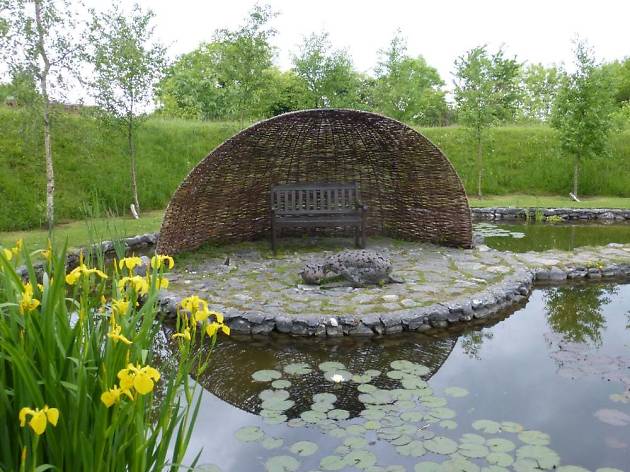 Photograph: Courtesy Yelp/Mia W.
Become a folklore expert at Brigit's Celtic Garden
What is it? A truly magical garden nestled in woodland and wildflower meadows, giving a sense of the land's history.
Why go? These lovely gardens will introduce you to Celtic mythology and heritage… but even if you're not that interested in fairies and the Celtic calendar, this special spot will still be sure to calm and sooth simply through looking so damn pretty.
19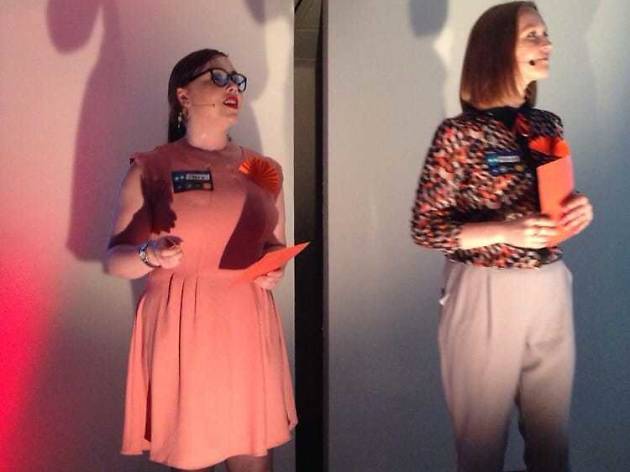 Photograph: Courtesy Emily C.
Gorge yourself on new plays at Dublin Theatre Festival and Fringe
What is it? An autumnal take-over of the capital city by world-class theatre groups from Ireland and across the globe.
Why go? The Edinburgh International Festival and Fringe might be better known, but head to Dublin from September onwards and you'll be treated to the nation's most creative and brilliant producers of theatre, plus the more experimental companies working on the Fringe.
20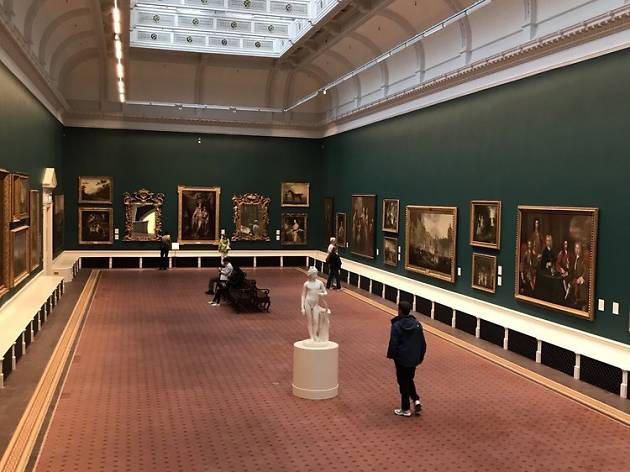 Photograph: Courtesy Yelp/Jason L.
See the best in historic Irish art at the National Gallery of Ireland…
What is it? The name says it all really. Inside you'll find a huge collection of artworks by Irish and European artists from 14th– 20th century.
Why go? Again this is the big hitter and it's certainly worth a visit, not least because its collection will take you through the major art movements of the last centuries, whilst also showcasing home-grown artistic talents.
21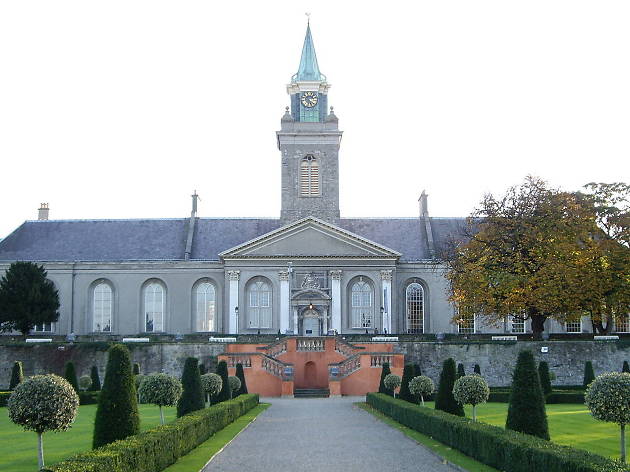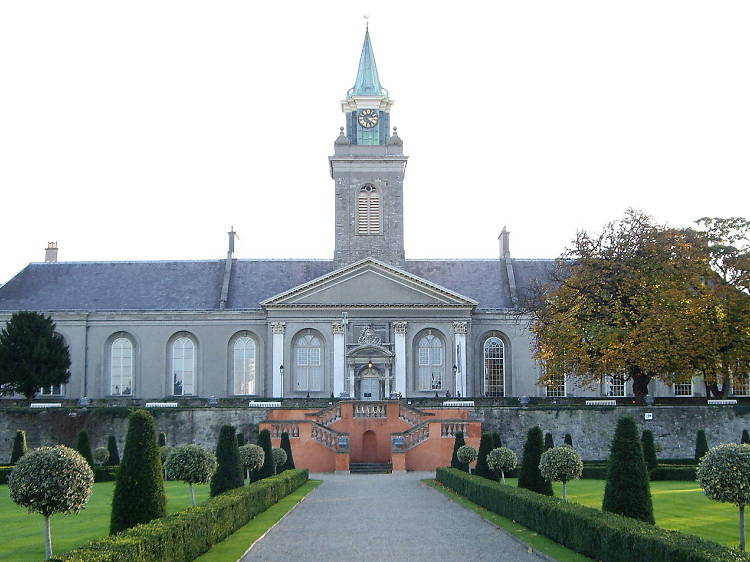 …And then see the best in Modern Irish art at the Irish Museum of Modern Art!
What is it? Also known as IMMA, this is the country's top gallery for seeing modern and contemporary art.
Why go? As with the Abbey Theatre, don't limit yourself to the NGI if you're an art fan. Dublin alone is filled with galleries, including the Irish Museum of Modern Art, the Gallery of Photography Ireland and Project Arts Centre (also used to stage some great theatre and performance). IMMA's treasures include a substantial new collection of Lucian Freud paintings.