Get cosy at the Runaway Bay Tavern's Winter Retreat
Gold Coast now has a ski lodge-inspired hideaway, complete with mulled wine and family-friendly activities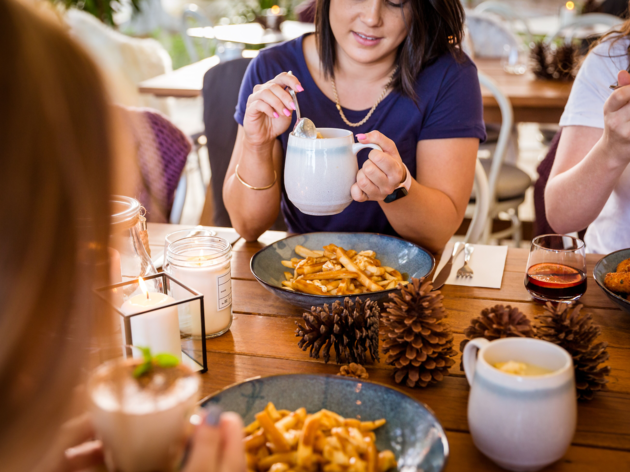 This winter, you don't need to go all the way to the snow to enjoy an après-ski right in the middle of Gold Coast. (And let's be real, for many of us that's the best part of a skiing holiday anyway.) That's because the Runaway Bay Tavern has converted a section of its restaurant into a ski lodge-inspired Winter Retreat. You can cosy up with cushions, blankets and hot beverages just like you're at home, but with the added benefits of socialising and not having to cook or clean up afterwards.

The Winter Retreat menu is designed to warm you up with hearty comfort food such as soups and roasts. But if that's not your style, the regular bistro menu is also available featuring steaks, pizzas and classic pub grub like chicken parma and fish and chips. There are also plenty of fun, seasonal drinks to help you embrace the chill, including mulled wine and spiked hot chocolates. Not to mention a 'Snowjito' which is an ingenious combination of a Mojito and a snow cone, and the most enjoyable way possible to get a brain freeze. While the adults enjoy their beverages, kids can get their faces painted from 6-8pm on Fridays and Saturdays, so everybody's happy.


The Winter Retreat is open daily at Gold Coast's Runaway Bay Tavern for lunch and dinner through to the end of August. For a limited time, you can enter this online competition to win $300 spending money, which should be more than enough to shout everyone in your group a Snowjito or two.