5 ways MGM Cotai's new show Fuerza Bruta Wayra will surprise you
This outside-the-box theatre and party event is unlike any show you've been before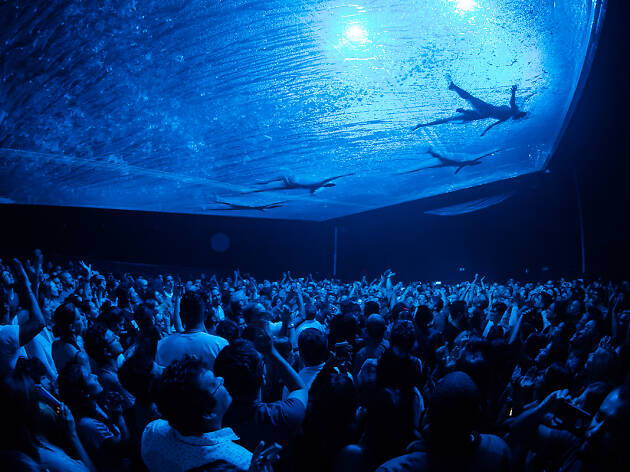 MGM Cotai wants you to forget everything you know about attending the theatre. From June 14 to August 4, the resort is bringing internationally-acclaimed Fuerza Bruta Wayra to Macau and throwing the rulebook out the window with seven weeks of action-packed, immersive performances.
Combining jaw-dropping acrobatics with the electric energy of an EDM festival, this one-of-a-kind theatrical experience doesn't have fixed seats or a stage. That means, all night long, audience members are as much a part of the show as the performers. With an audience count of 2.5 million and counting across 27 countries, the production is clearly onto a winning formula. Don't worry about keeping quiet, either. You're expected to participate. Get your tickets now! By Amanda Sheppard
RECOMMENDED: Got bitten by the theatre bug? Here's more amazing shows, gigs and concerts to look forward to in Hong Kong and Macau.
5 ways MGM Cotai's new show Fuerza Bruta Wayra will surprise you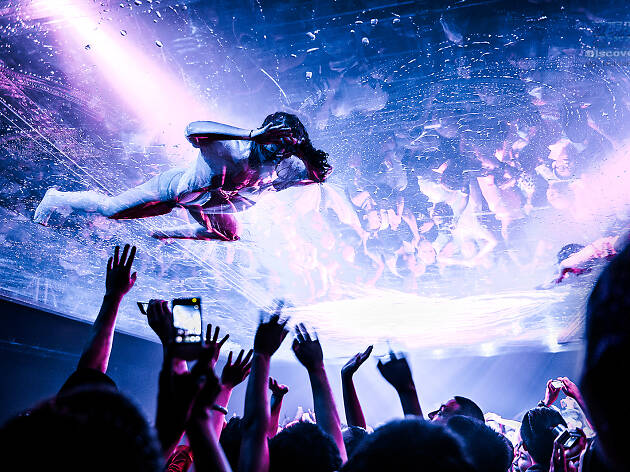 ZHAO-JUNSHI
Aquatic acrobatics like you've never seen them before
We've seen theatrical performances use water as a gimmick – a splash here and there towards the crowd to add a dynamic element to the production. But Fuerza Bruta Wayra is making waves in other ways. Mylar is a water-based performance that sees daring feats take place overhead. A pool of water is suspended overhead – its bottom translucent and malleable, moving as the performers do – within reach of audience members. Performing artists stand, run, swim and jump across the stage overhead, giving you a unique perspective and vantage point.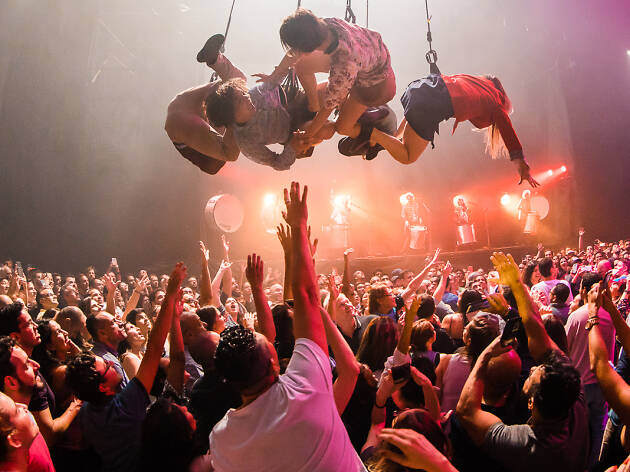 Redefining the aerial arts
Aerial arts are hardly a new concept, but true to form, Fuerta Bruta Wayra takes everything one step further. In Bollo, aerial artists not only take flight, but they soar to new heights. Experimental lighting flickers on and off the performers, who seem to appear in different places throughout the arena at the flick of a switch. Redefining crowd-surfing by flying overhead, the show's front row is rendered irrelevant as every member of the crowd is within arm's reach of the performers. You'll get a slice of the action no matter what seat you're in.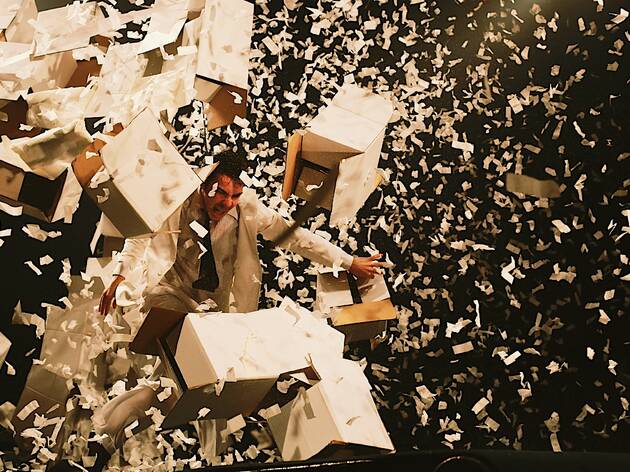 They're not ones to tread lightly
Immersive theatre is a feast for the senses. Throughout the show, performers run riot through the theatre space – through the crowds, along the stages and through the air. In the Corredor segment of the show, performers run on a moving treadmill. Rather than running to enact a scene, the scene comes to you, with a wall moving towards the treadmill at great speed. Not ones to shy away from a challenge, ladders, doors and a whole host of props follow suit soon after.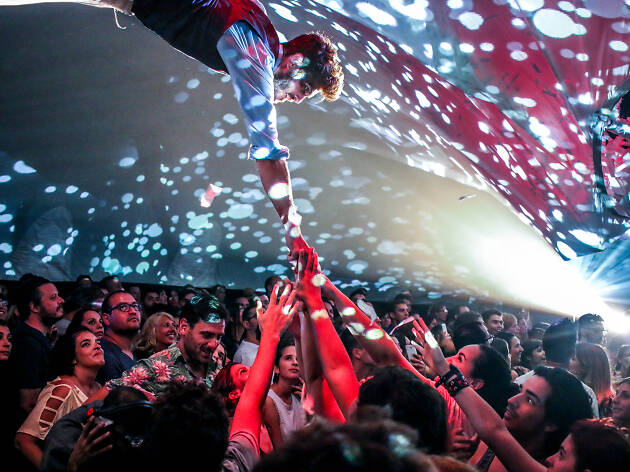 Rules were made to be broken
In this case, the rules are: there are no rules. Snap-happy audience members will take comfort in the fact that they won't need to smuggle their phones on their person or sneak a selfie during a particularly memorable moment. Photos, videos and social sharing are not only permitted, they are very much encouraged, as is interacting. Move around and explore the wide, open theatre space, with performers overhead and around each corner vying for your attention. Feel free to touch the set, stage and equipment as they pass you by. Sing, shout, and dance along to the music, and remember that applause dosesn't need to be relegated to the end of a performance.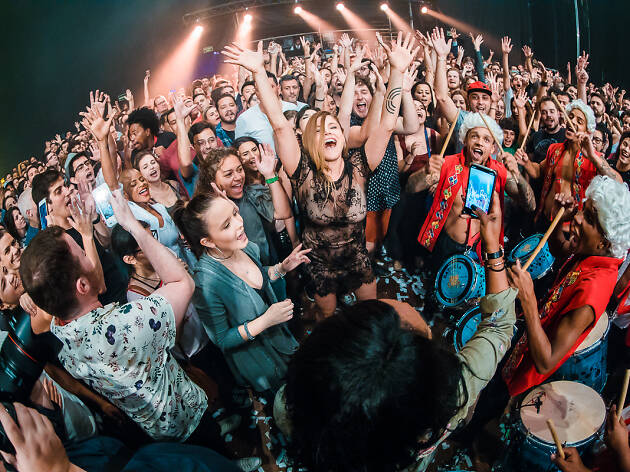 After premiering in Buenos Aires more than 12 years ago, Fuerza Bruta Wayra is bringing its unique party atmosphere around the world. The production's name translates to 'brute force' – which is a pretty good indication of how your evening is about to go down. Fuerta Bruta Wayra eventually culminates in an all-out party – complete with strobe lighting, water cannons and a crescendo-building musical performance that surrounds its audience members with a 360-degree, multi-sensory show that goes out with a bang.