Heads up! We're working hard to be accurate – but these are unusual times, so please always check before heading out.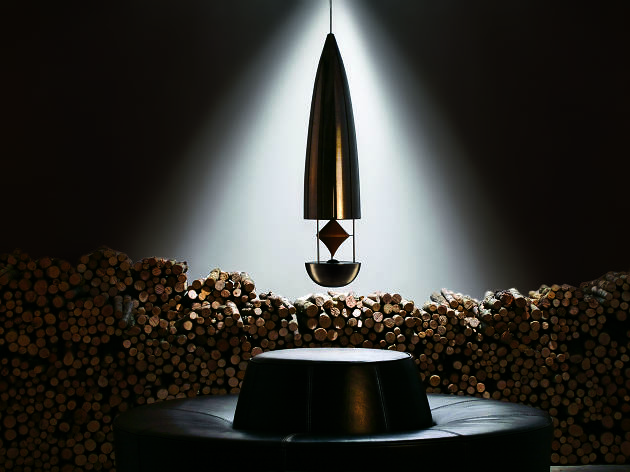 Holon's must-"hear" exhibit of the summer: 'Sound and Matter in Design'
International and local designers bridge the gap between sound, matter, and our environments in this sound-based exhibit
Holon's number one design museum seems to have a common theme this year: the senses. First came sight, with their weird and wonderful eyeglass exhibition 'Overview,' and now, they're moving on to tackle the auditory senses. 'Sound and Matter in Design' aims to connect our auditory experience as an amorphous theme with the design world by examining five unique aspects in an entirely interactive way.
The first work visitors encounter upon entering the exhibit is 'The Architecture of Sound / The Sound of Architecture,' which "integrates sound elements into the museum architecture [to] transform the museum into a structure performing a unique musical creation, in which the visitors are the chief performers."
The exhibition invites its 'performers' for an all-round tactile encounter where they can hear, see, and feel the sounds around them; an invitation to not just experience, but rather be this central component designed by society and culture.
The Upper Gallery's 'Seeing Sound' showcases over 50 objects created by local designers as well as iconic objects by international designers, all of which express the technological processes of sound and how these developments (from 1960 to the present day) have impacted the design world.
While the design world is characterized by physical and visual elements such as matter, color, and texture, when in its raw form, sound becomes an equally important abstract element available to the designer. This notion is articulated through vertical record players, linear gramophones, and even tactile sound projects for Alzheimer's patients, designed by this year's graduates from the Department of Industrial Design at the Bezalel Academy of Arts and Design.
Sound is even translated to jewelry in Dana Hakim Bercovich's solo exhibition 'Through the Mesh,' which reimagines the metal mesh used in audio speakers to produce beautiful necklaces and decorative pieces.
From radios to installations to LEGO blocks, fabrics, and even vegetables, visitors will see, touch, hear, and experience sound in ways they never thought possible.
Until October 28. Design Museum Holon, 8 Pinhas Eilon St, Holon (073-2151500, dmh.org.il).
Some exhibit highlights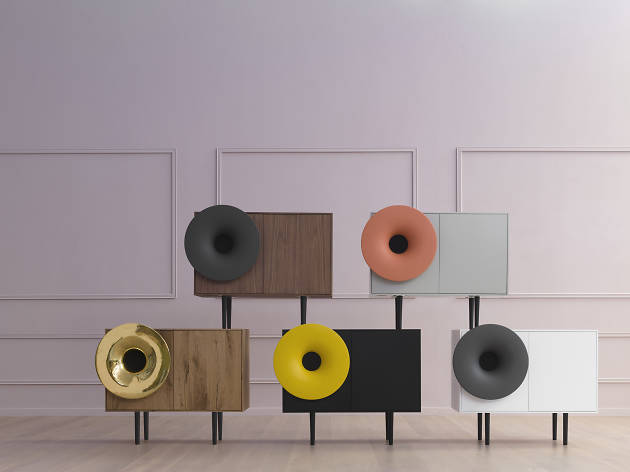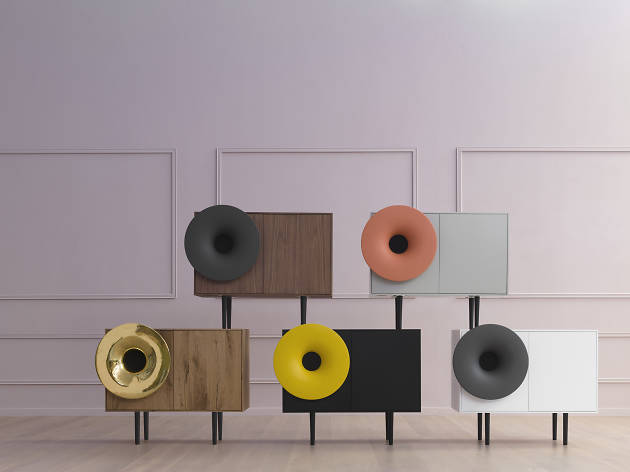 © Federico Marin
Paollo Cappello, "Caruso" (Miniforms - Newblack 2014)
An edgy blend between futuristic and nostalgic, Cappello's Miniforms straddle the line of irony as hi-tech meets humanity, iPhone meets furniture, in their multi-sensory décor. Caruso invites guests to immerse themselves in a timeless world – dimly lit, calm, comforting – and reconnect with the magic of hearing and seeing an object that plays good music: past, present, and future.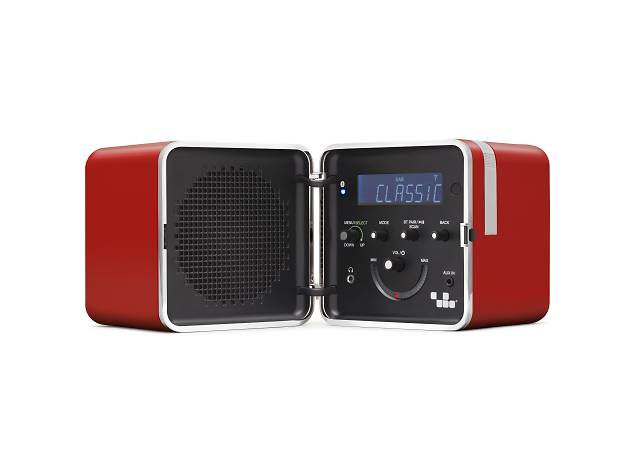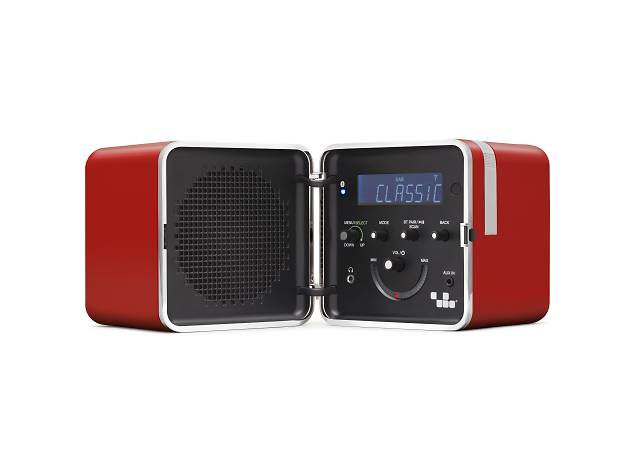 © Giorgio Serinelli
Richard Sapper and Marco Zanuso, "Cubo Radio TS 505" (1977)
Listening to the radio is an intimate experience; with it, comes a certain element of control: Who can listen? Who might overhear? What contents will be exposed? Marco Zanuso and Richard Sappo designed this portable radio with intimacy in mind: "we wanted to create a radio that does not reveal its nature unless you open it." When closed, the TS 505 is no more than a shelf fixture; however, much like an oyster, when opened, a pearly treasure trove of speakers and knobs hide inside.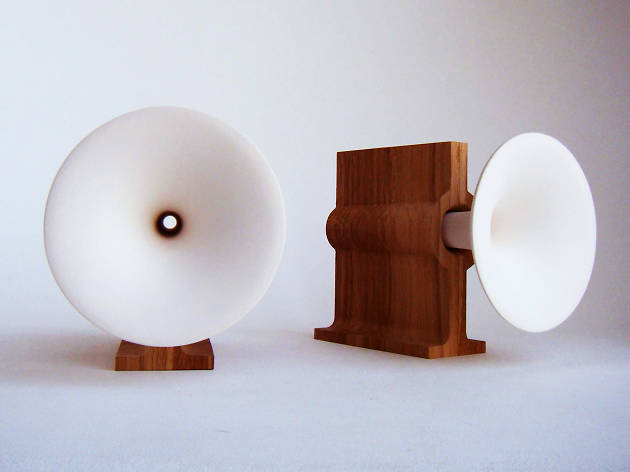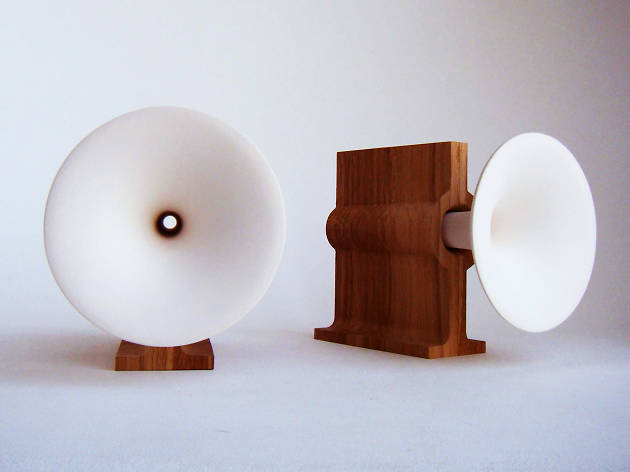 © Andrew Beaumont
Andrew Beaumont, "Ceramic Amplifiers" (Prototype 2009)
While technology continues to develop at exhausting rates, the original sources of sound still hold their pure beauty. Andrew Beaumont's ceramic and wood speakers recognize this beauty as they marry the more recent headphones with his "passive amplifiers" to create a reverberation of sound much like that of the classic gramophone. Something old, something new.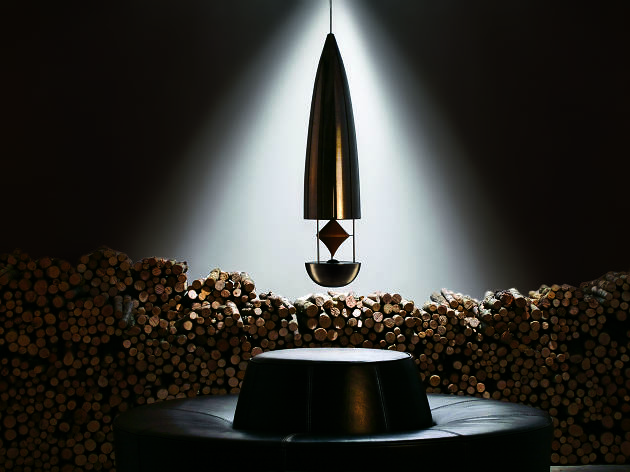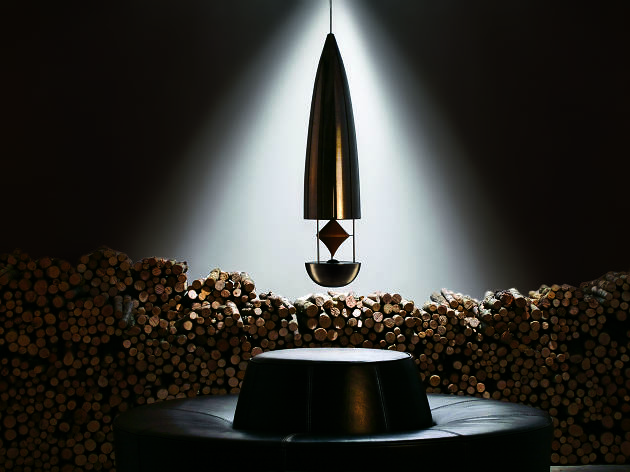 © Francesco Pellisari
Francesco Pellisari, "OMNI" (NAC Sound 2016)
Sound is omnipresent. It follows us everywhere – whether walking through the streets listening to the horns of traffic, or in our living rooms listening to the horns of Dizzy Gillespie and Christian Scott. Francesco Pellisari's spherical speaker embraces this inevitable omnipresence of sound as it dangles down from the ceiling, to symbolize the "power of sound in a given environment."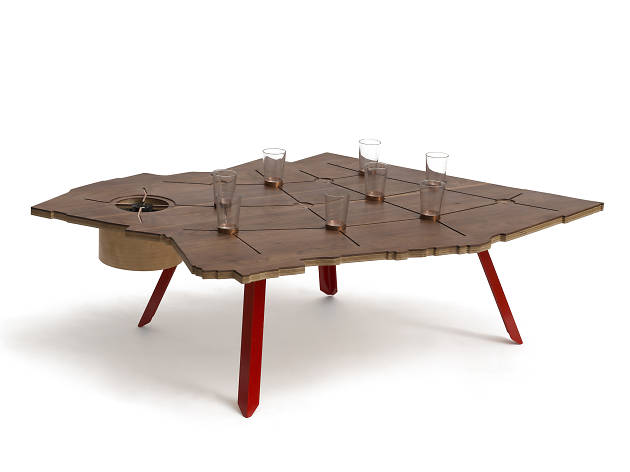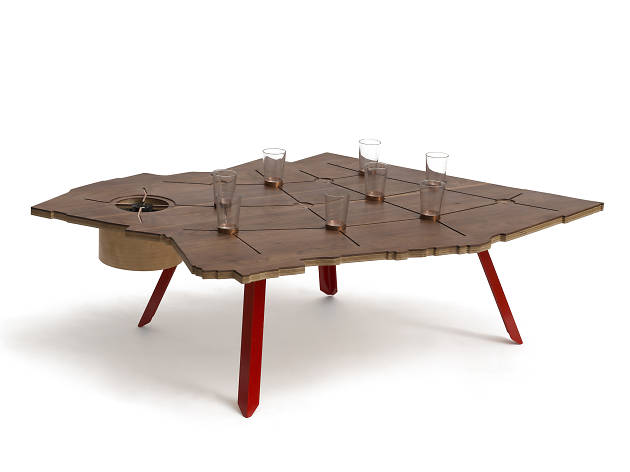 © Elad Sarig
Ezri Tarazi, "Maqam Makom" (Tarazi Studio Ltd 2015)
Much like coffee, Middle Eastern music is more than an art form, it is a culture. This unique table – named after the Arabic system of melodic modes and structures – pays homage to two cultural elements vital to social gatherings: drinking coffee and sharing music. As a cup moves from groove to groove, musical loops are activated to emphasize the "complex beauty of a joint group creation."
See more Israeli art