Your ultimate guide to Israel
Discover the best events, things to do, restaurants, music and nightlife in Israel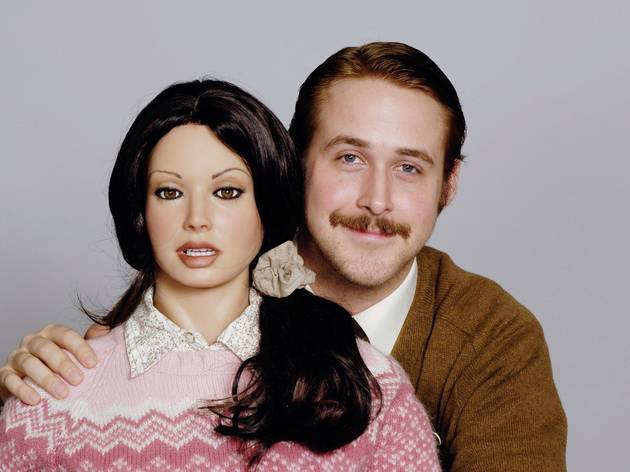 10 euphoric establishments to take a first date in Tel Aviv
Searching for romance in the White City can feel as useless as searching for meaning in a Pauly Shore movie. However, when you find that special someone – whether through an impulsive (possibly accidental) right swipe or running shirtless along the beaches of Tel Aviv – it's important to make a lasting first impression. Time Out tried out all the Tel Aviv restaurants, wine bars, (and eligible bachelor/ettes) in search of the best places to take that new potential suitor. Quiet ambiance: check, mood lighting: check, liquid confidence: check.   Describe your perfect date... via GIPHY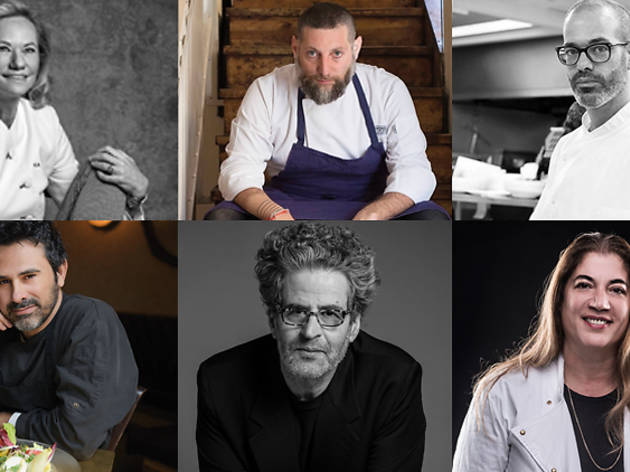 Where Israeli chefs eat
Ever wonder where chefs really eat? We did! When you are locked up in the kitchen all day – cooking, boiling, frying, roasting, baking, and tasting – who has the strength or the will to eat out? You know that old joke about gynecologists...well, apparently chefs love to eat out and as much as possible. We distributed a questionnaire to 49 of the top Israeli chefs, asking them what local restaurant they like to frequent, what local food they love, the best street food in their opinion, and their favorite luxury restaurant, out-of-town eatery, and restaurant to visit when abroad. The answers are in, so all that is left for us to do is wish you all Bon Appetite. If you want a sneak peek at the answers right now right here, we've got the names if the 11 restaurants the chefs like most.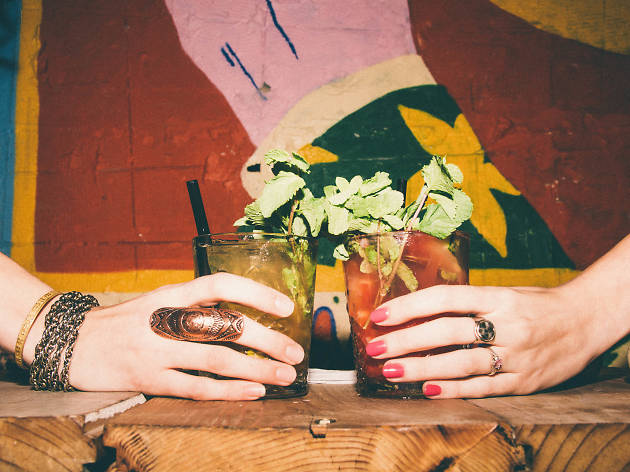 HaKerem happenings: cool bars and restaurants in and around the Carmel Market
By day, the Carmel Market, one of the best markets in Israel, is a carnival scene: a clash of curious tourists taking their sweet time and impatient locals just trying to buy dinner. As fish guts and fruit peels are thrown into the main street and water washes away a long day's work, the shuk becomes void of all shoppers and signs of human existence. Nightfall is when the magic happens. Nestled down the alleyways off the market are some of the best restaurants and hidden bars in Tel Aviv. We're sharing our city's well-kept secrets and recently discovered hipster hotspots (that are not in Florentine!) because they're too cool to pass up, espacially The Space on a Tuesday, when the bar is transformed into an Israel jazz lover's dream. Bring some friends to Carmel Street, but just remember, the more on the down-low you keep these establishments, the less crowded they'll stay.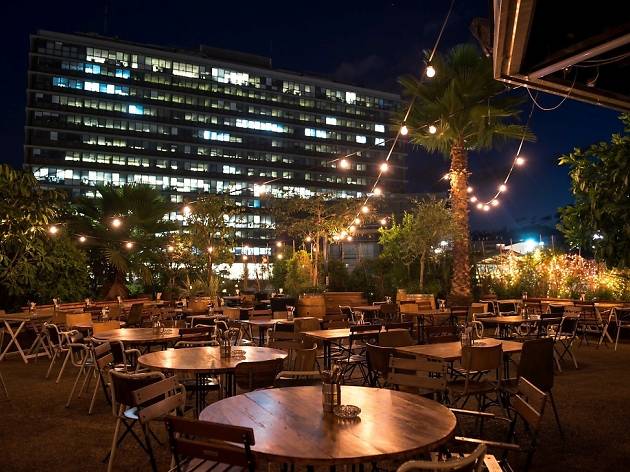 The best bars in Tel Aviv with outdoor patios
Tel Avivians wait anxiously all winter long for those suffocating plastic patio covers to come down and the fresh White City air to flow in. With the sun shining bright and the rain out of the picture, there is nothing more satisfying than soaking up some rays while drinking the day away on a patio. Watch the people walk by on Rothschild Boulevard, experience front row seats to the new kikar Dizengoff in the making, hipster it up happy hour style around the Great Synagogue, or sip veuve clicquot at Neve Tzedek's Parisian-packed Israeli wine bars. There's no going wrong with our list of the best bars in Tel Aviv with outdoor patios.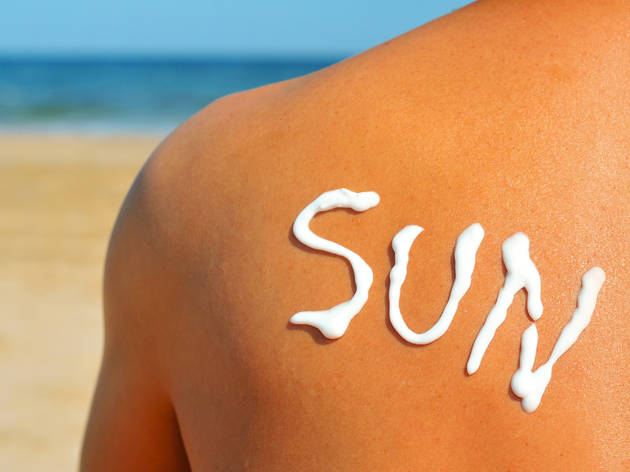 22 things that will definitely happen to you when you move to Israel
That first year as a transplant is chock-full of surprises, but these 22 'life events' are a given – for better or for worse.   1. You will walk a significant amount more than before.   2. You will ride a bike. You won't own a helmet. 3. If you live in Tel Mond, Ramat HaSharon, or Ramat Gan, you will make friends in the city center so you have somewhere to crash after a night out in Tel Aviv. 4. You will get: a) an impulsive tattoo b) tragus piercing c) radical haircut d) all of the above   5. You will rewatch "You Don't Mess With the Zohan" and actually laugh this time. via GIPHY 6. You will have no idea what month it is for about a year, until you get used to the region's subtle seasons...you will therefore get sunburnt in January. 7. You will fall victim to the dirty Shuk water that drips from the awnings down your back. 8. Your driver's license will expire AND you will forget how to drive a car. via GIPHY 9. Also, you will discover that while easy for some, parallel parking is NOT a walk in the park for everyone (particularly Israelis). 10. You will decide to sign up for a half marathon after a few jogs along the beach... 11. You will attempt to run that half marathon... 12. You will fail on the first try. 13. You will learn to barter with every salesperson, even the retail manager at Castro. 14. You will learn to sport a jacket in sweater weather, sweater in T-shirt weat
Latest news on the blog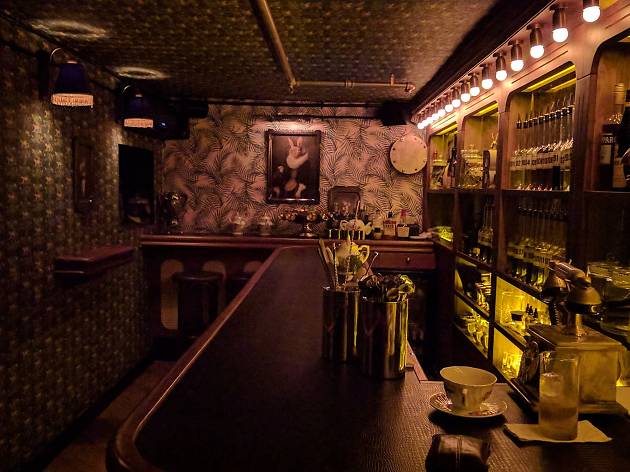 Ariel Leizgold unveils his newest cocktail bar creation: Butler - a Wes Anderson meets Charles Dickens meets Jekyll and Hyde masterpiece
Imagine walking up to a hotel reception desk reminiscent of The Grand Budapest Hotel. The concierge dials a number, hangs up, and as if by magic, the door you barely noticed when you first entered the building swings open and a dapper host gestures you inside.   You step into the jazz age: swing music plays fervently from every corner of the bar, bird cages swing by with burgers inside and you nearly trip over a pram filled with oyster shells on ice.   © Anatoly Michaello         And just when you think things can't get any quirkier, the host escorts you past this alternate universe you've just entered to a hidden door masked as a bookshelf of sorts. Waiting on the other side: a secret passageway into yet another alternate universe (a parallel universe as Leizgold describes it). Only this time, you've traveled more than a century beyond the 1920s into the Victorian era.   The quaint one-room bar nestled inside Bellboy is a visual orgasm – the animal-print walls are adorned with period pieces like paintings, key holders and other gems. Mason jars filled with octopi, squids, brains and other organs add a little extra "Dr. Jekyll and Mr. Hyde" feel to the Victorian ambiance; an old rotary dial sits promptly at one end of the bar, mixology mastermind Ariel Leizgold at the other.   © Anatoly Michaello         Leizgold, Time Out's 2016 Best Bartender and the man behind 223 and Bellboy, tastes a cocktail whipped up by a bartender, Guy Avner. They are giving
Start it up! Israeli innovators shaking up the tech world
Storedot Storedot's revolutionary technology will fully charge smartphones in five minutes using proprietary amino acids instead of the lithium components in traditional batteries. Also in the works: technology that charges car batteries in five minutes and phone charging cases with battery packs set to launch this year.    Mobileye Mobileye was recently acquired by Intel for a whopping $15 billion dollars making it the largest deal ever made in Israeli high-tech. The company is working on developing semi-autonomous and fully autonomous vehicles. As in, cars capable of sensing their environments and navigating without a human driver.      SCIO The world's first portable molecular sensor enables you to scan fruit and find out not only if it's organic, but all its nutritional info (and even be sure you're buying the sweetest watermelon!) Scan your pill to make sure it's what it claims to be or even your skin to check for dehydration.  $299 (consumerphysics.com)   The Kitchen When Strauss company won a bid from the Israeli government to develop the first food tech incubator in the county, The Kitchen was born, giving way to a hotbed of fresh ideas. Current food-tech startups range from Flying Spark, a company making insect protein from fruit flies, to BactuSense, a rapid bacteria detection.    Zebra Medical Vision This digital healthcare startup claims it has developed an algorithm with the potential to improve breast cancer detection better than radiologists usi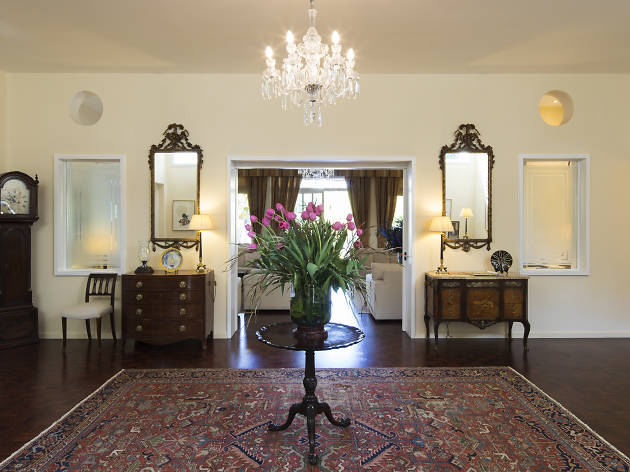 Open House Tel Aviv: the largest architectural event in Israel opens its doors to the public this May
With a unique look at the connection between the community and urban spaces, hundreds of tours will be held from May 18-20 for the general public....and all for FREE!   This annual Tel Aviv event is part of the 'Open House' umbrella that takes place all across the world. It's a simple but powerful concept: showcasing outstanding architecture for all to experience at zero cost. Open House invites everyone to explore and understand the value of a well-designed building.    House of the Arches Architect Pitsu Kedem © Amit Giron     The event will include an exciting program of rare visits and tours to the most intriguing houses and buildings in the city, some of which have never been opened to the public before. Apart from tours in residential apartments, there will also be fascinating tours about the community in unusual places around the city.   The team of curators, together with the municipality's community management division, dipped into the various communities for months and surveyed the city from north to south. On this journey, they met hundreds of active residents who introduced them to the facilities that they occupy or even built themselves.     The Israeli House Eretz Israel Museum     Among the dozens of buildings that will be open to visitors are: private homes, apartments, historical buildings, and urban buildings. From the Ecological Apartment in "City Tree" in Bialik Square, which exemplifies the city's ecological life, to the "Gabrielo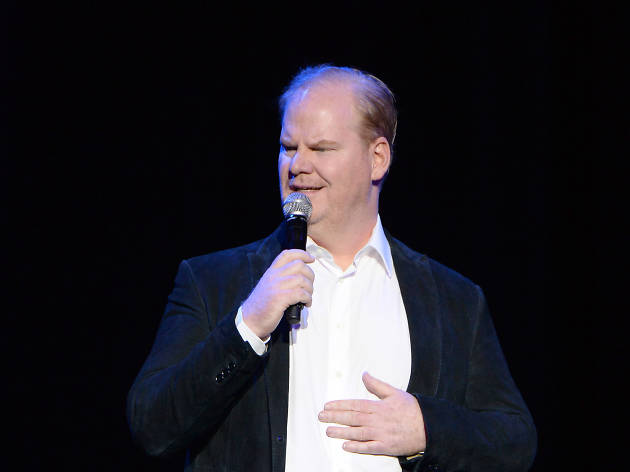 Gaffigan is coming to Tel Aviv. Are you ready?
Comedian Jim Gaffigan will be performing for the first time in Israel with his 'Fully Dressed' 2017 world tour. Who wouldn't want to listen to jokes about fattening food and a house full of Catholic children? 2016 will probably go down as one of the worst years the entertainment world has known, but on the flip side, it was an amazing year for those who make their careers out of frustration and depression - psychologists, drug dealers and, of course, comedians. Equipped with irony, sarcasm and lack of basic sensitivity, stand-up comedians have a way of making despair seem a little more comfortable. The Golden Age of stand-up did not pass over Israel with the arrival of world renowned comedians such as Jerry Seinfeld, Louis CK and more. As a country that really needs a break now and then, it was only a matter of time until the delicious candy that is Gaffigan would pay us a visit.   © PR       The Emmy Award-winning comedian, Grammy nominated actor, New York Times bestselling author and father of five is a different kind of talent. Gaffigan is a clean comedian, one that promises to make you feel really bad about yourself without completely destroying you. His humour about fatherhood, food and daily life comes out in 'Mr. Universe' and 'Jim Gaffigan: Obsessed', which brought him two Emmy nominations, his two best-selling books: 'Dad is fat' (2013 #5 bestseller), 'Food: a Love Story' (2014 #3 best-seller list), his guest roles in numerous series and more. Only last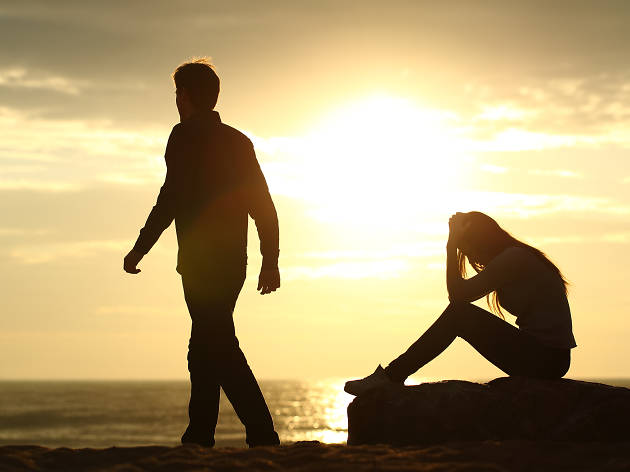 10 relationship arguments you'll have at least once in Israel this summer
It's hot. You're bothered. The insatiable Middle Eastern heat has not only put a damper on your style, it has put a damper on your relationship as well. While these may not be relationship deal breakers, you're puppy love is bound to be interrupted by casual 'tiffs while braving Israel's long, drawn-out summer. Don't ditch your partner just yet. Buckle up, and take a deep breath because you're in it for the long haul. Just remember: what doesn't kill you, makes you stronger.   The Clammy Palm Predicament. There's nothing more romantic than walking hand-in-hand along the beach with the Mediterranean sunset as your backdrop, right? Wrong. Trying to hold onto your partner's sweaty, moist palm is more cringe-worthy than the word 'moist' itself. What did I do to deserve this?   The 'Bussing It' Battle. One of you has had enough of the broiling heat, the other refuses to spend NIS 5.90 on a five-minute bus ride. No one will win.   The Sunscreen Squabble. One is positive they won't burn, even if it's Eilat and the sun is ten times stronger. The other insists on a coat of spray, a thick layer of SPF-50, and 30 minutes of waiting for it to soak in before leaving the hotel room.   The Ice Cream Standoff. While one partner desperately wants Anitas gelato, the other just can't will themselves to cross the line of fire...aka screaming children + stick chocolaty fingers = a white T-shirt's worst enemy.   The Florentin Fight. One of you wants to hit the tourist-packed beaches, the
Eating and drinking in Israel
Sights and attractions in Israel