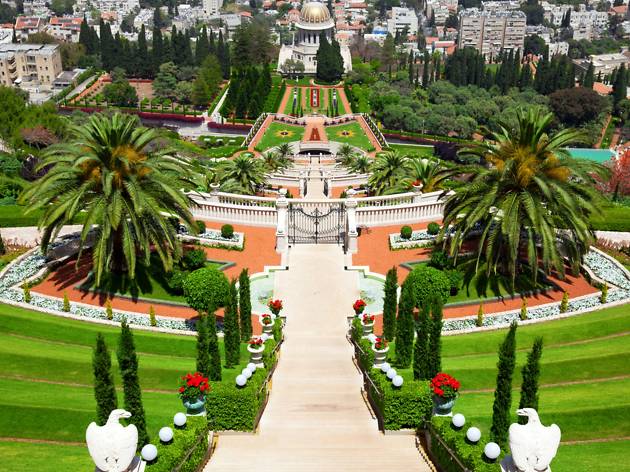 Time Out says
Built by the members of the Baha'i faith who consider Mount Carmel a Holy place, the Baha'i Gardens may be Haifa's most famous attraction.
The Baha'i gardens are built on 19 terraces, beginning at the foot of the mountain and ascending towards its summit. The main axis points towards Acre, a historically and religiously important city to the Baha'i. At the center of the exceptionally beautiful and meticulously maintained gardens stands the Shrine of the Bab, the burial place of the religion's founder, whose golden dome illuminates the grounds. Various sections of the gardens are separated by gravel paths, trimmed hedges and flower beds, which are carefully tended to by a dedicated gardening team.
The gardens offer splendid views of the Haifa Bay, the Galilee and the Mediterranean. It's possible to tour independently, but for an enlightening experience, join the free guided tours (every day but Wednesday). Reservations are not necessary. As the Baha'i Gardens are a Holy place, visitors are asked to dress modestly, keep the place clean and respect its special character.
Details