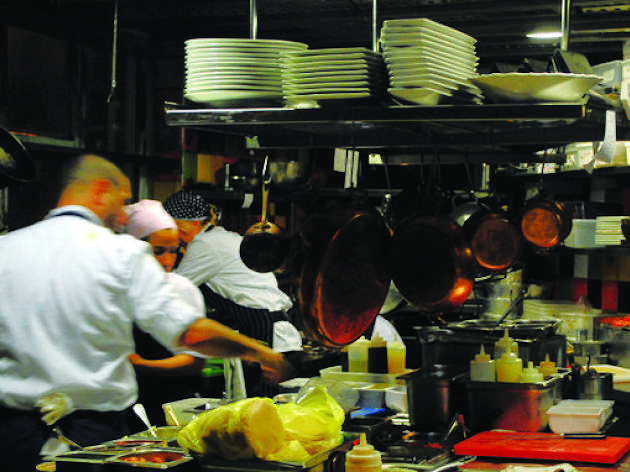 Chow: late night bites in Tel Aviv and Jerusalem
Posted: Friday November 4 2016, 12:31pm
You don't have to dine at a fancy restaurant in Israel to enjoy fine fare. These bars know their food just as well as they know their alcohol, says Yasmin Kaye
Tel Aviv
This popular spot in the heart of Tel Aviv's vibrant nightlife district offers a varied selection of events. You can catch great gigs by local bands, enjoy an eclectic array of DJ sets and soak up the hedonistic atmosphere of Lilienblum Street, all while enjoying delightful food prepared by star chef Eyal Shani. You can order seasonal dishes conjured up by Shani at his Abraxas North restaurant next door, based on a changing list of fresh ingredients. Grab a seat at the bar and soak up the historic atmosphere at this long-lived and well-loved place.
40 Lilienblum St (03-5104435). Daily 21:30-last customer
Just across the street from the popular Barbunia fish restaurant, you can find the Barbunia Bar – a welcoming, slightly rowdy hangout hidden behind an unassuming wooden door. Despite the inconspicuous facade, the place has long since been discovered by an unpretentious local crowd, who pop in for a quick beer with friends or while away a few happy hours over plates of food and some wine. Though the menu focuses primarily on an inviting selection of fresh fish and seafood, a good way to kick off a meal at Barbunia Bar is by sharing some vegetarian mezze, which include a tasty selection of salads and dips. Greasier, bar-style food like fried calamari or garlic prawns complements a cold glass of beer, while more adventurous epicureans can order dishes such as crab in an artichoke and cream sauce, or the intriguingly named seawolf fish. Although service can be a bit haphazard (with the bartenders frequently disappearing to wait on tables or to have a smoke), it rather adds to the charm of the place. The laid-back atmosphere, snug surroundings and (slightly deafening) rock sounds are what make this bar such an established spot.
192 Ben Yehuda St (03-5240961). Sun-Thu 12:00-01:00, Fri 12:00-18:00
Rafi Cohen's popular restaurant Raphael is renowned as one of the best spots in the city for fine dining, offering a stylish combination of French and Mediterranean cuisine with stunning sea views. Hamara is the adjoining bar, which offers beautifully presented smaller portions from the same kitchen, alongside the full restaurant menu. And though the sea views remain the same, the setting has a completely different feel, with a rich color scheme giving the place a decadent, hedonistic vibe that contrasts the airy, bright décor next door. The elegant bar historic atmosphere is complemented by an excellent selection of cocktails and nights featuring local DJs.
87 HaYarkon St (03-5226464). Sun-Thu 16:00-01:30, Fri-Sat 18:00-01:30
Lucifer
This drinking den, tucked away in an old building, is styled as a classic bar, with a warm, welcoming feel. There's an emphasis on providing quality alcohol and food, with customers able to order dishes from popular Italian restaurant Radio Rosco or the Stefan Braun meat restaurant (which are both part of the same site). The place fills up quickly with friendly regulars, and the professional bar staff and good music add to the experience. But Lucifer is no ordinary neighborhood bar. Here you can indulge your voyeuristic side by peering through the porthole-style windows at unsuspecting diners next door, or by watching TV screens suspended over the bar showing live feeds from cameras on the street outside.
96 Allenby St (03-6851666). Mon, Wed, Thu, Sun 21:00-02:00, 19:00-3:00
Messa
Chef Aviv Moshe has garnered heaps of praise for his gourmet restaurant, which successfully combines slick modern design with an innovative menu. While the restaurant itself is a slightly intimidating white-on-white affair, with a long, communal table running down the center of the room, fancy drapes over the walls and cream upholstered chairs, the adjoining bar offers a different vibe, with its all-black design, dim lighting and slick nighttime feel. A stylish crowd gathers round the bar to enjoy an extensive selection of cocktails and quality alcohol, while sampling the delights of the food menu, with its selection of contemporary dishes like purple calamari with lemon cream, foie gras and eel.
19 HaArba'a St (03-6856859). Daily 19:00-last customer
Jerusalem
Yudale
Yudale playfully refers to itself as the "bastard little brother" of top eatery Machneyuda.Machneyuda, easily one of Israel's best restaurants, and certainly its hottest, is located across the street from Yudale, and within shouting / singing distance of it (a nightly occurrence). But Yudale is no wannabe brat hovering in the shadow of his big brother. Sleek and funky to Machneyuda's more rustic feel, Yudale is a full-on, delicious tapas bar and restaurant in its own right. Yudale's design is entirely open. All inside seating is around the bar, which also happens to be around the kitchen, allowing all the restaurant's patrons to not only observe the preparation of the food (close your eyes when the chef tosses in the butter …), but also to observe one another. This creates a sort of home-like, party atmosphere, and opens up the entire restaurant to bouts of hand clapping, singing, laughter and drinking. These spontaneous displays of enthusiasm and excitement are often at the encouragement of chef Tomer Amedi, who demonstrates that, in addition to being a great culinary talent, he is also musically gifted, as seen by his impromptu drumming on everything from the bar to pots and pans to a strategically placed cymbal. At Yudale, the fact that eating is supposed to be joyful, indulgent and downright fun is nonnegotiable. Not for a moment does it give into the tired cliché of serving up a high-end, gourmet menu in an overly serious, solemn setting.
10 Beit Ya'akov St, Mahane Yehuda Market (02-5333442). Sun-Thu and Sat 18:00-24:00
Fink
Fink was once a mythological restaurant in downtown Jerusalem, the stomping ground of important cultural figures, but it shut down years ago. A few months ago, a couple of chefs decided to renew the legendary eatery under the same name though in a different location. The new version is a "molecular" bar-restaurant, in which there's no regular menu and diners are served an eight-course dinner (of small portions) according to the chefs' whims. The décor is intimate and romantic and the open kitchen reveals what looks like a magical laboratory. From 23:00 on, after dinner is over, the cooks use the day's leftover ingredients to cook up free bar food for the night owls. Fink's owners say their goal is to be the best kosher restaurant in the world. If you ask us, they are on the right track.
22 King Solomon St (02-6528088). Sun-Thu 19:00-24:00; Sat 20:30-24:00
Share the story