A behind-the-scenes look at "The Look": an interview with Ohad Mazor about Sharon Eyal's new work
Sharon Eyal, innovative choreographer and co-founder of L-E-V Dance Company, is back from a world tour with her newest work for Batsheva's Ensemble, "The Look." Ohad Mazor, a member of Batsheva's Ensemble and a soloist in the piece, opens the backstage door, revealing Sharon's unique creative process, from day one of rehearsals to curtains up on their international tour.
First things first, Ohad, who are you?
I am Ohad Mazor. I just turned 21-years-old a few days ago and it's my third year in the Ensemble. I am really excited to be joining the Company next year.
Where did you dance before you joined the Ensemble?
I grew up in Haifa. My dance training was based mostly on ballet and Graham. I had a really amazing teacher who wanted to help me do things beyond the frame of school, so I did summer dance intensives at Juilliard and San Francisco Conservatory of Dance in the States. When I was eighteen, I auditioned for Batsheva and got in.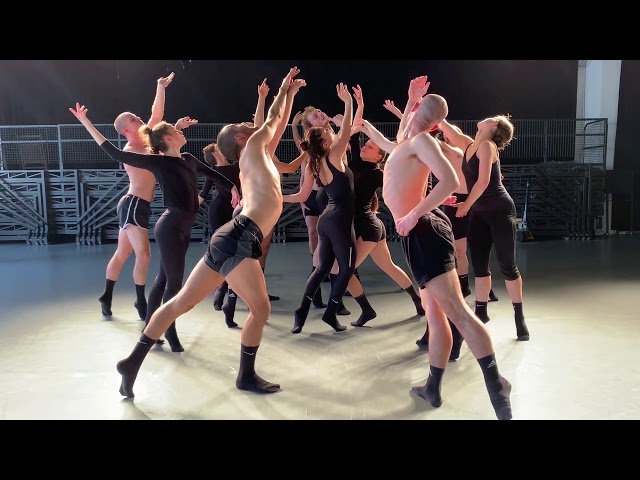 What is your role in "The Look"?
We don't really have roles like The Clown or The Princess, but I call my solo the "Bully Solo." I pump my muscles and have a bit of a stripper fantasy moment.
What is this piece about?
Generally with both Ohad and Sharon's pieces, we never speak about the work, what the piece is about, or what message it sends. This might sound weird to people from the outside because a lot of the time we create scenes that really connect and do things to the audience. They ask, "Did you not feel like this piece you just danced was about war?" Everything you experience is valid, but we never speak about it in the studio. We just speak in terms of, "do this," "be a bit more wild," "have softer flesh," "thicker flesh," "cut the space."
In the show's description there is this specific quote from Gandhi, "Nobody can hurt me without my permission." Did you ever hear the quote?
Never. It is surprising for us [the Ensemble] to read these things online. We just spoke about it today and said, "Oh, really! This is what Sharon had in mind?" This piece was supposed to be named differently. Before it was even created, it was called "Lova". At some point, it changed on the schedule to "New Work by Sharon Eyal," and then eventually she decided on "The Look". I feel that she is also discovering the piece as the process goes.
When Sharon walked in on the first day of rehearsal, did she come with choreography or a structure in her mind? Or did you figure it out together?
She is crazy intuitive. She came to the studio with her presence, her eyeliner and her crew. Gai [Gai Behar, Co-Creator] was DJing for her, Rebecca, her assistant, was around her, they played music, she started improvising in the space, and she asked us to try and catch whatever we could. Noa, our rehearsal director, filmed everything on a video camera, we all filmed the video with our phones, and then we spent hours learning the dance down to the tiniest details from the video of the video on our iPhones. The first day was super frustrating; slowly it got a little better. There were these improv sessions where we set it a bit more, because each one of us learned it on our own a bit differently. Then we tried it in the group. Eventually, Ori [Ori Lichtik, Music Director] was making the music live and Sharon was jamming and directing us live. She is always really in the moment, listening to the music and composing us in the space.
How long were you in rehearsals?
This process was two months.
Before this, had you done such collaborative work?
No. Sometimes when we re-stage Ohad's [Ohad Naharin, Batsheva's founder] pieces, we have some creative process, but nothing as intense or as rich as this.
The costumes are very simple: black leotard and tights. Did that have any effect on the dance?
Each of us is a different mover, but a lot of the process was embodying how Sharon moves, her imagery. I feel like what she creates is really who she is and the costumes are also part of her. A lot of her imagery is "dancing like you have really tight skin."
Do you have any interaction with the audience? Are you hoping that they take something from your performance?
My experience in the process was just to make sure I was embodying everything Sharon is about, applying this information. It sounds kind of dry, but it can be a lot. The information we work with is really multi-layered. But slowly with shows, you meet different audiences. We just performed on a tilted stage in Italy in a 19th century theater and that affected the experience.
Does Sharon's choreography use Gaga?
Because she came out of Batsheva, she was one of the first choreographers to use Gaga outside. But Gaga isn't choreography. It is a language. Her choreography does connect with Gaga language, but it is also very much her own. There is something about the richness of physicality and information that she gives that Gaga allows. I think if it weren't for Gaga, it would be very hard to communicate the things she wants from her dancers.
How would you describe Sharon's movement?
It is very specific and there are things to nail, but she cares equally as much about the raw source. It needs to be both sharp and from the right place. It takes us to the next level. Being wild within this cage, within this position, finding the pleasure and wildness in holding your relevé or in gripping your muscles. She always talks about being excited but channeling the excitement into restraining yourself more.
Overall, how does "The Look" make you feel?
From the outside, there are a lot of beautiful visuals. Sharon works with really talented lighting and set designers. For me, there is something about the physicality that is very specific and kind of restricting. It was really freeing in the sense that it let me dive in to a really extreme physical experience on stage, more physical than I am used to. I got to let the crazy, buff, sexiness out.
Upcoming dates for "The Look":
Thursday, May 16 2019 at 20:30 Haifa Auditorium
Thursday, May 30 2019 at 20:30 The Mann Auditorium Ma'alot -Tarshiha
Tuesday, June 11 2019 at 20:30 Herzliya Performing Arts Center
Wednesday, June 12 2019 at 20:30 Herzliya Performing Arts Center
Thursday, June 13 2019 at 20:30 Herzliya Performing Arts Center
Tickets prices NIS 140-170