The Israeli actress received a fond imitation from Saturday Night Live star Kate McKinnon, who was hosted by Jimmy Fallon. "She really is Wonder Woman, we love her," said the host.
Comedian and actress, Kate McKinnon, a regular and prominent member of Saturday Night Live, came to visit Jimmy Fallon's show and brought him a gift: a pretty solid imitation of Gal Gadot, Israeli accent and all. "Everything she said was magic, even when we [talked] about home ownership," she said.
"God, she really made an impact down at SNL," McKinnon said when referring to Gadot's hosting and performance in SNL skit shows in November. She called her a "Mediterranean Goddess," and added: "Everything she says is like a prophecy, I asked her, 'Do you have hobbies? And she answered [here McKinnon imitates Gadot in a soft, slow voice]: 'I love to go to the beach, I love to paddle-boar, I love to watch my children run on the sand, I love to go to the Maldives. Do you have a hobby, Kate?' And I'm like, 'I watch Dateline'."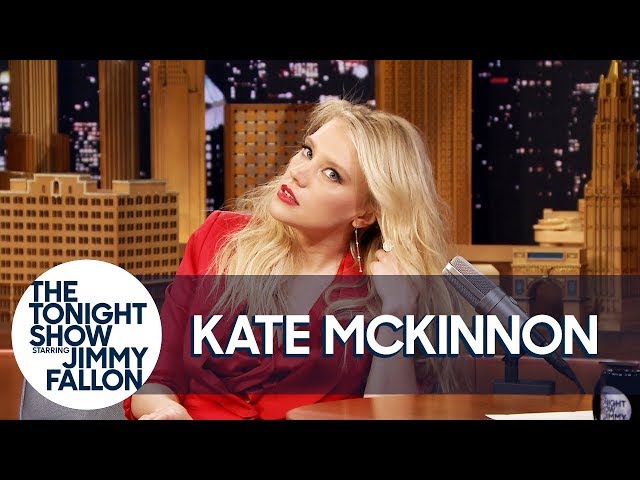 McKinnon said that every Tuesday night, the Saturday Night Live crew, and the host go together to dinner, a kind of a break from work, where they talk about movies and TV shows that they've seen. "And she sat down and said, 'I want everyone to go around the table and say something they have never told anyone'."
In October, Gadot participated in a skit alongside McKinnon, that gave the world the kiss we never forgot. In the same show, Gal Gadot served as a host and opened with a monologue in Hebrew. After she joked about her accent ("I am from Albuquerque"), she noted that it was the first time the show was broadcast live in Israel. "This may be a big mistake. The writers here clearly know nothing about Israel. In every sketch they have me eating hummus​. I think they believe that​ I am ​really Wonder Woman."