The "Hot Jazz" series has invited musicians from all countries and jazz subgenres to Israel for almost a quarter century now. One of their main objectives is to introduce locals to the diverse pool of jazz that exists beyond the intimate Tel Aviv community. This month's performers are not only the rule, they're the exception. While cousins, Orlando Maraca Valle (flute) and Ramόn Valle (piano), will indeed be bringing their Cuban flavor to the Middle East this summer, they hope to return to their home country with new influences and insight as well and continue the growth of the Cuban Jazz culture. Time Out caught up with Ramόn to find out more about "The Cuban Jazz Family."
Is music imprinted in your genetics?
Well, my grandfather was a conductor of a military band, my father was a trumpet player, and my uncle was a clarinet player. Oh, and my sisters are also musicians, they play piano, saxophone, flute. I was always surrounded by music. So I would say so.
I remember when I was younger, musicians would always come to my house to have rehearsals with my father. They had a salsa jazz band. After practicing their repertoire, they would have a jam session. They'd also leave their instruments inside the house, so I took the opportunity to sneak into the room and touch and try out all of the instruments.
Did you and Orlando grow up playing together or is this a rediscovered musical relationship?
My cousin and I didn't grow up in the same city. We had heard about each other, but we didn't officially meet until we were 16 or 17, when I moved to his city to study at the Conservatory of Music. One of my aunts begged me to stay longer to meet my cousin, Orlando. He arrived with his flute and we talked for hours about classical music. Then later, somehow, we began to play some Bach together. I noticed him add in something that wasn't in the score, and immediately asked him to switch to improvisation. From that point on, everything was jazz; we never came back to classical music.
What was is about jazz that inspired your shift from classical?
I fell in love with the freedom to play whatever I heard. In classical music, there is some freedom, but you can't change the score, you can't change the harmonies, and you can't change the melody – you play exactly what is written by the composer. In jazz, you have the freedom to create your composition in real time.
It's quite a touching story: cousins coming together after 30 years to record a first collaborative album. Why now?
We've always had one thing in common: we both deeply love jazz music and we both fly in the face of improvisation. We were in different worlds, though. Orlando moved to Europe and was more in contact with Latin and Afro jazz. I was influenced by rock music mixed with jazz. Our different sounds made it difficult to come together. We had to actively decide to play together and create together in order to make ["The Cuban Jazz Family" project] happen.
Can you shed some light on "The Cuban Jazz Family" project. Is it a duo project? Quartet? Big Band?
We have so many directions, Orlando and I, that we decided to combine the duo (from our CD) with a quartet to allow for the opportunity to show the other sounds that we can produce in our music. The amazing thing about the two of us is that we can transition seamlessly from duo to quartet to a larger format. In this case, for the Israel concert, we will be joined by Enrique Firpi, a great drummer from Uruguay, and Omar Rodriguez Calvo on the contrabass – and we'll throw in a few duo songs mid-concert.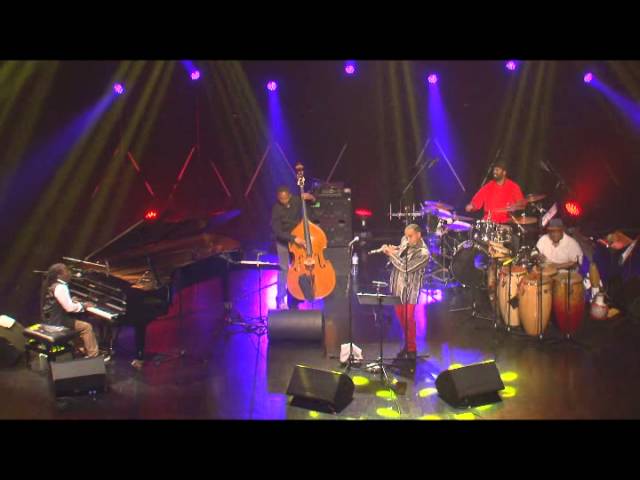 On Israel
Will you be performing all original material?
We want to play a few songs from the album, but also we want to show some Latin jazz sounds that maybe Israeli audiences don't know well yet. Our goal is to combine a few things from Orlando, a few things from my music, and two or three compositions from the new material.
Have you been to Israel before?
Yes, the first time I came with my trio, and the second time was with a singer. Later, I played with The [Israel] Sinfonietta Beer Sheva and the Ra'anana Symphonette Orchestra. I visited three times already and I love Israel – it's a beautiful country with beautiful people.
Is there any one thing (an element, time feel, mood) that you would like to expose Israelis to during your visit to the Holy Land?
What I would like to offer them is a feeling of "Welcome to our music, welcome to our culture!" I want to show the people of Israel that we are a big family from a different part of the world. We need help from everyone and every country to give our music life.
Is there one Israeli musician you wish to collaborate with someday?
I've already had the opportunity to share my music with two great orchestras from Israel, but there is one artist that I truly admire: Orchestra conductor, Doron Salomon. He's a great musician, great composer, and he has a very different way of seeing music.
Any surprises?
I think the concert is going to be very spontaneous. When we get in the mood, you never know what's going to happen...we never know what's going to happen.
On Cuba
Who are your greatest Cuban jazz idols?
In terms of pianists, I have two very important influences. The first is obviously Emiliano Salvador. He died at 42 years old, but what he gave to Cuban music was incredible. Chucho Valdés was an inspiring piano player as well. I remember listening to many of his recordings, and I still do today. He makes magic happen.
In your opinion, what sets the Cuban Jazz scene apart from the rest of the world?
Since Cuba is an island, and we aren't connected to any other country, we don't have too many opportunities to know everything happening around the world. It's not so easy to acquire this information. We are forced to develop our own imagination, our own way of seeing life, from what we have already in Cuba. This creates the personality of Cuban Jazz.
What do you think the future holds for the next generation of Cuban Jazz musicians?
I think that they'll be a huge improvement on us because they have more chances to learn and to gain experience from musicians all around the world – something that I missed when living in Cuba; the possibility to share music with other countries was not so easy. If a great musician came to town, everyone was desperate to get close to that musician because it was a rare occasion. Now, musicians are traveling much more and participating in competitions outside of Cuba or even just visiting America and then coming back. This exposure will help develop their improvisation language.
Ramon and Orlando will perform in various locations across Israel from May 26-June 2. For tickets and information visit the Hot Jazz website.