"Skin", the short film by Israeli director Guy Nattiv garnered an Oscar, and now the full-length movie is out with much acclaim from various festivals and screenings around the world.
A special interview by Nachum Mochiach

"I moved to the United States five years ago because of my love for Jaime [actress Jaime Ray Newman]," 46-year-old director Guy Nattiv remembers how it all began. "I was looking for a theme for my first American film. I opened a newspaper and saw a montage of Bryon Widner's face, with all the tattoos that he slowly got rid of, and how he becomes a person with a perfectly normal face. I read the article and thought it was one of the most amazing stories I was ever exposed to. That is how the decision to process this story for the film was made."
The short film 'Skin' is based on the story of Widner (played by Jamie Bell) - a young, underprivileged man who was adopted in his childhood by a cult of racist skinheads. He led a wild life rife with hate crimes and was covered in racist tattoos from head to toe, until he met Julie (Danielle Macdonald) and fell in love with her and her three daughters. The two married and a year later they had a son. Then, a sense of responsibility started to arise towards the woman beside him and for their children, and he took a huge risk and left the gang of racists, which caused threats to his life. With the help of the FBI and the South's Legal Center, he embarked on a courageous process, during which he underwent 25 painful surgeries to remove the racist tattoos. The longer, full length version of 'Skin' is an eerie, powerful, and gripping movie; a true story that pierces the soul.
In 2011, a documentary about Bryon Widner was aired on MSNBC
"True. A very powerful documentary named 'Erasing Hate' accompanied all his tattoo removal treatments. It also inspired me to get his email. I wrote to him telling him about me and my grandmother and family members who are Holocaust survivors and that as an Israeli the subject is close to my heart. Two months later he got back to me and suggested we make a Skype call and then we met. "I flew to Albuquerque, New Mexico. My wife came from Los Angeles and we met up in a cafe that looks like a location from 'Breaking Bad'. I was the first Jewish and Israeli person he ever met and he was the first Neo-Nazi I ever met. We didn't stop talking throughout the entire weekend. We stayed at a motel by his house, and kept talking while I was recording it on my phone. He signed a napkin as an agreement that gives us the rights to make a movie based on his life story, and then my journey to a feature film began.
The powerful and scary truth
"I wrote the script with Widner. Two years later, the script was ready and through my agents was sent to 55 different Hollywood producers. Everyone said that it was a great script but that there are no Neo-Nazis practicing in the United States; that it's just an urban legend and they won't invest money in something almost surreal. Hilary was about to be president, Obama was in power, and you might find those kind of people in the Midwest. I was stuck in the United States without a movie, and then the idea of making a short film came up, just to show that I know how to work well in the States. I tried to make the longer Skin script into a short, but it didn't work, and then Sharon Maymon, a brilliant filmmaker and friend, told me he had an idea for a short film that he thinks can land us an Oscar. He told me the idea behind the Shorter 'Skin', which was the most brilliant thing I've ever heard. At the time we made it - Trump was elected and the riots in Charlottesville, Virginia, started. The timing was explicable and the longer script just waited, frozen."
"We sent the short film to producers in hopes of making the longer version and received various reactions. Some said the timing was perfect but they were afraid to do it - until we reached Sting the musician, whose wife Trudie Styler is a producer. Sting saw the short, and told his wife it was one of the strongest films he ever saw and convinced her to make the feature film with us. In that second everything happened - everything connected - and the two films set off and found their tracks. I met with the actor Jamie Bell who was happy about the opportunity, because so far he had done far more delicate roles. The short was pushing the longer one ahead and suddenly they were all around the world. I sent the short to Sundance, Tribeca, Berlin, and Cannes festivals, and didn't get in. Then we won a tiny LA Festival called 'HollyShorts'. The win gave us the opportunity to send be sent to the Oscars for viewing, and we did, and then a call came from the Academy that told us, congratulations, you're in the short list." 'Skin' went on to win an Academy Award for best short film and cast a great spotlight on Nattiv and his wife, who produced both films.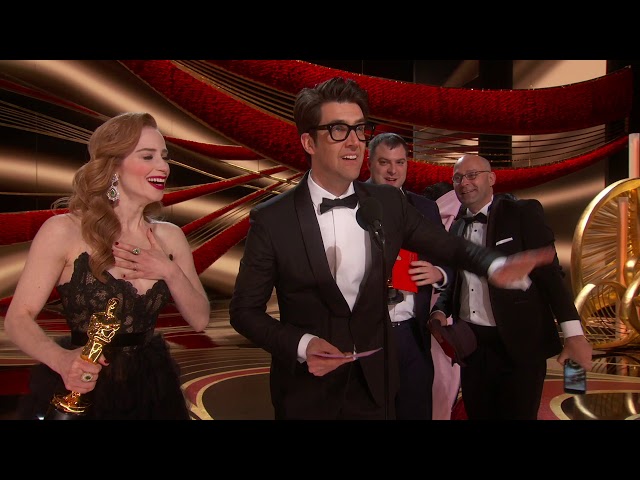 Does success open doors or make you work harder?
"It is definitely opening doors for us. People who would not meet with us before are now asking what my next project is. I am currently working on 'Harmony', a story about my grandmother who was a Holocaust survivor and in her fifties went into a depression and wanted to die, and then she met a woman who allured her into a cult that she ran."