Chef Chris Golding helms Dinings, a branch of the world-famous London-based, Izakaya-style tapas bar
The Brit expat shares what he misses most from London Town and how he deals with Israeli heat (in and out of the kitchen)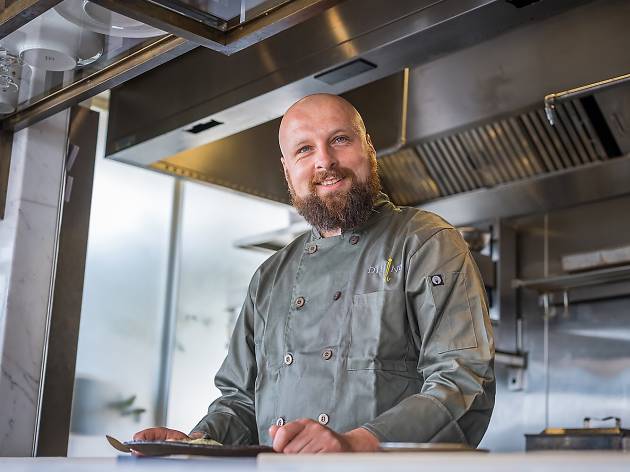 Your move to Tel Aviv was a serendipitous one. What made you decide to stay?
Many things...the sun, the beach, the amazing food scene here, the beautiful produce – I've never tasted fruit and vegetables like in Israel...and a girl.
How long have you been here?
I came here on a three-month consultancy project, instantly fell in love with Israel, and that was 2.5 years ago.
What makes you nostalgic for home?
I miss my family (especially my three little sisters) and friends, game (venison, pigeon, grouse, etc.), a full English breakfast, a good cup of tea, and in August in Tel Aviv, I miss the rain!
You have traveled a lot in your career. Which locale has been the most memorable?
Eating amazing pizza in Florence, the street food in Bangkok, the warm-hearted people in Latin America and the tapas in Madrid.
How did you become acquainted with Japanese cuisine and culture, and why?
When I was 13, my grandmother got me a job washing dishes in a Japanese restaurant where she worked as a waitress, I fell in love with the kitchen almost immediately, and knew from then that all I wanted to be was a chef. My mother gave me the drive and the energy, she is the hardest worker I have ever met. I worked in a few Michelin-starred French/European restaurants in the early stages of my career, but always felt comfortable in a Japanese kitchen.
How does the Japanese kitchen differ from the other kitchens you have worked in?
I think that Japanese kitchens are a lot calmer, as are Japanese people. Everything is very produce-led, and they let the ingredients speak for themselves; just a few ingredients on the plate, but lots of skillful techniques.
Israelis are known for their heated personalities, likewise, chefs are infamous for the heat in the kitchen. How do you handle that from both ends here?
To be honest it was a huge shock when I arrived and took me a while to get used to. British people tend to be far too polite, whereas Israelis don't hold back! If a dish is not right, then they will tell me. I've definitely developed a lot thicker skin here. But it's a good thing. If an Israeli guest pays me a compliment, I know it's genuine and from the heart.
If you could import one thing from Japan to Israel, what would it be and why?
Chefs! Because there aren't enough chefs here in Israel. All my Israeli chef mates here are always complaining that they are short-staffed.
If you could import one thing from England to Israel, what would it be and why?
Mmmm….tough one, probably my mum because I miss her hugs. But that's about all.
If you aren't eating at Dinings, where are you eating locally?
Wow, many places. The food scene here is amazing. There are so many successful Israeli restaurants and chefs doing great things around the world. I admire Asaf Granit for his passion and for cracking both the Israeli and London market. Machneyuda is one of my favorite restaurants in the world. In Tel Aviv, I particularly love Dok, Brut (probably my favorite, a real "chef's place" where I take all my family and friends when they come to visit), M25, Oasis, Basta, Shaffa Bar, (good food, vibes, drinks, atmosphere and it's always busy!), Men TenTen (me and my chefs regularly go there after work or on our break).
Dinings, on the top floor of the Norman Hotel, 23-25 Nachmani St, Tel Aviv (thenorman.com/restaurants-and-bars/dinings)