Eight days of Hanukkah sufganiyot: the festival of bites
This Hanukkah, go nuts with donuts at these eight bakeries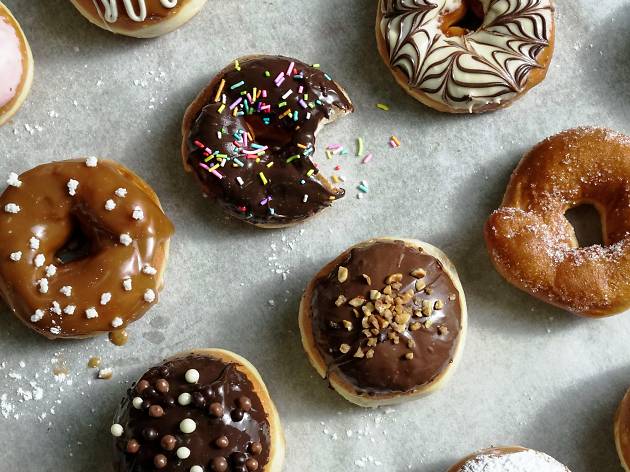 North America may rock pumpkin spice and everything nice, and the U.K. may have enough shortbread to build an empire, but we've got something better–or at least more caloric than both combined. Whether filled, fried, powdered or glazed, we've rounded up the most delectable sufganiyot to feed your Hanukkah donut desires.
Eight days of sufganiyot
1
© Ronen Menagen
This donut shop has dominated the sufganiyot scene for 27 years and Roladin is raising the beignet bar once again. First up, "Yolo Gold"–the most luxurious and richest of them all, containing a blend of chocolate coating, chocolate and hazelnut icing, and praline cream. Next, "Pancanilla," a patisserie cream-filled cloud of heaven (or extremely dense fried ball of hell), topped with white chocolate and paired with its own caramel chaser. Finally, Roladin is sealing their collection off with a "Red Kiss," featuring red fruit, meringue kisses, mascarpone cream, and a very berry chaser. We dare you to resist buying into this beautifully buttery Jewish tradition.
24 Ibn Gvirol, Tel Aviv (03-6966177)
2
© Boaz Lavi
Not far from the eastern side of Park HaYarkon sits a little piece of bakery bliss. The Biscotti bakers have mastered the art of the jelly donut, pumping out the perfect ratio of strawberry filling to dough every time. In addition to the classic, their Chanukah collection includes a banana chocolate donut filled with banana cream and topped with dark chocolate and peanuts, a caramel cloud packed with dulce de leche and sweet sweet goodness, and last but not least...a crossbreed between a bagel and a donut(?)...you'll have to try it to understand.
67 Hayarkon St, Bnei Brak (03-5704015)
3
© Lior Eilam
Third Night: Piece of Cake
Pass by Piece of Cake and marvel at the display of colorful donuts calling to you from behind their giant glass window. Year round, this bakery specializes in both vegan and non-vegan baked goods, so why should Chanukah be any different? The King George bakery matches their milk-based options–like the "Extreme" (nougat cream, dark chocolate ganache, white chocolate) and the self-explanatory "Pink Marshmallow"–with equally-kickass cream-free vegan options, like their salted caramel, sugar coated, and double jam filled rings (since we all know there's never enough). Pop into Piece of Cake for a limited edition piece of heaven.
46 King George St, Tel Aviv (03-6822163)
4
© Benny Gam Zo Letova
How could you go wrong with a place whose name literally means "sweet" in Hebrew? Metuka is a must on the Israeli donut destination tour. And the best part is, they deliver! But, if you're popping into one of their shops, make sure to come early as they tend to run out of finger lickin' fried dough by sunset. This year, tap into your inner teenangster with the "Gothic Drama Queen," a twist on a black forest cake that marries dark chocolate with cherry-infused Irish cream; get personal with the "Strawberry Sabrina," an open-face sufganiyah that begs you to get a little messy; pucker up with their sweet and sour "Limoncello," loaded with lemon and topped with burnt meringue. Plus, the classics of course! Tastes like nostalgia.
18 Herzl St, Tel Aviv (03-5614144)
Four deep fried days down, four to go! You're halfway to heaven and probably in a cholesterol coma by now, so why not take a break from fried food with a slightly healthier option...just kidding, though Dallal Bakery is dialing it back a little. You won't find pipettes and cookie crumb frostings that could easily pass for crack cocaine here. Instead, Dallal has perfected the art of minimalism, filling their sufganiyot with a variety of simply divine flavors: strawberry, chocolate, vanilla, dulce de leche, and pistachio, and dusting them with powder so delicious you'll want to snort it.
7 Kol Israel Haverim St, Tel Aviv (03-5109292)
As we all know, Chanukah is the festival lights, but Lehamim brings us the festival of delights. The celebrated European bakery fuses fine quality with simplicity to produce sufganiyot that pack a punch. Keeping with their minimalist approach, indulge in their traditional strawberry jam-filled donuts (vegan option available), or if you're a chocoholic, try their innovative twist filled with rich Belgian chocolate ganache and finished with chocolate and powdered sugar. As we turn into big kids around this time of year, someone has to look after our own children, which is why Lehamim is whipping up classic sufganiyot coated with chocolate and rainbow lentils for their younger audience.
103 HaHashmonaim St, Tel Aviv; country-wide delivery (03-5618111, lehamim.co.il)
The long-standing establishment has simple standards: clean, fresh, and tasty. They fry every holiday donut with these three things in mind…and it shows in every baked good. The Shemo bakers have whipped up incredibly unique designs this year: cookies and cream concoctions with an icing pipette sit atop a bed of crumbled Oreos, cheesecake creations throwback to Shavuot, and the traditional jelly donuts are powdered to perfection. On top of that, while Canada has the ever-popular "timbit," and the U.S. dunks the "munchkin" in their coffee, Shemo is offering bite-sized versions of their sufganiyot that will blow your mind. Choose between fried or baked, and let the European euphoria win you over.
60 Yehuda HaMaccabi St, Tel Aviv (03-6202255)
Finish Chanukah off with a bang (or a heart attack) at one of the best bakery chains in the city. Bakery has mastered the art of the French pastry, but they'll always hold a place near and dear to their hearts for the divinely delicious powdered Israeli holiday staple. Their three classy options are filled with strawberry jam, salted caramel, and chocolate filling. The cult classic is locally loved and the perfect place to end your eight days of bites, before starting your eight days of diet.
72 Ibn Gvirol St, Tel Aviv (03-6961050)